How to Launch a Product on Instagram? The Subtle Art of Increasing Sales
---
Knowing how to launch a product on Instagram is important for business owners. According to a study, the engagement rate of Facebook posts is 0.09% while the engagement rate of Instagram posts is 1.60%. This result is quite tempting for business owners to think of Instagram as a platform for your business promotion where they can generate more leads and launch their product and sell a lot. 
As there are millions of daily active users on Instagram, you can make sure that your customers-to-be are already there waiting for you. 
Instagram Shopping Feature
One recent feature of Instagram is Instagram Shopping that makes shopping possible through the app itself. This feature was launched in 2017 and it allowed businesses, brands, or celebrities to launch their physical products on Instagram.
Using Instagram Shopping needs your eCommerce business to meet some requirements. We will discuss these requirements in the next paragraphs. 
Why Use Instagram Shopping?
Statistics tell you that 70% of shopping enthusiasts turn to Instagram for product discovery. So, just consider how huge the market can be on Instagram and think about what you miss if you do not use Instagram for your sales.
There are also plenty of reasons why to use Instagram in general. For example, you can become more credible as a business, have a chance to get free organic traffic to your store, and it's also great if you want an easy way to engage with fans!
For all the details on how this platform will benefit your business – check out this article that breaks down even more ways Instagram is helpful in terms of engaging customers online.
How to Set Up Instagram Shopping? 
To set up Instagram Shopping, you ought to follow these steps: 
1. Check if You Are Eligible
Instagram Shopping cannot be used by every Instagram account. To be eligible for using Instagram, you should: 
Be based in a location where Instagram Shopping is available.

Sell physical products only. 

Switch to a business account. 

Connect to a Facebook page where your product catalog is displayed. 
2. Set Up a Facebook Shop/Catalog
A Facebook shop or catalog is where you have already listed your products. When you post a photo or video of your product and tag your product in them, your followers will be directed to the catalog if they tap on the tag. In the catalog, they can see the product and your other products and can buy anyone they want.  
If you are eligible to have the Shopping feature on your account, you can then set up your Facebook shop or catalog. Here are the steps for setting up a Facebook shop or catalog:
You should either own your Facebook page or be an admin and have managing permissions.

Also, you should own your Instagram business account and have managing permissions.
3. Wait to Get the Approval
If you meet all the requirements, you can submit your account and ask for a review. To submit your account, you should: 
Go to Instagram

Settings

.

Tap on

Business

.

Then tap

Sign Up for Instagram Shopping

. 

Hit

Submit

. 
You may need to wait some days to get approval.
4. Find Shopping Feature
As you get Instagram approval, you can see a new option in your Settings named Shopping. Congratulations! You can now sell your products on Instagram!
5. Share a Shoppable Post
Sharing a shoppable post is just the same as sharing a normal post. You do all the steps identically. There is only one additional step and it is to tag your products on your shoppable post. No matter if it is a photo or video, you can tag up to 5 products on your post. One tip to remember is that you should tag your products with their same names as on your Facebook catalog.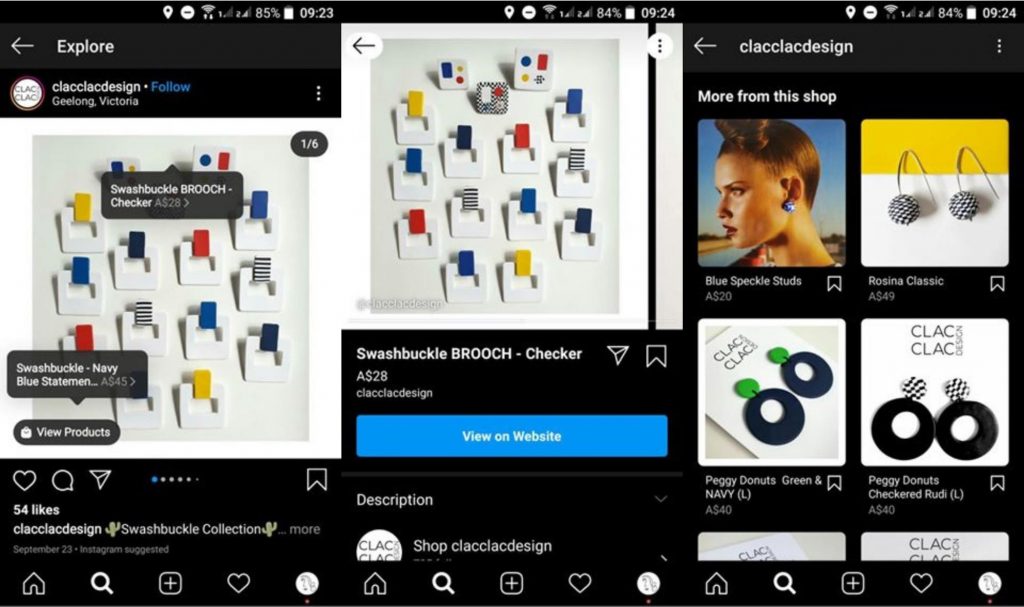 Credit: Instagram- @clacclacdesign
6. Share a Shoppable Story
You can also share shoppable stories with Instagram Shopping. To add your products to a story, you should tap on the sticker icon on the top of your story and choose the Product. From there, you can choose the product that you want to share.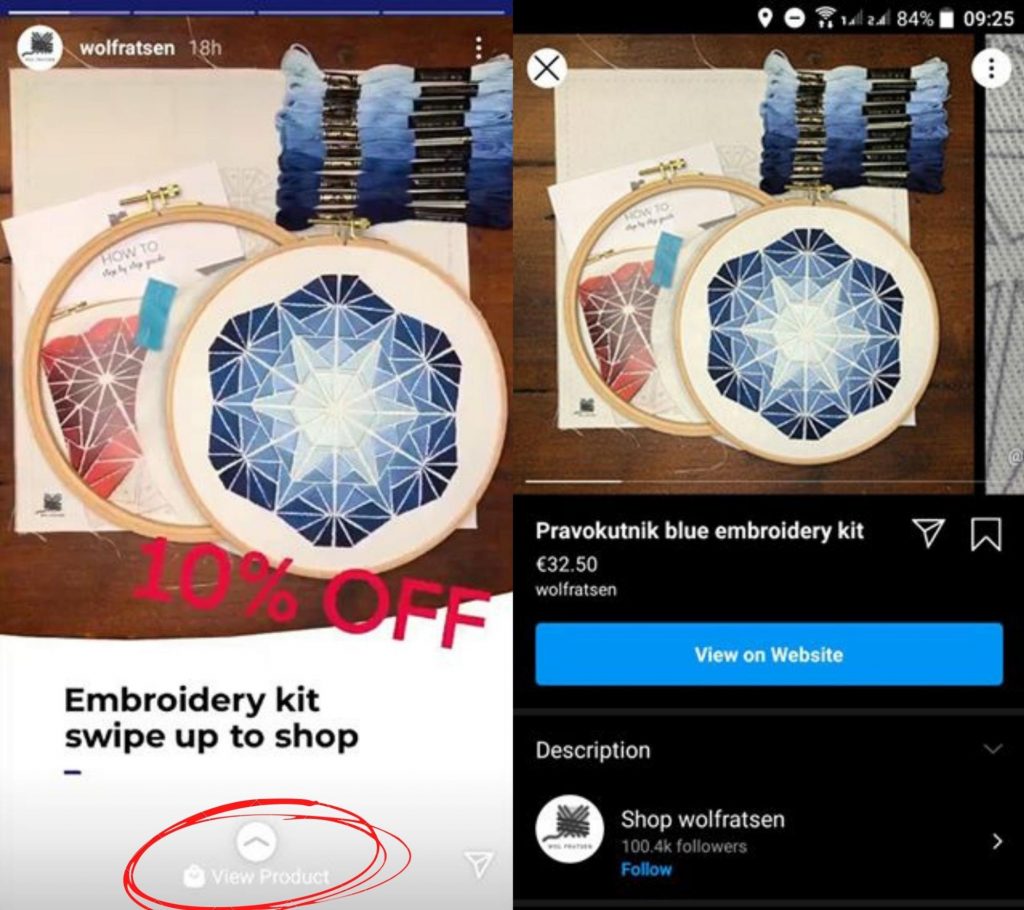 Credit: Instagram- @wolfratsen
How to Launch a Product on Instagram?
To increase your sales on Instagram using Instagram shopping, you must check out the following guidelines:
1. Optimize Your Profile
A decent logo may be a perfect and professional business profile picture. Write a powerful bio using the keywords of your niche. Moreover, add a social media link to Instagram bio and refer your followers to your link in the captions or stories. 
In addition, you should set a particular grid, color, or theme to all your content so that it becomes your signature. You develop your brand identity by doing this and you leave an aesthetic and impressive image on your followers. 
Here's an example of a professional and optimized profile: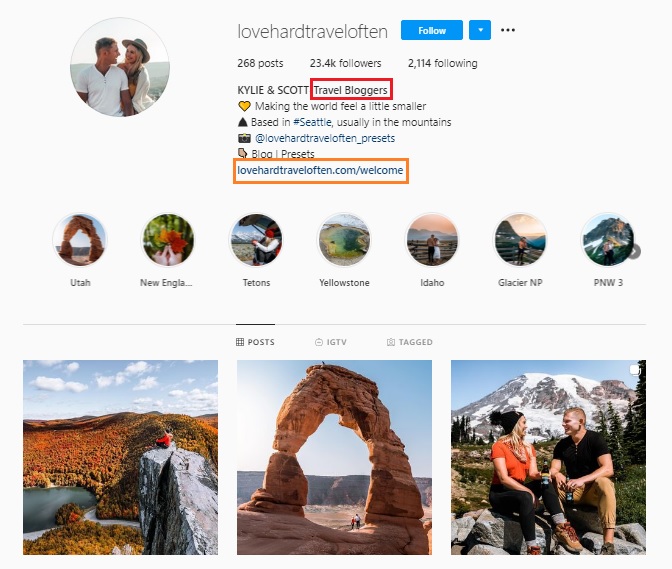 Credit: Instagram- @lovehardtraveloften
2. Know Your Target Audience
When designing your products, you have already done enough research to know the audience who want to use your products. So, you are actually one step ahead. However, there is a lot to learn about marketing using such demographics. For instance, you should use the information for testing messages, CTAs, photos, captions, etc. 
Analyzing the online behavior of your audience on Instagram is important as the users of each platform have particular characteristics in comparison to other platforms. 
Instagram users are mostly attracted to Instagram as it is a user-friendly app for almost any age range. It is quite crucial to know if you want to find your customers and have great sales on Instagram.
3. Grow Your Engagement
You do not want to promote your products to an account with zero or quite a few engagements, do you? To prevent this, you should find ways to increase your engagement. Pay attention that we are not talking about growing the number of your followers to thousands or millions. Rather, the concept here is that you should boost your engagement. 
Produce worthwhile content and high-quality photos to impress your followers. If your content is informative, educational, inspirational, etc. and not promotional only, people tend to follow you or suggest you to their friends to follow you. 
Use hashtags or geotags to display your content to a wider group of audience. Remember not to add overused or underused hashtags because you risk your content to either be buried under the daily upcoming content or totally ignored as no one searches the particular hashtag. 
4. Define Your Goals
Organizing a detailed plan is a must before starting any projects. You should define your specific goals one by one in your plan and add strict due dates to reach them. Your goals have to be realistic and actionable so that you do not get unmotivated on your way to reach them. 
5. Create a Timeline
When you start your campaign, either using an influencer or on your own, you should define the necessary amount of time you need to finish the campaign successfully and efficiently. Moreover, you need to set a clear schedule for your posting strategies. Scheduling means that you arrange to post on a daily basis so that you know what you are going to post three days from now.
Here is an example of a timeline:
Day A-B: Produce Your Product

Day C-D: Launch Your Product

Day E-F: Follow Up Your Launch

Day G-H: Add Your Product to Your Content Schedule
6. Consider Influencer Marketing
Influencer marketing is a good way to boost your engagement on Instagram so that you can launch your products and sell them easily. No matter what your budget is, you can count on an influencer marketing campaign. Depending on your goals, you can choose a group of influencers and then narrow down your list to select the right one. 
Spend time to do enough research to find the right influencer for your campaign. Though there are some research tools that introduce the influencers of each niche, you should still spend a lot of time to know the influencer and see how they engage their followers.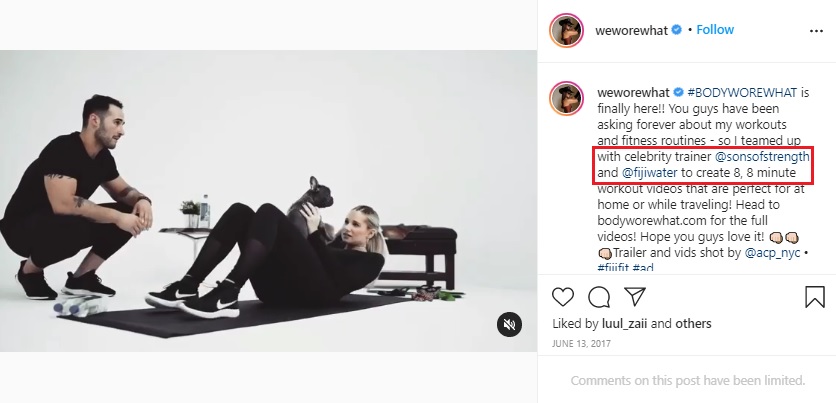 Credit: Instagram- @weworewhat
But why should you consider Instagram influencer marketing in 2020? Because modern people count more on word of mouth recommendations rather than real advertisements. For instance, they prefer to buy something that they hear from a friend instead of going after billboards or TV commercials. As a result, doing influencer marketing is a great way to promote your sales on Instagram.
7. Use Offers and Promo Codes
Discounts are always tempting to real or online shopaholics. Buying something and paying less than its real price makes us feel like we have gained a lot in our purchase. Accordingly, using such behavior on your way to boost your sales can be perfectly effective. Therefore, a limited offer or a promotional code for a limited time can help you both to increase your engagement and sell more on Instagram.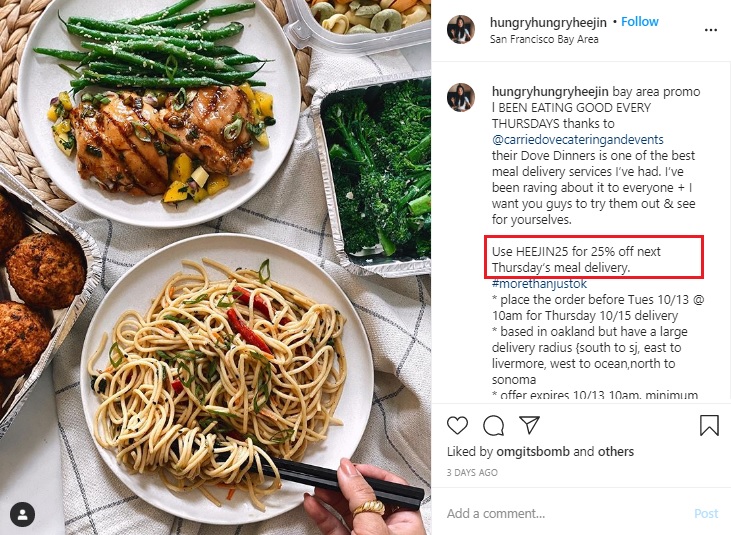 Credit: Instagram- @hungryhungryheejin
8. Share User-Generated Content
Encouraging your followers to take part in posting content using your products is a way to increase your engagement and therefore sales. It is actually creating several channels through which you can get a lot of followers and engagement. Such content is called UGC or User-Generated Content.
Sharing the customer-generated content builds brand authenticity which can lead to desirable results. In addition, your other less active followers may get inspired to post UGC and bring you more benefits.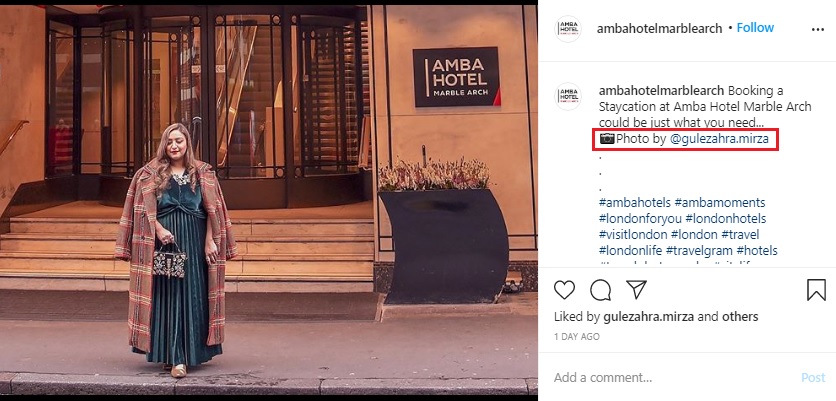 Credit: Instagram- @ambahotelmarblearch
Conclusion
Selling on Instagram requires you to take some steps. You should first create a business account on Instagram, make a request for Instagram shopping, and then apply the Instagram marketing strategies you have just learned above. Remember that it takes you some time so you need to be patient and hard-working to get the result that you really want. Instagram marketing strategies to extend your engagement. Good luck!
Bio
I am Parichehr Parsi, a born writer, and a freelance copywriter in the fields of travel, fashion, and Instagram marketing. I currently write for SocialPros and online magazines in Italy and I love reading, writing, and researching.
---