What Is Marketing Automation & Why Is It Important?
---
Marketing. It is a huge factor in business growth and success – the primary method for attracting and retaining customers. But it is also an expensive and labour-intensive activity. In fact, while many businesses tend to spend about 15% of their budgets on marketing, that percentage can go as high as 25% for companies that are producing and selling consumer products. And much of that percentage goes to staff salaries.
Enter Marketing Automation
Marketing automation is a way to free valuable and expensive resources (people) from conducting routine and mundane tasks – tasks that can be replaced with automatic or semi-automatic processes. This technology is implemented by software platforms that help marketers automate repetitive processes and tasks. For example, you can use local marketing software to organize your marketing processes and automate virtually all aspects of your work. Automation will help expand the reach, quality, and performance of marketing campaigns, without expanding, and in fact reduced staff.
Who Needs Marketing Automation?
everyone who has customers

everyone  who wants to streamline business processes

everyone who is tired of paying huge salaries to marketers

everyone who no longer has the time to perform routine tasks
Obviously, virtually any business that sells products or services needs marketing automation if they are to be financially efficient and keep a competitive position in the market place.
Practical Marketing Tasks That Can Be Automated
Marketing automation makes it possible to get rid of templated and repetitive actions. Here are the main examples of such tasks.
Marketing newsletter automatization

Sorting incoming mail so as not to miss client communications

Sending standard emails and messages, such as thank-you's, order confirmations, shipping details, messages about abandoned carts, etc. 

Automatic promotion of content, for example, posting on social networks

Automating analytics to track performance. For example, using

HubSpot

marketing analytics

, you can get a measurable assessment of each part of your funnel and allow you to make decisions about marketing communications.
According to a recent survey, 82% of marketers use some form of automated email system. Beyond that, the next steps might include:
SMM (automated by 67% of respondents),

analytics (60% of respondents),

CRM / sales automation (54%),

CMS / content management (52%).
Benefits of Marketing Automation 
More campaigns in no time.
For example, if your company is working in several channels at the same time, there is no need to develop and customize new advertising campaigns every time you launch them. It will be enough to write cool content with the help of any vendor found on Online Writers Rating

,

comparing the rating of leading freelance writing companies that are able to help you.

Increased responsiveness due to improved targeting.
The second important goal of automation, in addition to releasing resources, is to maximize personalized interaction. Obviously, it is impossible to interact personally at each stage of the sales funnel, if the second participant in the process is also a person. However, automation software can do this by asking clients to leave their contacts or recall at the right time, or by sending a personal email or SMS at the moment when there will be the greatest probability of it being read.
Data collection and analysis
Marketing systems can automatically collect and store data about customers, about the success of specific campaigns, about when, where, and how to best communicate with customers and target audiences. This information can drive better decisions about marketing campaigns.

Reduces the antiquated method of "cold calls." Automated communication via digital means, if done right, can attract potential customers and draw them into the top of a sales funnel, where additional and more personalized communication can begin. Obviously, this relieves sales people of the often-detested task of finding "cold" customers and turning them into warm leads and allows them to focus on moving warm leads into purchasers. And

research shows

that this automated approach is effective.

Marketing automation will shorten customer paths within the sales funnel. And, in fact, 73% of marketers

believe that automation of communication through a sales funnel journey serves to shorten that journey.

Automated marketing maximizes email marketing. As stated before, one of the best uses of automated marketing lies in email communications. When customers can receive messages that provide welcomes, thank-you's for purchases, shipping and tracking information, and follow-up surveys regarding their satisfaction with a product or service, they see that a company is willing to provide personalized treatment. And once that "relationship" is established, that customer is more prone to open up future emails that offer specials, discounts, announcements of new products, etc.
Email automation also provides for segmentation of audiences, based upon where they are in the awareness-to-purchasing process, and email communications based upon those segments.

Automation serves to foster better relationships between sales and marketing departments. Traditionally, these two departments have operated independently. Because automation impacts both departments simultaneously, they must work together – a collaboration that fosters the achievement of business goals and growth.
Real-Life Marketing Automation Examples and Results
Here are examples of three impressive cases of completely different companies from different industries that use GetResponse marketing automation functionality:
The large German cosmetic brand Janssen Cosmetics, through five automated welcome letters with a conversion to sales of 6.48%, received up to 15% of the contribution to annual business growth.

Autoboss Business Management Club (organizing offline events) increased sales from the site by 429% per year.

Revitonica online school (video lessons and rejuvenation courses) has increased sales by 18 times in three months and by 10 times in its subscriber base in a year.
Now Get Response is certainly not the only automated marketing provider. These results are certainly impressive, but business owners should do their own research and select an automation provider that best suits their needs. However, Get Response certainly gets results.
Where to Start With Automated Marketing
1 Evaluate Potential Effectiveness
After identifying the need for process automation, you should understand whether you really need it in terms of money.
Automation involves the allocation of resources for development and further support. At the same time, we expect that as a result of process automation, the manager will have N hours free for other tasks, which will amount to some amount of money per month. As well, automation can reduce staff costs – another savings to consider.
2 Develop Automated Scenarios
The next step to automation is to work out possible scenarios for the user to go through the process.
Depending on the possible action of the recipient and whether this action was potentially conversionable, you work out the logic of further communication with the subscriber. And so on until the sale process is completed/ interrupted.
3 Test the Hypotheses and Developed Scenarios
You hypothesized the need to automate a process, worked out all possible scenarios for it. But first, you need to check if everything works as you intended in practice. And only after receiving positive test results of everything conceived, should you proceed to implementation.
3 Effective Marketing Automation Services to Use
So, let's imagine an average business owner has already decided to automate marketing tasks. He is well aware of the fact that it will let him cut costs on marketing campaigns, improve productivity, and consolidate more data to analyze it with AI. However, how to choose the tool that will suit a particular business most? Let's make a choice from three of the most popular of them. 
Dashly
The main features of Dashly can be divided into three groups:
collection of information about site visitors;

setting up auto messages based on this information;

collecting user messages from different channels.
As a result of this, the conversion of each step of the funnel and the site's profitability is increasing.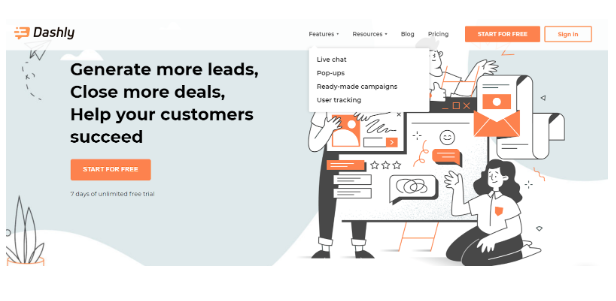 Dashly is able to help to increase the number of leads and sales. It allows live chatting with the customers, tracking visitors, sending personalized messages, creating and automating email campaigns, gathering analytics and reporting. 
Hubspot
The strength of HubSpot is Inbound Marketing. Hubspot consists of different features: 
free CRM that can store up to one million contacts with no time limit for free,

marketing automation software. With its help, it is possible to get analytical data, increase traffic to the website, improve ROI and convert leads. 

sales tools, the aim of which is to automate the process of making a purchase, 

and Hubspot for customer service. There is the possibility of deep personalization, analyzing customers' preferences and forecasting expectations.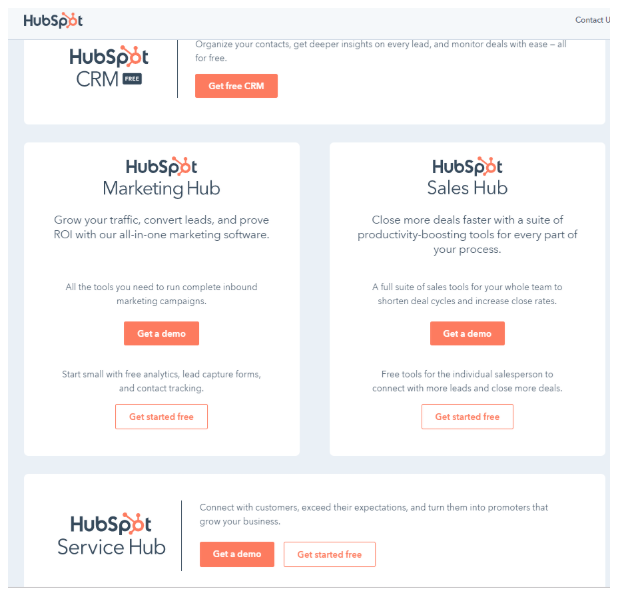 HubSpot attracts its users with free CRM and then offers additional products that may be of interest to you. 
Klaviyo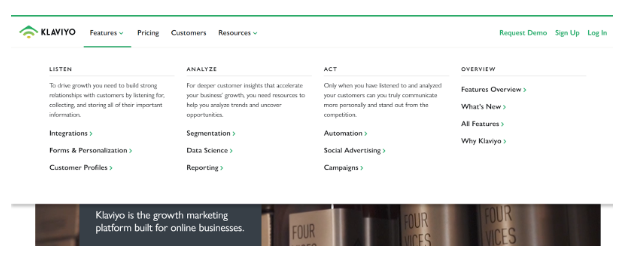 Klaviyo is a highly specialized service aimed at automation in eCommerce. It allows collecting information about the customers in order to analyze it, targeting audiences and coming up with personalized offers, creating, testing and sending personalized newsletters, and running automated advertising campaigns on social media channels.
So, Which Tool to Choose?
If you have an e-commerce business, of course, you should choose the last tool, since it is highly specified and provides you with the best approaches to e-commerce marketing. If you are just starting your marketing automation process, pay attention to Hubspot, since you will enjoy the possibilities of free CRM for your business. Dashly can be used as an additional tool to get even more in-depth insights about your customers and facilitate the sales process. 
Main Findings
Marketing activities require a lot of effort, but can be eased and streamlined once you choose and configure automation. It is simple, efficient and profitable. More and more marketers are using this option for their campaign solution.
Marketing automation is not just an innovative technique, but also an absolute necessity for both small startups and major international corporations. And while it does require some investment, both fixed and recurring, the results will be more competitive position in your market place, and ultimately more business growth. Such growth will more than offset the investment.
---