How to Write a Blog Post Introduction?
---
What is the first thing people notice about your Blog Post?
Yes, it is the title. 
A captivating title certainly compels a reader to check out your post. But if your introduction is boring, they are likely to lose interest and may avoid going through the remaining content. 
In this post, I'll show you how you can write a blog post introduction to engage your audience.
Let's get started.
Why Should You Spend Time in Crafting Your Intro?
Ever gone through an intro that goes something like this

The above intro is dull and unappealing. When people come across an intro like that, their chances of going through the remaining content reduce considerably. 
According to Zazzle Media, about 65% of companies find it a challenge to produce engaging content on a consistent basis. 
Creating a gripping introduction goes a long way to captivate your audience. In my opinion, it is the part of your blog post you should spend the most time on. 
Let's now look at the components of creating a good introduction: 
Components of an Introduction
While there is no specific formula for a great introduction, the following elements work wonders.
1 The Hook
As the name suggests, this is what gets your audience intrigued, so they want to read more. It could be a question, a phrase, a statement, or even one word.  
You should look to keep it brief and specific. 
Let's say you are writing a post on weight loss. An example of a hook could be:
No doubt about it, you must have seen them.
Confused? Check out the next statement in the transition example.
2 Transition  
Once you have nailed the hook, the next step is to write a transition. It will typically be connected to your hook, explaining it further. Continuing with our weight loss example, let's see how you can make a transition.
No doubt about it, you must have seen them.
The captivating blog posts that promise how you can lose 20 lbs in a month  without much effort
3 Thesis
The last element of writing a good blog post introduction is the thesis. It will give strength to your topic and explain what your blog post is about. If done right, you will have the perfect intro. 
Example:
Let's continue with the example of a post on weight loss.
No doubt about it, you must have seen them.
The captivating blog posts that promise how you can lose 20 lbs in a month  without much effort.
Unlike other posts with unrealistic claims to losing weight fast, I'll show you how I lost 30 lbs in three months by making simple but consistent changes to my lifestyle.
Brian Dean's PPP Formula
When it comes to creating engaging content, SEO expert Brian Dean is one of the best. He often uses what he calls the PPP formula for his intros i.e. Preview, Proof, Preview
Let's look at his formula in action
Preview: 
You start off your post with the preview. All you need to do here is to show your audience what they can expect by going through your post.
Example: 
Today, I'm going to show you how I lost 30lbs in three months.
Proof: 
Next, you have to present some evidence.  You want to show your readers that you know what you are talking about. It could be
Personal results you achieved

Qualifications, Credentials or certifications

Number of consumers you increased
Example: 
Today, I'm going to show you how I lost 30lbs in three months.
This was me when I started out my weight loss plan on 1st August 2019 (A picture)  
And this me exactly three months later on 1st November 2019 (A Picture)
Preview:
Finally, the last preview which is a bit different than the previous one. Here you can inform your readers about something specific from your post.
Example: 
And let me tell you this.
I didn't have to go on a crazy diet plan or spend hours in the GYM.
If you have been struggling to lose weight, you can do it by making the simple step by step changes to your lifestyle.
So check them out and keep reading. 
In this example, I'm previewing the fact that I didn't spend much time at the GYM or go on a demanding diet plan.
Tips on Creating Good Intros
When it comes to creating fantastic intros, the following tips will prove to be very helpful
Relate to Your Audience
If you can relate to your readers in your intro, it works well to get their attention.
Example: 

From: What Working-class and Poor White People Need to Understand About Rich        White People | Medium
Share Your Experience
You don't need to come off as an expert if you are not one. You have to appear knowledgeable. And you can do it by sharing your experience that got you writing the blog post.
Example: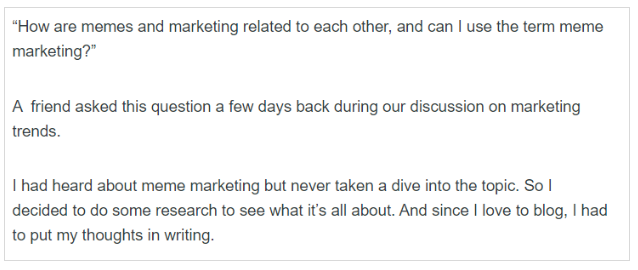 From: Meme Marketing – More than just a Trend | ViralTag Blog
Sound Exciting
When you convey your message to your reader in a way that sounds exciting, they are likely to keep going through your content
Example: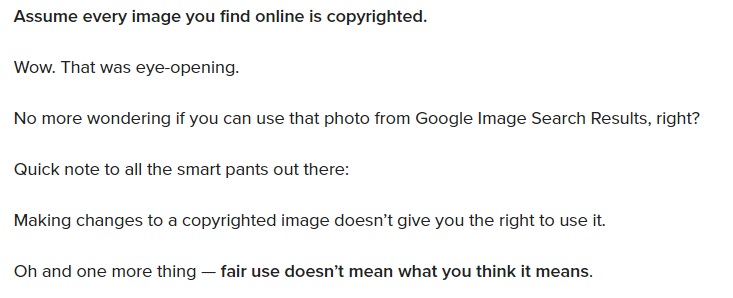 From:  Creating Images for your Blog The right Way (Using Canva) | Sellfy Blog
Include a Promise
Giving out a promise to help achieve results can encourage your audience to read further. But you should be careful about what you are promising.
Example:

 From: 91 Ways to Speed Up WordPress | wpclipboard.com
Conclusion
With more than 30 million blogs in the U.S alone, gone are the good old days when it wasn't that difficult to grow your Blog as it is now.
If you are a newbie, then average content doesn't cut it out anymore. You have to create great content and promote it as well.
It's essential to spend sufficient time researching, writing, and making revisions to your content.  Just check out a paper writer review to see what I mean.
To sum it up, the more compelling your intros are, the more you will be able to engage your readers.
Author – Amos Struck
Amos Struck is a publisher and entrepreneur in the stock imagery field. He is passionate about blogging, technology, marketing, and visual imagery. Amos also holds a keen interest in WordPress related news and articles.
---