The Ultimate Guide to Increasing Domain Authority in 2020
---
Introduction 
As unbelievable as it is, 90% of web pages get no organic traffic. Just think about how many hours of work has gone into that content for zero acknowledgment.
If you're not prudent about driving your domain authority, this could be you. With poor visibility on search engines, you'll struggle to convert sales.
Using diverse search engine optimization (SEO) tactics and dynamic content marketing techniques, you can increase your domain authority to foster brand awareness and drive organic traffic.
Use these proven tactics to springboard your domain authority in 2020 and enhance your visibility on Google.
What is Your Domain Authority? 
Domain Authority (DA) measures how well your content will rank on search engine results pages (SERPs). Scores are out of 100, with higher scoring pages ranking better than lower DA scores.
But what does this all mean?
Simply put, the higher you rank on Google, the more visible your content is to potential visitors.
Since half of all traffic goes to the first result on Google, clinching that top spot has a massive impact on how many people click on your content.
Improving your DA score will push you up Google rankings, boosting your click-rate and amplifying conversions. The higher your DA score, the higher you rank.
How to Increase Your Domain Authority: The Ultimate 2020 Guide
With so much content swamping the internet, getting seen is a struggle. 
Using robust SEO and content techniques to increase your domain authority will amplify brand awareness and drive conversions.
Here are six killer tips for increasing your domain authority in 2020.
#1: Enhance on-page SEO
You need to optimize your web pages so their value is clear to Google. This helps Google to rank your content for the correct relevant search terms. This, in turn, improves your DA score.
To optimize your website to increase domain authority, you need to:
Optimize content SEO

Enhance technical SEO

Improve site usability
To improve content SEO, you need to insert relevant keywords into your visible content and written text.
To enhance your technical SEO, you need to input the same relevant keywords into the back-end of your web pages — alt-text, meta-descriptions, title-tags, and so on.
Lastly, you need to improve the technical user experience of your website. Optimize your site for mobiles, fix all broken links, and make sure all visual elements load correctly.
Let's look at Common Thread, a stellar example of excellent SEO.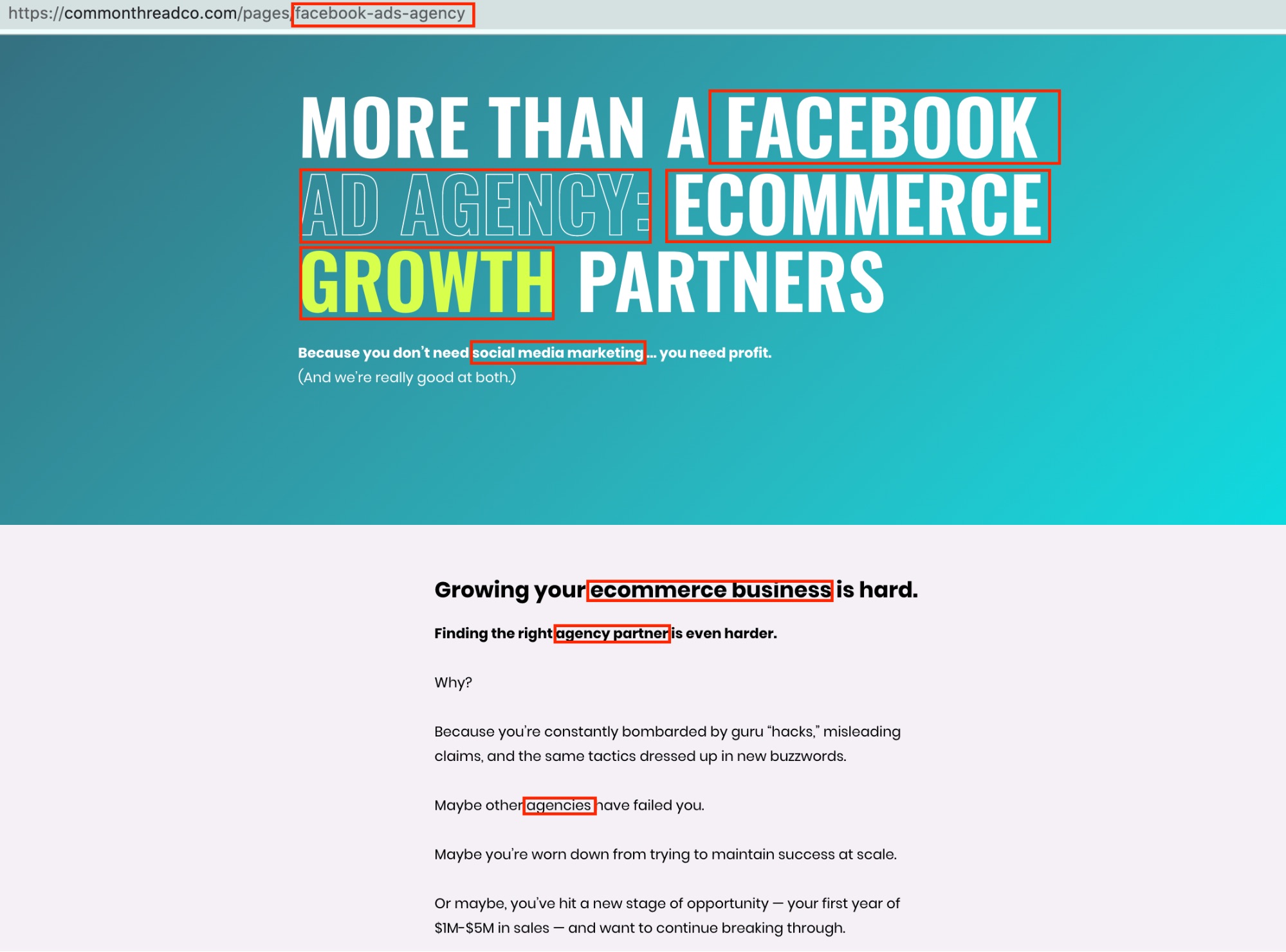 At first glance, it's clear that the Facebook ad agency has optimized its website with relevant keywords. In fact, the website has over 18,000 organic keywords, attributing to its high DA score of 72.
To delve deeper, perform an SEO audit using a tool like Ubersuggest or Sitechecker to identify any technical SEO errors and to see where SEO can be improved.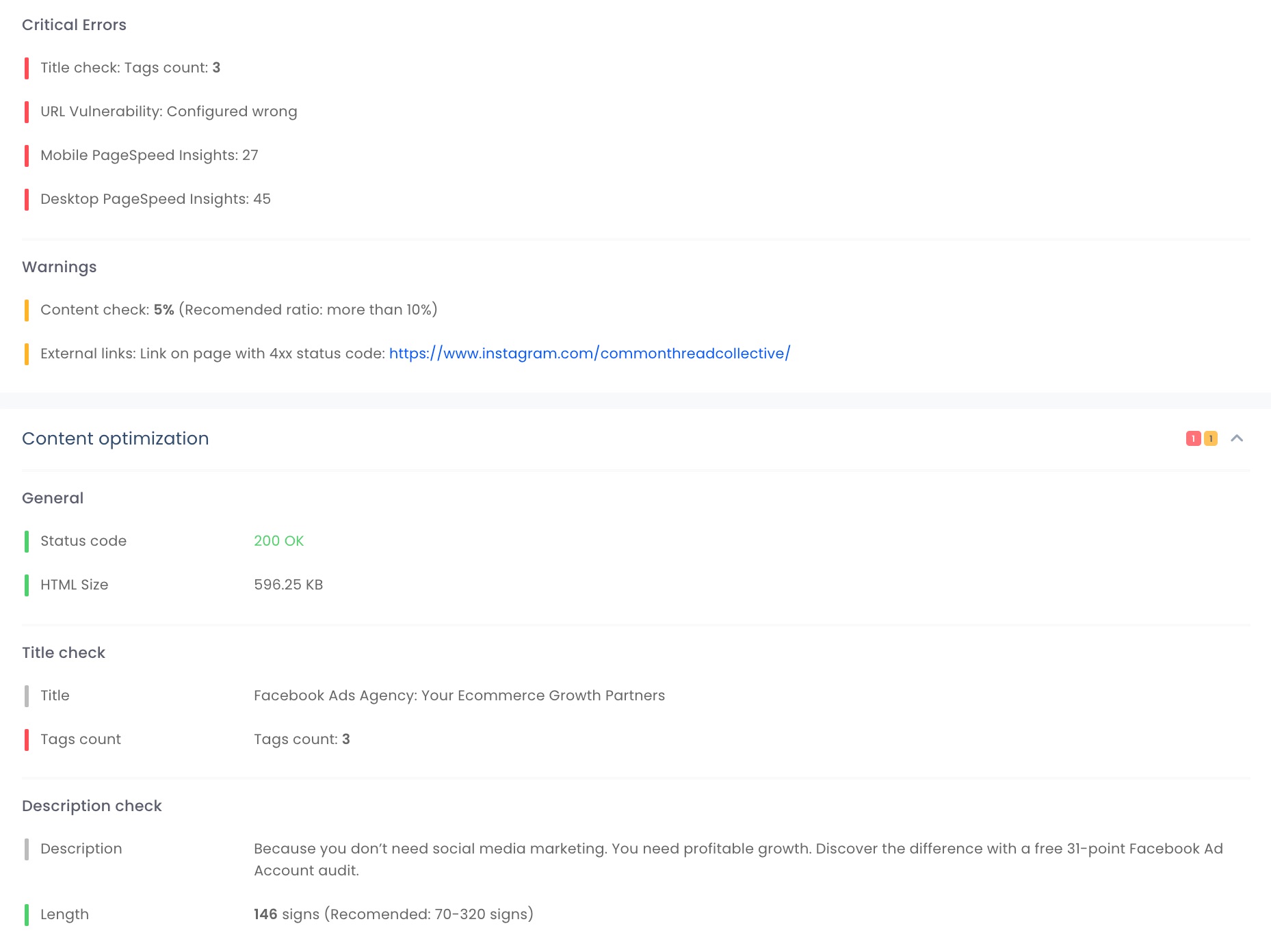 Looking at Common Thread's SEO audit, the visible content is highly optimized. However, with a few tweaks to the title tags, URL, and page loading speed, Common Thread could push its DA score even higher.
#2: Build a comprehensive link graph
When your content is shared, it creates a new route back to your website. This is known as a backlink. 
Picture this as a thread connecting the place the link is shared (a Facebook page, for example) back to your website.
Now imagine that your content is shared hundreds of times, creating lots of overlapping threads. This is known as a link graph.
When it comes to Google ranking factors, 71% of digital marketers agree that Google is heavily reliant on your link graph to rank your web pages. The more backlinks on your link graph, the higher you'll rank. 
Therefore, if you want a better DA score, you need a comprehensive link graph.
But how do you increase shareability to build that link graph?
There's two things that make content highly shareable:
It's easy to share

People want to share it
Firstly, to make content easy to share, it should be quick to consume and easy to post on social media or link back to in a blog. Streamline this process by adding social share buttons next to your content.
Secondly, when it comes to gauging what your audience wants to share, you need to understand user intent — why are people searching Google anyway? Is it for information? Entertainment? To purchase something? To solve a problem?
Take Backlinko SEO expert, Brian Dean. 
Brian noticed his 'SEO Checklist' article was suddenly sinking down Google rankings, despite early success. After running a SERP analysis (googling focus keywords to see what content comes to the top), Brian noticed that he hadn't angled his article to satisfy user intent.
While the top search results returned actual SEO checklists, Brian's article was a case study. Searchers don't want case studies, they want a checklist.
By restructuring the article for user intent, Brian saw organic traffic soar 652% as the article was shared far more, increasing its DA score and pushing it up Google's ranks.
#3: Create content that educates your audience 
One of the main reasons that people search Google is to find out answers to pressing problems. That's why educational content is a winner.
One of the major factors that affects your domain authority score is the quality of your content. High quality educational content that helps to solve problems will receive a far higher score than content that simply sells a product.
36% of marketers are looking to produce more how-to guides this year to meet the demand for problem-solving content.
That's how True Blue Life Insurance managed to push its DA score to 66.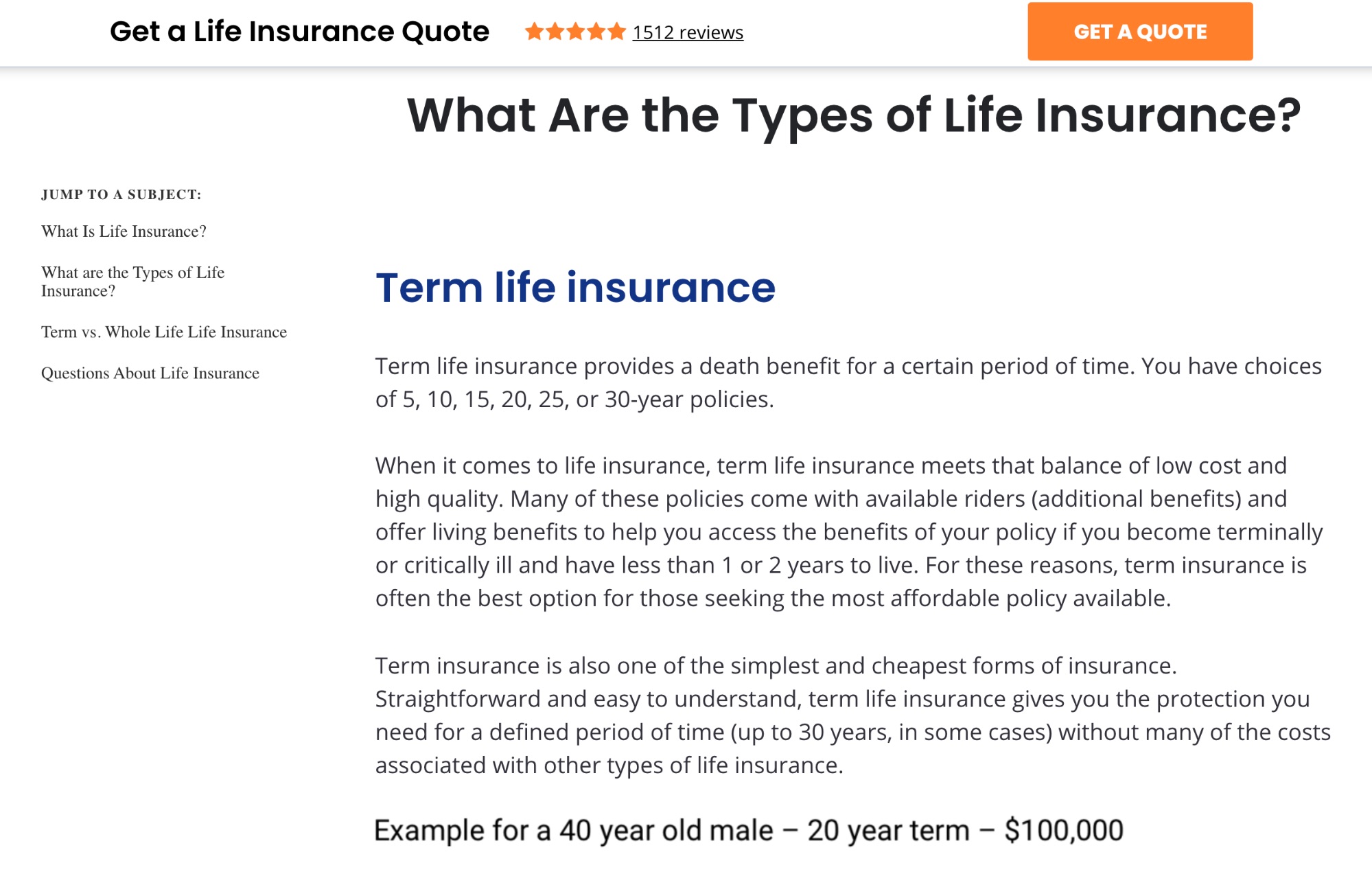 Publishing comprehensive guides to educate and inform its target audience, True Blue demonstrates its expertise as an authority on life insurance. As the content is high quality, useful, and trustworthy, True Blue achieves a respectable DA score.
#4: Use a topic-focused content structure
The way you structure your content internally directly relates to how easy it is for Google to rank your website for relevant topics. 55% of marketers use a topic-focused content strategy for effective internal structuring.
A topic-focused content structure will help you to produce substantial volumes of educational content and create a clear internal linking structure between your articles. This helps Google's spiders to run around your website, linking together relevant content.
That way, instead of ranking based on the information in one article, Google is now able to rank based on all the linked articles.
This method requires that you create long, structured guides that briefly address all aspects of a particular topic. These are known as pillar articles and should be between 2000–4000 words. 
Within these articles, you should link to shorter secondary content that goes into detail about a particular aspect of the overall topic. These articles are known as cluster content.
This is one of the techniques that uSERP uses to drive its DA score.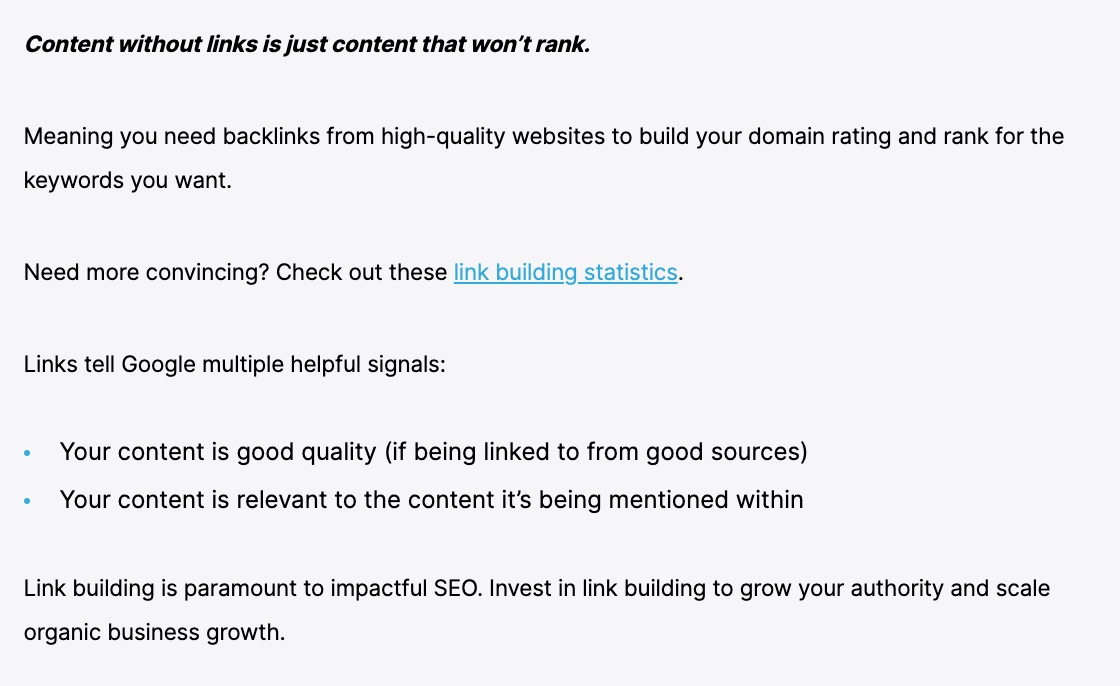 In this case, the main pillar article is titled How to Drive Organic Business Growth: The Ultimate Playbook. 
Within each section, there is an internal link to a cluster article that helps to explain the sub-topic in more detail. Notice how the section on building backlinks connects to an article on link building statistics. 
uSERP creates a clear internal linking structure while also establishing its authority on the subject.
#5: Harness influencer marketing on social media
Social media sharing is one of the best ways to increase your backlinks. However, not all backlinks are created equal.
The quality of your backlinks will directly affect your DA score. Backlinks with more social influence will push your DA score higher.
That's why influencer marketing has a 520% ROI. Not only does your website get increased exposure from an influencer's large following, the credibility of the backlink amplifies your DA score.
This is how Alex Tomic and Nik Mirkovic became the youngest self-made millionaires in Australia.

Spending all their capital on influencer marketing, the pair hired Kourtney Kardashian and Connor McGregor to post content about their teeth whitening brand, HiSmile. The company's DA score and brand awareness went through the roof, with over a million sales in the first year.
Remember though, you don't need to start with huge influencers. Begin with microinfluencers. Approach low-level thought leaders with well-established reputations in your field. Message influencers directly on social media to strike a deal on backlinking to your content.
#6: Audit your content's quality
If your content is of low quality and full of mistakes, it won't rank highly. 
On a human level, lots of errors undermine the credibility of an article. In terms of your DA score, errors knock off points.
Make sure you're assessing all content to ensure it has a succinct, logical structure with easy readability. People don't like complex text — most popular novels are written at a seventh grade reading level. What's more, sentences in strong SEO articles tend to have 20 syllables or less; so keep it concise.
Check for spelling and grammar mistakes as well as broken links and poor formatting.
Written content should be accompanied by relevant images, screenshots, graphs, and videos to help explain and accentuate your point.
Most of all, your content should be useful, relevant, and engaging.
Use a tool like Hemmingway to check readability and use a tool like Grammarly to check for spelling errors and plagiarism.
Conclusion 
Got a clearer idea on what it takes to boost your domain authority? It's time to whip out those SEO techniques and knuckle down to some good old fashioned content marketing.
Remember that the art to uplifting your domain authority lies in demonstrating that your domain is, in fact, an authority. 
Flesh out your content strategy, build your link graph, and reach out to influencers to fuel your DA score.
If you have any questions about increasing your domain authority, give the experts at Adlibweb a shout.
---