Lead Nurturing 101: Top Strategies and Tips
Have you become too obsessed with lead generation by making it a means to an end? It could well be the case that for some teams, lead generation has become a key target to report on at company meetings. According to Campaign Monitor, 69% of marketers define lead generation as their key priority.
Often, the outcome of every such meeting is the same – teams are tasked to generate even more leads for the next quarter.
Before you start exploring new channels to help you achieve ever-increasing lead targets, answer just one question.
Do you need to generate more leads or simply work on the potential of the leads you have already generated and convert them at a higher rate?
Here is the thing – you should not generate more leads to help your company achieve higher sales targets every month. You can generate the same number of leads using the best lead generation software and techniques, but become more efficient at converting them into sales opportunities.
In this article, we will dive deeper into the effective lead nurturing strategies to help you convert your existing leads at a higher rate and achieve a bigger impact on your company's bottom line.
Lead generation vs. lead nurturing
While lead generation is the process of converting page visitors into prospects that have an interest in your company, the goal of lead nurturing is building relationships with your leads at every stage of a sales funnel.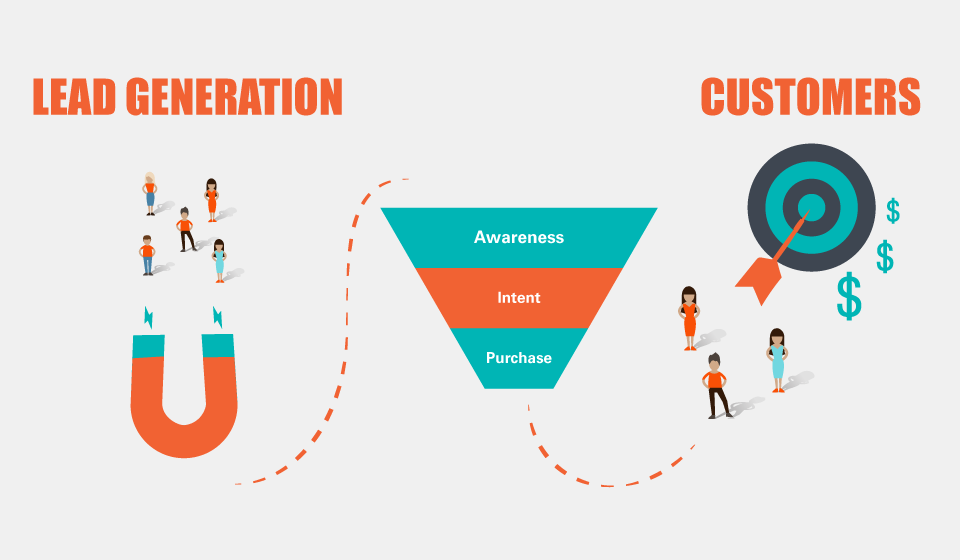 Source: Mass Inbound
To understand the difference between the two terms let's do some math. You have 1000 leads that convert at the rate of 2% into sales and the other 100 leads converting at the rate of 20%. In both cases, you would get the same number of opportunities. The only difference is the number of leads.
There are at least two factors that can help you generate better converting leads. One of the factors impacting the lead conversion rate is lead quality. You can influence lead quality at the acquisition stage in your marketing funnel. The other one is to develop a lead nurturing plan that we will explore in more detail in this article.
What is the difference between MQL and SQL?
Gated content such as ebooks, guides, playbooks, and other online resources are just some of the helpful tools to build lead lists in 2020 and beyond. What happens next?
Here is an illustration of a lead life cycle leading to a conversion.


Source: SmartBug Media
Having set a goal to generate more leads, you would usually start with creating a lead magnet. You can choose from multiple content forms – gated video content, podcasts, ebooks, guides, business presentations, and more.
The next step to creating a lead magnet would be an SEO analysis that will help you find keywords with the highest potential. By including them on your landing page you can rank higher in Google and drive more traffic.
Simultaneously, you would collect the content topics you could include in your lead magnet. Remember to optimize every lead magnet for successful user segmentation that will segment leads into MQLs or SQLs.
When you have finally published your lead magnet and your website visitors start downloading your online resources, they are usually not ready to talk to your sales department. These so-called marketing qualified leads (MQL) need a bit more time to learn about your business and compare different product options.
Before you get users to buy your products, you need to establish a couple or even dozens of touchpoints with your company.
So what is the right moment to push your leads towards a conversion? There are no obvious answers to what makes a marketing lead into a sales qualified lead (SQL). That is because companies establish different criteria and characteristics for their SQL.
However, in the majority of cases, SQLs are defined as solution aware leads that are at the stage of comparing different product options available on the market. One of those options is your product.
Usually, companies define SQLs as the leads that express consent to talk to sales. For example, such leads can sign up for a demo call or ask to estimate a project.
In short, SQLs consider doing business with you.
Converting MQLs into SQLs
When users download your free online materials, they usually won't know much about your services. They are also not ready to schedule a call with your sales. Moreover, they might have a certain problem your products solve, but they haven't realized what solution would fit them.
Now that you have generated the demand and have started to grow your marketing leads, it's time to increase their awareness about your products, and nurture your leads with more content.
Here are just some of the lead nurturing tools that we are going to explore in depth.
Lead scoring
Email sequences
Dynamic website content
Let's start with the first one.
Lead scoring and lead nurturing
First of all, let's answer the question – what is lead scoring?
Lead scoring is a way to rank prospects used to determine the perceived value of a lead for an organization. At this stage, it's important to use your sales and marketing data to enhance lead performance and make the best possible decision going forward.
This means you can assign different points to your leads and describe leads as "cold", "warm", and "hot" to put this system into action.
Here is an example of a lead scoring system focussed on demographics including job level, department, company type, and company size.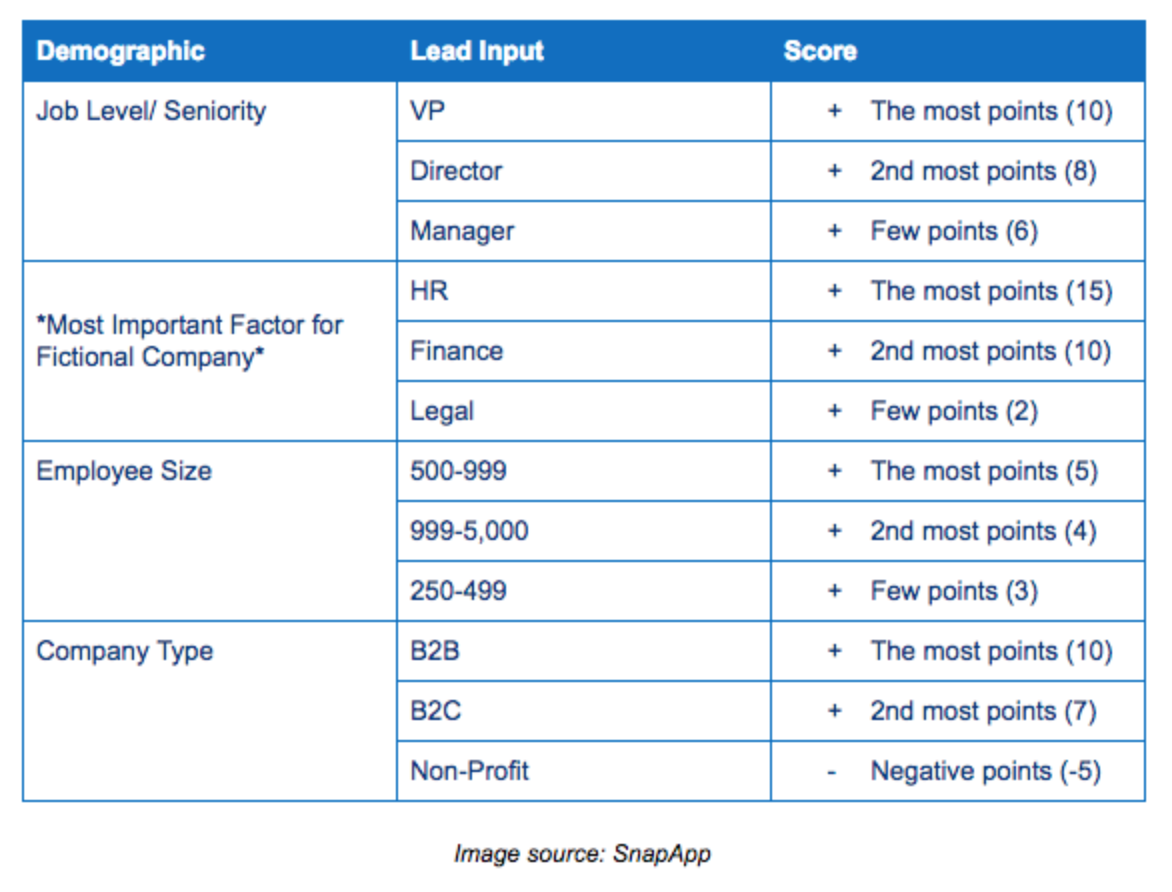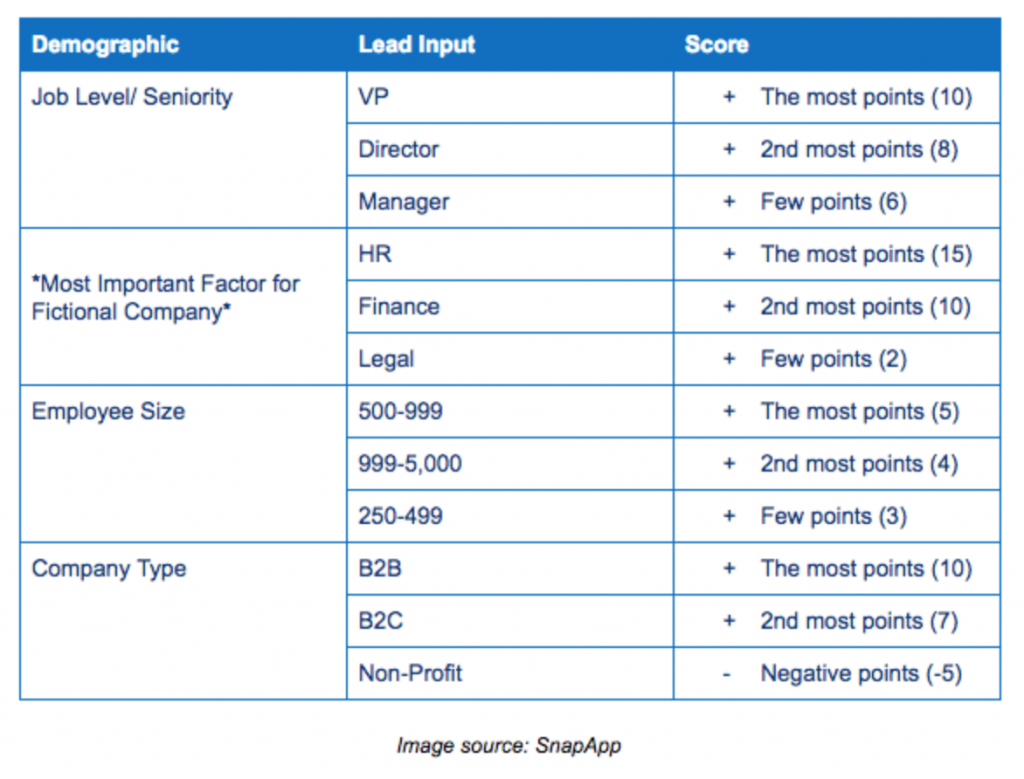 However, you should not limit your scoring criteria to demographic factors only. Include behavioral factors as well. For example, such factors can be articles or landing page visits, time of inactivity, or ebook downloads. Every such activity should receive a certain number of points.
If your leads are reading your case studies, you can assume they already have a higher buyer intent than the leads that have read your blog post. The leads with a higher buyer intent should receive more points.
Remember that your company's scoring system is unique – you can't just copy what works for some business and expect great results. To build an effective lead scoring system, you should know your buyer persona inside out and define the criteria such as behavior and demographics that make up your ideal customer profile.
Email sequences and lead nurturing
By introducing an automated email nurturing sequence, you can drive your leads to relevant website pages that bring them closer to conversion. In other words, emails can help impact buying behavior.
You can create dynamic email content and trigger emails depending on your leads' website behavior or a changing lead score. You also need a clear buyer persona template that you can use to optimize your email campaigns to address the exact needs of different customers.
For example, Zapier is including one of their blog articles in a nurturing email to drive users back to the website. Under an article teaser, they are mentioning the advantages of using Zapier and encouraging users to sign up for a free 14-day trial.
Source: Zapier
If you are selling more expensive products or services, you should focus on building trust with your leads and break their objections about a purchase in your emails.
With the abundance of email marketing tools, you can set up various automations and triggers to personalize emails based on list segment criteria. This way, you can send different variations of emails for the leads on different awareness levels and stages of the funnel.
Also, think ahead and incorporate call-to-action buttons not only in your nurturing emails but also in blog posts and on landing pages where you direct your email subscribers. Map your funnel and set the expectations about the next steps users have to make after clicking a banner or button in your nurturing email.
For example, this SaaS business uses a call to action at the end of the case study page to collect signups for a free trial.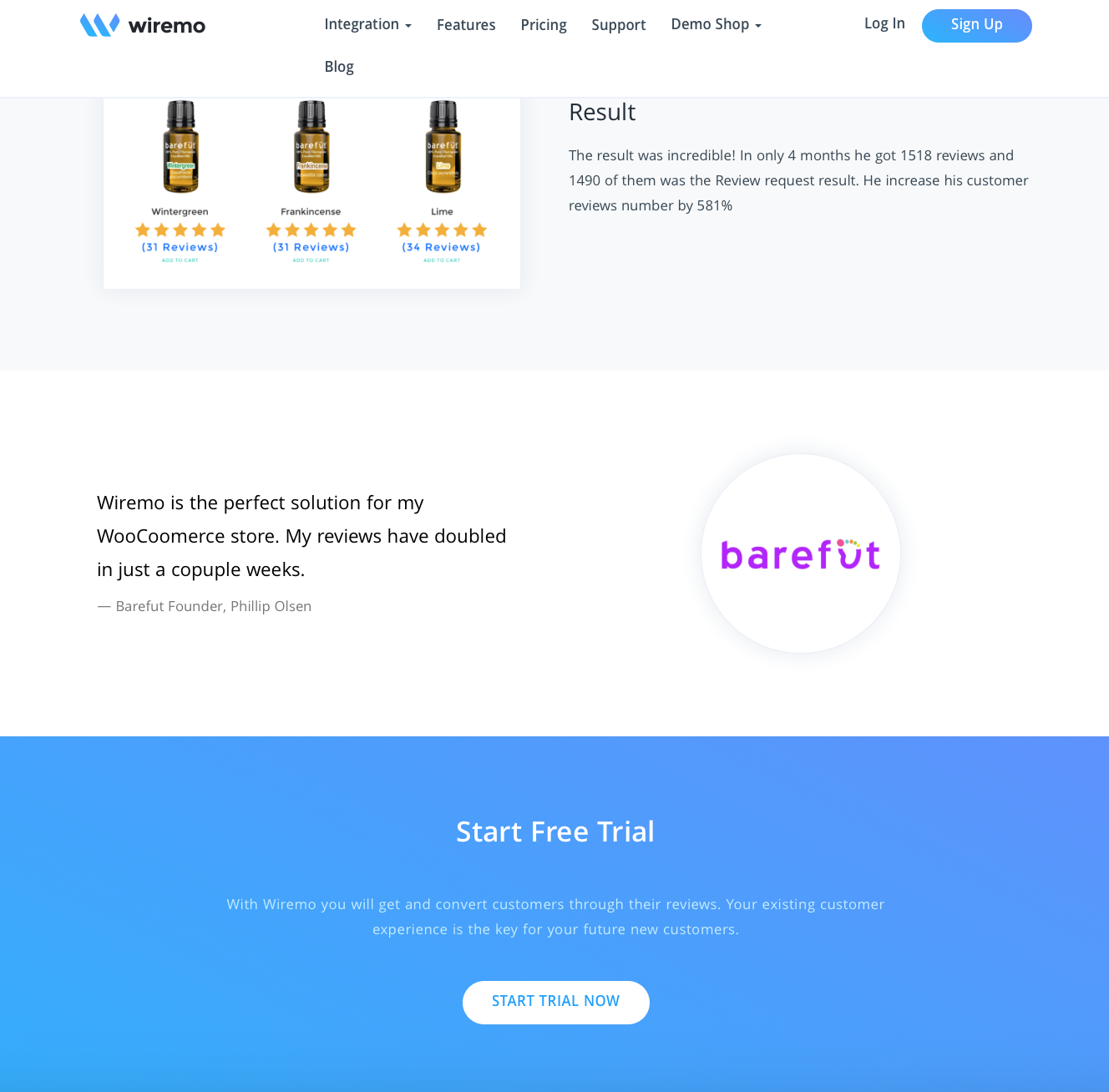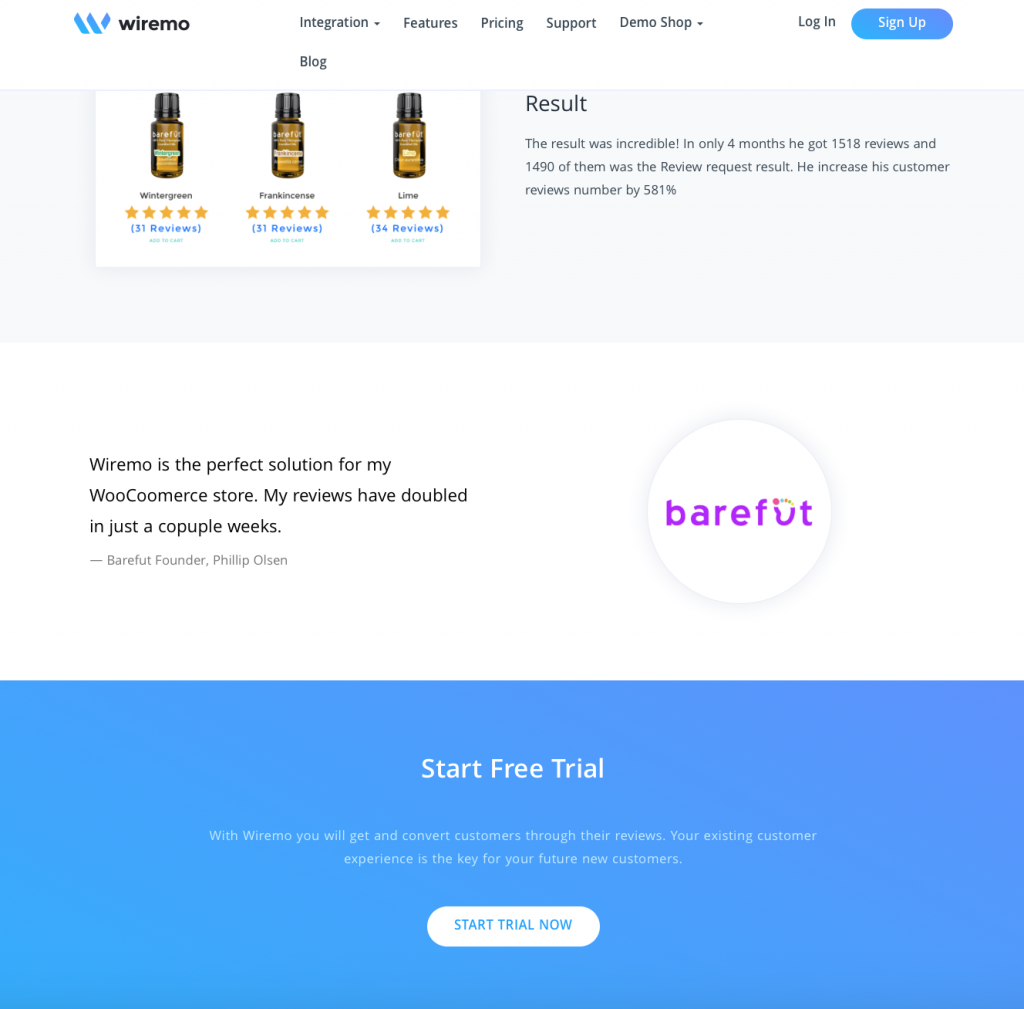 Source: Wiremo
Remember about designing a full flow of user actions and create an intuitive path for users to proceed to the bottom of your funnel.
Dynamic website content and lead nurturing
In 2021 and beyond, content personalization will have a huge impact on purchase behavior and remain one of the content marketing trends. Statistics say that 71% of consumers get frustrated with the shopping experience that is not personalized to their profile.
Before we explore how your business can use dynamic content to nurture leads, let's first answer this question – what is the difference between static and dynamic content?
When landing on a static page, users see the same page elements – headlines, images, page structure, and body text. With dynamic pages, you can customize page elements – images, headlines, body text, website widgets, and even exit-intent popups – based on a set of criteria such as previous search history or lead source. As a result, users see different page versions.
E-Commerce businesses will use dynamic content to elevate the user experience, often pulling key user data from CRM tools like the free CRM for Outlook as well as their website and even social media . This allows them to personalize the shopping journey and offer complementary goods in bundles right under the main product.
For example, when a user chooses an armchair, they would receive a recommendation to add some side table in a complementary color. The recommendations change depending on the product users choose – each recommendation can be customized based on a set of personalization criteria such as product type or color.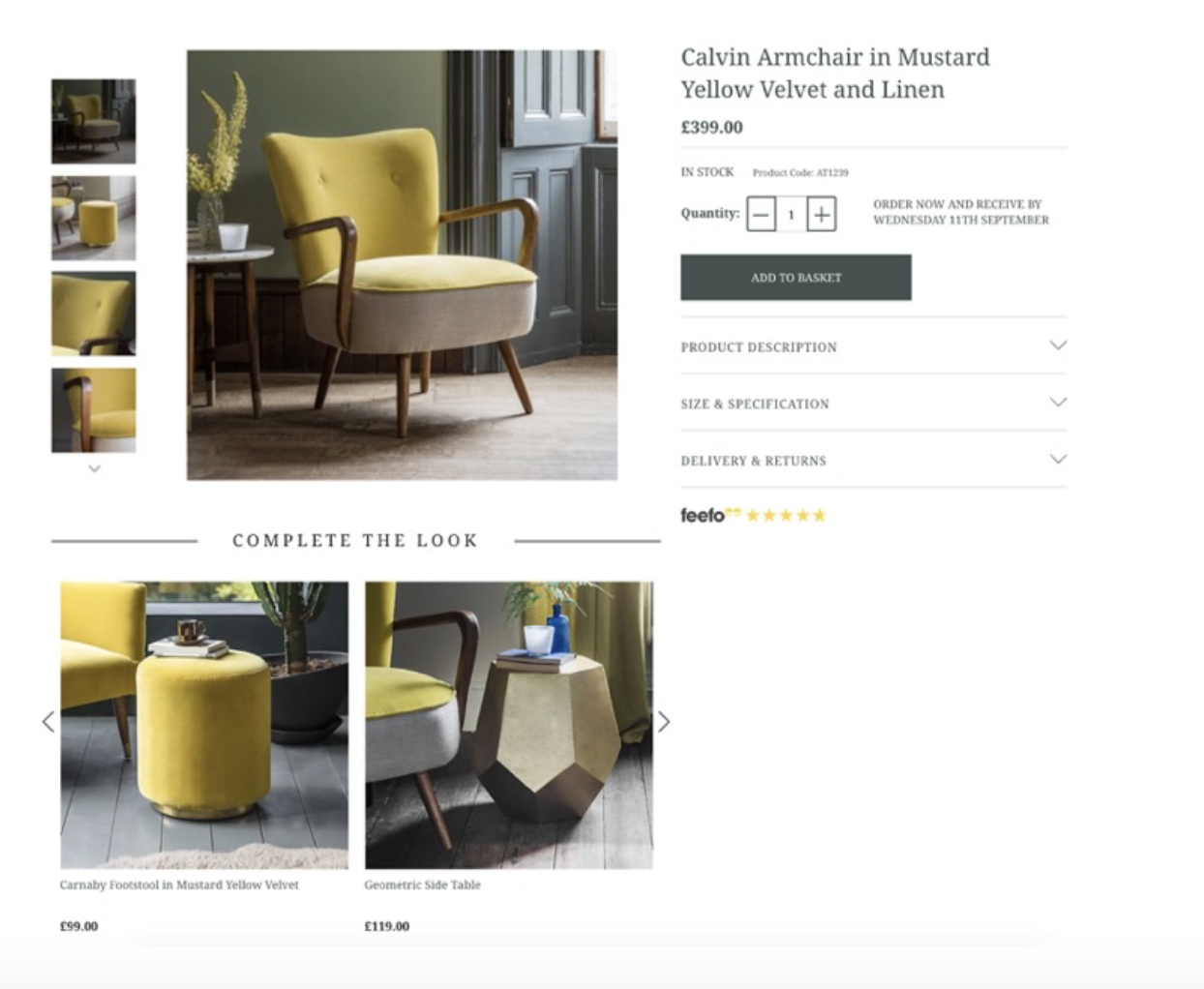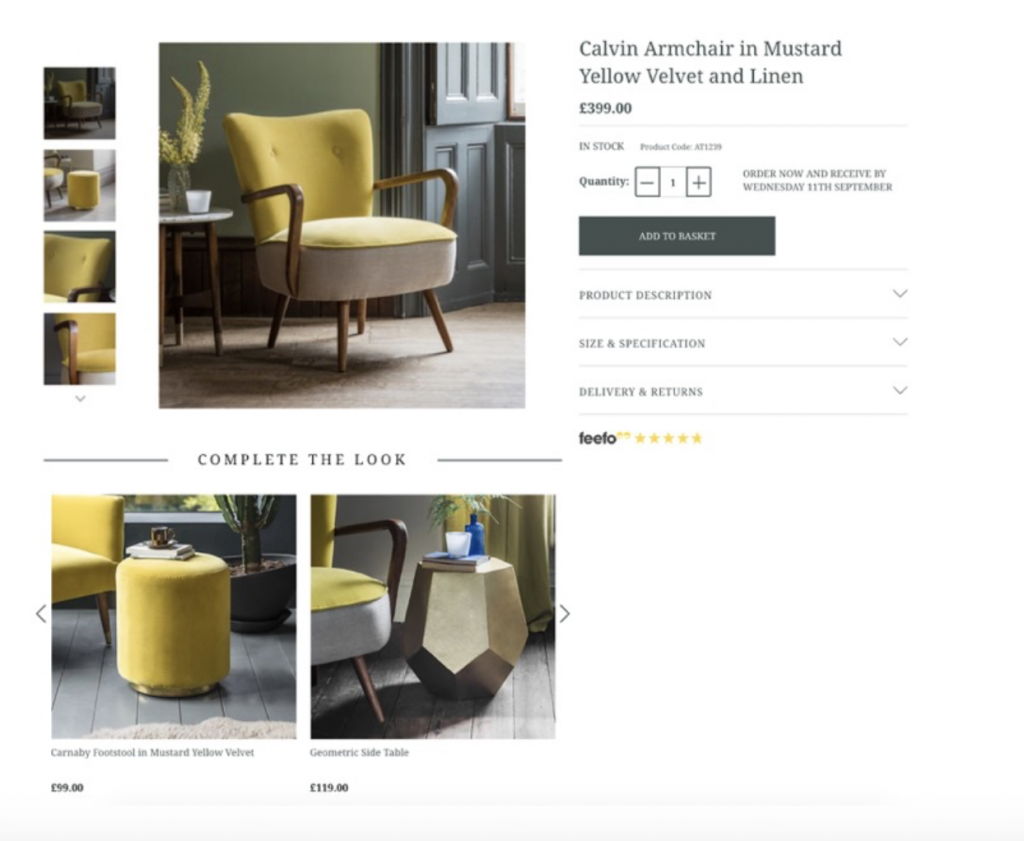 Source: Nosto
Here is how you can personalize your blog sidebar in practice.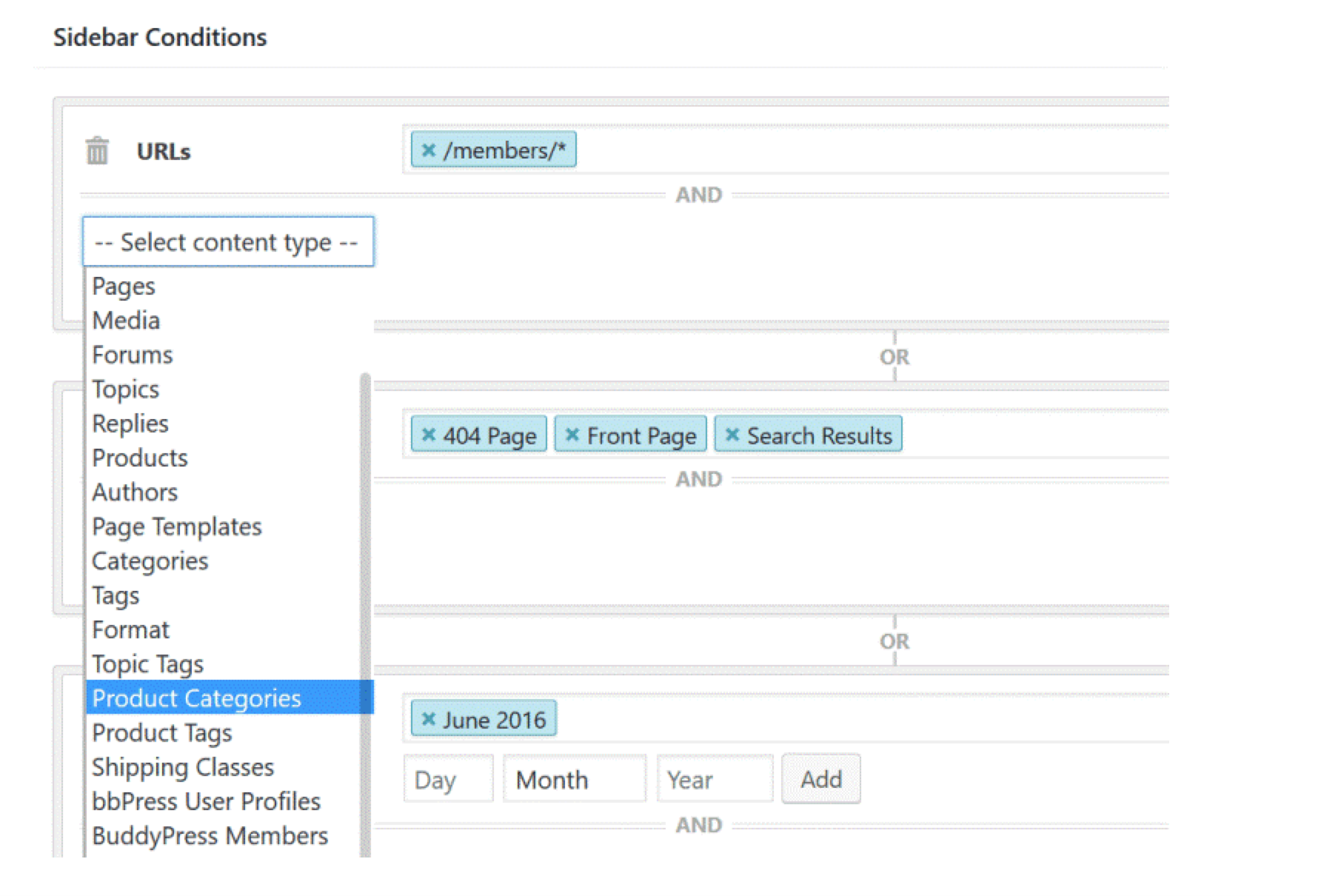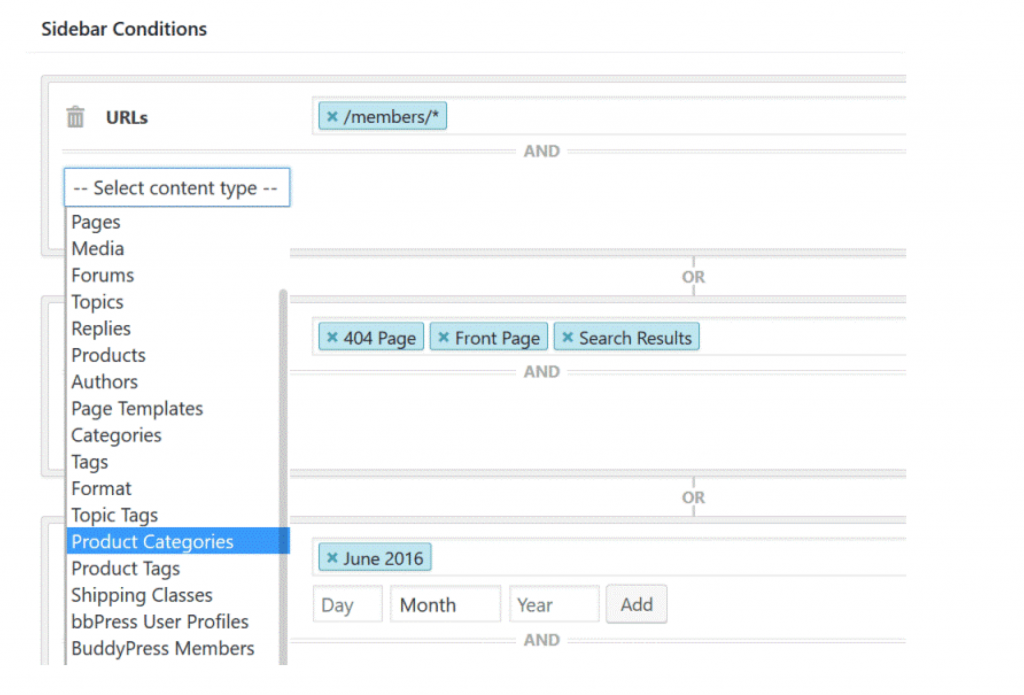 Source:
You can automatically change visits depending on the product category, product name, pages visited, and many more criteria.
Retargeting ads and lead nurturing
Retargeting your users with Facebook or Google ads will help keep your brand top of mind and drive users back to your website. According to the statistics, 50% of users arriving at the website after seeing an ad are more likely to finish a purchase.
Design your retargeting flow based on the sales funnel stages. Remember that if you have small audiences for each stage in the sales funnel, which the data you should include in your most important sales KPIs, your ads won't achieve their maximum capacity as your audience won't populate.
That is why you might simplify your retargeting strategy by driving all page users to your case studies. Later, once you get more users to land on your website, you can make your retargeting strategy more granular by including more stages.
By showing case studies and testimonials in your retargeting ads, you can establish trust and bring the users with high buyer intent back to your page.
SurveyMonkey is using social proof tactics such as statistics and mentions of recognized companies in their ads to build trust and drive leads to the next stage in their funnel.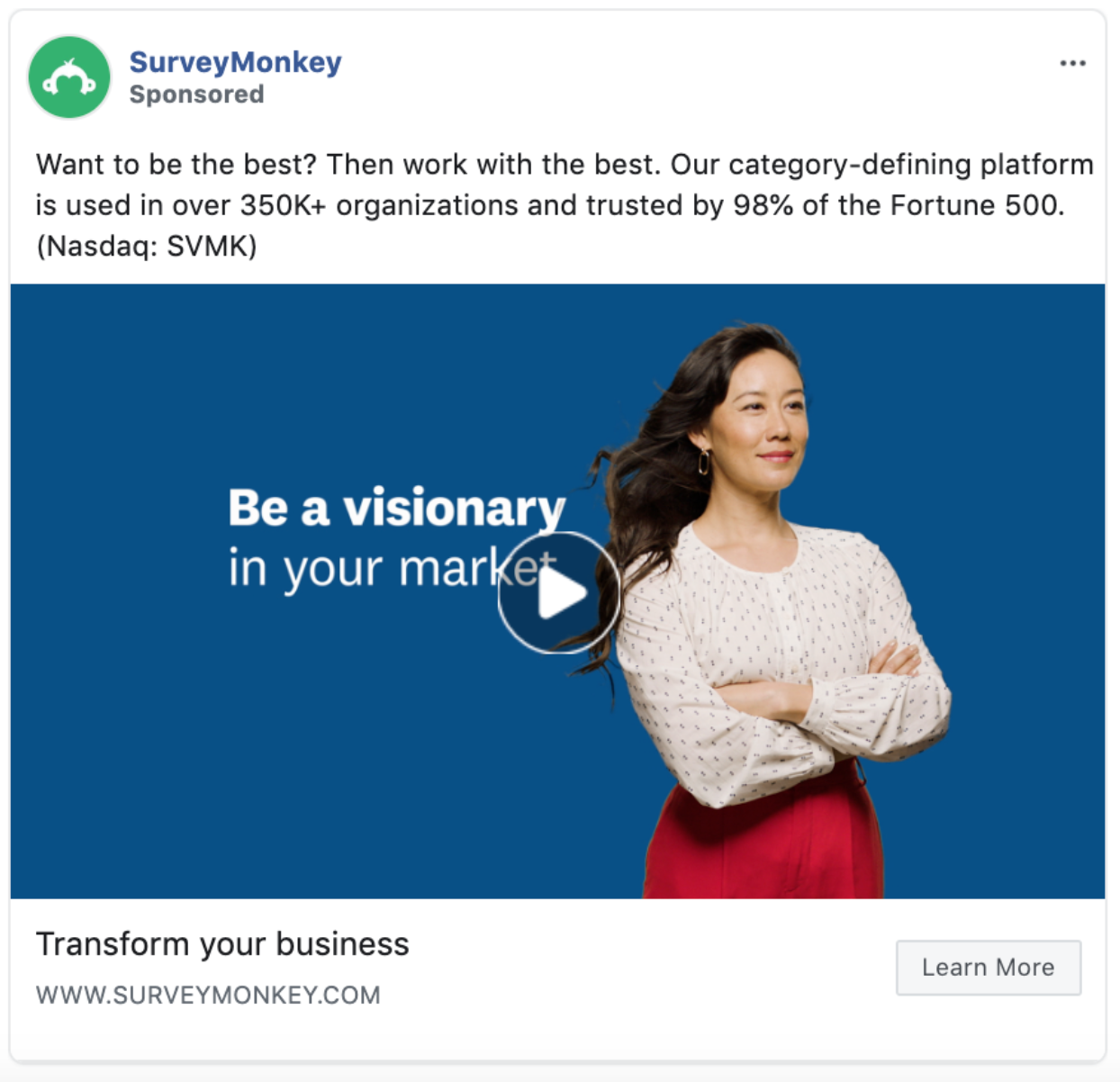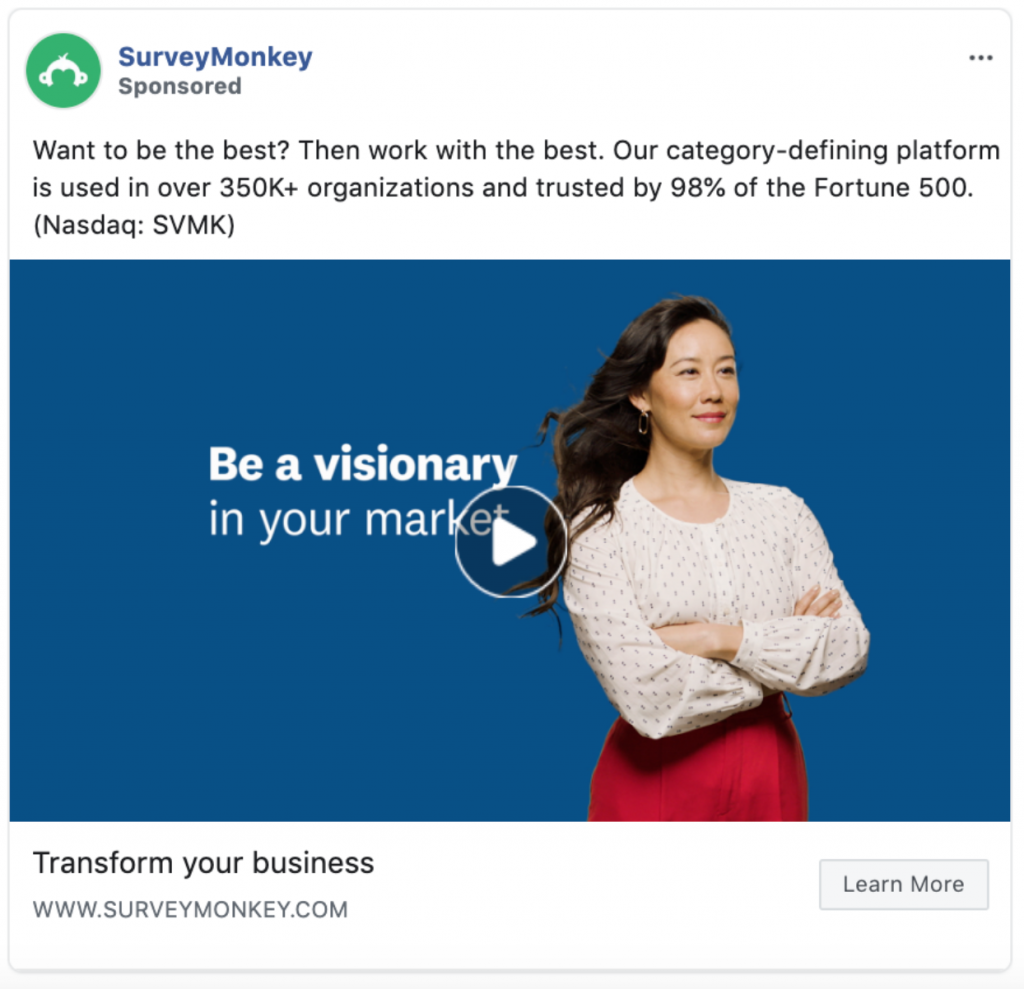 Source: Facebook
After you have got leads to learn about your case studies, you can then retarget them with a call to action leading to a free trial. Later, once they sign up for a trial, you can encourage them to upgrade a plan.
Don't expect users who have read just one article on your page to buy from you right away, especially if you are offering high-end products. Instead, build trust with social proof before you ask for a purchase.
Let's recap
Not all leads will be ready to buy your products right away. In the majority of cases, you will have to nurture your contacts and apply multiple strategies to bring users down your marketing funnel.
In this article, you have learned that converting leads to sales prospects is not an easy task and that it requires time and a well-thought-out lead nurturing strategy. To put this strategy in action you should consider the following elements:
Lead scoring
Email sequences
Dynamic website content
Retargeting ads
While all these strategies might be overwhelming in the beginning, you can decide to implement them one by one. In order to understand what elements of your content strategy needs to be of a higher priority, you can consider applying the Getting Things Done methodology that will make it easier for you to plan and deliver a bigger lead generation and lead nurturing project.
By making small steps with implementing a lead nurturing system and improving it over time, you will be able to achieve the result and squeeze more sales opportunities from the generated leads.
This way, you should not increase your lead volume to drive more sales. On the contrary, with a mature lead nurturing strategy, you can generate fewer leads that convert into more sales opportunities, thus driving a bigger impact on the overall financial results of your company.
Ready to kickstart with lead nurturing?