Google Analytics & Salesforce integration challenges and best practices
Growing digitization has increased the technology-driven methods used for business growth and development. There are various internal procedures in business that need to be monitored and analyzed.
Google Analytics and Salesforce is one such integration used to monitor the visitors to the website. According to the reports, Google Analytics uses 85.9% of data to build marketing strategies.
The website is the central point of interaction between consumers and the company. It gives a platform to understand the customer's point of view, which helps the professional strategize the development, marketing, and promotional strategies.
Google Analytics provides you the essential data regarding the customer, which help to build the leveraging strategies of the business. The salesforce development company uses google analytics for advanced monitoring and CRM facilities.
The important data regarding the customer will also provide a profitable lead to turn the website visitors into potential customers.
Salesforce is one of the potent CRM platforms which integrates and uses customer data in marketing, sales, and promotions. Many top-performing companies prefer Salesforce to build a robust marketing infrastructure and promotional policies.
There are many benefits of salesforce integration, including real-time monitoring and analysis according to accurate data.
integration of Salesforce and Google analytics leverage you with powerful API with integrated data it streamlines the operation for maximum customer acquisition and ROI.
According to a recent survey, around 29.3 million websites use Google Analytics, from which the customer data is tracked for several business-related purposes.
The major motive for integrating Salesforce and Google analytics is to drive the maximum possible revenue from the existing customer data.
Google Analytics collects massive data, and Salesforce uses the user data for revenue-generating schemes.
After successfully integrating Google Analytics and Salesforce, you get a complete 360-degree overview of customers' actionable and business-building ideas.
Google Analytics: An Overview
Google analytics offers a simplified method to track and monitor visitors' activity on the website. This analytical data helps to strategize with reporting tools and web analytics to build the leveraging strategies with data insights.
Google tools define your website's performance, analyzing the user traffic and monitoring the ratio of users turning to potential customers.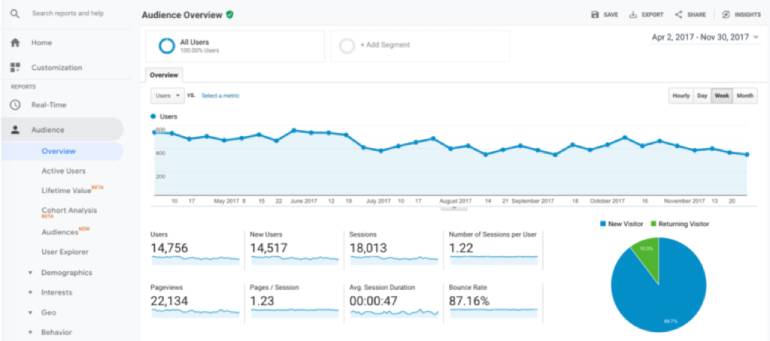 Through Google Analytics, you can track and monitor mobile app traffic and social media trends by integrating data sources to build informative and accurate business-building decisions.
Below are the basic factors and running procedures to use Google analytics for website monitoring:
Google Analytics needs a sign-in from an authentic google account
Click on the admin button on the dashboard (present on the bottom left)
Create or select the account
Create property by clicking the dropdown menu
Enter your site name with the URL to create a website
Select your industry
Select the time zone
Click to get the tracking ID
Install the tracking ID on your active website
These are some of the basic details to run the google analytics on your active website. Many important and advanced features of Google analytics describe leveraging tools for optimized business marketing.
However, google analytics is used to get real-time data and statistical analysis according to user interaction on the application and website.
Key attributes of google analytics
Funnel Analysis:
Google Analytics facilitates funnel analysis for leveraging statistics for your marketing strategies and campaigns. You can track user activities, from clicking on an advertisement to purchasing the products. Various type of funnel analysis that the google analytics provide are:
Multiple medium funnels
Purchasing and checkout funnels
Visualization And Reporting:
It is one of the basic features of google analytics which google analytics provides you for report management, tracking, and marketing campaigns.
Through this feature, you can generate various reports and use them for several purposes. You can also share it effortlessly with your organization.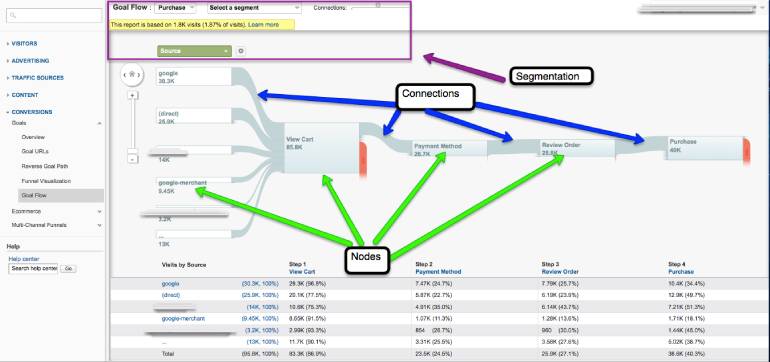 The Salesforce development company integrates with Google analytics for several advanced reports in many instances. Below is the list of reports that you can generate with the help of google analytics:
Behavior reports
Advertising reports
Conversion reports
Real-time reports
Data Activation:
It is one of the advanced features Google Analytics provides with users' data and information. Google Analytics uses advanced machine algorithms to get the core analytics on the marketing data of the user.
It also includes the benefits of salesforce integration which uses the variable data for marketing campaigns and strategies. Below is listed core information that the google analytics extracted:
Predictive analysis
Smart anomaly information
Audience and user demographics
Salesforce: An Overview:
Salesforce is one of the best cloud-based solutions providing cutting CRM assistance and support for marketing and sales teams on a global platform.
Using the Salesforce services, the client can track the customer's activity to expand the customer database and build up leveraging strategies for customer acquisition and the company's growth and development.
Salesforce development company offers several cloud-based services with robust architecture and a global cliental base.
Architecture:
The architecture of Salesforce defines its acquaintance with multiple layers and their advantages in variable terms.
Metadata: Salesforce implements the metadata model that focuses on building and developing an application with advanced customization and scaling aspects.
Multi-tenant: This salesforce model provides a sharing application to handle multiple clients regarding their services. Most companies select this model because of its robust infrastructure and competitive costs.
API: Salesforce is a great and robust source of API. This model develops the salesforce app according to high-end customization with advanced planning and design implementation.
Application Of Salesforce:
There is a multi-level application of Salesforce, and thus it is highly integrated with any analytical services. There are multiple benefits of salesforce integration and its associate application.
Below are some of the listed applications of Salesforce which impact the services and customer approach in an innocuous manner. Below are the mentions:
Data Customization: The Salesforce development company helps you customize your various types of data and information. It empowers the real-time tracking of data according to the user's activity.
Customer Support: It provides excellent customer assistance to improve the response time of professionals by unifying social media, emails, and calls with a single management medium. It Improves customer support with fast issue solving and connecting to every customer within a minimum time limit.
Analyzing Customer Data And Information: Salesforce help to assess and understand the customer data according to their perception and interests. You can strategize the customer re-engagement activities to invite inactive customers and plan profitable strategies to boost sales.
Flexible Data Analysis And Reporting: With salesforce assistance and support, professionals can create several reports to analyze and check the data and records for further planning and management.
Salesforce And Google Analytics Integration:
The major aim of integrating Google Analytics and Salesforce is to boost revenue and statistics with profitable figures.
Google Analytics is an advanced technological solution that provides the analysis and records of the data according to user interaction.
Salesforce development company uses such analytical tools to extract the data and build sustainable strategies.
There are three methods to integrate Salesforce and google analytics. Below is the description of three basic methods:
Direct Integration Of Salesforce With Google Analytics:
It is a free-of-charge option, and in this integration, no third party or outsourcing bodies are involved for integration.
The direct integration process of Google Analytics and Salesforce development company needs a Javascript code in your website, and it with reflected in the lead source of Salesforce.
This integration is opted for by many companies, but it lacks several vital attributes associated with analysis and tracking.
This method of direct integration only tracks the form submission visit but not the original and exploring visit of the user.
In terms of technology, it cannot track the first visit attribution. This term refers to the data analysis regarding the user's first visit and journey.
It does not track the second or multiple visits of a similar user. However, this information is essential to track the multiple rounds of the user on the website to get a core idea about their perception and requirement. This data also helps get new customers like you through the journey, which is how the user landed on your website.
But while directly integrating Salesforce with Google Analytics, the analysis can be recorded when a user visits the website and submit the form.
With a severe budget constraint benefits of Salesforce integration with Google analytics is a perfect way to start, but it has the chance of misleading the attributes in lack of its true source.
Use The Daddy Analytics For Tracking Leads:
Daddy analytics can help track your leads with upcoming opportunities and revenue projections according to the Adword keyword, Ad level, and campaigns.
The daddy analytics helps you track email marketing, organic searching, associate medium and channels, and social media handles.
With the Salesforce development company and its integration with google analytics, you can easily track the group leads and categorize the potential opportunities, including the feature to understand the visitor's behaviour to help the Salesforce start the conversation.
Google analytics and salesforce integration with daddy analytics is a paid service that improves sales revenue and ROI.
Tracking ROI In Google Adwords: Daddy Offline Conversation
Daddy offline conversation is an important tool that helps in integrating Google Analytics with the salesforce development company.
It is a free service that helps with conversion optimization techniques that act as Adwords's robot to track past conversations with the best bids.
This method allows you to track the hard and soft conversations for the sales cycle and associate revenue.
By integrating Google Adwords and Salesforce, we use Daddy offline conversions and Daddy analytics internally within the services.
It surely has some downsides, like it cannot track social media, organic, and email marketing mediums.
To track the lead, you have to wait until lead conversions, and it also provides the Adwords with information and does not define the conversion medium and item.
Brief Process Of Integrating The Salesforce And Google Analytics:
While importing the salesforce information and data with Google analytics, the major key is to integrate the CRM with the analytical data. We will use the Google-generated client ID to get the browser to view the website.
This key is stored in the salesforce development company as a custom field in Google analytics. It is stored as a custom dimension for future reference. The integration of Google Analytics and Salesforce takes place in seven stages:
Stage 1 To Stage 3: The client ID is saved for Google analytics (as custom dimensions) and Salesforce (as a custom field).
Stage 4 To Stage 6: GA data importing is used with the automated merging of data into Google analytics.
Stage 7: This is the final stage when you can get the salesforce information and data in Google analytics and learn to use it efficiently.
Major Takeaway From Integration Of Salesforce And Google Analytics:
Getting the huge data and information with the integration of Google Analytics and Salesforce, there are several key takeaways which you can build the specific reports.

You can use the information to strategize the marketing and sales efficient plans for business growth and development. Below are some major takeaways which you can get:
Advertisements, blog posts, keywords, and campaigns with qualified lead information.
Information about junk traffic distracts the sales rep from the valuable consumer base.
The behavior of qualified leads against unqualified leads.
Information regarding pages that the qualified leads visit more frequently.
Conclusion:
It is the major information about the integration of Google Analytics and Salesforce development company. The options mentioned above provide a complete overview regarding the use of google analytics and Salesforce.
The integration helps analyze and optimize the lead status in revenue generation and plan profitable strategies. Integrating Salesforce and Google analytics is available with the free and paid version.
The company can adapt the methods according to their convenience and requirement. The methods have their takeaways and limitations that are necessary to be aware of.
We can import plenty of useful and important information to Salesforce and Google Analytics, which lets your sales and marketing team plan sustainable strategies for organization development and profitable strategies.
Author Bio
Gaurav Sharma is a Digital Marketing Executive at Arka Softwares, a leading salesforce development company. He has 4 years of experience in the Information Technology industry. He spends his time reading about new trends in Digital Marketing and the latest app development technologies.