5 ways Google Analytics can be used for Technical SEO
---
Measuring the results of your optimization strategy is the most reliable way to understand whether your efforts were able to generate traffic for your website. Fortunately, you can count on an easy and cheap way to do that by using Google Analytics for SEO reporting.
Google Analytics is an extremely powerful tool that allows you to measure all kinds of important metrics and data on your website. Information such as traffic origins, demographic data on your visitors, and even goal monitoring is available within this tool.
However, just taking a glance at your statistics tools is not enough. You must learn how to use Google Analytics for SEO if you wish to measure your real success. That is the only way to learn from your strategy and improve upon it.
In this text you will see 5 ways you can use Google Analytics for technical SEO results measurements:
Create a custom Google Analytics dashboard;

Generate Google Analytics reports;

Filter your data by organic traffic;

Create assisted conversion reports;

Track demographic interests.
1. Create a custom Google Analytics dashboard
Google Analytics is all about saving you time and helping you understand how effective your SEO efforts are. It can help you see your most important data quickly and present it to other members of your team.
Have you ever tried to work with a custom Google Analytics dashboard? It can be quite a handy timesaver.
Go to your "Dashboards" section in Google Analytics and press "Create". Fill out the title and choose a standard, which is the kind of dashboard you wish to create. With technical SEO analytics, it can be beneficial to choose "Metric" or "Timeline".

Source: Google Analytics Help Center
Under "Show the following metric", pick the option that fits your needs. For instance, you can display data out of all new sessions. When you are done, click "Save".
Now, the interesting work begins. You can add several kinds of different widgets to your dashboard that display the most important data you need. For technical SEO analytics, it can be helpful to monitor your organic traffic and compare your data across important periods.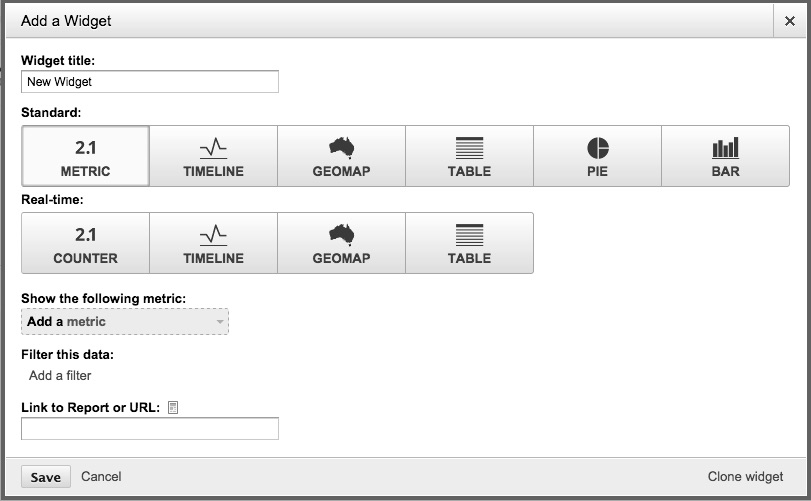 Source: Google Analytics Help Center
2. Generate Google Analytics reports
Part of your SEO strategy certainly involves reporting your results to other members of your team or superiors. Luckily, you can count on Google Analytics to optimize this aspect of your work and generate custom reports based on the metrics that are most important to your business.
You can do that by going to "Reports" and choosing "New Custom Report" under "Custom Reports".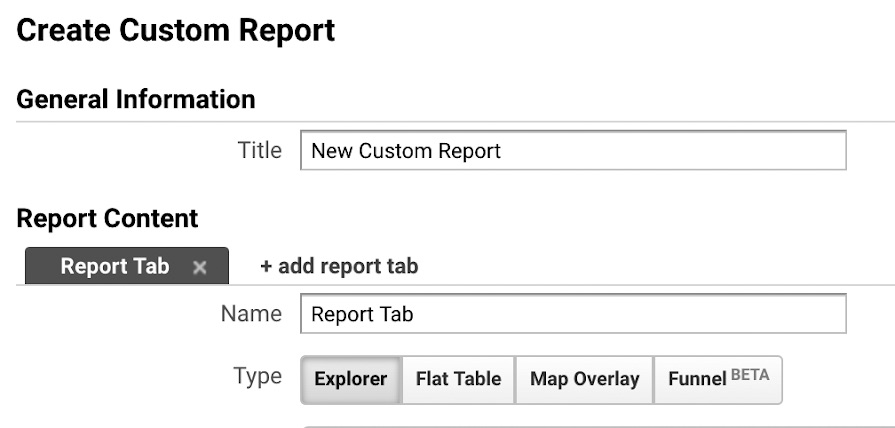 Source: Google Analytics Help Center
For a report focused on technical SEO results, you can choose either the explorer or flat table kinds. Anyhow, the most important part comes after that. That is when you should choose your metrics, which must be related to organic traffic.
Through these settings, you can also add additional filters to view your data under different dimensions and criteria. For instance, you can generate a report on how many organic visits you obtained in comparison with the same period last year. You will be able to see the difference your SEO efforts made.
Lastly, remember you can export this custom report in various formats such as PDF, CSV, and Excel. Through Google Analytics, you can even schedule an automatic report delivery.
3. Filter your data by organic traffic
You should always look at your traffic data if you wish to confirm your SEO strategy is working. That is where the fruits of your efforts will cause an effect, so your Google Analytics processes need to work with this view.
That is why you need to know how to filter organic traffic data in Google Analytics.
Without that, you risk misinterpreting how your data evolves. For instance, you might get a drop in traffic and think your SEO efforts are failing. However, this decrease might correspond to other traffic sources such as direct, paid search or email links.
To do that, simply navigate to "Audience" and select "Overview" on your Google Analytics left sidebar. Then, click on the grey "All Users" selection box and choose "Organic Traffic". When you are done, click "Apply".
This will cause the displayed information to show you organic traffic data in orange with total users in blue. With this setup, you are able to quickly notice how considerable of a portion your organic traffic is in relation to the rest. It allows you to evaluate how effective your SEO efforts have been.
4. Create assisted conversions reports
The term assisted conversions refer to any interactions a visitor had on your website that resulted in you reaching your goal — which can be a sale, a subscription, or whatever else you wish. With Google Analytics, you can create reports focused on that metric and how organic traffic influenced it.
This means you can learn exactly how many sales you obtained through organic visits that came from Google!
To do that, choose "Assisted Conversions" on the left sidebar then select a Floodlight configuration. After that, you can pick an activity and the conversion segments you have on your Google Analytics. You can also add primary and secondary dimensions to compare your data further. 
Such a report can serve as a reliable way to measure how effective your SEO strategy is in driving conversions for your business. 
5. Track demographic interests
Google Analytics is also a great tool to learn more about the preferences of your visitors. This is a valuable piece of information that can help you come up with better strategies on several different fronts.
By crossing the appropriate data points, you can see what kinds of audiences are more interested in each specific type of content you have on your website. Out of those, you can cross-reference the ones that convert.
It is also possible — and important — to track these interests through time. See how they evolve and change depending on multiple factors.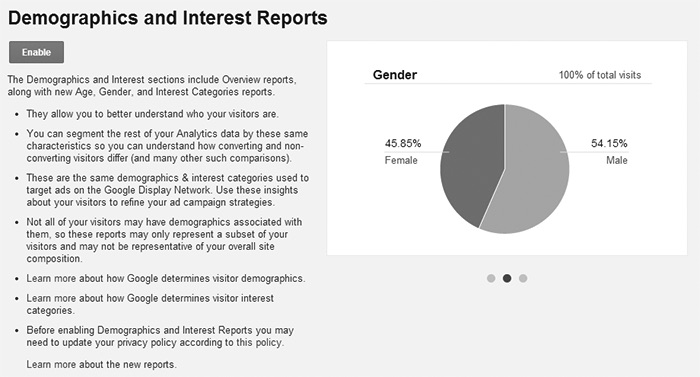 Source: Google Analytics Help Center
That is because your SEO strategy can improve a lot based on that information. By learning more about your audience's preferences, you can create content that is more assertive. Additionally, you can use this data to check if you made any mistakes when planning your approach.
By following the tips above, you will be able to use Google Analytics for SEO strategies in a smarter way. With Google Analytics, you can track users across apps, software, and websites. It is helpful to share product information with your audience and increase customer retention. Google has recently updated Google Analytics to provide more simplified and accurate data analysis. Google Analytics 4 utilizes artificial intelligence (AI) for data analysis, allowing you to extrapolate from existing data and evaluate site traffic and user activity. This very powerful tool can help you see whether your efforts paid off or need adjustments. Obtaining data is always important but understanding it and making the correct decisions is also essential.
Now is the time to put your plans in action! How are you going to begin using Google Analytics for SEO analysis?
This post was written by Raphael Pires, Tech blog editor at Rock Content. Rock Content provides over 2,000 brands, marketers, and agencies with innovative content marketing solutions, creative services, on-demand talent, and professional training.
---