Top 10 Link Building Strategies For 2021
---
2020 is a wild year. We've witnessed plenty of changes to day-to-day life. But the one thing that remains the same is the importance of quality backlinks.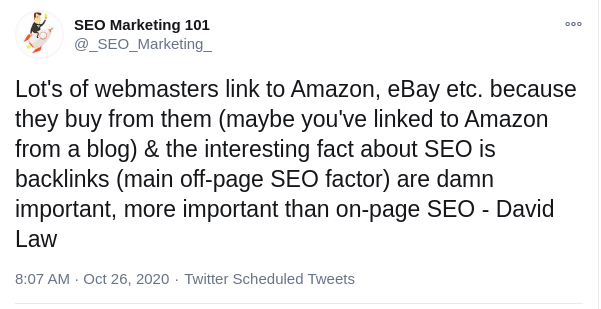 In fact, they're one of the top three most important ranking factors for Google. There are tons of ways of acquiring backlinks, but I want to focus on the most effective ones here – ones I had the most success with.
"In my business, link building is the backbone to my entire marketing and SEO strategy. I spend a lot of time researching link juice and reaching out to potential new best friends (SEO speaking). Guest blogging is probably my most effective method of link building and, this strategy has netted me tons of new contacts for my network as well as driving new leads to my website"'. Milosz Krasinski, CEO and Founder, Chillifruit Web Consulting.
Here are the top 10 of them that you will want to keep your eye on in 2021.
Link Reclamation
This technique requires software that tracks mentions of your brand online. If your brand gets mentioned by somebody, it would be best if they linked back to you. Now, not everyone does this. Sometimes people just put your name in their article and leave it at that. If you manage to find such a mention, all you need to do then is to reach out to the editors and ask them if they could insert your link.
The success rate of this method depends on how you write the message. You'll want to prove that adding a link adds value to the article. Mostly it's a shot in the dark, but it's worth spending some time on the message so that it's personalised and sincere.

Help A Reporter Out
HARO is possibly one of the greatest platforms for scoring excellent quality links. All you need to do is set up an account as a source. Then, you want to write answers to the queries that are of interest to you and ones that you have the expertise in. Even if you don't know much about a particular topic, a few minutes of research can prove to be enough for you to write a great comment that may be accepted.
The comments should be fairly brief, but actionable, no longer than 200 words in most cases, unless the journalist asks for more. That way, you can gain links from websites such as Forbes, Bluehost Blog and Entrepreneur, all of which have great DA. It takes some time to get good at it, as you need to be quick. The queries come in three times a day, so there's plenty to answer most of the time.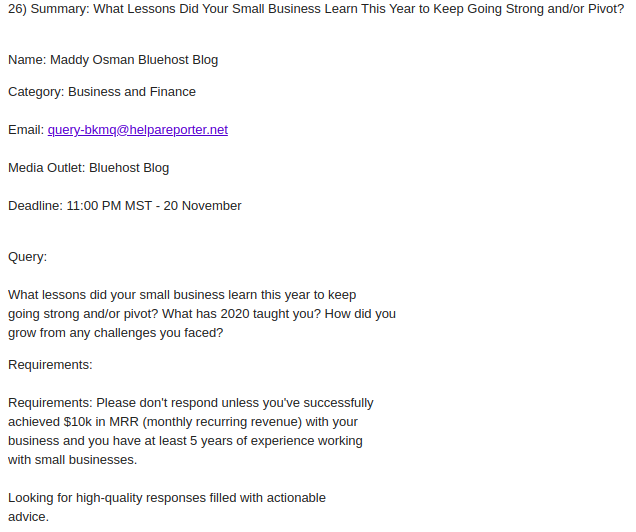 Guest Posting
I know that some say that guest blogging is not as effective as it used to be. And to a certain extent, they're right. But blogging on some quality websites that topically match your niche is far away from being useless. Apart from getting a link, you also get to build a relationship with the content editor, making further posts there easier. You will need to create high-quality content, though, as most of those websites have strict editorial guidelines.
Here's a way of finding guest blogging opportunities: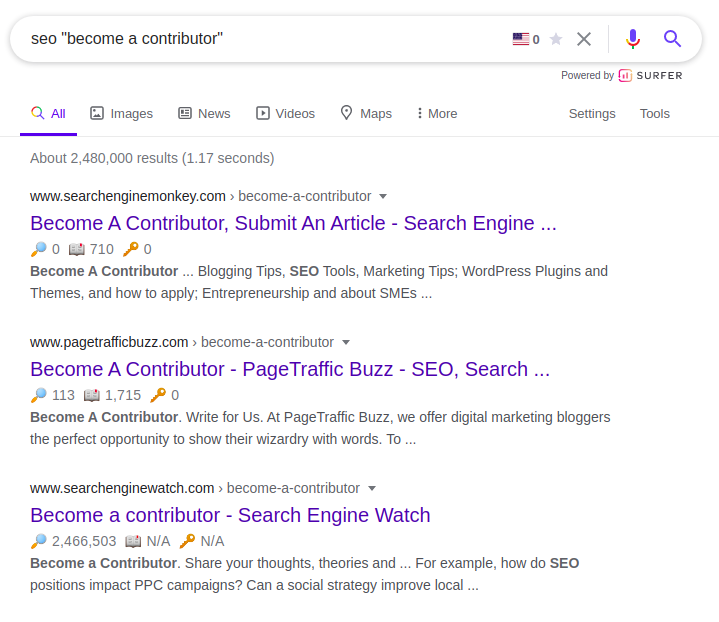 "In the gaming industry, link building is incredibly important due to the highly competitive nature of this part of the entertainment sector – across the world, 3 billion hours a week are spent on gaming. At Energy, we work hard to build links which relate directly to our existing customers, rather than just trying to attract new ones.  This helps us to remain relevant and places us at the tippy top of Google's ranking for our sector". Andrew Martins, a senior associate at Energy
Skyscraper Technique
Brian Dean of Backlinko has first introduced the skyscraper technique to the world. It consists of finding content that ranks the highest for a given keyword and writing something better. I know that it requires a lot of work and expertise, but it's one of the best methods of gaining links. It goes like this:
First, you find a top-ranking blog post.
Then you write better content.
And lastly, you promote yourself to those who linked the original post.
That's it. And it works like a charm.
"I run Number For Live Person and, the Skyscraper Technique is one that we use on a regular basis; in fact, we actually have a dedicated member of staff for this. This is important for us as we have a huge amount of competition and, so, we need to leverage every advantage that we possibly can. The Skyscraper Technique allows us to constantly keep ourselves up front and centre and highly visible to potential customers". Dima Suponau, Number For Live Person
Broken Link Building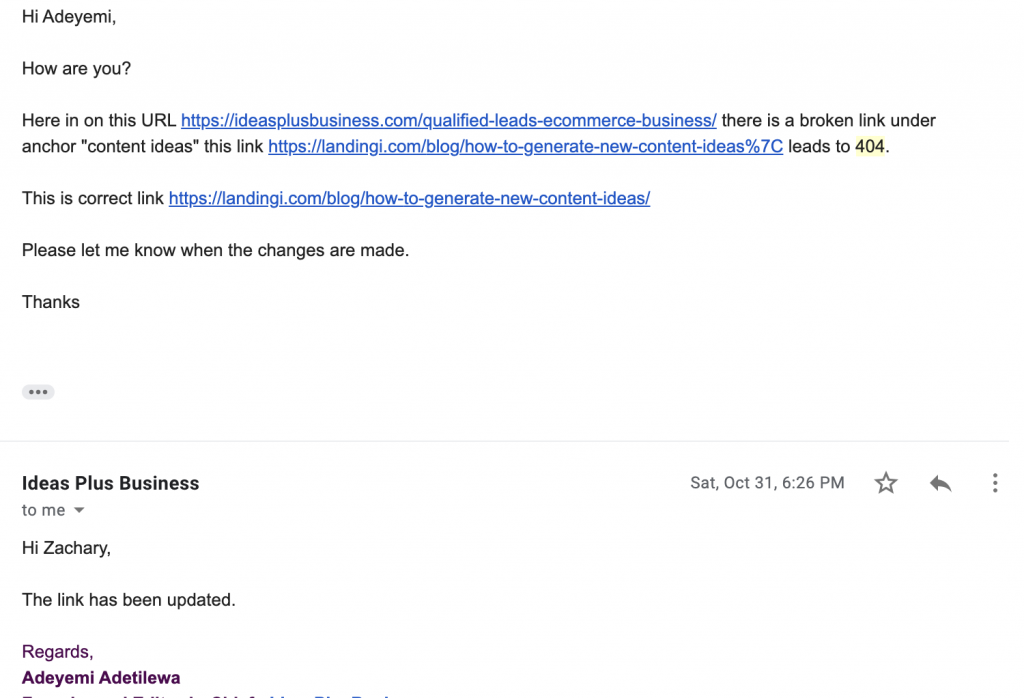 Next up, we have broken link building. It requires software such as SEMrush to do, but it's very effective as well. What you need to do here is to find websites with external links to pages that result in a 404. If you've got some alternative content that fits the anchor well, you can reach out to the website owner to insert your resource instead of the dead page.
Relevant Reciprocal Links
I know, I know, reciprocal links can be a bit controversial. It consists of exchanging backlinks with a website owner or editor. I believe that it's a good tactic, as far as you go for very relevant bloggers that fit your niche perfectly.
If you can tell that a link from them can bring good value to one of your posts, and vice versa, then go for it and reach out. To find such bloggers, you will need to explore your niche and do quite a bit of research. Unfortunately, there's no software that would help you find such opportunities. If not overused, I think it's an excellent method to score some easy links.
"While excessive link exchanges can land you a penalty and are frowned upon in the SEO community, they really can be an excellent method of building your link profile. The thing is though. They need to fit perfectly into the content and be as relevant as possible. Furthermore, they need to look natural. If you do a link exchange once in a while, then it's all good. If you overdo it – then not so much."
says Lukasz Zelezny, International SEO consultant at SEO. London
Resource Pages
If you've got some quality content to share, just like for guest blogging, you may want to hit some resource pages up. To find them search google for your keyword "resources", or any other variation of the word. You can add adjectives such as useful or helpful. That way, you'll be met with lots of resource pages that are more than willing to add your content, if they deem it valuable and, in fact, helpful.

Social Media
Now, you might not be getting dofollow links from social media, but you're likely to promote your brand quite a bit through that medium. We've seen a significant increase in the usage of social media through 2020, mostly due to the pandemic. It's a superb method of getting more recognition for your brand, but it doesn't really affect your backlink profile. Still, it's good practice to have a frequent online presence with valuable entries. Promoting yourself via social media is a viable marketing technique.
Anybody who says that link building is dead isn't paying close enough attention to the numbers – or, for that, matter, their Google ranking. Link building, quite simply, is an integral part of establishing your authority in your industry as well as gaining new leads. You should make link audits a regular part of your strategy as bad links can cause immeasurable harm to your ranking – and to your reputation.
Competition Analysis
To find new backlink opportunities that you will further reach out to, you should get a grip on what your competition is doing. Using tools like Linkody, you can see exactly what links your competition acquired, filter them out and fish the ones that are the best. From there, it's simple, really. All you need to do with your list of prospects is to find a way to outreach to them and offer value. If they linked to your competition, they'd likely be open for some sort of collaboration with you too.

As you can see, from 43K links I got down to just 17. These are the ones you want to target, as they were acquired not more than seven days ago. These have reasonable DA and low Spam Score. They're the best opportunities for you. Now you just need to sort through them and go for outreach.
Expert Roundups
And last but not least, participating in expert roundups. Look for roundup posts analogically to the resource pages, but instead, write keyword "roundup", "expert roundup", etc.

Bloggers look for quality comments for such posts. If you see that a blogger posts roundups frequently, go ahead and reach out to them.
Bonus: Keep your link profile healthy
And for a bonus tip for you, you should always be on the lookout how your backlink profile looks like. To find this information, you'll need to use software, such as Linkody. Compare yourself to the competition paying particular attention to the number of backlinks, referring domains, quality of your backlinks, anchor texts, nofollow/dofollow distribution, and spammy links.

You'll find all the metrics to go by in the Profile tab in Linkody.
Moreover, you want to disavow any toxic/spammy links that you somehow acquired, even by chance. Such links can harm your rankings and can even result in a penalty from Google. You want to aim for quality over quantity, too. If you see any shady links in your profile, you should get rid of them.

Going by the Spam Score filter and setting it to high is enough for me to see all the harmful links. Now, all you need to do is use a disavow tool to dispose of them.
---