Leverage the Power of Social Media for Your Next Event
---
Social Media is a boon for brands & businesses in current times. As Ray Allen, a former basketball player, said, "You don't need a corporation or a marketing company to brand you now: you can do it yourself. You can set demonstrate who you are with a social media presence."
You are here, which means you will be looking to leverage the power of Social Media for your upcoming event. Congratulations, you have landed at just the right place through this blog; we will provide you with some strategies that you can get involved in your campaign to reap incredible benefits.
Let's get this party started!
How To Utilize Social Media Before An Event
Create Social Media Pages
A social media page would be your best bet to create a buzz about your event before it is on the floor. Choose any social media platforms from Instagram, Facebook, and Pinterest to make the event page and ensure that your target audience is present in large numbers on that social media platform.
Get A Hashtag Campaign In Place
Brands can use hashtags to launch campaigns and use them for user-generated aggregation.
As an event marketer, you can develop a unique hashtag and grab your audience's attention. You can also hold contests on social media and invite your followers to join in the fun by using your hashtag.
Offer a few unique prizes and vouchers to those who provide the most effective content for your desired results. This part would boost the audience's participation while also keeping them engaged.
Collaborate With Influencers For Word-Of-Mouth Marketing
Getting in touch with social media influencers is the main reason to promote your event. There are many options, and selecting the suitable pack of influencers would boost your word-for-mouth marketing.
You can work with selected influencers with a sizable social media following to promote your event by asking them to highlight your virtual event, the speakers for the event, and other features that the audience is excited about.
An influencer's bio or a post caption can promote the link to your event's registration form.
Using paid advertising as a promotional medium is another fantastic method to leverage social media while promoting your event.
Running adverts on social media, whether promoted posts or pay-per-click ads, is a terrific way to increase awareness of your virtual event.
Depending on the platform, you may be able to run ads based on demographics such as location and characteristics of your target audience such as age and gender. In this manner, you'll be able to target the right audience at the right moment through advertisements.
How To Utilize Social Media During The Event
An Instagram wall, displaying all the user-generated content aggregated around the event. Hashtags would create a ripple effect in enthusiasm among the attendees. People are very active on Instagram and if you promote their feedback on your Instagram social wall then the chances are thigh of share there gesture with their friends, which would increase your followers. You can also showcase the moments and success that your previous events gathered through social wall.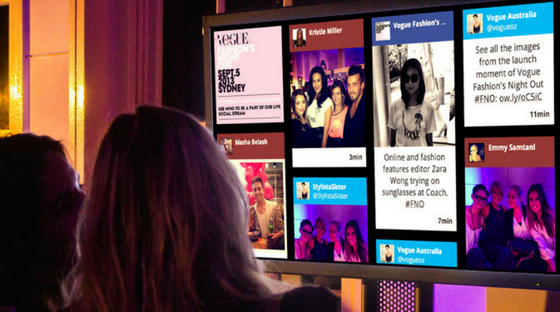 Brace yourself for instant brand recognition through Instagram Wall!
Utilize the impact of live events by incorporating live broadcasts into the action. Live streaming allows viewers from near and far to participate in an experience they might otherwise miss, and Facebook & Instagram Live make it easier than ever.
Please participate in the preparation of your event or gauge their interest through social polls. For example, you may conduct a poll to determine which event individuals are most looking forward to or which industry concerns they want to solve.
Organize Live Q&A Sessions
Talk about the event and offer the chance to address any questions attendees may have about your event or presentations. In addition, you can ask your event guests a variety of survey questions before, during, and after the event to generate buzz.
How To Utilize Social Media After An Event
Post After Movie Of Your Event
Posting an after movie of your event with brilliant visuals and amazing music would be a great way to keep your event in the mind of the attendees for a long time. In addition, attendees would share the after movie on social media, keeping the event in the news event after it had ended. Tomorrowland 2015 after the movie is a great example to get inspired from.
When your event is over, post any professional images taken on social media and urge your attendees to share and tag themselves in them. Thank all of the sponsors, volunteers, organizers, and attendees. Encourage people to like your page to stay up to know on all upcoming activities.
Wrapping Up
"Content is fire; social media is gasoline." We live in times where social media has the potential to unlock great avenues for businesses and make them reach a volume of the audience that they could not have imagined to get. So, without further delay, make social media an integral part of your brand journey by implementing the above steps.
---