5 Ways to Use Instagram Stories to Amplify Your Social Media Marketing Efforts
---
If you're looking for the secret sauce to achieving Instagram marketing success with Stories, you've come to the right place.
IG Stories is more than a place to post interesting yet fleeting content.
Data shows that 50% of people visit a website after seeing it advertised through an Instagram Story.
You can achieve much more if you leverage Instagram Stories for your marketing efforts.
The big question becomes, how do you use Instagram Stories to support your social media marketing efforts?

Let's find out the five tips to succeed with Instagram marketing using Stories below.
1. Post shareable branded content
Make the most of your content promoting your brand by making it highly shareable.
Post branded visual assets in your Instagram Stories to attract more viewers to your social feed, services, and products while encouraging people to click that share button.
It's a great way to make your content go viral, doing wonders for your brand's reach and Instagram audience engagement.
For example, popular CRM for small businesses, HubSpot CRM, shares real-life success stories on Instagram Stories.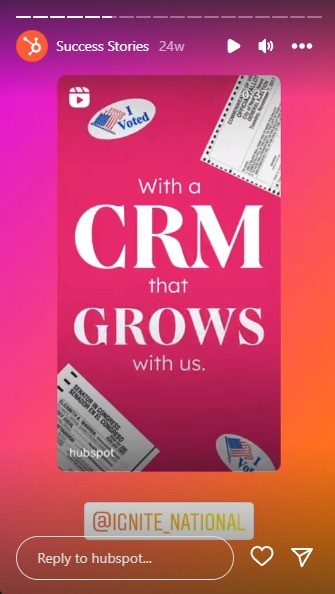 Image source: instagram.com.
HubSpot's IG Stories are relatable, engaging, and easy to share, especially for audiences who might want to achieve the same success.
Learn the content types that interest your target audiences and entice them to share and repost. Include data visualizations, quick how-to tips, Q&As, poll questions, etc.
Add branding elements to raise awareness and recognition, including your company name, branded hashtags, and logo. It can also help your content reach wider audiences.
2. Provide helpful content
Instagram Stories only "live" for 24 hours, but you can make them immortal by including them in your Story highlights.
Making your Stories last longer allows you to make the most of them, allowing your content to be more visible and reach more people.
You can also use Instagram Stories to save evergreen content that your audiences can find helpful for more than 24 hours.
For instance, share useful content tracking tips to promote your content marketing services while providing valuable content in your IG Story highlights.
Use Instagram Story highlights to share other useful content, such as FAQs about your products and services.
For example, online retail company for prescription glasses, Warby Parker, shares Ask Warby Story highlights weekly to answer common questions from viewers.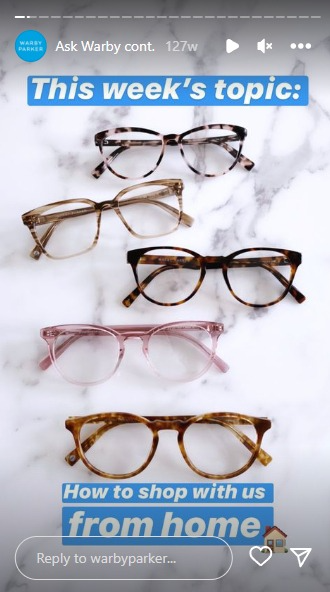 Image source: instagram.com.
The IG Story FAQ is an excellent tactic to answer potential customer questions in an engaging way.
Use Instagram Story highlights to post bite-sized, timeless content that engages your audiences and offers them value.
It can also help your viewers know your brand and offer better, opening up more engagement and conversion opportunities for your business.
3. Add Story stickers to encourage interaction
Instagram offers built-in interactive tools and functionalities to make your Stories more engaging to audiences.
Some of the most popular are Story Stickers, such as poll, question, and product stickers.
Try these tips to encourage audience interaction using IG Story stickers.
Host Q&A sessions using the Questions sticker. It's a great way to engage and interact with your audiences by answering some of their common questions. It can also help you get customer data, such as your followers' preferences and interests.
For instance, if you provide SEO services, use the Questions sticker as an opportunity to answer audience queries about the best ways to buy SEO articles.
Add relevant and trending hashtags with your Story stickers. It can make your content more visible and searchable for your target audiences.
Run trending topic-focused and brand-related surveys. You can also ask random, engaging IG poll questions with the Poll sticker.
The poll question on Ben&Jerry's Instagram Story below is a good example of using the Poll sticker to encourage audience interaction while gathering customer data.
Image source: instagram.com.
Use Product stickers to create shoppable Instagram Stories. It allows your viewers to shop from your posts, boosting your click-throughs, conversions, and sales.
Add relatable memes and GIFs with your IG Story stickers to draw more eyeballs to your content.
Leverage Instagram Story stickers to make your content more interactive, engaging, and attention-grabbing.
4. Run ads on your Instagram Stories
Run Instagram Story ads to drive leads and conversions faster or do more besides organic options.
Story ads allow you to showcase your products, services, business, events, special offers, and more to already engaged audiences on Instagram.
Febreze's IG Story ad that shows a puppy on a couch with the "Refresh wherever they roam" text is a classic example.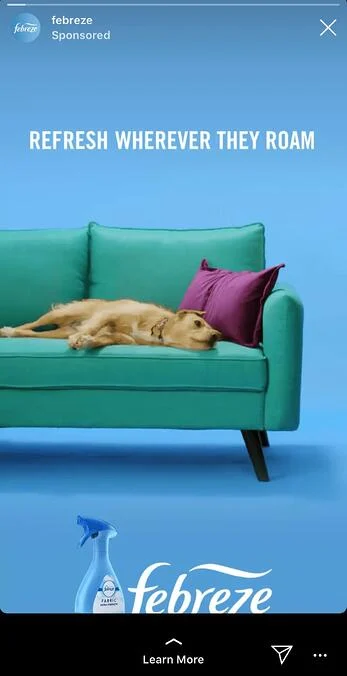 Image source: hubspot.com.
The ad uses light green, purple, and blue colors to catch the viewer's eye while injecting a sense of fun and playfulness into the audience's Instagram feed.
Additional tip: Promote your organic Instagram Story posts and run them as ads. It's one way of taking your content for a spin to assess audience reactions before taking the time and resources to include them in your marketing efforts.
5. Share news and announcements
Instagram Stories display at the top of users' feeds, which means they're easy to see.
It makes them a great space to share your timely news, including giveaways, sales, live events, promotions, and other announcements.
Make your IG Story news count by creating eye-catching content with compelling visuals.
For instance, you can create images with catchy or witty text overlays and creative videos to create excitement and interest in your Story announcements.
Glossier's Lyft promotion announcement for its Los Angeles branch opening below is a good example.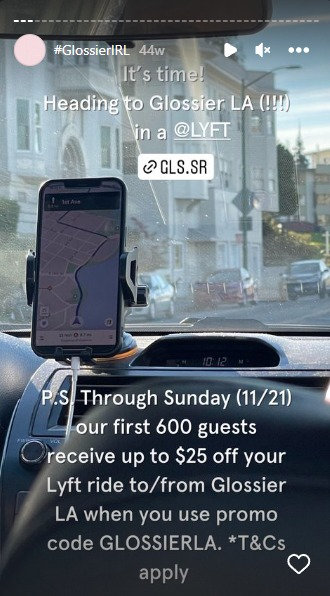 Image source: instagram.com.
The IG Story evokes excitement and makes the viewing experience feel more personal. It's one way of humanizing your brand, which helps you connect with audiences better.
Create compelling Instagram Story announcements to get your news to more audiences, boosting your engagement and conversion opportunities.
Level up your Instagram marketing with Stories
With the right strategies, Instagram Stories can be a great place to raise brand awareness, generate leads, engage your audience, and draw more attention to your content.
Leverage this guide's Instagram Story tips and tricks to support your social media and online marketing efforts.
---