How Web Design and SEO Are Related and Why It Matters
---
Some say web design and SEO are not related due to the nature of their jobs, but we say they are. These two aspects of your website work together to make your website better overall.
And if you're putting a website together (or overhauling one), you better know how these two relate. To explain further why this is so important, let's look at these two by definition.
Web design
A web designer's job is to make every website element visually-appealing. They are also responsible for the usability and compatibility of your website across devices. Check out Blue Whale Media's website for more information on hiring professional website designers.
An effective web design should deliver your website's message clearly through the design. Every functionality should also be easily accessible and engaging for visitors. 
Here is the list of things that web designers prioritize when they make plans for their website design:
Mobile compatibility

Fast page-load time

Navigation

Simplicity and functionality

Aesthetics (design, color scheme, typography, etc.)

SEO
Although different web design trends arise every year, these characteristics of good web design are a staple. A web design firm prioritizes these things. So if you're planning to do web design on your own, you'd better prioritize these as well.
If you're wondering why SEO is on the list of priorities, let's look at the definition of SEO.
Search Engine Optimization (SEO)
Search engine optimization, or SEO, is a technique used to modify and optimize your website to be appealing to search engines. A good SEO strategy will result in a higher ranking in search engine results pages (SERPs).
Like web design, there are also parameters to check whether you're doing well with your SEO strategy, or failing badly at it. Some of these parameters are web design-related:
Fast page loading speed

Content optimization (keywords, page titles)

User experience

Mobile compatibility
What
is
the relation of web design to SEO?
If you want your website to rank higher on SERPs, you need to focus on more than one aspect of your site. After optimizing your website, you'll need to put as much effort into your web design.
You might ask, how can web design increase my search engine ranking? Well, it doesn't directly increase it, but ultimately, it leads to giving your users a good experience.
And in order for your website to succeed, you need to succeed in both of these things. You need to provide a website that is functional and visually appealing, as well as easily accessible on search engines. Both of these are the goals of good web design and good SEO.  
And here is how a good web design and SEO  affects your website:
1. It gives your brand identity
A good website leaves an imprint; it's memorable. Your visitors will have a first impression of your website based on your landing page. 
If your website is IT-related, you need to make your website look technologically advanced; your visitors need to see that you're up-to-date. A well-designed website will make your one-time visitor a regular one.
You can further solidify your brand identity by designing a brand logo. Your visitors can remember your brand just by the logo itself. You can browse for a free online logo maker to start making your own brand logo.
Here are some of the templates that you can use on BrandCrowd.
Just how you can easily distinguish a BMW model from a Toyota model from their logos, your website's logo will work the same way. Although it doesn't reflect the totality of your website, your brand identity will be easily established by making a brand logo.
Having a good web design will push your brand identity higher. Combine it with good content and you will establish your name in your niche. This will gain your website more and more organic traffic.
2. Both web design and SEO improves user experience (UX)
When you're designing a website, you should avoid a few things in order to make sure your visitors have a good user experience. Because If your visitors experience a bad UX, they are bound to leave your website as soon as they land on it.
You should avoid these website designing mistakes:
Visual clutter

– avoid having too many elements on your landing page. A cluttered web page can be visually confusing.

Confusing navigation

– your visitors should only need to click twice or three times at most, to arrive at their destination page. If you make your website navigation complicated, your visitors will get lost and will leave your website.
Hard to read texts

– for your visitors to understand your message, you need an easily understandable text. 
Slow website speed

– if your website takes too much time to load, you need to optimize your website images to increase your website's loading speed. 
Mobile incompatibility

– your website should be functional and compatible with all devices and all screen sizes.
For your users to have a good experience on your site, you need to focus on your web design and SEO. Your website should be minimalistic but with all the functionality and design that users need. 
Take a look at Phoebe's blog, Glimpse of Style, and see how minimalistic her approach is on her website.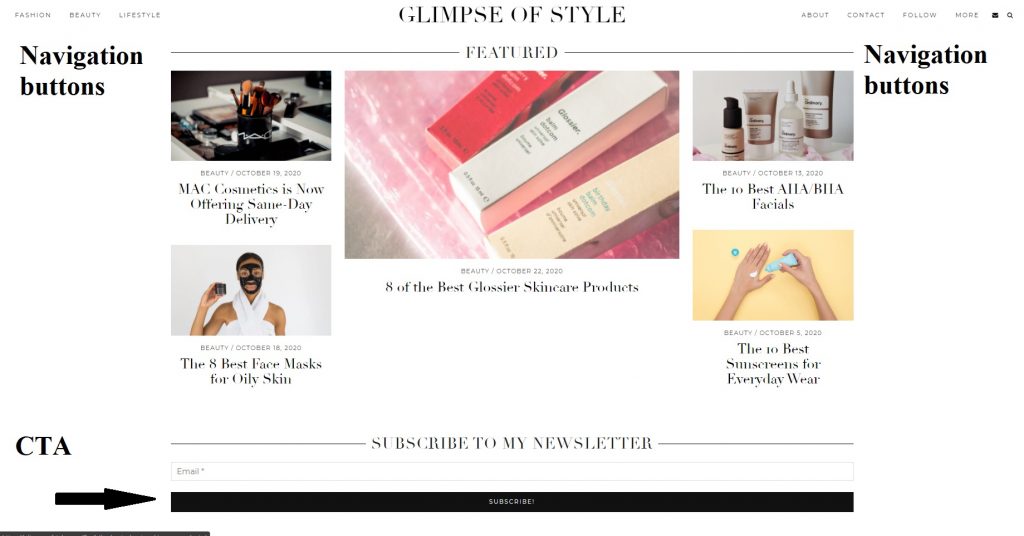 There are navigation buttons on top and a call to action (CTA) button at the bottom of the landing page. There also is plenty of whitespace (or negative space) found on the website. This highlights the CTA button even more.
And since this website is a blog, the featured articles are placed in the center of the layout. The featured image size of the middle article is relatively larger than the others, creating a visual hierarchy among them. The elements work together to highlight the important parts of her website.
When it comes to the technical aspect of your website, this is where SEO will take over. Your website loading speed is mostly affected by your image quality and size. This can be resolved by optimizing image size and quality.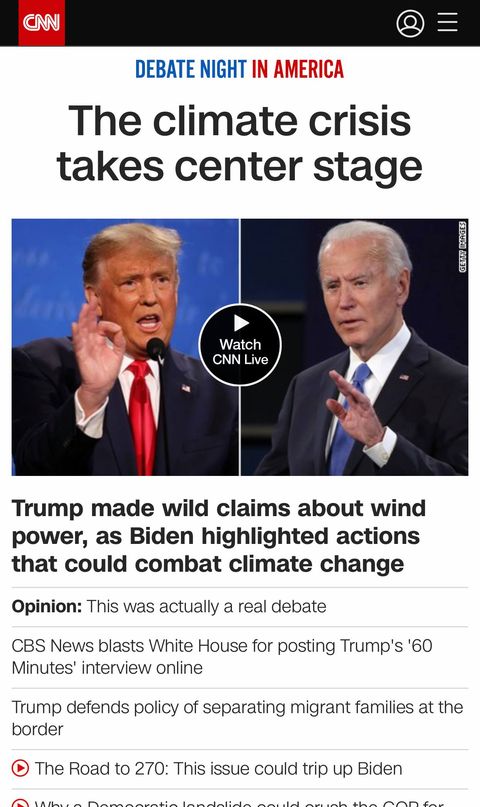 You can access the full functionality of the website of CNN through mobile devices.
Your website should also be responsive on mobile devices. Every function your website has on the desktop should be accessible on mobile devices. The Mobile responsiveness of your website is actually a ranking factor in Google, so it's essential that you optimize your website for mobile devices.
3. Web design and SEO gain user trust
Over the years, web designers have perfected the ways of designing a clean and crisp website. These websites provide an outstanding user experience, making them reliable and trustworthy in the eyes of the users.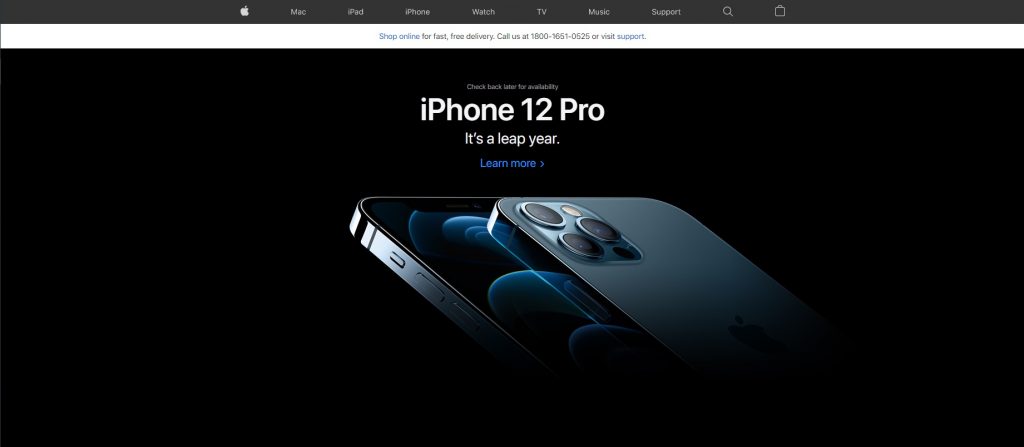 Apple has been a trusted website; complemented by its clean and crisp design.
It has been ingrained in us that we naturally expect a website to be clean and easy to navigate — just as Apple built their website.  And if your website fits the profile, then you can naturally expect your users to trust your website.
If your website looks outdated and unresponsive, your visitors will end up leaving your website and not come back at all. A bad website can give the appearance that your business does not care about your visitors. Your web design needs to make a good impression.  
Another point is the fact that we trust the websites that rank higher on SERPs. A whopping 95% of searchers click on the websites on the first page of search engines. That provides a lot of motivation to work on your SEO to increase website traffic and gain user trust.
Improve your web design and SEO
Improving your web design and SEO efforts will positively benefit your website. Though these two are very different fields of expertise, their goals are the same — increasing your website traffic and providing your visitors a good experience.
---