5 Things That Drive Your Blog Readers Away
---
Blogging is no less than art. It has a lot of critical areas to go about and essentials to deal with. Unless you are ready to acknowledge its criticalities and learn where and how to tweak your ways, impressing your readers would certainly be a difficult job. After all, blogging is all about how readable the content turns out to be. So, better be careful in the matter of choosing your words, using connotations, and adding references, as you go about the blog.
If your readers don't find the blog relatable, then the work would only suffer not only in terms of readability, but it would also ruin the aesthetics of the entire write-up. For example, if you fail to present the right references, or end up making the write-up way to lengthy, then your readers would gradually lose interest in the long run.
Well, there's more to it. Take your time to read this blog and know about the major blogging setbacks that would simply drive your readers away.
Here you go!
1 Do not goof up with keywords 
This is again one grave mistake most bloggers end up committing somewhere down the line. No blog is ever complete without proper implementation of keywords. So, you need to be absolutely careful in this matter. Here are some easy tips for you to prioritise when it comes to inserting the right keywords in the blog.
Take note.
Abide by the right key density convention while going about a blog.
Choose keywords suits your niche of blogging from every single aspect.
For example, there's no point picking up a high volume keyword "assignment help" for a blog that revolves around the topic of the ongoing pandemic situation.
On the other hand, if the blog is primarily on the status of academics during the pandemic, the keyword "IT assignment help" would certainly come into play.
Are you getting the hang of it? That's how the fundamentals of keywords in blog work.
2 Outdated content 
No one is really up for outdated, irrelevant and boring blog content, especially, when you are working in blogs you cannot afford to come up with outdated content. Here are some blog content essentialities for you to consider in your next project.
Do not extract irrelevant or overly controversial information.
Refrain from using repetitive slants. Instead, try to be innovative with whatever you would plan to include in the blog.
Do not use information that is at least three years old in comparison with the primary topic or the main points of arguments in your blog.
Also, you must choose to use references as it is. It would rather be foolery on your part, if you choose to mould or edit the original reference in order to fit in to the context.
3 Poor aesthetics 
Do you know what sets a blog apart from an article or a regular journal? It is the aesthetics that matter in the long run. The perfect blog is the one that carries relevant images, quirky statements, flowcharts, graphic enhancements and more. So, if your blog lacks any of these mentioned elements, then it is surely going down the drain.
So, here's what you must follow in your next blog.
Choose the right colour scheme, especially when you are about to take your blogging on websites.
For instance, a blog on healthy living and lifestyle would not fit best on a website that fosters high resolution (contrasted) colours.
Rather, you need to look for and try something sober, aesthetically soothing and decent from all aspects.
Aesthetics is not only about the colour you choose for your blogging website, but there are other aspects to acknowledge as well.
For instance, you can include nice, relevant photos, in accordance with the primary topic of the blog.
Also, consider maintaining a smooth flow through the entire blog by sticking to a particular thematic expression.
If you are writing a blog of food habits, then pick a particular food habit or cuisine and choose to elaborate on the theme in your final draft.
Instead of that, if you end up talking about multiple cuisines and food habits in a single blog, then it would only goof things up and create confusions among your readers.
4 Plagiarising other bloggers' works 
Plagiarising other bloggers is a big NO-NO. There is a difference between drawing inspirations and plagiarising others' works. For example, if you are working on a topic related to "Globalisation", then you can always refer to a multitude of such similar topics.
You can seek inspiration and learn how to go about a particular section or back a notion in an analytically effective manner. But, it would be highly unethical on your part if you choose to directly paraphrase or copy someone else's idea and pass the same as yours.
It would simply lead you to face unfavourable consequences in the form of:
Having your blog blacklisted in every reputable website.
A ruined reputation, with an impression of the unethical blogger.
So much so, plagiarism can lead you to face penalties on the grounds of violating copyright acts. So, be absolutely careful about how you choose to go about the conventions of blogging.
5 Writing big chunks of absolute nothingness 
Just so you know, no one is really interested in reading through a boring block of copy, especially, when it comes to blogging, you cannot afford to come up with big chunks carrying fluffs and repetitive slants. If at all, you are required to come up with a lengthy explanation of a particular context of the discussion, then try to break down the paragraph is smaller proportions.
Otherwise, it would only appear to be drab down the road. Here is a screenshot hinting at what exactly you shouldn't do while blogging.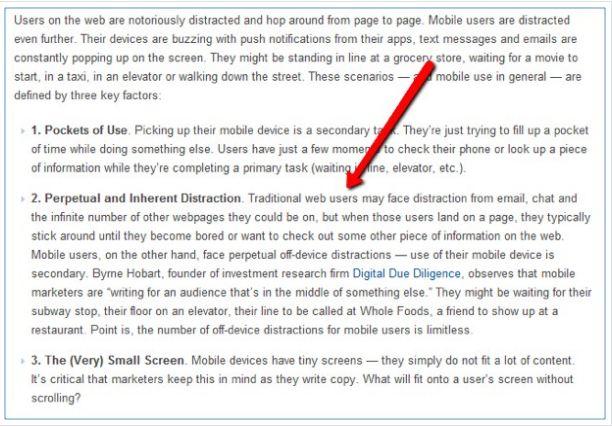 Source: https://moz.com/
Parting Thoughts
Blogging is fun, and undoubtedly one of the most creative exercises you can ever opt for in order to keep boredom, completely at bay.  Now that you are aware of the "don'ts" of going about blog content, make it a point to abide by the ground rules and never miss out on the chance to showcase your creativity at its best.
Author Bio
Eric Stevenson is an experienced essay typer, working on behalf of the digital academic help platform Essayassignmenthelp.com. In addition, he is a dedicated NGO activist and freelance musician, coming all the way from Glasgow, the United Kingdom. 
---