How To Market An App Using Facebook Ads
---
For most B2C and many B2B products/services, Facebook is a superb place to spend advertising budget.
However, when it comes to app downloads, Facebook ads can be exceptionally powerful, considering the platform has a special "app install" ad in its list of offers.
This fact, combined with Facebook's numbers (for instance, over a billion unique users) makes Facebook a great place to advertise your app to boost download, given that you know what you are doing.
This doesn't mean that the changes that your SEO optimizer suggested to your website are not important. Organic traffic is critical when it comes to long term success. However, if you are looking for relatively quicker results, Facebook adverts work great.
However, without a solid strategy and enough knowledge, it is easy to make budget ruining expensive mistakes with Facebook ads.
If you are worried about the same, you have landed on the right page.
In this article, I will outline the exact process you can utilise to effectively boost app downloads with Facebook ads.
Without further delay, let's begin:
Register Your App
The first and the most important step is to register your application with Facebook for Developers. This is important because the "app install" ads on Facebook are only available to those who have an app registered with them.
Besides registration, you may also see the option of adding your iOS and Android Software Development Kit (SDK) to Facebook, along with the option of setting up custom app events.
If you are working with an app and website design company, you may also want to talk to them about preparing your app to be registered with Facebook.
While these are just options, and not mandatory if you want to get straight to ads, we strongly recommend SDK submission and setting up custom app events like app install, app launch, registration on app etc.
This will allow you to get in-depth tracking reports of your advertising campaigns which will in turn, give you the ability to optimize them for better performance.
If you find yourself stuck anywhere, you can always refer to the dedicated page Facebook has created to help those who want to run app install adverts on their platform.
Setting Up Campaign Objectives
When it comes to advertising apps, Facebook allows you to set up two types of objectives (only if you have submitted your SDK in the previous step and have custom events set up). Let's look at each of them in detail:
App Installs: This objective is pretty self-explanatory. If you want more first time users for your mobile app, you will choose this objective.
When you select this objective, your Facebook ads will have an "Install Now" button featured on them, which will take your targeted users to the relevant app store when they tap the button.
Choosing this objective also means that the Facebook algorithm will optimize the campaign to better suit this specific objective.
Conversions: Conversion campaigns are only beneficial if you have custom app events set up. Choosing this objective will allow you to reach warm audiences, people who have already installed your app in the past, and prompt them to take the desired action on your app, which will be considered a conversion.
A good example of conversions can be making in-app purchases.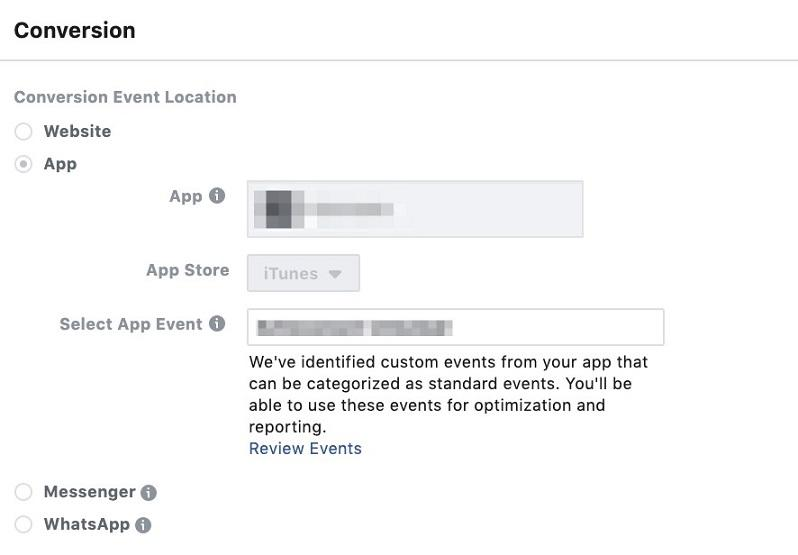 To select this as a conversion event, select the app store that you want to target (PlayStore/iTunes) and then select the app event that you want to set as a conversion.
This way, your ad will be optimized in a way that prompts the audience to take the action specified as the conversion.
Targeting
After selecting your goals, you should find yourself on the targeting page. This is where you will decide who will see your ad.
When it comes to advertising apps, there are mainly three types of targeting methods that matter. These are:
Broad Targeting
Broad targeting is for those who have some budget for ads and don't really know who their target audience exactly is. With broad targeting, you can only target your audience based on demographics such as age, location, and gender.
While broad targeting can bring in measurable results, it usually happens after spending a significant amount in testing the ads.
In other words, if you are trying to advertise an app, you may find this type of targeting the least appealing.
Detailed Targeting
Detailed targeting allows you to further target your audience based on "interests". Facebook's interests list is virtually endless and contains interests that are relevant to almost every niche out there.
If you have a niche product and have a fair idea of your target audience and their interests and attributes, you must definitely choose detailed targeting. With this, you can target an audience that is more likely to install or interact with your mobile app.
Moreover, unlike broad targeting, detailed targeting will allow you to reach more such users with a smaller budget. For instance, if you have a productivity-boosting application, you can target people with interest in productivity (obviously) and productivity books like Deep Work.
Another great way to target an audience that is likely to buy from you is to target the people that are interested in a well-known competitor in your industry/niche.
Lookalike Audience Targeting
The ability to create lookalike audiences is perhaps the most powerful feature offered by Facebook. It basically means telling the Facebook algorithm about the exact people you want to target and then it will find people on Facebook with similar behavioral and demographic features and show your ads to them.
You can create a custom audience from your existing customer or prospect data. In the case of an app, you can also create custom lookalike audiences of the people that have taken specific actions on your app (like making an account or making an in-app purchase).
Here's a guide by Facebook on how you can get started with a lookalike audience. I strongly recommend going through it, as creating lookalike audiences is also necessary for retargeting ads that are known to boost the ROI of Facebook advertising.
Create An Ad
After you have registered your app with Facebook, decided on a goal, and have set up the audiences you want to target, it is now time to create the actual advert.
On Facebook, an ad is made up of five main elements. Let's see what these are and how you can get each one right: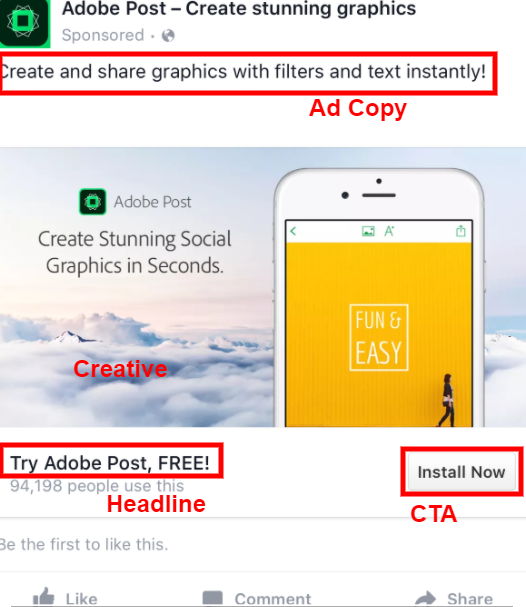 Text
The text or copy of your ad appears as a Facebook caption, right below your brand name. For best results, it is recommended that you keep your caption copy short, succinct, and lucrative.
Headline
The headline appears right below the ad creative. This is the best place to highlight an interesting offer that you may have going on, prompting the users to install your app.
Creative
Facebook is a very visual platform and the creative is arguably the most important aspect of a Facebook ad. Your creative is responsible for grabbing attention and convincing a user that is just "scrolling by" to stop and investigate your ad.
CTA
The CTA button is another incredibly important part of your Facebook ad. Make sure it is action-oriented and consistent with the rest of the ad copy (and the copy in your creative).
Deep Link
Every ad for an app will be accompanied with a link. For installed ad apps, the link will lead to the relevant app store to let the user download the app.
However, if you choose conversions as an objective, and want people to take an action on your app, you will have to utilise deep links.
Simply put, deep links can send users directly to your installed app from Facebook. Incredibly enough, deep links can even send users to specific pages on your application, effectively reducing the number of 'taps' it takes for them to perform a conversion action.
Using deep links is always optional but if you learn how to use them right, they can be very impactful.
Conclusion
If you have followed all the steps outlined in this article, all that is left for you to do is set your ad budget and publish the ad.
I hope that you found this guide helpful. If you have questions or additional tips, share them with us in the comment section below.
---