How to Integrate Social Media with eCommerce
---
Believe it or not, 3.96 billion people use social media sites like Facebook, Twitter, and Instagram to talk to friends and connect with brands. If you want your eCommerce business to succeed, you must find unique ways to integrate social media into your marketing strategy and website design.
There are plenty of advantages that come with a site that works smoothly with some of the most popular social networks in the world. The most notable benefit is you'll have an easier time growing your social presence, which means more people will know your company exists. All of your other strategies will benefit from consumers recognizing your brand.
Combine this information with the fact that 59% of people use social media for shopping inspiration, and it's easy to see that a well-designed strategy can lead to explosive growth.
Today, we're going to take at several things you can do to better integrate your social media account, as well as the accounts of your customers, into your eCommerce business.
Ready? Let's dive in!
Use Social Buttons Strategically
First, let's talk about one of the oldest and most effective ways to mix social media with your online store. We are, of course, talking about social buttons. The functionality of these handy little buttons has changed over the years, but the purpose remains the same; to make it easier for businesses and consumers to share information on social media.
We suggest including social share buttons on all of your blog posts. An impressive 77% of internet users read blog posts. So, if someone lands on your site and enjoys your content but doesn't buy a product, they can still tell others that you helped them by sharing your post.
You can choose how to add social share buttons to your blog, but here's what works for us: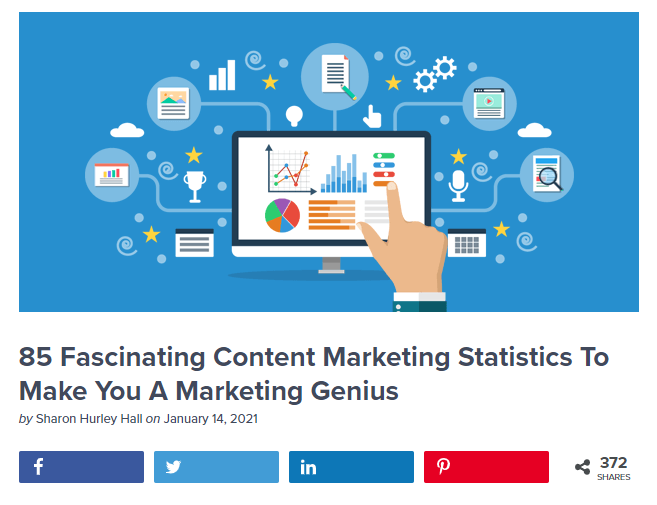 As you can see, visitors can quickly and easily share our posts with their friends and peers. This strategy can lead to more brand awareness and social media followers.
Social logins are another way to encourage users to interact with your business through their social media account. We've all visited websites that allowed us to log in with our Facebook, Google, or LinkedIn accounts. This is a significant selling point for users who want to read your content and enjoy your brand but don't feel like signing up.
Major eCommerce platforms like Shopify and WooCommerce have plugins that allow businesses to add social logins. We can't stress the importance of testing this feature extensively before flipping the switch and adding it to your site.
Show Website Visitors Your Social Media Feed
You can also add your social media walls directly to your website. This strategy is an excellent way to get site visitors to navigate to your social profiles after they're done browsing your site or buying a product.
Essentially, social walls are one or more of your profiles compiled on your site's sidebar or a standalone page. Here's an example so you can see what we mean: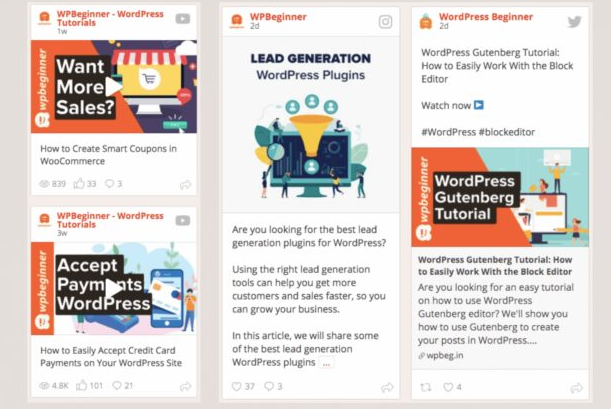 As you can see, visitors can see and interact with all of your posts from your website. This is another benefit of adding social logins to your site. Users will happily engage with your brand if they see that you post often and frequently engage with your followers.
We've had success with standalone pages and including our social walls on the sidebar of our blog. Users may see another post they want to read, an advertisement for our latest promotion, or user-generated content, which can help build social proof.
Create More Video Content
Video content is another excellent way to grow your business. Research shows that videos are increasingly popular on both social media and eCommerce websites. If you want to merge your two marketing platforms, live, and recorded video can help you reach your goals.
You could host a live webinar on platforms where your target audience spends their time. For instance, if over 60% of your website traffic comes from Facebook, you can assume that a video event on the social media giant would result in more traffic, sales, and engagement to your eCommerce site.
We recommend picking webinar topics that are relevant to the goals and pain points of your target audience. The objective is to connect your presentation to the products or services available on your website.
But here's the thing; you can just promote your product and hope people will subscribe and eventually become customers. You have to provide tangible value that your readers can take away at the end of the event, like a lead magnet, promotion, or notes on the presentation.
It's also possible to record videos and upload them to social media websites like YouTube.You may be shocked to learn that 1.9 billion people use YouTube every month. In other words, there's an excellent chance that your target audience spends their time on this site.
Don't forget to include your brand's best videos on your website. If you create high-quality guides or product breakdowns, add them to your product landing pages. Studies show landing pages with videos tend to get 86% more conversions when compared to text-only pages.
Host an Irresistible Giveaway
Next, let's explore how social media giveaways can help you grow your eCommerce website. There's an excellent chance you've encountered a social giveaway while browsing your favorite networks. These events are a perfect way to get existing followers excited about your business while introducing your brand to new customers.
You'll want to start by choosing a prize. We like using both products available through our online store and popular gifts designed to attract new leads, like Amazon gift cards. When you pick prizes available on your eCommerce website, you'll have more opportunities to attract targeted leads that are genuinely interested in your product or service.
On the other hand, broad giveaways, like the Amazon card we mentioned, are an excellent way to spread brand awareness, which leads to new followers and potential customers.
Here's an example giveaway so you can see how they can build excitement and get more people to visit your site: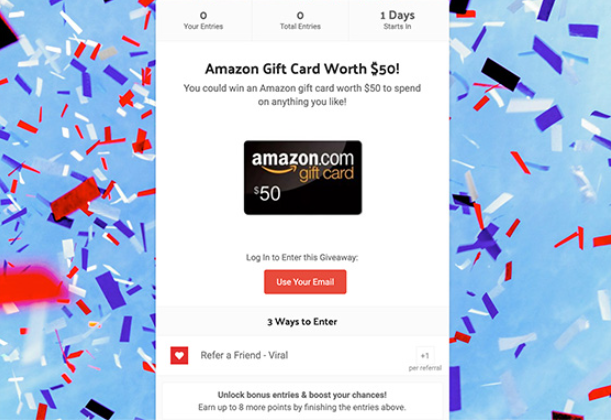 It's worth mentioning that you can increase the effectiveness of your contest by creating a giveaway landing page on your site. This strategy ensures that new visitors who have never clicked your social page can see that there's an ongoing event.
You'll also want to create rules for your contest that help you achieve your marketing goals. For instance, if your goal is to grow your email list, you may want to create a rule that allows visitors to enter by subscribing to your email list. Similarly, you can let visitors enter a second time by sharing your post on their wall.
Don't be afraid to experiment with different rules and layouts until you find a giveaway strategy that works for your business.
Partner with Influencers
Finally, you can integrate social media with your eCommerce storefront by working with influencers. Social media influencers are internet personalities that have an audience that's interested in their content.
In many cases, followers look to influencers for product suggestions. We know this because a whopping 130 million Instagram users tap on sponsored posts every month.
This data shows us that influencer marketing is still a viable way to sell your products to people on social media. The key is to find internet personalities that have an audience that aligns with your visitors. For example, an email marketing company likely wouldn't partner with an influencer who specializes in beauty and fashion. However, a makeup company would make a perfect fit.
Once you find an influencer with a similar audience, reach out to them and see if they are interested in writing or recording a sponsored post. You can send a free version of your product or service or pay directly for their time. Make sure your partners know the importance of disclosing sponsorships to their audience.
There are plenty of video styles and formats, so this is another case of experimenting until you find a strategy that works for your company. However, we can say that influencers with less than 100,000 followers are excellent for generating targeted leads, while internet celebrities with one million or more followers can help you skyrocket awareness.
Final Thoughts
As you can see, there are plenty of creative ways to integrate social media with your online store. If you're just starting out, know that it will take time to build your following and get sales through social media.
The tips outlined today will give you the framework you need to grow and build your social channels alongside your website. Veteran business owners may want to consider including some of these tips in their strategy to boost conversions and engagement across the board.
AUTHOR BIO:
Syed Balkhi is the founder of WPBeginner, the largest free WordPress resource site. With over 10 years of experience, he's the leading WordPress expert in the industry. You can learn more about Syed and his portfolio of companies by following him on his social media networks.
---