How to Create Professional Slideshow Presentations with FlexClip
---
Here is a guide that will show you the potential of this extraordinary software that can create slideshows using photos, videos, and background music in just a few seconds.
Do you want to create a slideshow with photos and music but don't know a professional slideshow program? You have a business meeting and you have to make presentations in a short time on your project, but are you afraid of doing damage? Quiet, I understand, you're not very expert on how to make animated presentations with music. That's why in the next lines I want to talk to you about FlexClip: one of the best free programs to create free slideshows.

There are lots of slideshow programs, but if you don't know how to make slideshows and are looking for software that can create animated, photographic, professional and practical presentations, then you can't miss out FlexClip slideshow maker from PearlMountain.
How FlexClip works?
FlexClip is an online program to make presentations with photos and videos in minutes. You can create slideshows in just three steps: add photos or videos from your computer or from FlexClip's online stock library, add and edit necessary elements (such as text, music, logo, etc.), and locate a folder to save the presentation obtained.

FlexClip offers many fantastic templates and will update continuously, to help you create quick presentations. All of them are fully customizable that allow you to change the elements, text, and colours to your liking. You can also select one of the built-in music tracks or add music from your PC for the perfect combination.

It does not end here, FlexClip also offers additional features for editing your slideshows: set start time and end time of the video, rotate the photo and video to the right or left, set the volume and loop effect of the background music.

To use FlexClip, no download and installation are required. Just go to the official website and press the Get Started – Free button on the homepage.

After that, you get to the heart of the program and see how to make presentations with photos or videos in your browser with simple steps.

When starting up, FlexClip comes with a simple and intuitive graphic interface. There are two ways to add photos or videos to the storyboard:

– You can click on the + button and then browse your local files to add the desired photos and videos.
– You can click on the + button and then choose from millions of stock media choices from FlexClip.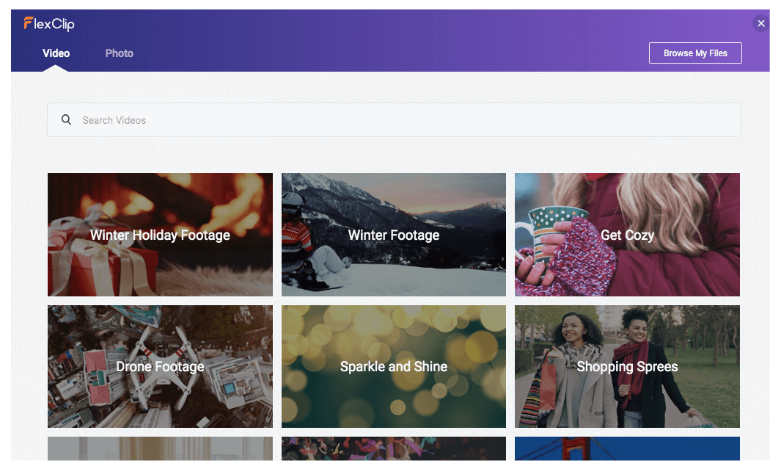 In case you are not satisfied with one of the added photos or videos, you can delete one or more items by clicking the Delete button (x) on the top right corner of each item. Not only that, with the Rotate Left and Rotate Right buttons, you can rotate the added items to give them the correct position.

Besides, you have the opportunity to add a background and choose the colour to fill it. By clicking on Apply to All Storyboards, you can apply the effect to all the slides in your presentation.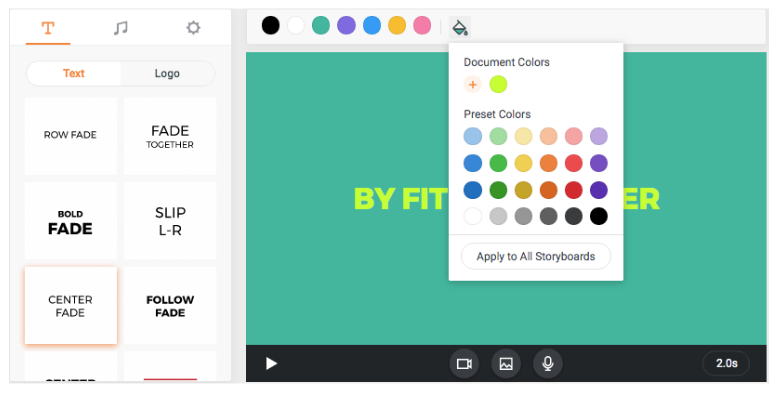 If you want to add background music to the slideshow you're working on; you need to click on Add Music button in the right sidebar. The audio tracks already integrated into the program are visible; in case you can also add one of your songs from the PC by pressing the Browse My Files button.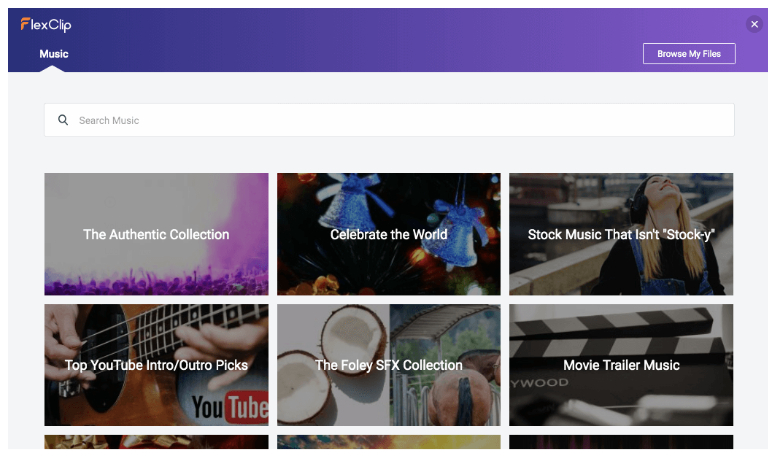 Once the song has been chosen, it will be loaded into the program, and you can customize it by cutting the music, adjusting the volume and loop effect.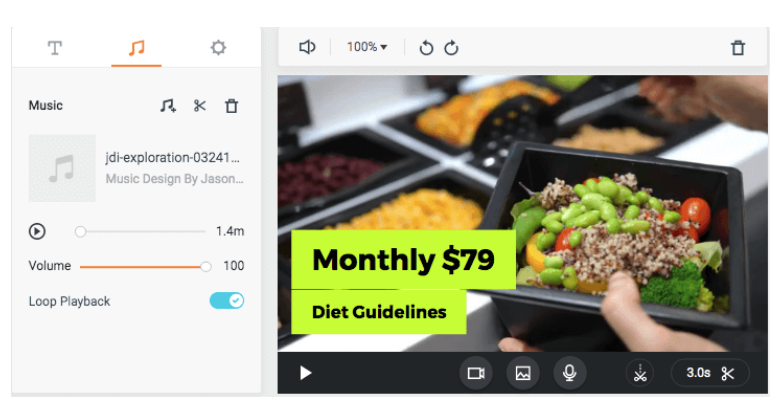 Now that you have created the presentation with FlexClip, by clicking the Preview button on the top banner, you can preview the result you will get in your presentation. Then click the Export Video button to save it in your PC. You can choose the optimal video resolution and specify the destination folder to save the video.
Conclusions
We tried FlexClip, and we were really excited. In a very short time, we were able to create compelling slideshows online. FlexClip offers a free platform that allows you to access full functionality, without leaving a watermark in the centre of the final work. 

If FlexClip doesn't feel like your go-to editor for making presentations, check out a list of a few alternative professional slideshow software you can choose from.
---