How to Conduct Market Research Through Social Media
---
As marketers, we need to know our customers' intimate needs and wants. It is the only way to serve them better and ensure they are satisfied. In fact, failure to capture customer preferences and behavior changes can be challenging for any company and make them miss out on the optimal market entry point.
Some of the leading causes of business failure rates are linked to marketing:
Cash flow problems – 38%
No market need – 35%
Intensive competition – 20%
So, better marketing research can prevent over three-quarters of business failures. Most market research methods provide historical insights into the market and your consumers. Social media market research can offer historical and real-time insights to help adapt quickly to consumer changes.
Social media market research involves understanding your brand's market using data from social media channels.
With 4.65 billion active social media users globally, users share unbiased opinions about themselves and brands. Hence, it is a vital source of data that informs business decisions. Social media market research widens your market scope for relevant data. Also, it is relatively cheaper and more effective given the ability to target a specified audience accurately.
Over 85% tend to agree that social media will be the primary source of business intelligence in the future. It shows the significant role social media has on brand positioning. Therefore, you should know how to get business intelligence insights to drive your bottom line from it.
Let's learn how to conduct market research through social media:
Conduct Social Media Polls or Surveys
You can conduct social media polls and surveys better to understand consumers' preferences and opinions about your brand. Most social media platforms have in-built features to help you conduct polls on the brand topic you wish to investigate.
For example, Instagram has many features on its "Instagram Stories" that you can leverage to run polls and surveys. "Instagram Stories" has a poll, question, and emoji slider alongside countdown timer stickers to help conduct questionnaires and polls.
Your followers will view the stories and respond within 24 hours before the post disappears. The urgency of these soon-to-disappear Instagram stories can help nudge your followers to respond faster. You can get the final poll results alongside every voter and their choices.
Twitter, Facebook, and LinkedIn also have similar in-built provisions to allow you to conduct polls and surveys. You can use polls and questionnaires to understand specific nuances of brand products and customer preferences. For example, you can compare brand products to understand which resonates most with your customers.
However, it may not be an effective way to conduct polls if you have few followers. Poll results are always visible before someone votes; hence, herd mentality may affect users' opinions. Market research companies can help you compensate for these biases and get real valuable poll results.
An effective consumer researcher needs an adequate sampling size to generalize poll findings. For example, let's assume you have a dairy firm with two major yogurt products-vanilla and chocolate flavors. You wish to know which one of your products consumers prefer but only got 20 people participating in the poll upvoting the chocolate flavor.
That sample figure may be too small to represent your total consumer base. So, you can not generalize the findings that chocolate yogurt is the most preferred product. The best marketing research companies can help you achieve an effective sampling size for your social media polls.
Use Analytics to Evaluate Content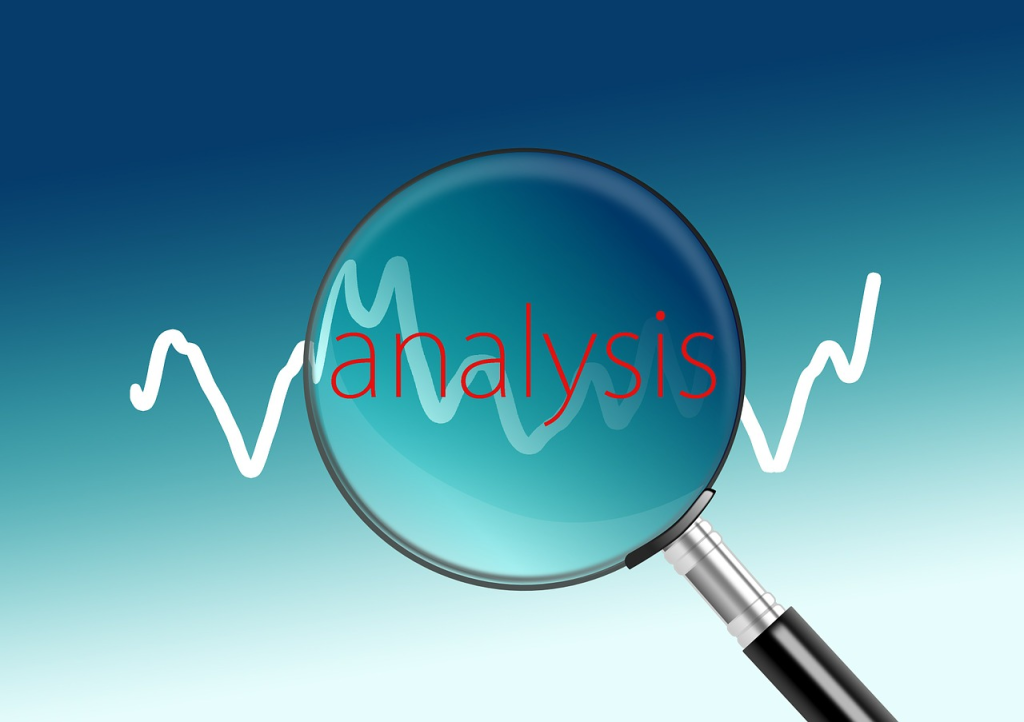 Source: Pixabay
You can also use social media analytics to evaluate your brand engagement. Brand engagement metrics include likes, followers, shares, and comments on social media pages. You can evaluate these metrics to understand which content and products have positive feedback in the target market.
Also, you can use the metrics to conduct competitor analysis. It involves checking out competitors' social media pages. Pay attention to every social media strategy that gives your competitor more followers, likes, and enhanced engagement. Adopt similar tactics to grow your social media and enhance brand engagement.
For example, a video post on Instagram Reels may go viral or receive more shares than average posts. In that case, copy the same content idea to grow your account. It is a clear indication of the type of content your Instagram followers like and needs. Also, you can leverage an AI-powered Instagram caption generator for high-quality and compelling posts.
However, what works on Instagram may not necessarily work on Twitter or Facebook. So, qualitative content analysis on each platform will direct you to the platform's best attractive marketing brand message and product.
For example, if you're conducting B2B marketing research, LinkedIn must be part of your strategy. About 90% of B2B marketers use LinkedIn for organic social marketing. Since it has most decision-makers in a target company, it can get valuable leads using the most effective content.
So, you can know where a type and format of content can drive social media growth, engagement, awareness, and performance. Short video content may be effective in Youtube Shorts, TikTok, or Instagram's Reels. But, a white paper on a relevant topic may be more effective on LinkedIn.
Leverage Social Listening Sentimental Analysis
Another way of conducting social media market research is through social listening. Social listening means subtle monitoring of social media conversations and feedback on your brand. It can help track brand mentions and run sentimental analyses on your brand.
Social listening will uncover vital brand insights like:
What customers are talking about your brand
How do they feel about your brand products or services?
What do they need from the company?
For example, take a look at this tweet about Netflix: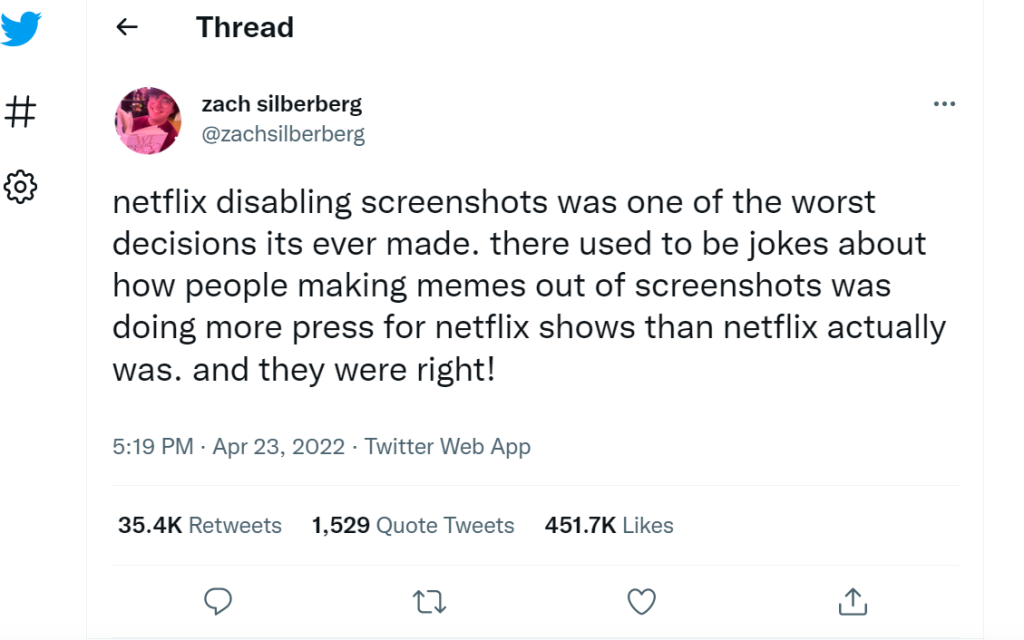 Source: Twitter
Whatever reasons Netflix had for removing the screenshot feature on shows, it should've at least evaluated the massive engagement against the action. Netflix is not even tagged, and there is no hashtag to help it now its brand is trending negatively.
Further analysis of the tweets in the comment sections may contain suggestions from users on how a brand can handle a certain issue. Other brand issues may also be trending simultaneously on other social platforms.
You need social media tools to track and monitor brand mentions across the social media landscape. Whether Twitter, Facebook, LinkedIn, Instagram, Reddit, etc., you should have tabs on everything about your brand.
You will need more than just social marketing tools like Sprout to get the work done. Reputable companies on consumer behavior research can help distill the right insights from brand mentions. Hence, companies like Quirks can come in handy in leveraging your social listening. You can use the insights to improve marketing and business operations.
Also, you can extend it to competitors to understand what their consumers are praising or complaining about their products. You can then iterate yours to capture unsatisfied customers from competitors. Therefore, social listening will let you understand what customers like, dislike, or extra needs from the brand.
You can conduct social listening by tracking brand mentions through hashtags. Alternatively, use tools like Sprout Social to track even untagged brand mentions to uncover insights.
Take Away
Social media's enormous growth presents new opportunities in business intelligence and marketing. For maximum output, it is better to conduct market research on your social media platforms to better understand your customers' needs and competitors' leverage.
You can conduct social media market research using polls, content analysis, or social listening. Each method can improve your performance. You will know what products customers need, which content leads to authentic brand engagement, and what they love or hate about your brand. You can adopt the insights to improve marketing strategies and business operations for better performance.
---