How The AIDA Model Can Improve Marketing for Your Online Store
---
It is not easy to get attention from the target audience towards your online store nowadays. A customer has to face advertising everywhere: mobile phones, television, social media networks, radio, magazines, newspapers, emails, and more. With marketing's purpose is to attract potential customers, your business faces a lot of competition to stand out from all the noise.
To overcome this challenge, a prominent model of marketing called AIDA is valuable. It is widely used by many big brands worldwide, but small online stores may not have used the model to its full potential. In this article, we are going to talk about the AIDA model definition and how it can improve your store's marketing effort. Let's get started!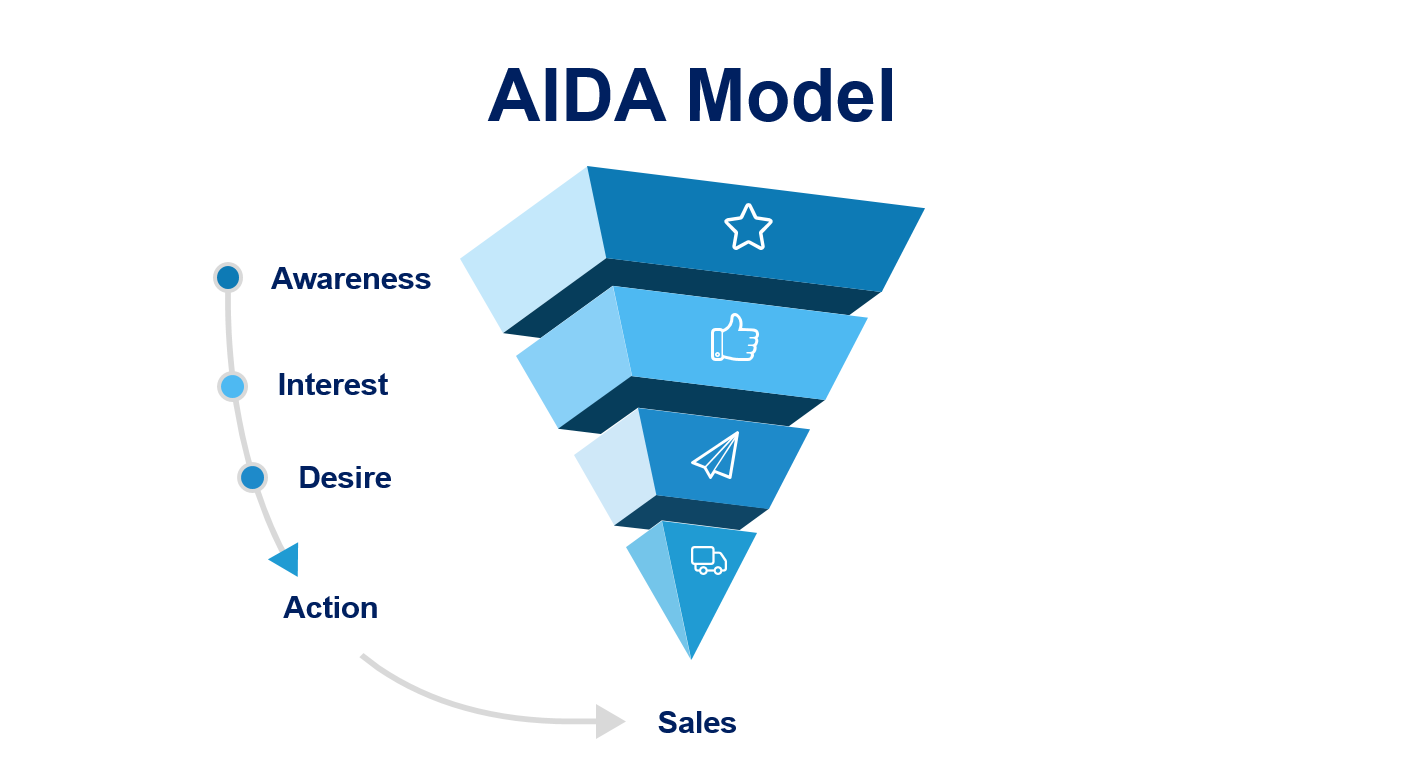 The AIDA model
What is the AIDA model?
AIDA is a four-step marketing model designed to help marketers understand the customers' minds. It was made popular by American advertising pioneer Elias St. Elmo Lewis in 1898. The model explains the journey of turning visitors into customers by following certain steps. The four initials AIDA stands for Attention, Interest, Desire, and Action. These are the steps that companies should take to process customers through when buying products and generate sales effectively.
The AIDA model is a cornerstone part of marketing. Lacking one of the steps listed could have a more negative impact on your marketing strategy's effectiveness than you can imagine. This is why the model has been taught, used, and improved over the years by many marketers to suit their own strategies.
The AIDA model is also a valuable tool in evaluating the success and effectiveness of a public relations campaign. It works great for online stores and can also help analyze the results of product presentations on the website. If you conduct marketing research after implementing the AIDA model, the data collected is useful for promotional messages and emails to engage with customers more.
Overall, the AIDA model is the marketing method to understand the customer journey and process the strategy to engage with them effectively through advertising effort.
How the AIDA model improves your online store's marketing
In this section, let's look at one word at a time, and understand how the model can have a positive effect on your business's marketing effort.
Awareness – Draw customer attention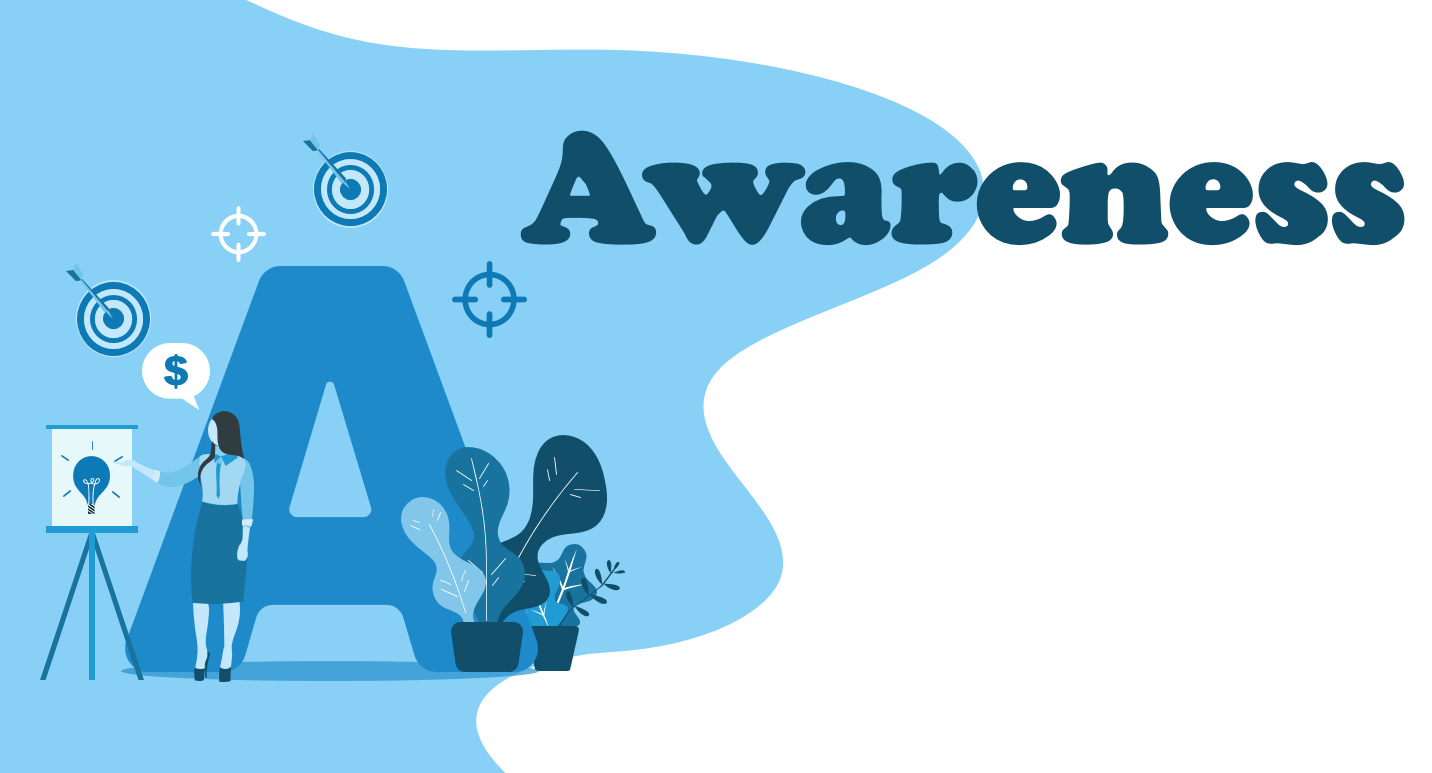 Awareness 
This first step is extremely important because here is where every customer's journey begins. And if your advertising message is interesting and relevant, you can draw more customers' attention. In order to do that, you should understand your target customer in the first place.
Then try to have emotion in your marketing message. Make your content uniquely attractive by using fresh and captivating information. The goal here is to make your audience curious about your company, products, and services.
Another important element to draw potential customers' attention is graphic design elements. Make sure that you have the best visual presentation, including a moving or trendy effect. But try not to use too many such factors because it can hurt the experience.
Since you own an online store, loading speed is critical in the first step of the AIDA model. An average customer closes a tab after five seconds of waiting, so keep your website fast like Sonic or you will face visitors leaving your site even with great marketing materials. 
Interest – Maintain customer curiosity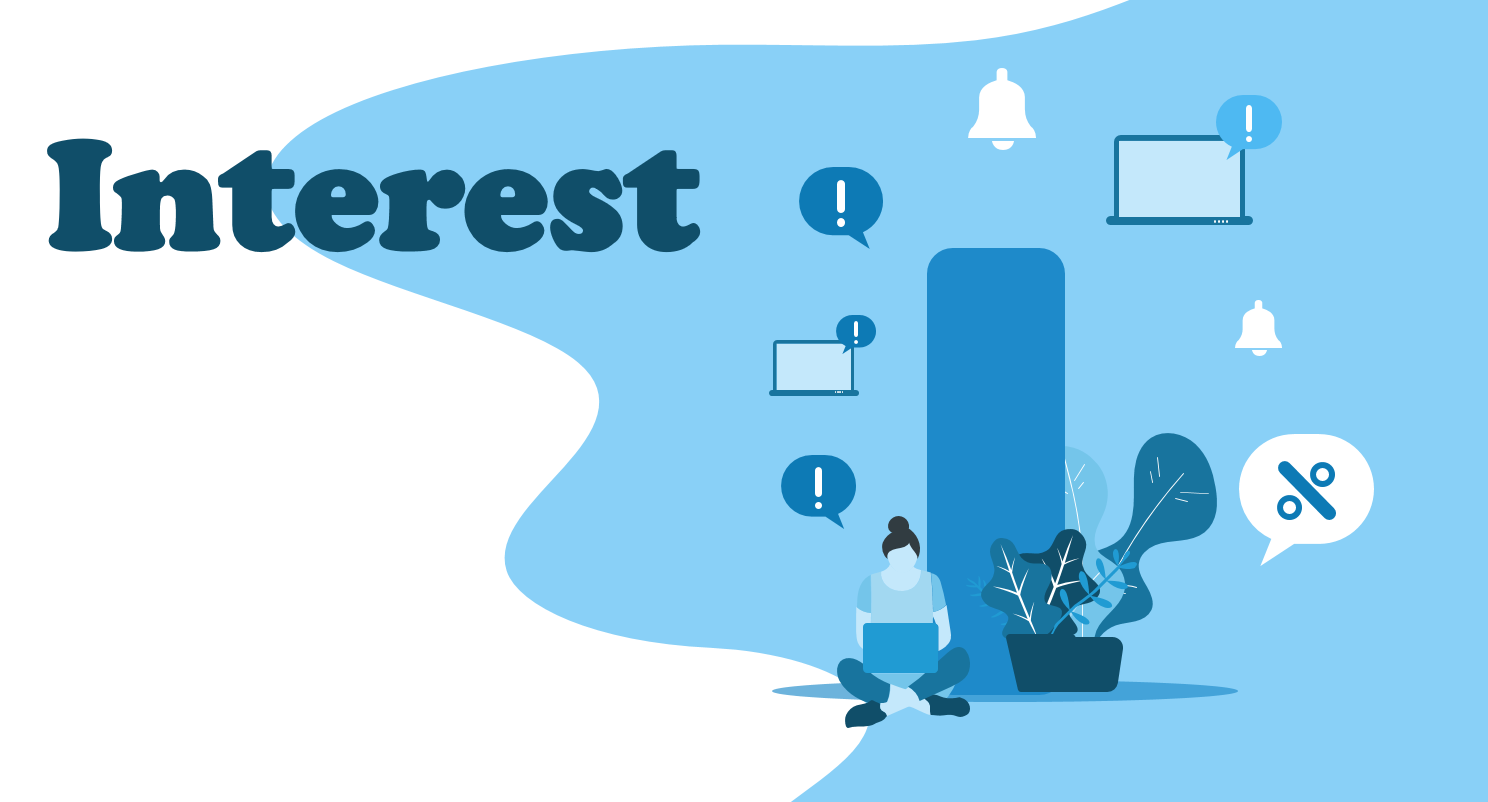 Interest
After drawing customers' attention, you should find ways to maintain their interest in your goods. And interests boost sales. You can do that by presenting information about your products, emphasizing their benefits, and showing how useful they can be to customers. The second step ends successfully when the customer shows noteworthy interest in your products, for example, subscribing for emails or contacting about the desired product.
Another essential thing in the Interest step is telling potential customers more about your brand. Sharing the core values, history, ​​and information about team members can show that there are real people behind your company. It creates interest and makes customers feel connected to the online store they may buy from.
In order to develop an interest-maintaining strategy, you would need to define your target audience and then explain how your products can solve the customers' problems in a relevant way. Attractive pictures and videos are really helpful to back up your words. 
Desire – Create customer aspiration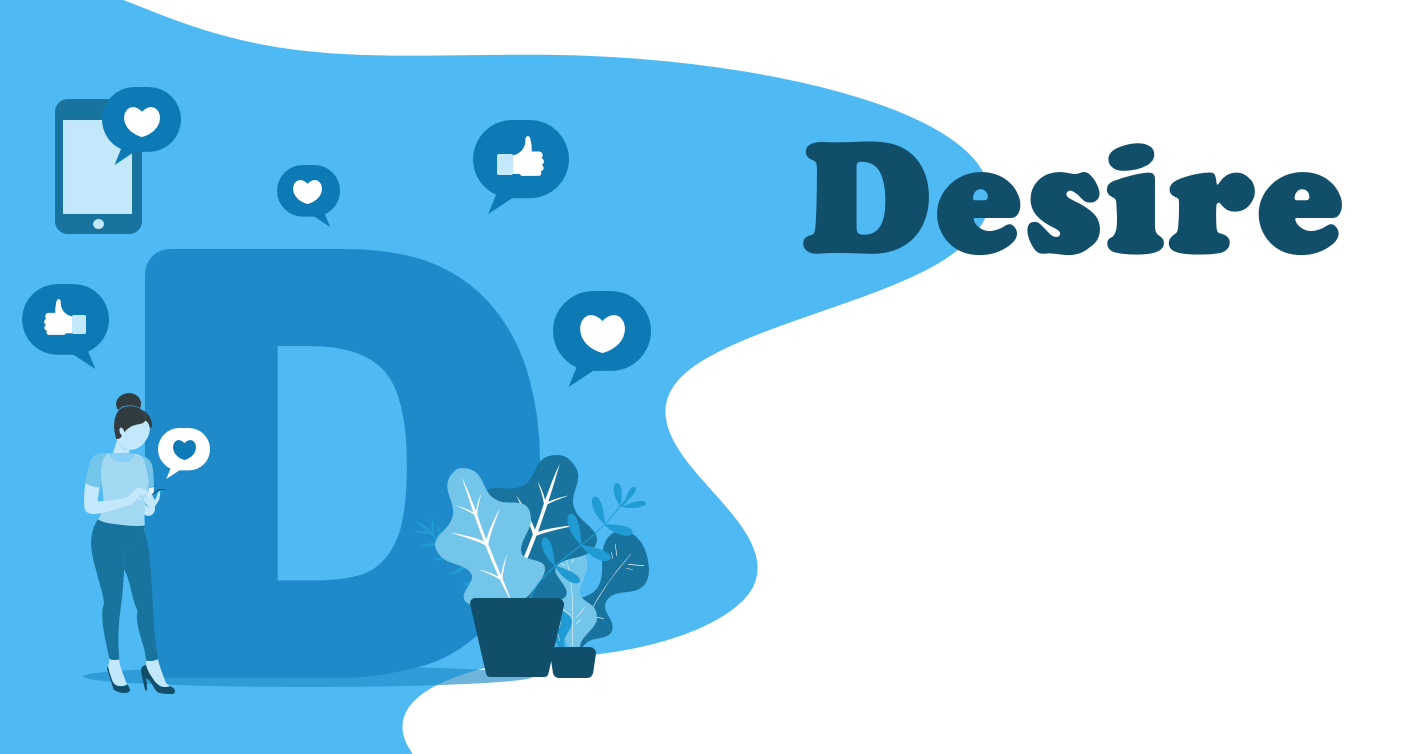 Desire 
During this step, the customer's interest should be developed into a Desire to buy your product. You should perfect your product page with various models, detailed descriptions, and visuals of the product in action. Describe the benefits in such a way that the customer's wish from "It looks cool to have" become a true desire as "I must have it now!".
Besides that, customer reviews as social proof can make your company and products look more credible. If you can show that people are buying from you and leaving good words right on your homepage, it would be great. If you're running a store on Shopify, Avada Proofo is a freemium app that I highly recommend. It shows a little notification on your website about customer purchase, add to cart, review, and more in real time to entice the visitors and make them act on the desired products. For an online store, it is a powerful yet inexpensive tool.
It is also a good idea to motivate already customers to leave a review. You can motivate them with small gifts or discounts to share their experiences in the comment section. It is also a chance to get feedback for possible improvements. 
You can get some criticism from reviews, but it is not a bad thing – it shows people that you don't just show praising feedback and make positive reviews even more trustable. Amazon does this, too, by showing five-star reviews next to one-star reviews right at the top of the comment section.
Action – Make customer act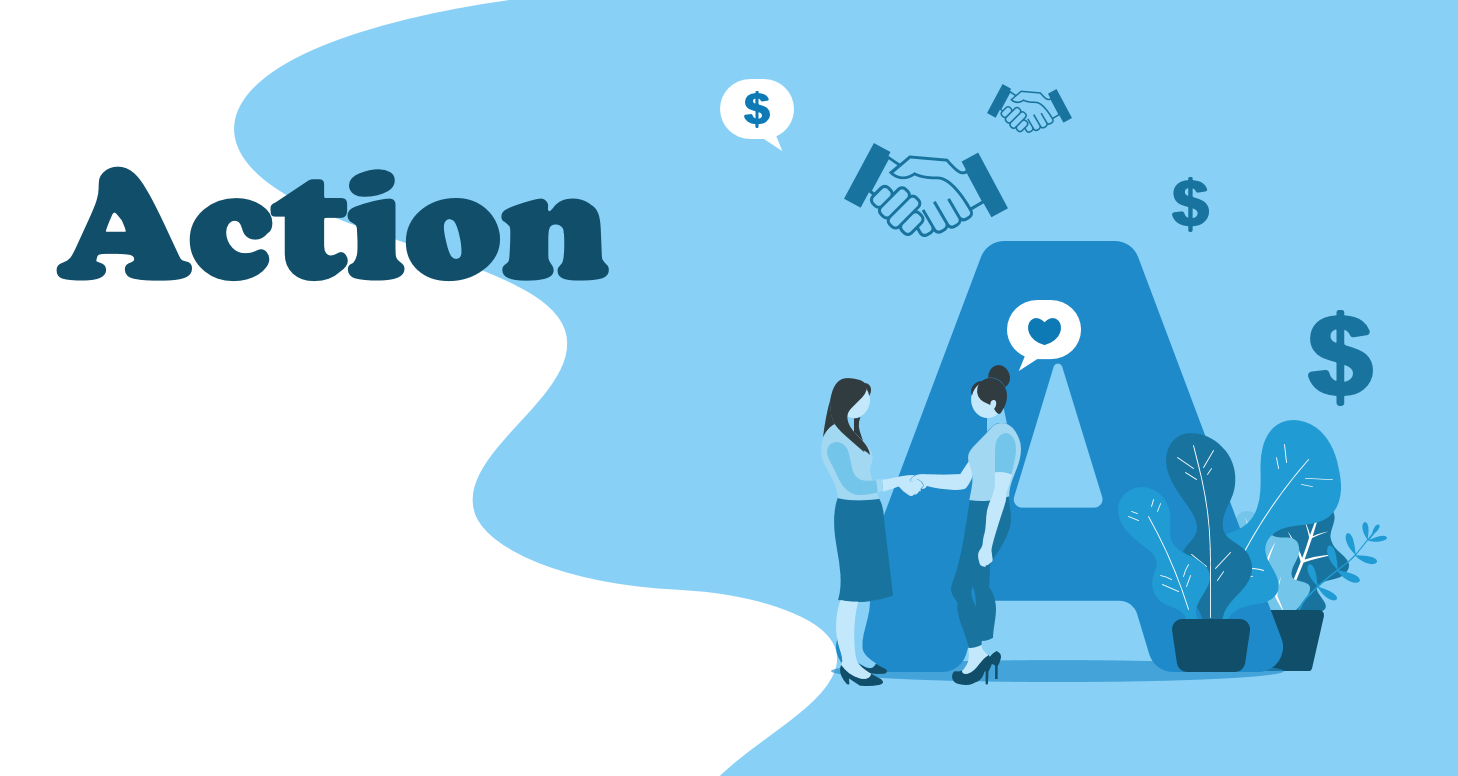 Action
And the final step is the customer taking Action by buying the advertised products. Say you have the prospect's attention, you make them interested, and now they want to buy your product. Your online store just needs a little push more to win the customer!
A powerful tool in this step is call-to-action buttons, which include time constraints and pressure to make customers act. If there is a lot of content or images on the page, there should be at least a few of them. Call-to-action buttons should be bright, big enough, noticeable, and attractive.
Moreover, adding additional encouragement such as discounts or gifts gives the customers extra convenience to make a purchase. Remember, your goal in this step is to make prospects act and turn into customers.
Final words
Through the four above steps, there are many benefits of using the AIDA model for your online store. You will be able to grow the customer base, increase sales, and generate more profits. Since you can understand every customer step on the journey of buying your product, you can influence their decision by various marketing tactics for each phase. That is the moving mountain power of knowledge.
If you have any suggestions or questions, feel free to let us know in the comment section. We look forward to hearing from the result of using the AIDA model for your online store. And thanks for reading! 
Author Bio: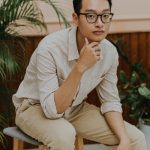 Chance is a marketing specialist at Avada Commerce – a fast-growing eCommerce solution provider, whose goal is to never write a boring article. His enthusiasm for online business has spanned over two years, accompanying his articles with in-depth knowledge about eCommerce. He also enjoys drinking tea and playing Exploding Kittens in the free time.
---