Why Advertising Is Essential To Any Kind Of Business
The global marketplace is continuously changing, and companies should always strive to adapt to changes and advancements to remain relevant and competitive. Having said that, when running a business, it is crucial to effectively manage its different areas, such as customer service, finance, and operations.
Several factors are known to contribute to business success, like effective communications, strategic business plans and decisions, great leadership, and continuous quality enhancement. However, an element of business that should never be neglected and be put at the forefront is advertising.
What Is Advertising?
Advertising is an element of business that attempts to shape or persuade the purchase decision of customers and potential clients. Companies must establish their target market before embarking on any advertising campaign. Defining the target market is crucial because it not only helps make advertising efforts more effective, but it also lets you identify opportunities to improve your products and help your business succeed.
How Is Advertising Different From Marketing?
Advertising and marketing both play essential roles in business. However, many people utilize the terms "advertising" and "marketing" interchangeably. Although the two may seem synonymous, there is a big difference between them.
Marketing was derived from the Latin word "mercatus", which means marketplace. It is an umbrella term for all advertising and promotional efforts of the company. Businesses utilize marketing as a process or system to share their products, services, and ideas. While advertising provides exposure to a company's brand, marketing is about letting the target market experience the brand.
Advertising, on the one hand, was derived from "advertere", a Latin word that means "to direct attention to". Advertising falls under the marketing process, the same way that public relations, market research, social media, content marketing, selling, and brand management are also considered subsets of marketing.
Advertising is the what, where, and how the company shares its story to its audience. It supports marketing by creating interest and evoking awareness in the minds of a company's target audience.
What Are The Different Types of Advertising?
Man has used advertising since the 1900s. It is an essential element in business marketing. There are different types of advertising, but this article will sort out these types into two categories: traditional and modern advertising.
Traditional Advertising
Traditional advertising delivers commercial messages and promotional information to mass audiences. Before there was web-based advertising, businesses promoted their products and services through: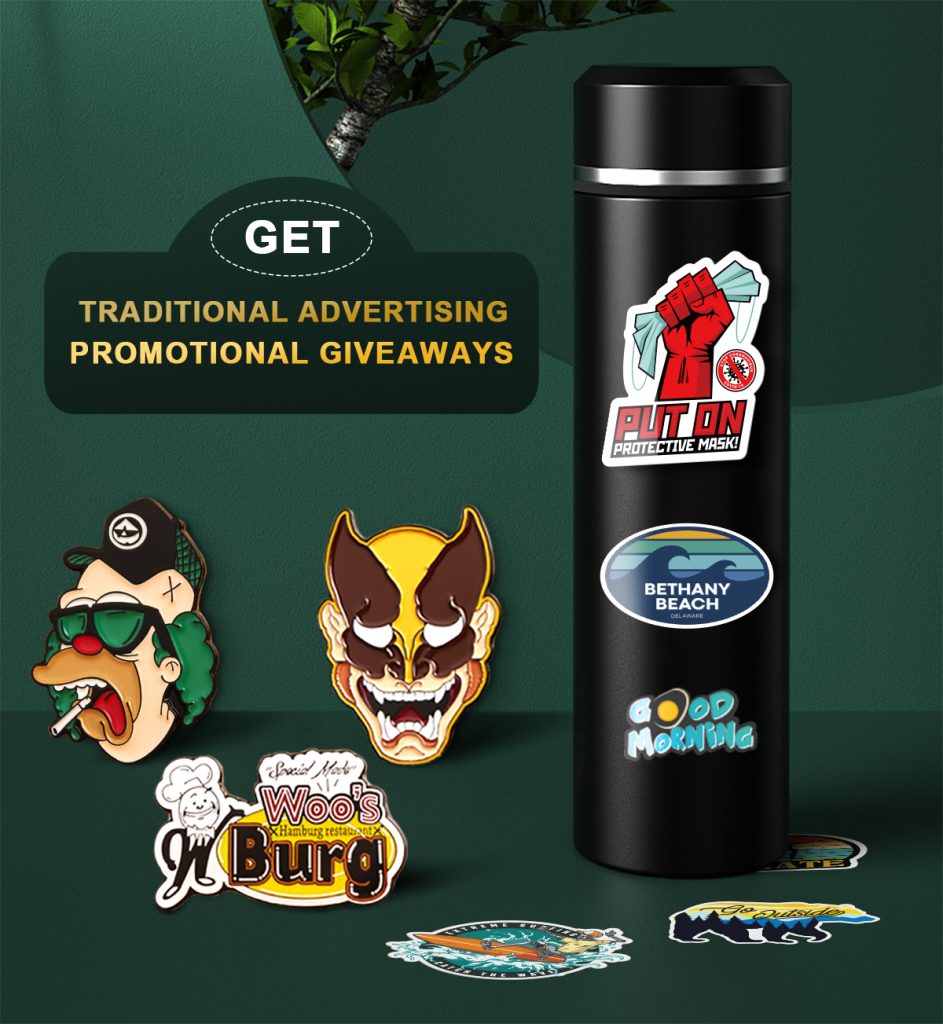 Free giveaways with your logo (

custom stickers

, lapel pins, keychains, etc.)

Billboards

Print advertising (newspaper, magazine)

Broadcast media (television, radio)

In-store displays
Modern Advertising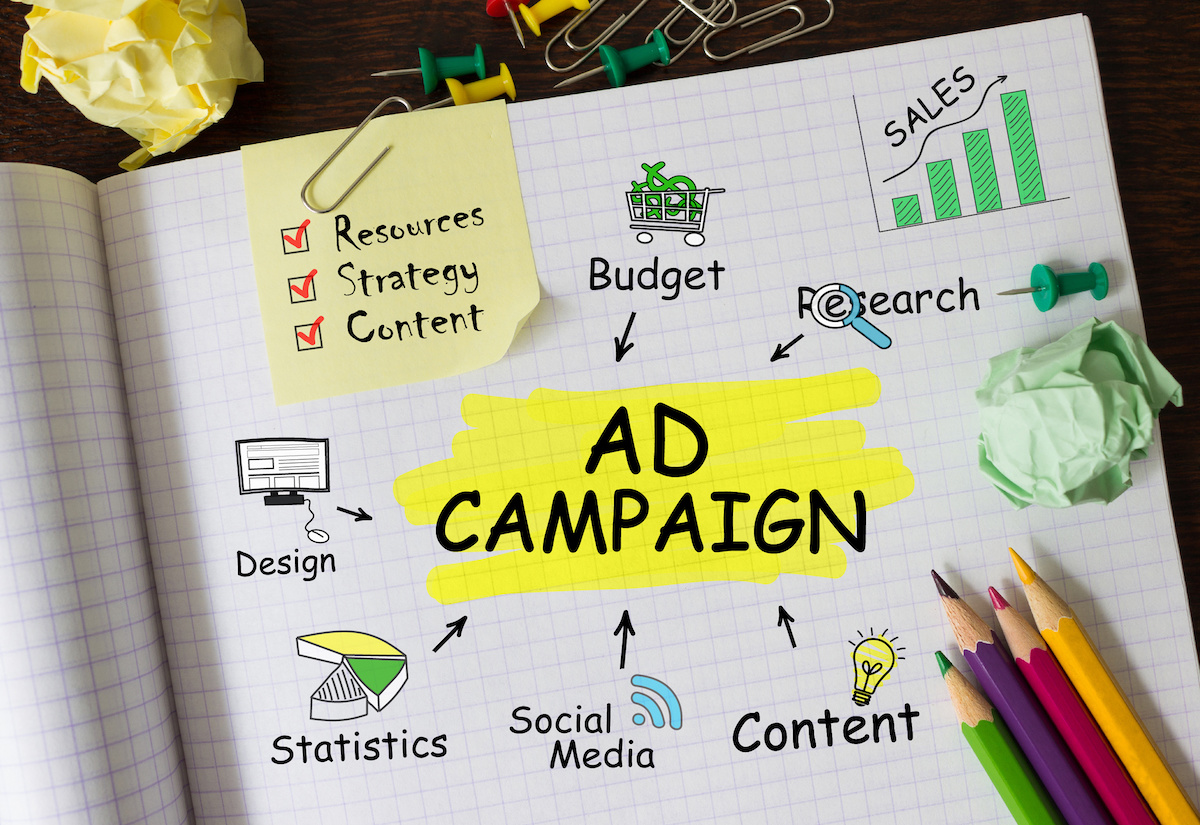 Modern technology has changed how companies do business. Customers now rely on the Internet to make buying decisions, thus businesses have become more ingenious when it comes to promoting their brand. Also, advertising methods have changed how enterprises promote their products and services. Nowadays, companies utilize both traditional advertising and new media to get ahead of the competition. There are even specific marketing companies specialized for each industry such as companies that only provide dental marketing services.
Here are some of the types of modern advertising:
Online advertising (digital platforms, like email, blogs, social media)

Mobile advertising

Advertising kiosks (interactive ad screens, digital signs and billboards)

Other forms of advertising, such as bathroom advertising, guerilla advertising, public relations advertising
Traditional Advertising VS Modern Advertising: Which Is Better?
Running an advertising campaign is not simple, and it usually requires working capital. With the advent of technology and new media, is it still worthwhile to embark on traditional advertising campaigns?
The answer depends on several factors. Both traditional and modern advertising methods have their own sets of advantages and disadvantages. Here are some of the essential factors that you need to consider when choosing between modern and traditional advertising:
Cost: The expenses associated with conventional advertising are higher compared to modern advertising, online advertising, in particular. Say, you have decided to advertise your company through flyers and brochures. You have to consider the cost of the material and the distribution of those print advertisements. Above all you you need to count on c¡good quality such as those from Space Print services. Advertising through social media, on the other hand, will likely only cost a fraction of your total traditional marketing spend. Your business can also take advantage of

free local marketing sites

if you have a limited budget to spend on marketing and advertising.

Target Market:

Advertising through social media is more effective if your target audience is the younger generation. Although most people, even seniors, own social media accounts, there are still older people who are not adept in using technology. Traditional marketing is effective in reaching a local audience, mainly if your company operates only in a specific location. Direct mail campaigns, for example, will surely reach your target demographic more effectively compared to your online or mobile advertisements.

Measuring Success:

One of the problems with traditional advertising is that it's challenging to track progress. On the other hand, a digital ad on social media or through Google allows you to measure the reach and engagement. It is possible to know in real-time whether your online ad is doing well or not. Plus, online ads get more exposure than those on radio, television, or newspapers. And, yes, more views mean more exposure, which can result in an increased bottom line for your company.

Word-of-mouth Advertising:

You are more likely to buy a product or avail of a service recommended to you by a friend or family member. If you received a flyer, how likely is it that you will share that flyer with someone you know? Online advertisements can be shared with just a few clicks. Thus, your company has the potential to earn more revenue without spending too much.

Creativity: People remember unique and creative ads, whether through traditional ads or modern methods. The great thing about modern advertising is that your business is not confined to conventional methods of promoting your product. And, again, the cost is not the issue here–your message must be able to evoke emotions from your target audience regardless if you spend $100,000 or $100. Businesses can take advantage of both modern and traditional advertising methods to promote their brand. However, the content must be relevant and valuable to their clients and potential customers. If you are writing about academic products you need to make sure that the product copy is personalized. "write my essays with quality authors" is more personal and direct than "write an essay with a quality author"
Note that a combination of traditional and modern marketing is recommended by some SEO experts. Alienlead, a web design and SEO consulting company in Toronto, uses traditional advertising to rank higher in Google results faster. In this way, people search your brand name in Google, which is a powerful signal that shows your brand is popular.
Why Is Advertising Essential To All Businesses?
The global marketplace is cutthroat and vicious, but it does not mean that a startup business or small company cannot grow and be as successful as larger enterprises. Advertising allows firms, regardless of size, to compete on a level playing field. Listed below are some of the reasons why advertising is important to all businesses.
Boosts Awareness Of Your Brand
Have you heard of the phrase "out of sight, out of mind?" Even the most established companies in the world allot a significant amount for their advertising and marketing efforts. After all, for a company to make a sale, consumers need to know that they exist, right? Advertising puts the name of your company out there.
Investing in advertising and marketing efforts benefits your company by boosting awareness of your products and services. Think of it as a calling card, or the act of introducing yourself to a stranger. When your presence is not seen or felt by consumers, you risk losing potential customers, as well as existing clients. Having said that, advertising plays a crucial role in increasing brand visibility and maintaining brand awareness.
Influences Consumer Behavior
An effective advertisement has the power to influence consumer behaviour. Advertising agencies do not just come up with ads without careful planning and execution. Ads are usually created for specific target markets and demographics. An advertisement done without proper research is like shooting a target with blank bullets.
Advertisements are essential to all kinds of businesses because it influences the thoughts and emotions of the viewers. Ads are messages to existing customers and potential ones, and these messages can help mould your customers' purchase decisions, so they should be relevant, valuable, and accurate to your brand.
Allows You To Penetrate New Markets
Growing your business requires expanding your horizons. Generating a customer base from a different demographic involves moving out of your comfort zone. To capture new markets, you need a reliable marketing and advertising strategy to entice potential customers to try put your offerings.
The great thing about advertising is that you can utilize old and new methods to cultivate your business venture. You can opt for traditional advertising campaigns if you have an ample marketing budget. You can also make use of online advertising and marketing campaigns to generate new customers if you have a strict or limited budget. Either way, advertising, in whatever form, gets you the exposure that you need to gain a share in the market.
Helps You Go Against The Competition
If you believe your company is ready to fight the competition, you first need to create awareness among consumers. After successfully identifying your target market, a well-crafted marketing plan is essential to promote what you have to offer. However, without advertising, you won't be able to go against your direct or indirect competitors.
Your competitors are planning their marketing strategies to get ahead of you and other business rivals. Keeping up with competitors requires continuous advertising and marketing. Aside from exposing and promoting your brand name, advertising also helps introduce consumers to various options and solutions.
Increases The Company's Revenue
A business will eventually fold if sales are bad. Your business relies on sales and profit to thrive. However, no one will buy a product or avail of service if people do not know that these things exist. Even if you have the best service or product in the market, all will be in vain if you do not advertise what your company offers.
Advertising boosts the visibility of your business and attracts customers to try your goods and services. An effective advertising campaign can increase sales and improve the company's bottom line. If there's one thing that will help a company grow and succeed over time, it's sales and revenue.
Keeps Your Business Relevant
A new business competitor can come out of the blue and grab your current customers from you. This can happen when your clients or potential customers rarely feel your presence. With the numerous options available to customers nowadays, it should be your goal to stay at the top of your target market's mind.
Utilize advertising to provide new and valuable information to your customers. A competitor can easily replace you if your clients forget what your company can offer. Regular advertising through online channels and traditional methods is an excellent way to remind your customers why you are the better choice.
Improves The Company's Reputation
Advertising is not just about creating exposure and awareness. It can also lift your brand image, especially if you suffer from a poor reputation. Advertising allows you to mould the perception of customers towards your brand. It lets you share what the company is passionate about and how it benefits the community.
An excellent reputation is one of your company's most valuable assets. While it is not possible to monitor feedback through traditional advertising, digital marketing and advertising efforts allow you to check what is being said about the company. Advertising helps create a positive brand image with the right content and delivery.
Helps You Build A Loyal Customer Base
How does advertising help create a loyal customer base? Meaningful advertisements capture not only the interest of customers, but these also bring them closer to your brand. A customer who understands and relates to the mission and vision of your company will likely become a loyal customer.
Creating relevant and sincere advertisements is crucial since consumers nowadays are more discerning and sceptical towards meaningless or useless ads. Getting the attention of consumers is one thing, but retaining their interest in your brand is priceless.
Conclusion
Advertising is essential to all kinds of businesses because it aids in their growth and success. Without business advertisements, your customers and prospective clients will go to your competitors. Your target market may lose interest in your brand without regular reminders through current and valuable information. If you want your company to remain relevant in your industry, it is pertinent to allot a specific budget for advertising and marketing. With the numerous advertising options available nowadays, your business can easily gain more exposure, improve your revenue, and boost brand loyalty.
Author Bio: James Purcell
Experienced writer with many years of experience with essayservice. I write for the web, TV, and print. I am a firm believer in "content is king." I know how to make your business grow and add value to advertising campaigns.