How Social Media Can Boost Your Business Productivity
---
Can social media really enhance business productivity?
Yes.
Traditional managers might not agree here. But social media for business productivity is really beneficial as 8 in 10 workers use social media at work.
And now, with millennials taking over 50% of the workforce along with 24% of Gen Z, social media is taking a more prominent role at workplaces.
In fact, a survey states that YouTube, Facebook, Instagram, and Twitter are highly popular among millennials and Gen Z employees.
On the contrary, not only workers but employers are also showing interest in social media. Today, 97% of Fortune 500 companies are using social media marketing.
Plus, 91.9% of the US companies with 100 employees are projected to use social media for marketing purposes in 2021.
So, when employees and employers are both keen to use social media, why don't make it a productivity booster? You see, managers, it is up to you—
You can ban your employees from using social media and reduce business productivity.
Or, you can show your employees how to use social media smartly to improve your business productivity.
If you are ready to go with the second option, let's scroll down to know seven ways social media can boost your business productivity.
7 Ways Social Media for Business Productivity Helpful
1. Collaborative work environment
Today, most employees are working from home, which has impacted their work collaboration a lot. All those cafeteria discussions and informal meetings are replaced with emails or phone calls. As we all know, sending back and forth emails or making phone calls to different workers is quite confusing.
Eventually, chaotic communication leads to work latency and low productivity. But if you let your employees communicate via social media tools like Slack, Trello, and Asana, it improves 20%-25% of productivity. So, use social media tools to establish better coordination between your remote employees.
2. Helps to establish an online brand
Social media for business productivity isn't only helpful for workers. It also assists employers in building their professional and personal brands online. Entrepreneurs can interact with their customers, understand their preferences and solve their queries on social media.
Constantly sharing relevant content and information on social media can influence business sales directly.
For example, Ethan Brown, CEO of Beyond Meat, uses Instagram to share his quotes and knowledge with their customers. This method helped the company in establishing brand authority and gain over 1M Instagram followers.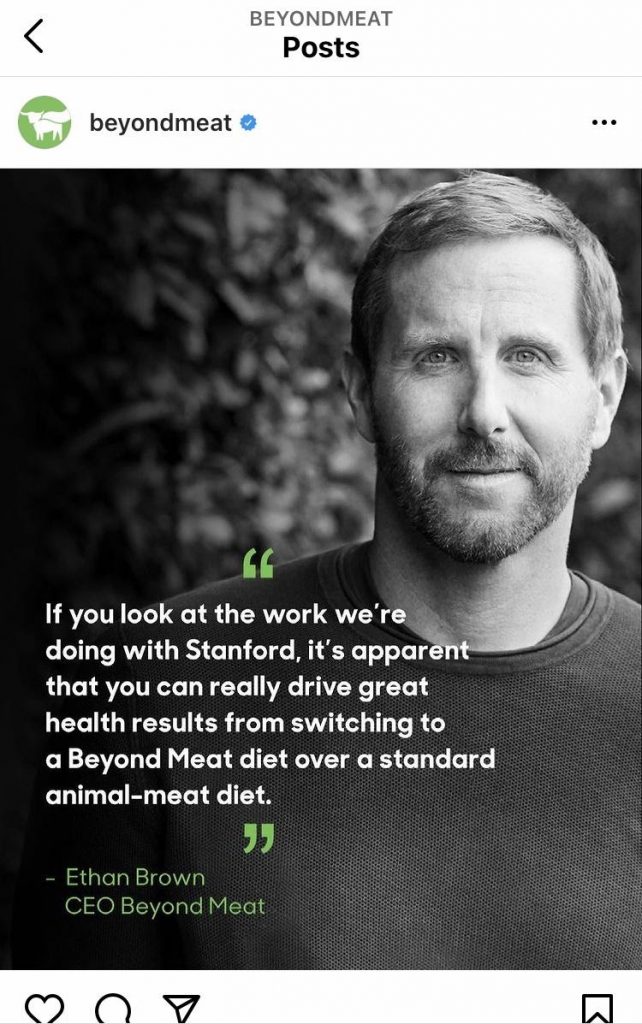 Source: Instagram
3. Making lead generation easy
Lead generation is a primary goal of all businesses. On social media, they get many opportunities to generate leads like sharing news, blogs, or simple content.
Depending upon your business model, you can select the social media platform to target leads. For example, if you are a B2B business, LinkedIn is a perfect place for you to find new customers. In fact, only LinkedIn forms have a 13% lead generation rate. On the contrary, B2C businesses can leverage Facebook and Instagram reach.
Here only using social media to generate leads won't improve your business productivity. You have to also invest in the right tools to automate your social media operations. Such as if you are using LinkedIn to generate leads, get LinkedIn automation tools to streamline your productivity like LinkedIn Sales Navigator, AeroLeads, Crystal, etc.
4. Good to understand your customers
If your marketing team keeps working on irrelevant campaigns, it is unproductive for your business. No matter how hard they work. Your social media marketing strategies will only work if you know your customers.
In this situation, social media allows businesses to collect data about their customers' likes, dislikes, etc. To fully use social media to enhance your business productivity, follow this approach—
Listen to your company's online buzz — read reviews, comments and posts to know what people think about your brand.
Analyze the emotional value behind comments and posts to know whether a shared post is negative, positive, or neutral.
Gather information on competitors' marketing campaigns.
Conduct surveys to retrieve desired information from your customers, etc.
5. Aggregate ideas to produce unique content
Social media is a content-driven marketing tool. The more high-quality and unique content you share on your social media platforms, the better results you will get. But when over 2.5 quintillion bytes of data are produced daily, how can you create something unique?
Have a look at this infographic to understand which social media platform is producing how much data daily.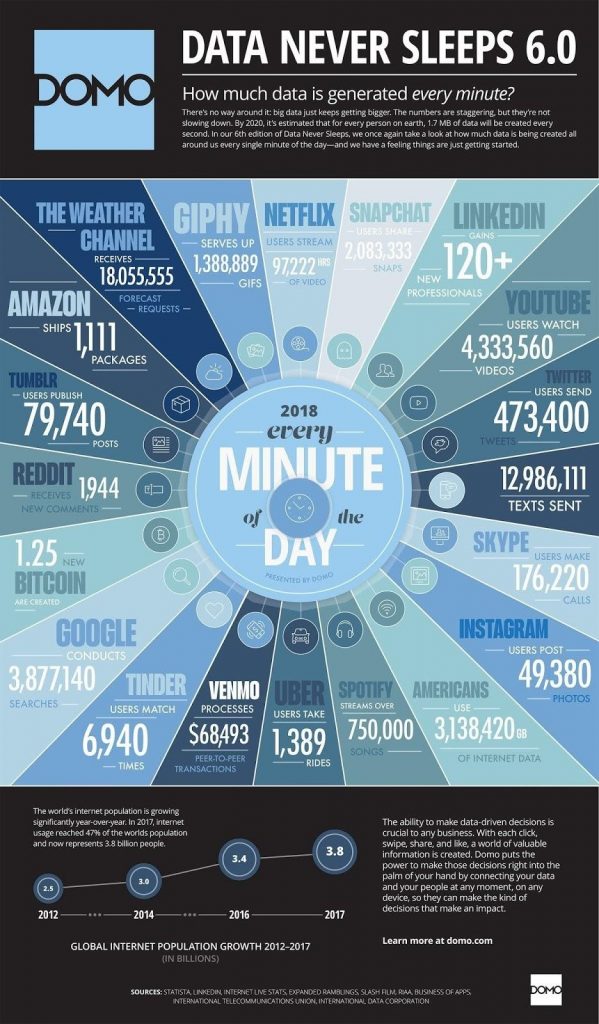 Source: Domo
Now, it is hard to produce social media content constantly, but not impossible. You simply need to aggregate your social media content in the right manner, such as—
Use dedicated hashtags to promote special events, products, or campaigns.
Create special tags and encourage your customers to use them.
Use Twitter List to create Twitter profiles that are relevant and beneficial to your business, etc.
Once you have relevant social media data, target it to create unique content for your customers. Also, this way, you can determine whether your marketing campaign was successful or not.
6. Helps to reduce employee's stress
Shockingly, 80% of employees are working under stress today. This, in return, impacting their productivity as an average worker is only productive for 2 hours and 53 minutes daily. That means you have to focus on your employee's stress level first to increase their productivity, and social media can help you with it.
For instance, you can allow your employees to play games on social media to destress themselves. Wait, what games? Yes, we aren't joking. Playing brain-stimulating games like Spider Solitaire, Klondike Solitaire, or FreeCell nourishes fast-thinking capability. And, when your employees think faster, they can solve problems quickly.
Additionally, using social media, employees can watch mind relaxing videos, read self-help articles and interact with their loved ones. So, give a social media break to your employees when they feel stressed.
7. Involve your employees in the social media marketing plan
Nowadays, many businesses spend tons on hiring social media influencers to promote their brand. But they forget one small thing — their employees can promote their brand better. The people who have created your product can easily convince others to use it.
Take an example of Salesforce here. On LinkedIn, they have a dedicated section for employee content called 'Life.' There, Salesforce publishes their employees' success stories, videos, and much more. This, in return, offer three benefits—
Employees feel like they are an important part of the organization
Customers get to know about Salesforce products directly from the experts
Importantly, it helps to attract new employees and customers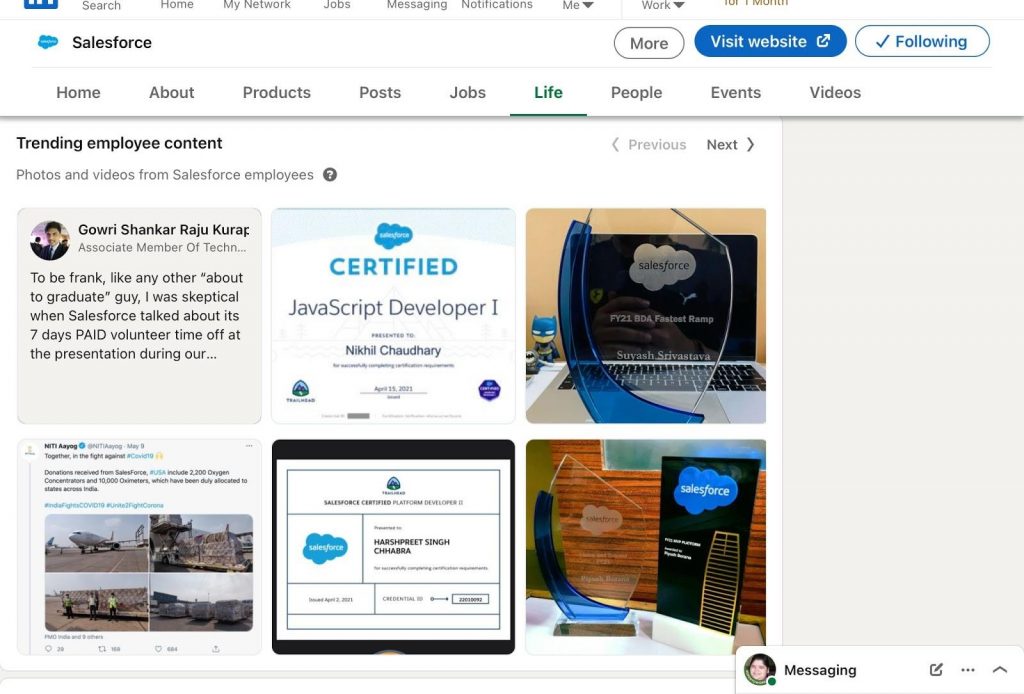 Source: LinkedIn
Social Media for Business Productivity — Helpful?
In a word, YES, social media for business productivity is highly helpful. It helps to connect with customers, destress your employees, plan remote work better, and so much more.
On top of all, you can gain your employees' trust with a lenient social media work policy. You see, if you ban social media use during work, your employees will anyway find a way to access it. It is a common human nature; we find thrill in performing prohibited activities.
So, if your employees are eventually going to sneak out to use social media, let's make a proper social media marketing plan and give the right direction to their energy.
We hope that you have found all answers about social media and business productivity in this post. But if you want to know something else, you can comment below.
---
Author Bio: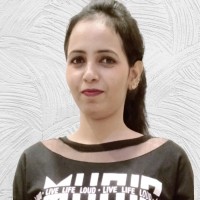 Janki Sharma is Head of Operations at N2N Digital and has over 5+ years of experience working in the marketing and sales domain. She provided innovative ideas and solutions for business growth. She loves to write on a wide range of topics like digital marketing, tech, and many more. Her efforts and market expertise has allowed her to get featured in multiple publications, including Business2Community, Vocal.Media, Datafloq, etc.
---