Best Email Pitch Examples & Templates
---
Introduction
Working on an email campaign can be hard – it takes a lot of work and preparation, and outstanding results are not promised. It requires good marketing and eye-catching templates. The most important thing in running an email marketing campaign is email design. Without a nice design, you may not get responses, or the response rate would be really low – and that's not leading you to win an email pitch.
Poorly designed emails are mostly getting ignored and deleted. If you don't put enough effort into the design, your potential clients are not going to read that and take the desired actions.
Do you know that a better email campaign is easy to achieve? And that the solution to your problem will not cost you thousands of dollars? Do you know that winning the email pitch is easy with enough marketing and design knowledge?
You can find outstanding templates for free! You just need research and a plan, and you will eventually know where to start!
Where Can You Find the Best Email Marketing Templates?
Finding adequate email marketing templates may sound tricky – but it's simple. It's the primary thing for winning the email pitch.
We made a list of the best and most useful sites for email templates in 2021. Don't worry or hesitate to use mentioned sites. Make a plan for winning the email pitch now! 
1.Mailchimp
Mailchimp is a popular email marketing tool that also provides email templates that you can use for improving your email campaign and winning the email pitch. The templates are customizable and eye-catching. You can find the template that has all the requirements for a good-looking email design. And on top of that, it's easy to use!
2.Campaign monitor
They provide 50+ email templates for you to choose from. This site has a design for every type of email campaign. You can choose a predesigned template or you can create your own. It's up to you!
3.Cake mail
This site has a lot of free templates, but the thing that is making Cake mail different from other sites is unique templates. If you want your email marketing to stand out and be completely different from any other marketing campaign, don't hesitate to use this site and win an email pitch!
4.Stripo
You don't have enough time to customize your template? That doesn't mean that your email marketing will be poorly designed. With Stripo, you can find a nice design in just a few easy steps. Stripo provides over 300 templates.
5.BEE Free
This site is great for making email campaigns because of its simplicity. It has over 200 free templates. You have a lot of templates to choose from! With interesting and customizable templates, you will win the email pitch!
Here is the template that you could copy and use anytime. Just modify it and make it adequate.
Dear *insert clients name*,
My name is *insert your name* and I am *insert your degree or job title*.
I saw that you are looking for new employees. I would be honored to work for your well-known company, so I decided to contact you.
I have working experience at *insert the name* and I think I'm a great match for this job. I have all the requirements and I have enough time and desire to work for you.
Here's my CV: *insert link*
I'm waiting for your answer and hope it's positive.
Kind regards,
*insert your name*
How to make an excellent brand pitch email? (With example)
Winning the email pitch requires lots of work and dedication. Many sites will make the work easier, but you still have to know where to start, what to do and what not to do. The best strategy to discover what works for your audience is to check other email pitch examples.
If you want so to succeed in your email marketing campaign, you should follow these rules.
Avoid spam folder
No matter how satisfactory your email marketing campaign, if your mail goes to the spam folder, nobody is going to read it.
There are few things you could do to avoid spam folder:
Set up a professional-looking email. Mails that end with @gmail.com are looking casual and not professional.
Identify that the email is coming from you and no one else.
Set up your email properly and start sending emails.
Contact verified brands
Email only verified brands and influencers for the collaboration. Most of them have their PR email on their social media profile. If they don't, you could probably find their PR mail on Google.
Brands usually use emails like info@brandname.com, pr@brandname.com, or something similar. Influencers either use emails like pr@influencername.com or just a casual personal Gmail username -influencername@gmail.com.
Personalize your profile picture
Personalizing your email profile picture is important for many reasons. It makes your email look more professional and trustworthy. Put an eye-catching profile photo, customize your logo, write catchy subject lines, and the chances of getting the reply are already higher!
Tell them why do you want to work with them
Tell them your opinion. Why are they a better choice for your brand than any other influencers or brand? Explain why you need them.
Work on long term relationship and collaboration with them
If you tell them that you want a long-term collaboration, the chances of them replying are higher! Nobody wants to do some temporary things that they don't have the advantage of. Tell them that you want to work with them monthly, yearly or however you want. If you promise them the collaboration, the brands and influencers will know that they can count on you.
Here are the examples of well-written emails:
Example 1: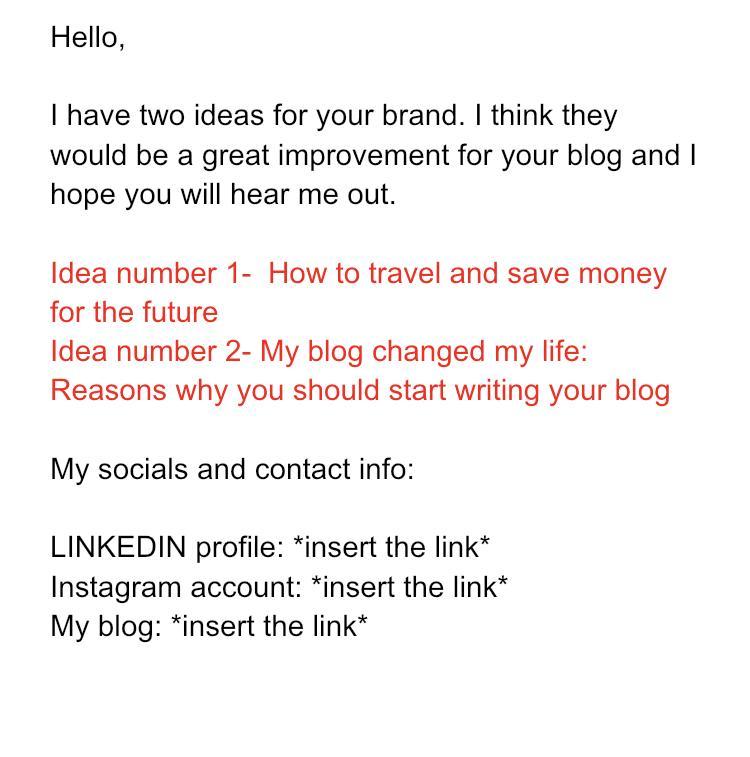 Example 2: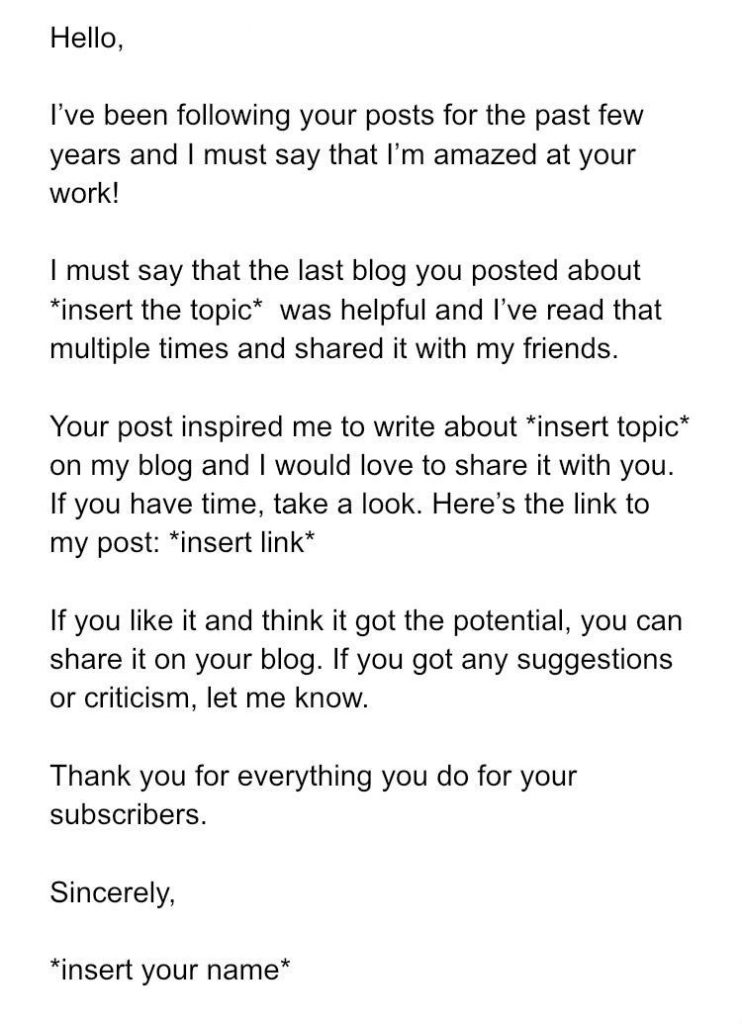 Example 3:
All you need to know about email personalization
Email personalization is an important process for winning the email pitch. It's the marketing strategy that helps you find the right target group and get a higher response rate. Email personalization is collecting all the information your brand needs for making a good target group. You need to know everything about the specific subscriber and how to grow an ecommerce business – what are their interests, what is the last thing they bought, where they are mostly buying, and even where they liveYou can collect the desired data via the subscription form, third-party apps, tracking information, or just easily asking your customers to fill the Google form or poll.
Email personalization is the proven method for getting more email clicks and winning the email pitch. For email personalization, you need detailed research and of course, a nice email template. Three following elements are needed for a personalized email.
1.Your email needs relevant content
If your content is not interesting or direct enough for the reader, the email is probably getting ignored or deleted. Be direct, understandable, and state your opinion.
2. Timely
You need to know what your customer needs. Make research and then personalize your email in a way that every customer could find exactly what they want. Not what's popular right or what most of the customer wants – what exactly that customer needs! For that, you need to know, for example, what they searched on your website or what is the last thing they bought from you.
3. The email should come directly from you
Emails that are coming from a person are most likely to get a reply. Don't make your email look generic or too "bossy". Make it friendly, yet professional. Put your name and your position in the brand at the end of the mail.
Improve your email personalization
There are many basic things for personalizing your email well. But, if you want to improve your work and win the email pitch – you should do some advanced changes in your email personalization. Here are some tips and tricks for improvement:
Recommend some products in your email
Know exactly what your customer needs or what the customer usually buys. Them, recommend it in the mail! The chances for buying are already higher.
Give your loyal customer a VIP card or gifts
If someone is constantly buying for you and giving you good feedback – you should give them a gift! A discount on the next purchase or a gift with a new purchase is a way to say thank you to them! Give them a loyalty VIP card and they will most likely come back to your website and make a purchase again!
Remind them that they have something in their shopping cart
Just because some put something in their shopping cart, that doesn't mean that they will buy it. But, if you send them a personalized email that reminds them that they have something left in their shopping cart is improving your brand selling rate. Don't feel shy to remind them that they forgot to click "purchase".
Final thought
Now you know why email marketing and personalization are important for winning the email pitch. Communicating with your customers and knowing enough about them is the key to success. Remember that the person is most likely to come back to the shop where the environment is friendly and where they feel welcomed? If your emails look poor and not professional, you are not getting the desired replies. The tone in which you are writing the email is as important as the professional look. The average worker is getting 121 emails every day! Not all the emails will be read – but make your email stand out and get the attention you deserve!
There are tons of free templates available online, from as simple as an apology letter template to as complex as a project portfolio template. You just need time to research and work on finding the right fit Template.
Invest time in the things that have a bright future, be unique and known and success is granted. Winning the email pitch requires work and dedication too. It may be easy with all the sites and help you get online, but you should not stop there – learn every day about email marketing and improve your email reply rate.
In this article, Nada Bundalo, who is a part of the link building team at intercoolstudio.com digital marketing agency shares her tips and tricks for a successful email campaign.
---