6 analytics tools for studying user behaviour on your website
---
A lot of businesses and website owners want to ensure that their users get the best experience they can when they visit their website so they can increase conversion rate. Unlike a physical store or marketplace where you can see how your customers behave so you can know how best to improve their experience when next they come, the online world is a different ball game. You don't get the opportunity to see how your users behave on your site or check things like what page they visit and figure out what they like and don't like. This is the reason why there is a need to monitor your users' behaviour on your website. In this guide, you will get to know 6 user behaviour analytics tools you can use to study the behavior of your visitors on your website so you can better improve your site.
User behaviour analytics tools
Hotjar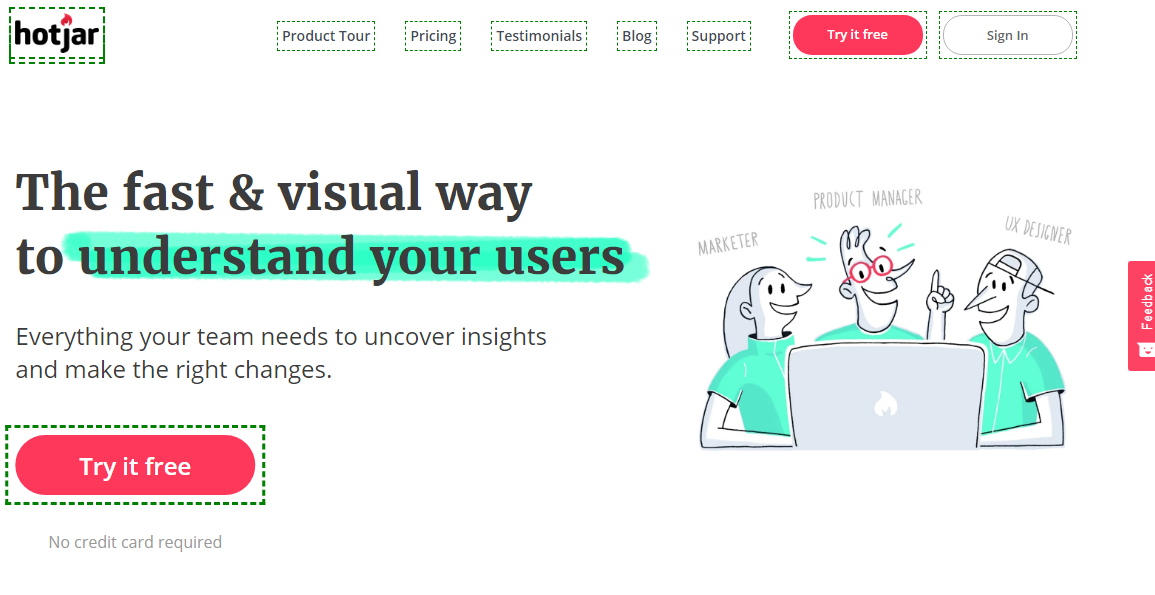 Hotjar is one of the best tools out there that you can use to better understand how web visitors use your website. It offers you different tools to achieve this, one of these tools include a heat map, which analyzes what your site users do when they are on a particular webpage. It pinpoints with the use of colour the area of a webpage that is getting the most attention, in order words, heat map shows you where they focus more when on your site. This can reveal lots of secrets and enable you to know what you need to do to get the results that you want.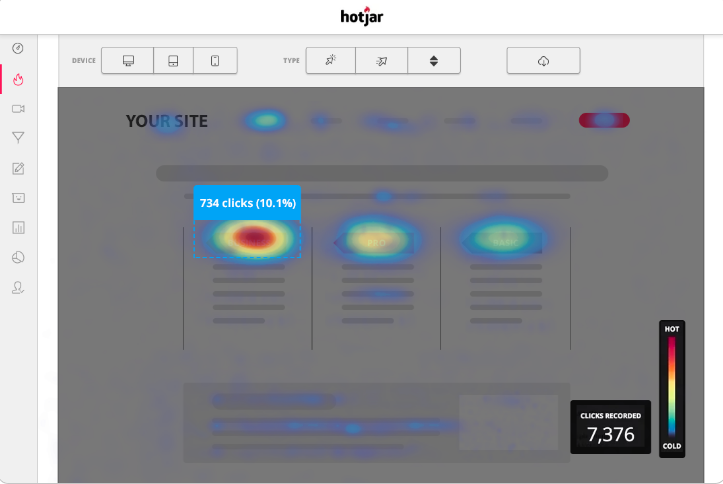 Another feature of Hotjar is the ability to record the web user's activity and present it to you in the form of a video. This way you get to see and observe what they do and check if they get stuck somewhere or are finding it difficult with a particular element on your site.
Hotjar also provides a feedback tool you can add to your site. This can be very helpful if for instance, you notice through your heat map or recordings that your users are finding it difficult with something on your site. You can add this too to collect feedback to determine what exactly they don't understand or find it difficult to do.
You can get started with this tool for free but there are paid plans if you want more from the tool.
Website: www.hotjar.com
Google analytics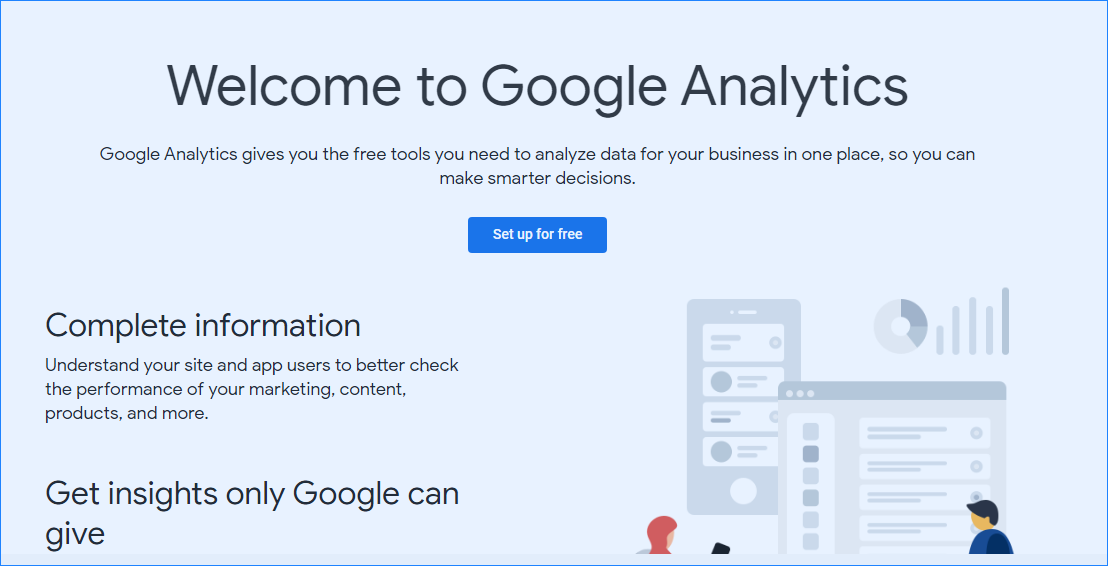 This is an analytics tool created by Google that you can add to your website for free. With this tool, you get access to a lot of useful metrics that can be used to make important decisions. Some of the metrics it provides you with include, the number of website visitors you receive, long they stay on your website, the destination from where they visit your website, what pages they land on when they first come to your website and what page they go to next and a whole lot more.
With Google analytics you can also find the pages that are the most visited in your website, it can track how well your website converts by helping you monitor and track the actions that you want your website visitors to take when they are on your site. This could range from making a purchase or email opt-in or any other action you want your users to take. The interesting thing is you get all this for absolutely free. Many people use Google Analytics but they don't use it to its full potential. There is a lot you can achieve with Google analytics if you use it well.
Website: www.analytics.google.com
Crazy egg
This is a tool created in 2005 by Neil Patel. Since then, it has grown to be very good user behaviour analytics tools that can a lot for you.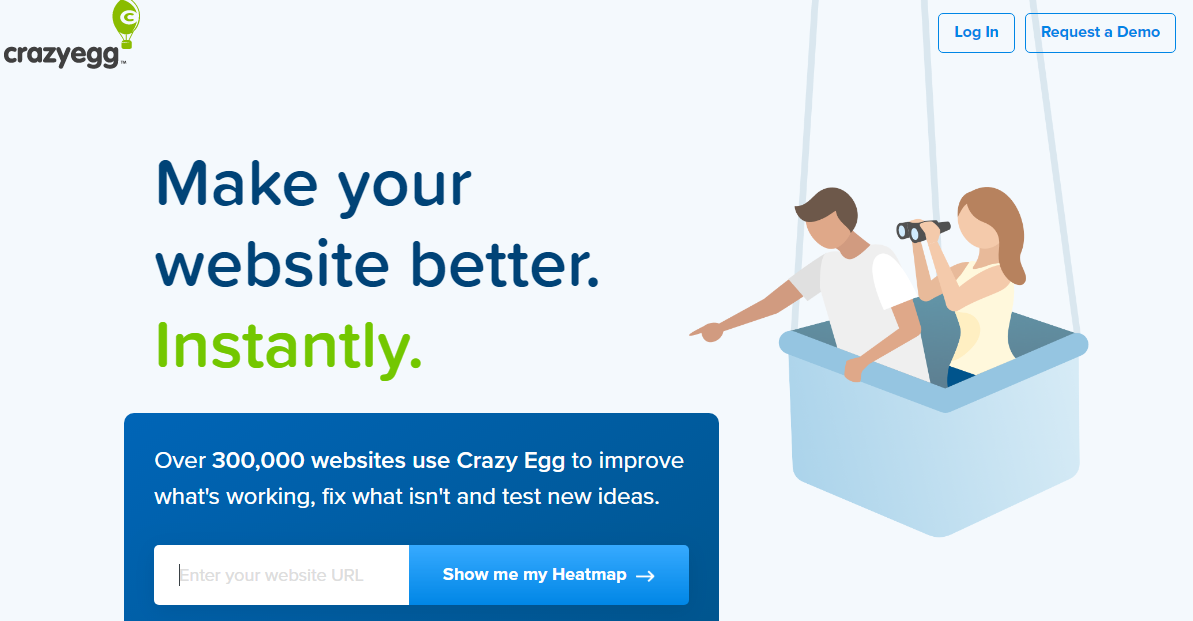 One of the distinguishing features of crazy egg is the ability to create a report for a particular page of your website for a time period. These are known as snapshots, they show how your users interact with a particular webpage on your site, and this can assist you in knowing what's working and what is not so you can make changes. You can create another snapshot to determine how the change has affected how your users now respond to your site.
Just like hotjar, crazy egg also allows you to create heat maps for any page on your website and shows you the places that the user clicks and the frequency of the clicks. It can also show you from where the user came to your site from.
Crazy egg also provides a scroll map to show you the farthest they go down when they are on your page. They check if your users read your content to the end and how long they spend on the page.
Website: www.crazyegg.com
Survey planet
Survey planet is a tool you can use to conduct surveys; it can be integrated into your website to collect information from your web visitors with the use of survey forms. This can provide you with a lot of insights into understanding who your audience are and better understand their needs.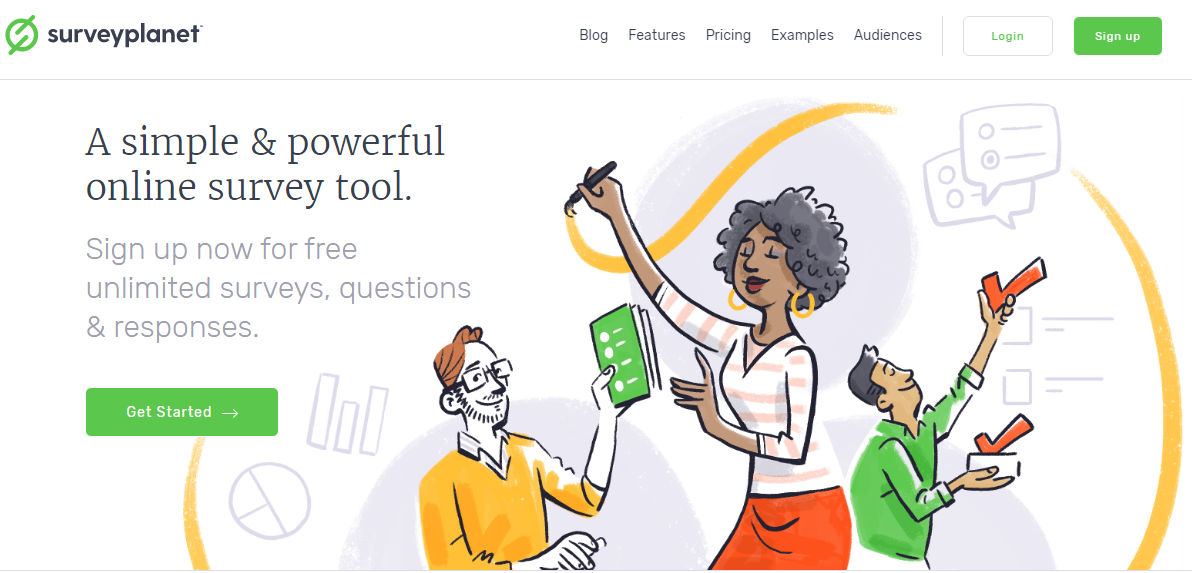 With this survey, you can know what they like, what they don't like, ask recommendation from them about what they think would improve your service or products you offer. Survey planet has paid plans but the free plan is more than enough to conduct a survey on your website users.
Website: www.surveyplanet.com
Session cam
Session cam is a user testing tool that provides you with features like session replay, where you get to see recordings on how your user behave on your website, conversion funnels to see the point at which a user leaves the conversion funnel process. Other of it features include heat maps, form analytics, mapping the journey of the user on your website, and also helps you determine where your users struggle on your website.
Website: www.sessioncam.com
Kissmetrics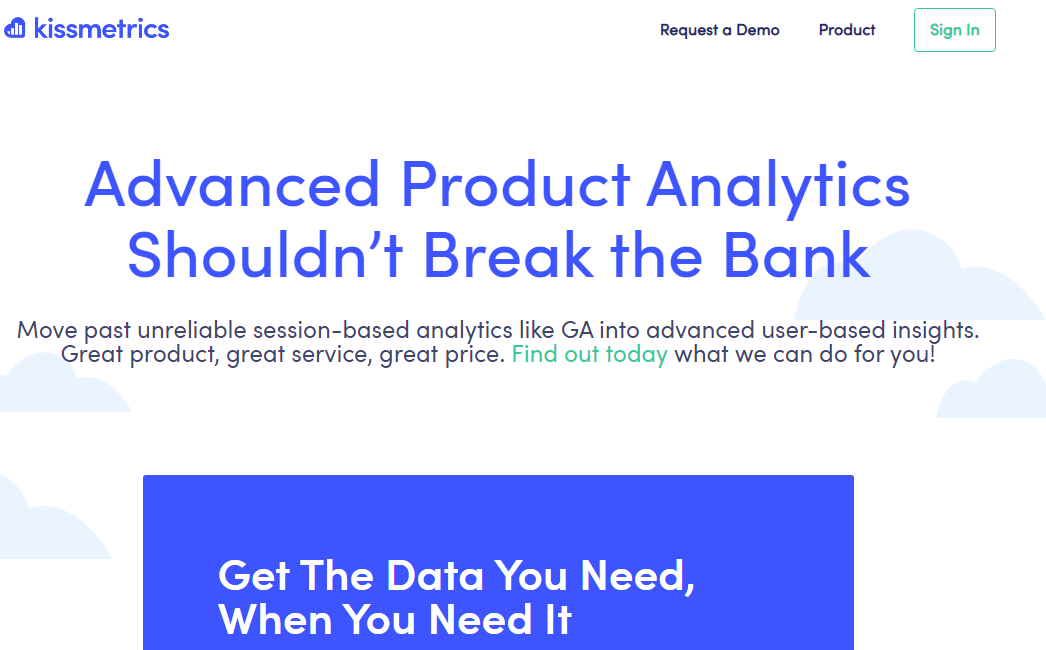 Kissmetrics is a Google analytics alternative best for businesses that want more than what they get from Google analytics. It provides you with a lot of features like funnel reporting, activity reporting, A/B test report, sources of website traffic and other features that provide more details than Google analytics. Kissmetrics has no specific price; its price is based on your business needs.
Website: www.kissmetricshq.com
Final Thoughts
These days to increase website conversion, you need to know more about your customers and also figure out what might be stopping them from giving in to your call-to-action on your site. The only way to know this is by using analytics tools to study them. The above user analytics tools can help you achieve this easily. 
If you've gotten value from this article, share it with your friends, if you also have any tool you want us to know about or want to make any contribution, feel free to leave us a comment below.
Author Bio
Samuel olajide is a blogger at Hilyftdigital.com, where he helps his readers learn the ropes of social media marketing, branding, blogging, SEO, and hone their digital marketing skills so they can stand out from the crowd.
---