4 Crucial Online Store's Metrics and How to Improve Them
---
Any business should aim to know as much as possible about its customers; this is the key to increasing sales. Unfortunately, many online stores neglect collecting customer data or waste time monitoring insignificant metrics. However, your business can only achieve maximum growth if your marketers focus on key performance indicators.
There are many important metrics to track, such as bounce rate, cart abandonment rate, average order value, etc. But in this article we'll talk about the following 4:
Website traffic;
Conversion rate (CR);
Customer lifetime value (CLV);
Customer acquisition cost (CAC).
If you learn how to interpret these four key metrics correctly, you can evaluate the performance of your online store in achieving your goals. Therefore, you'll be able to determine where you should be investing your marketing resources.
Which 4 Metrics Should You Focus on in eCommerce?
1. Website Traffic
In simple terms, website traffic is the total number of visitors over a certain period: week, month, year. So naturally, the more visitors come to your eCommerce site, the greater the number of your potential clients.
But the trick is that you have to attract an audience interested in your goods or services. Otherwise, if the audience isn't targeted, your efforts will be a waste.
Tracking the dynamics of the number of visitors to your web pages will help you evaluate the effectiveness of your store's marketing, which means you can adjust and improve it.
What Are the Ways to Increase Website Traffic?
There are several methods for improving the website traffic metric:
Running contests and promotional campaigns;
Usage of contextual advertising;
Applying targeted ads;
Enhancing social networking;
Screenshot taken on the official Boden Facebook account
Exploiting the power of SEO optimization;
Implementation of email marketing;
Collaboration with influencers.
2. Conversion Rate (CR)
This indicator is one of the most important parameters of the success of your store. It shows the share of visitors who performed an action on the web page related to the total number of visitors (or impressions) for a certain period.
If we talk about the sphere of eCommerce, here are the three most desirable types of conversions:
Subscription to the newsletter;
Registration on the website;
Checkout and payment.
How Do You Improve the CR?
You have to make it easy for your customers to shop. So, what can you do to increase the conversion rate of your store? Here are a couple of tips.
Optimize your site's load speed and design. For instance, if you have a large online store running on Magento, it is wise to optimize it with the help of Magento Ecommerce Development Services. Plus, review the full path your customers follow and then do your best to improve the UX\UI to boost your store's usability.

Consider creating a feedback section. Plus, add a chatbot and social media widgets if you don't have them yet.

Increase the quality of content: add photos, videos, expand product descriptions.

Highlight CTA (call-to-action) buttons to draw visitors' attention to them.

Optimize navigation by making it as straightforward as possible.

Do not neglect methods of stimulating visitors to return to the website (such as email send-outs or push notifications).

Use upsell/cross-sell tools wisely.

Encourage the user to take the action you want by offering a perk (discount or a bonus). Below is a nice example of such a CTA by Bershka.

Screenshot taken on the official Bershka website
3. Customer Lifetime Value (CLV)
This metric represents the expected net profit that one client will bring to the store over the history of their experience with the store. CLV also demonstrates the effectiveness of your customer retention strategy.
This parameter can be calculated in a variety of ways. For example, some experts use the following simple formula: they multiply the average order amount by the number of orders per year and by the estimated number of years the customer is expected to stick with the store.
Knowing the CLV is essential for thinking through campaigns to attract new clients and retain old ones. Wise business owners try to build and maintain strong relationships with customers, knowing that they are the ones who will bring the most profit in the long run. For example, did you know that returning customers spend 67% more than new ones?
How to Increase the Number of Loyal Clients
It would be best if you took your customer retention policy seriously. Set up marketing automation processes and implement a loyalty program if you don't have one yet. A rewards program will help to increase the number of loyal clients.
What should your rewards program offer? It can be an increased discount on future orders depending on the total sum spent in your store. It is also popular to give bonus points for a certain amount spent. Free delivery, early access to new collections, invitations to events, complimentary samples, gifts for friend referrals. The options here are limitless!
As an example, below are the terms of the client loyalty program of DICK'S Sporting Goods online store. As you can see, the brand presents a variety of benefits to loyal customers.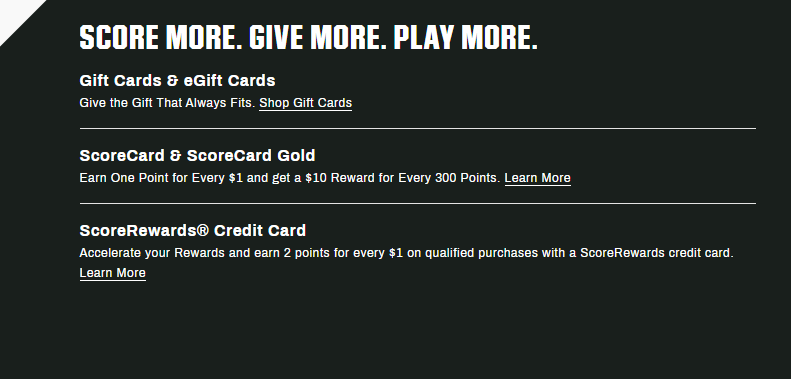 Screenshot taken on the official DICK's Sporting Goods website
4. Customer Acquisition Cost (CAC)
CAC is a parameter that reflects the cost of getting a new client. It can show the effectiveness of each marketing channel separately. Why is it necessary to keep an eye on this indicator's value? To know which channels are most effective and adjust the marketing strategy according to the cost and return on investment.
Understanding which promotion methods are worth rejecting and which, on the contrary, are worth investing in more will help your business reduce costs and maximize the profit from your marketing investment. For instance, you see that email marketing brings you only 5% of your customers, while Instagram posts bring you 20%. In that case, you should consider devoting more attention and resources to developing your Instagram account.
By the way, a lot of eCommerce stores use shoppable tags. In the example below, you can see how convenient it is and how it helps reduce CAC.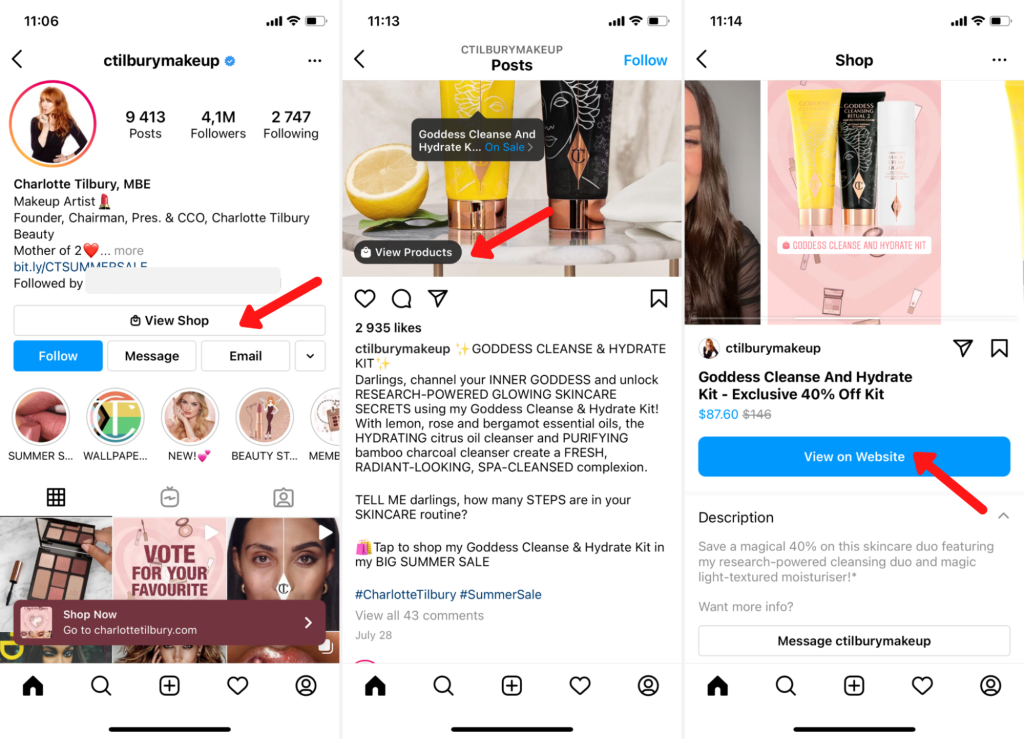 Screenshot taken on the official Charlotte Tilbury Instagram account
More Ways to Reduce the CAC
Focus on the audience which is relevant for your business.
Use retargeting to encourage customers to buy.
Incorporate a CRM into your work if you haven't done so already.
Pay enough attention to increasing the loyalty of your clients.
To Sum Up
We only covered the main parameters from the long list, which you can continue on your own. These four metrics are a great starting point for any online store. As your business grows, you will have more and more indicators to track and more space for your website's improvement.
Continuous monitoring of such metrics will help you make the best decisions to grow your eCommerce site and achieve the desired results.
—
About the Author
Alex Husar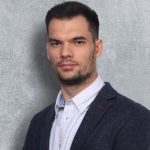 Alex Husar, chief technology officer at Onilab. For over 8 years he's been working on Magento migration and development projects as well as building progressive web apps (PWAs). Alex is an expert in full-stack development who shares his expertise and in-depth knowledge on modern technologies and Computer Software Engineering.
---