3 Ways to Pivot Your Marketing for the Post-Pandemic Era
---
In the mid-1950s, KFC started its marketing campaign with the widely known slogan, "Finger-Lickin' Good." For decades, this catchy phrase had represented KFC in every area of its fast-food business and was the front line of all its advertisement and marketing scripts. In September 2020, amid the global pandemic, the fast-food giant changed its age-old slogan because it doesn't "quite fit with the [changing] environment," according to the company.
Like KFC, several other companies have pivoted their marketing for the post-pandemic era. Apple has built a market strategy to usher them into the new normal by fronting their no-contact delivery initiative as a strong marketing strategy. Also, Amazon is doing the same as New York Post reported that they are rolling out more robots in July to serve this purpose.
As companies, big and small, adapt, here are three ways that you can also pivot your marketing for the post-pandemic era.
The hosting experts at WebHostingProf understand the importance and impact the internet has on our daily lives. With almost 5 billion active internet users around the globe, it's clear that the way forward is online. The digital presence that has taken the world by storm continues to increase and expand, with businesses around the world moving to online platforms to reach new customers. Here are some easily digestible internet statistics and facts for 2021 and beyond that have been researched and put together by WebHostingProf.
Focus on Digital Engagement
As the pandemic struck and people were prohibited from gathering publicly, the need for human connection was expressed virtually, with website traffic on networking platforms reaching record highs. During the pandemic, the traffic to the Facebook website, among other networking platforms, experienced a 27% surge, reaching over 3.2 billion people every month.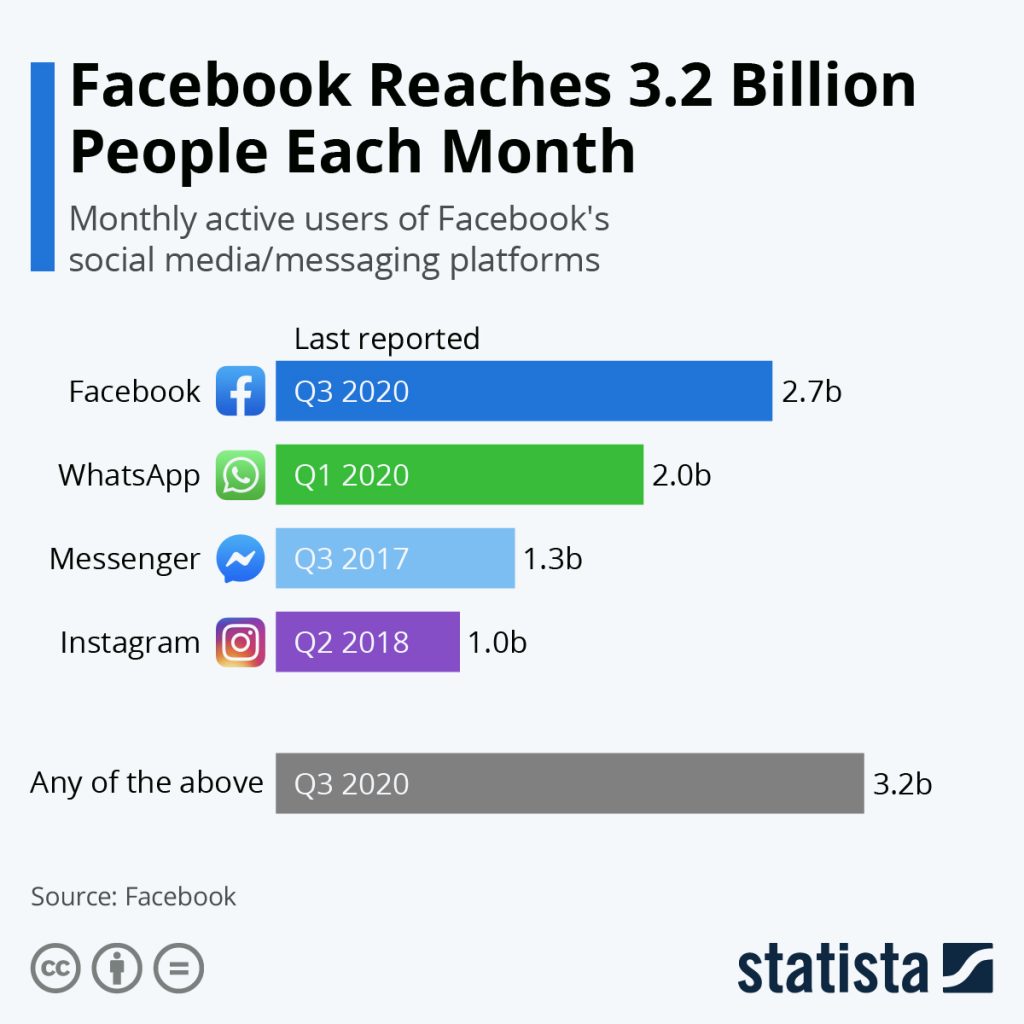 Although that may be owed to our hunger for entertainment, as evidenced by the proportionate rise in traffic on Netflix and Youtube, and over 70% rise in traffic on video conferencing platforms has shown that we want more than texts and calls. We all want to connect like normal even though doing that virtually has become a new normal.
According to Search Engine Journal, customers have grown wary of going out to malls or making physical attempts to purchase consumer goods. This has caused a 53% YoY growth in organic traffic to consumer goods and e-commerce websites. To put this into better perspective, consider this: e-commerce in the U.S. grew 3X as much in Q2 of 2020 as it did in Q1. As more consumers transition to shopping online, brands will need to find creative ways to build e-commerce marketing campaigns that maintain a human connection with customers.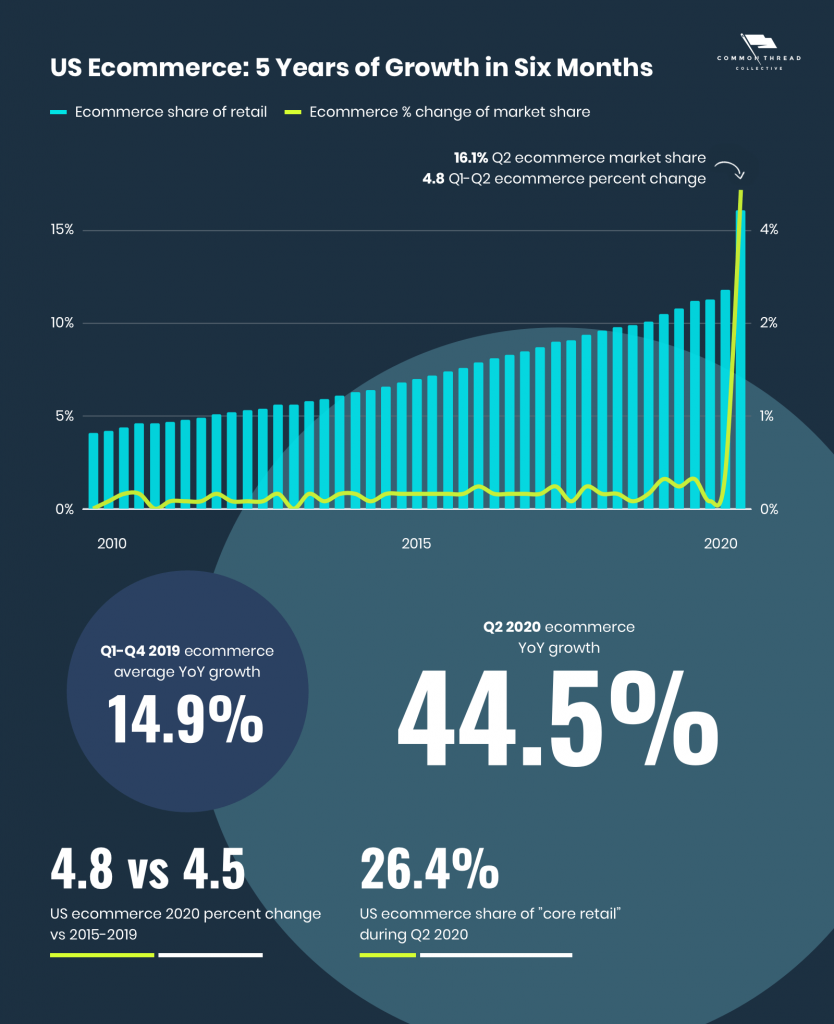 Knowing this, marketers are pivoting in response to this shift in the medium of connection by providing exceptional online experiences for their customers. Ewan McIntyre, the VP analyst at Gartner, reported that companies channel more than 80% of their marketing budget towards improving online experiences for customers, leaving barely 20% to offline-based marketing endeavors. These experiences include social media engagement, better ad targeting, and, most importantly, quick response with more humans and fewer bots. 
In 2020, global management consulting firm McKinsey reported that before Covid-19, "in-store shopping comprised up to 85 percent of all beauty product purchases." However, in the aftermath of the pandemic, nearly 30 percent of the beauty-industry market was shut down—this created space for the growth of DTC consumer brands. It is now officially cliché to say the Covid-19 pandemic has changed our shopping habits. The closure of brick-and-mortar stores, forced lockdowns, social distancing, and restricted movements have left many with no choice but to shop on eCommerce platforms.
Research has shown that social media is the future of marketing. At this time, marketing teams are staffing up to provide remarkable experiences to customers as they surf the internet. 71% of consumers admit that they are less likely to buy from brands that use chatbots to respond to them, and 81% claim that they prefer connecting with humans than with bots. As we crave more human connections, marketers must be available, consistent, and, most of all, genuine to their customers.
Focus on Sustaining Humanity
The coronavirus pandemic has revealed how much human beings need to help each other. Businesses are not left out in the struggle to continue human existence. Several businesses are taking safety measures and openly displaying their safety measures and ways that they are supporting the struggle to sustain humankind. In partnership with (RED), Apple announced that the proceeds from the sales of its red-colored iPhones would be donated to fight the coronavirus pandemic through Project (PRODUCT)RED.
This may seem like businesses being benevolent in support of the human race. However, 73% of customers' decisions are swayed by a company's charitable giving when making buying decisions. One of the ways to pivot your marketing in a post-pandemic era is to openly show your support in keeping the world together. Show your customers that you are in this with them. According to CEO Sanja Komljenovic, customers want to be sure that their money is going to a company doing the right thing. So, it is best if you also do the right thing.
In addition, brands should focus more on educating and providing value over marketing and selling. According to Linx Legal, the company has benefited from focusing on serving customers through education; providing information to vacation club owners via consultations and situational personalized quizzes, which result in a customized output for each person.
"By focusing on serving our potential customers by educating them on all alternative options, we are able to help those who need our services the most".
Embrace Virtual and Augmented Reality
Whether it's B2B or B2C marketing, augmented reality and computer vision technology generally are viable areas to focus on. As the world remains skeptical about public gatherings, stores, and malls, businesses embrace augmented reality as a vital part of their marketing strategy.
Although Lowe's integrated AR into its shopping app, it has hastily adapted to the pandemic as professionals cannot meet for consultations. It built a video chat tool with AR integrated for professionals, guiding them through virtual consultation sections. Now, customers have a chance to connect with the consultation environment without being there.
Augmented reality goes far beyond trying products and being immersed in a feeling that is not necessarily there. Marketers are incorporating augmented reality into their branding strategies. Virtual components, like QR codes, added to business cards and brochures make it easy for customers, by simply scanning the component, to view more about your brand. With a single click, they could be presented with actions to take, including email, social media follows updates, how-to guides and more.
Conclusion
Companies, big and small, are rethinking their outdated marketing strategies. Businesses need to adapt and keeping in touch with customers is a viable way to do it. In the post-pandemic era, caring is marketing. Firstly, show customers that they have your attention by engaging with them wholly. Businesses should channel a bigger chunk of their marketing budget to online engagement since the average human now has 70% more tolerance for screen time.
Secondly, Businesses are run by humans for humans. It is essential to allow the human trait of your business to take the lead. By openly proclaiming your support for humanity, you can sway your customers' decision to buy from you by 73 percent.
Furthermore, as customers are health and safety-conscious, in-store marketing will reach a record low. Embracing augmented reality to give customers in-store experience remotely can help make decision making easy for them, and of course, in your favor.
Author Bio
Wesley Cherisien is a speaker, trainer, entrepreneur and tech investor who has penned hundreds of articles, books and training guides for organizations in the Fortune 500, consultants and authors spanning across multiple industries. Chief Editor of WesleyCherisien.com, Wesley is a creative and highly innovative thinker with 10+ years of experience writing for online publications.
---