WordPress vs Shopify: Which is the best platform to build your Website?
---
With enormous benefits and convenience, e-commerce has become the most natural business option for entrepreneurs around the world. As businesses around the world continue to embrace the potential of e-commerce, many vendors have begun to create solutions using this type of platform. Combining simplicity, flexibility, and performance, Shopify and WordPress are the two most popular players in the e-commerce world. Both platforms have become the most popular options for businesses to make merchant-friendly websites. In this blog, we are going to compare both the platforms on the basis of pricing and values, templates, e-commerce tools, SEO and content, customer support and guidance, drop shipping options.
An overview:
Shopify
Shopify is a leading web application that was designed specifically to help businesses to build reliable online stores. It is an e-commerce platform that can provide a domain name, access to the payment gateway, an e-commerce plugin, shopping cart functionality, and other useful features. Shopify is a hosted solution and you can get all functionalities from Shopify's server, meaning there is no need to install software. You can set up your own Shopify store with ease and comfort.
WordPress
WordPress is a content management system, it provides tools to create and publish content on the web such as blog posts, videos, pictures, web pages, and more. There are two services provided by WordPress which are WordPress.com and WordPress.org. WordPress.com is a SaaS tool that is available on a monthly subscription basis. It is an all-in-one solution that you can use to build and maintain a wide variety of websites.
On the other hand, WordPress.org is website-building software that you can install into your own web server. It is an open-source solution that can be customized to a great extent. It is an easy-to-use and flexible tool. WordPress comes with access to the Woo Commerce plugin for e-commerce and all the tools you need to make your own online store. It also provides themes and a plugin library that helps to add a lot of robust features to your website such as e-commerce using Woo commerce, login, subscriptions, payments, members area, forums, social networking, and more.
Pricing and Values:
Shopify
Shopify is an affordable tool to build your e-commerce website, Shopify comes with five different pricing plans to choose from:
The Basic Shopify plan includes the basic functionalities that you need to get started with your new online store for $29 per month.
The Shopify plan includes the complete Shopify experience for $79 per month.
The Advanced Shopify plan includes state-of-the-art features where you can scale your business for $299 per month.
The Shopify Plus plan has been recently introduced with new options for pricing which is negotiable, quote-based price. It is the most expensive version of Shopify.
The Shopify Lite plan starts at $9 per month where you can add products to any website or blog and accept credit card payments.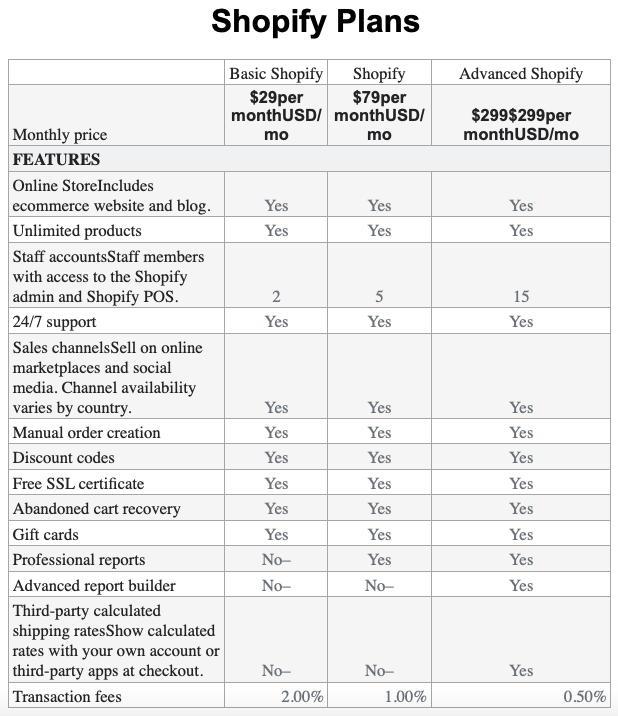 Shopify offers most of its features to try for 14 days for free before you buy a plan. The phone support service is available with the basic plan and higher.
WordPress
There are a lot of variables involved when it comes to WordPress pricing, downloading the software and making a website is free but the overall cost of your e-commerce site depends on variables such as:
Themes and design you choose- Some WordPress themes cost a premium price or a professional designer,
Hosting- there are many different companies that offer hosting services and many of them come with premium packages to choose from.
Integration- many businesses need a lot of integrations and plugins according to their business needs, some of the plugins are subscription-based.
WordPress often needs some coding knowledge to customize at least for the self-hosted version. Many businesses hire professional developers to help them with the build. The hosting charges are always payable when you are building a site with WordPress and you have to choose between shared hosting services and managed hosting provider. Managed hosting provider is a costly service but it provides you with a secured and fast website.
On the other hand, shared hosting is cheap but not suited for larger corporate projects. The average price of a WordPress site can be $350 per year for annual hosting (managed,), $150 for premium themes, $180 per year for e-commerce integration, $100 for plugins, and $500-$2000 for part-time developer's guidance.
It is crucial to consider payment options when it comes to choosing a platform for building your website. Whether you are going to accept payments through PayPal or credit card, you will need a service that charges you low transaction fees. Shopify transaction fees start with Shopify's basic plan of $29 per month with transaction fees of $2.9% and 30 cents for each online transaction. Shopify's main plan costs $79 per month with a cost of 2.6% and 30 cents for each online transaction. The transaction fees with WordPress depending on the kind of e-commerce platform you are using.
Features and ease of use:
Shopify
Shopify is built especially for e-commerce and transaction management. To start using Shopify, you need to register for an account that is quite fast and convenient. It offers you to use the platform for 14 days without any cost where you can put both Shopify vs Woo commerce and WordPress hosting to the test. Shopify offers you a wide variety of tools to build your websites such as flexible settings, coupons, discounts, payment delivery systems, and more along with an option to import information from a CSV file and email marketing tools. With Shopify, you can track down marketing and SEO tools, inventory management services, social media buttons, product sourcing solutions, and more. It offers integration with accounting tools where you can track your taxes. Going into more details, the following is the feature that Shopify offers:
Organize, track, and manage inventory effectively.
Inset product descriptions, images, and pricing details.
Set up personal customer accounts for users.
Abandon cart feature that integrates with your email marketing tools to follow up on lost sales.
More than 70 different payment processors and an option for a multi-currency process calculator.
Extra blogs and web pages to build awareness of your brand.
Multiple staff login options for delegation of staff responsibilities.
Shopify is a flexible ecommerce store builder that offers you a relatively good online store without any coding knowledge. If you require some extra help, there is a lot of knowledge base material and guides available.
WordPress
WordPress offers you flexible tools and plugins to transform your website. For building an e-commerce site you will have a bunch of options available including WordPress e-commerce and Woo Commerce. Woo Commerce and similar plugins add a lot of valuable features and settings that are similar to a standard website builder. The plugins come with features such as shipping and payment settings options, SEO, web design settings, and a lot of templates to choose from. Following are other features available with WordPress:
Geolocation tools to track customers' addresses to send the right package at the right time.
Different shipping options and pricing with options for local delivery, collection, and more.
Automated email templates for customers to send them at various points in the buying cycle.
Discount and coupon creation.
Product reviews function for your customers to leave reviews.
A host of analytical tools to help you track growth trends, traffic level, and profits.
There are a lot of guides and resources available to help you get started. You can find tutorial videos and webinars available to help people on how to use WordPress as a self-hosted solution.
Conclusion
There are many different solutions available with their own plans and features in the market such as Wix, Bigcommerce, Shopify, WordPress, and more. It is crucial for businesses to consider their business needs carefully. With the above comparison, it is clear that both Shopify and WordPress have a lot to offer for businesses that want to offer their own e-commerce sites. There are pros and cons to both sites and there is no one-size-fits-all solution for getting a perfect e-commerce experience.
Author Bio
Piyush Jain is the founder and CEO of Simpalm, Web Design and Development Company in Washington DC. Piyush founded Simpalm in 2009 and has grown it to be a leading mobile and web Development Company in the DMV area. With a Ph.D. from Johns Hopkins and a strong background in technology and entrepreneurship, he understands how to solve problems using technology. Under his leadership, Simpalm has delivered 300+ mobile apps and web solutions to clients in startups, enterprises and the federal sector.
---