Difference between Web Hosting and WordPress Hosting
---
Choosing a good web hosting platform for your site is a tricky job. There are a lot of hosting plans available and selecting one is not easy. The most popular type of hosting that is suitable for beginners is Shared Web Hosting. And the newest hosting type is WordPress Hosting. Both of these are very popular and are almost similar but are not identical. Many people get confused between these two Hosting types.
So, below you can get to know about the key features of these two hosting plans differentiate.
What is meant by WordPress Hosting?
In a normal shared hosting, on a single server, multiple sites are hosted, sometimes in thousands. All of these sites run on different web builders, due to which it is difficult to manage the servers.
But WordPress Hosting is not the same. It is a hosting type in which servers are optimized for the WP sites. Alike the shared hosting, multiple sites are hosted on the same server. But, all those sites are WP sites due to which it becomes easy to manage the server. It allows a web hosting provider to maximize the performance of the server for WP sites. And this will ultimately help your site to perform better.
So, this was the basic distinction between Shared Web Hosting and WordPress hosting. Although there are many more aspects in which these two sites differ and underneath you can get to know about them.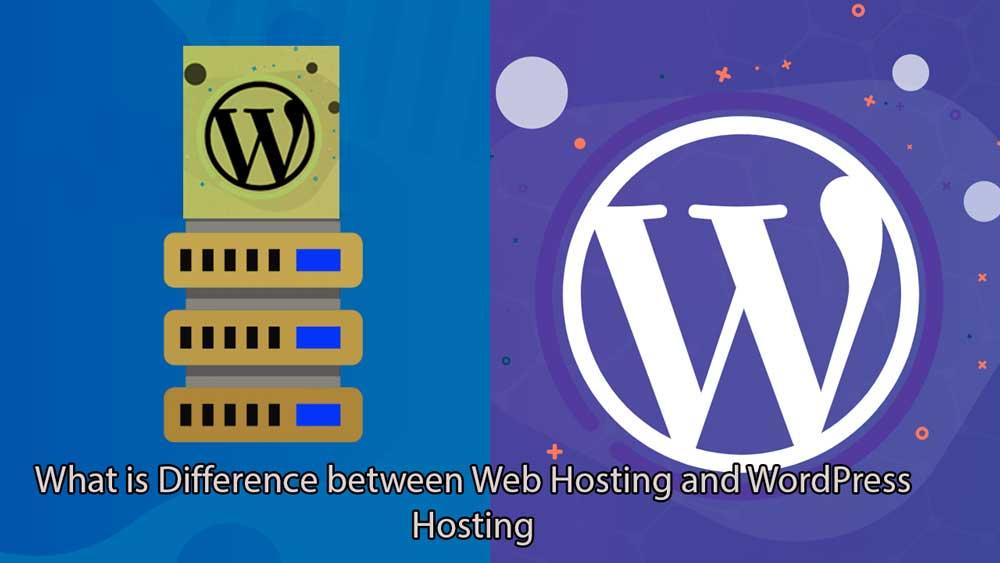 The WordPress Hosting features that are superior to Shared Web Hosting
Many people think that WordPress Hosting is a kind of Shared Hosting that allows you to build WordPress Websites. But that is not right because you can host WP sites on simply shared servers too. There are a lot of aspects in which WordPress Hosting is superior too shared hosting and the main reasons out of them are:
High performance: As only the WP websites are hosted on a server, it becomes easy for your hosting partner to manage the server. It can manage and optimize the servers only according to the WP sites. This will ultimately help us in increasing the performance of our site. But this cannot work in case of the shared hosting because all sites, in this case, are not WordPress built.
WP Premium Features: The normal shared hosting allows you to use WordPress for building a website. But the premium features of WP still remains locked. However, with the WP Hosting, you can use the premium features of WordPress for building your site.
Easy Staging and threat protection: As the servers are specifically hosting only the WP website, it can be protected against specific WordPress threats. Also, the servers are optimized; the sites can easily be staged. However, it is impossible to do so in case of the Shared Web Hosting.
Automatic WordPress Updates: You can enjoy all the premium benefits that WP delivers by choosing the WordPress Hosting. So, with this, you can also enjoy the latest updates and modifications. But you cannot enjoy this in case of simple shared hosting.
These were the main features because of which WordPress Hosting has become more popular than shared hosting. However, the main features that you will get totally depend on the web hosting platform you choose. So, some of the features might vary from the features that you will get.
Top WordPress Hosting Providers in 2020
There are a lot of WordPress hosting providers around the globe and opting for anyone is a difficult task. So, below are the Top WordPress Hosting Providers in 2020:
BlueHost: BlueHost is a very popular web hosting platform and provides WordPress Hosting along with another hosting. Its basic WordPress Hosting price is $3.95/month and provides 50GB SSD with 25 sub-domains.
Hostinger: If you want to get the Hostinger WordPress Hosting then you have to spend just $1.99/month. It is very cheap and supplies 10GB SSD and a 100GB Bandwidth. For Using Hostinger coupons code you can save atleast 10 – 30% off extra on hosting plans.
InMotion Hosting: InMotion is an emerging player in this field. Currently, it is providing this kind of hosting at $6.99/month. It supplies 50GB SSD and ensures a 4X speed.
HostGator: You can get the Hostgator WordPress Hosting Plan by spending $5.95/month. HostGator is a very big name in this industry and is known for supplying premium services.
A2 Hosting: It is a popular brand and allows you to choose between shared and managed WordPress Hosting. The simple hosting plan starts at $2.99/month whereas the managed costs $11.99/month.
IONOS: IONOS is a provider from Europe, based in Germany. Their WordPress hosting plans start at $0.50/month with features like domain, SSL, email, and SSD storage included. The monthly costs are based on the duration of the chosen WordPress plan. The SSD storage lasts from 25 GB up to an unlimited amount.
So, these were some of the top WordPress hosting providers. If you are planning to buy this kind of hosting then you can select any of them.
Seeking Expert Advice
When choosing the best web host, web builder, and content management system for you, a digital marketing agency, such as Black Digital Group, can provide expert advice.
A digital marketing agency usually offers complete services, including web design. Digital marketing firms employ expert web designers and developers to help you determine the best web host and WordPress host provider specific for your website.
Questions To Ask A Web Host Provider
Below are some of the questions you can ask when choosing a web host provider:
What uptime and server reliability scores do you promise? A web host that operates on a stable network connection and powerful server should have a 99.5% uptime score. An uptime score below 99% isn't good for business. You can use a server monitor tool to track a web hosting provider.
What hosting offers do you provide? Find a scalable web host solution from a reputable provider. Ask the web hosting provider about the different types of hosting environments they offer. It's best to deal with a web host provider offering other hosting options, allowing you to change your hosting plan as necessary.
Do you provide encryption, like SSL? Having an online store should prioritize security. Hence, you should ensure dealing with a web host provider that offers an SSL certificate to secure your website security.
Is WordPress Hosting Suitable for me?
Whether this kind of hosting suits you or not, it depends on your requirements. If you are a beginner and don't want too many customizations, then the Shared Web Hosting best suits you. But, if you want to make a business site with more features, then the WordPress Web Hosting is the best option for you.
So, you should always choose a web hosting plan by taking all your requirements into account.
---