What role will link building have for SEO in 2020? [Updated]
---
Link Building in 2020: How will it Impact SEO?
How will Link Building play its Part in SEO in 2020?
Those of you who have been in the SEO business will be very familiar with backlinks. The backlinks are the hyperlinks from one webpage to others. There are two types of backlinks, and they are internal backlinks and external backlinks.
SEO Consultancy expert LRCW remind us that among many factors that a search engine considers to rank the website, a backlink is one of the most important factors considered by the popular search engines to rank the website.
Many marketers are now promoting that stuff like link building is dead and so on. Let me tell you, link building is not dead. If you want to improve google ranking of your webpage, you must focus on building backlinks. There are a number of SEO backlink tools that can help you do this and we have already revied the principle ones
The recent statistics (courtesy of Internet Advisor) show that there are over 1.2 billion websites hosted on the internet today. And, there are also numerous websites that are competing for specific keywords on popular search engines.
Do not even expect to be on the first page of Google if you believe in the theory, "Link building is an outdated concept."
What roles will link building play in 2020?
There were times when article directories were very popular for building links. The websites used to publish crappy articles on those sites to get tons of links back to their sites. There are article directories now as well, but they are not as popular as they used to be.
Back then, search engines were not very smart. It was not difficult for black hat SEO guys to get their websites on the first page of Google with techniques, such as link farms and keyword stuffing.
People used to pay to get tons of links to their sites for getting their sites on the first page. However, the search engine has evolved a lot since then. The search engines are very smart now, and the Google is frequently updating their algorithms, according to their needs.
Now, keyword stuffing or having specific phrases on the site is not enough to get your site ranked on the popular search engines. And, it's also of no use to get links from irrelevant sites. For instance, getting links from gambling sites to a business site won't do any good.
Instead, it would damage your site profile. If Google decides to penalize your site, it would cost you a lot, as 76% of the global desktop search traffic comes from Google, as per the stats from Netmarket Share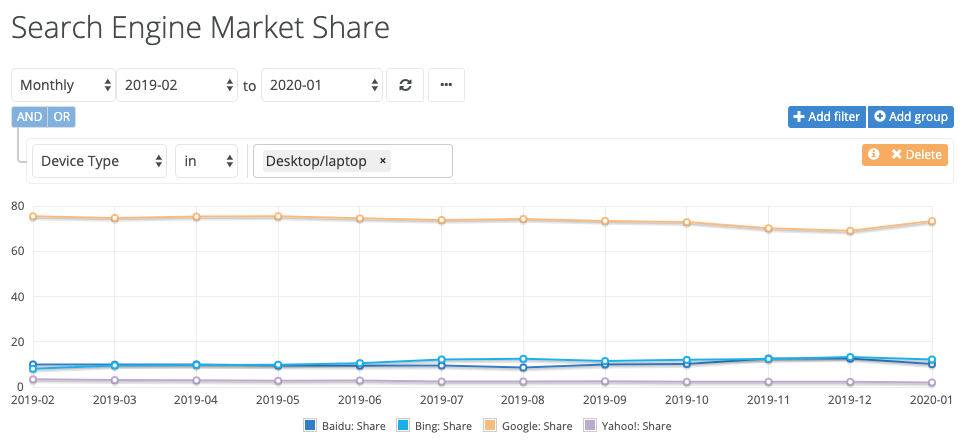 Despite all the changes, the fundamentals of search engines remain the same. In 2020, black hat SEO will get your site penalized by the popular search engines. Here are the roles links will play in 2020.
Link Quality matters
Site owners must focus on the quality of the backlinks rather than number of backlinks in 2020. Quality links mean links from a relevant site with a higher authority. A single link from a quality site will be counted more than links from many irrelevant sites.
The reputation, authority, and credibility of the website will be judged by the search engines based on the type of backlinks the site have.
Link building will revolve around quality content
The search engine business depends on the quality of the search results. It's obvious that Google would not want crappy sites to rank on the first page of their site. So, they are now focusing on pushing sites with quality content to the top.
According to the study published by Moz, content of over 1,000 words get more shares and links from the authority sites. Try to post quality content instead of just publishing for the sake of publishing content to get more links and to build the credibility of the site.
Links that scale could hamper
The links that scale could hamper your search ranking in 2020. These links could include auto bio boxes, signature boxes, and other mass link building techniques. These links will not do any good, and instead, Google could penalize your site if you practice this thing.
When you do social media outreach or outreach via emails for links, do not ask for anchor text links. Leave it to the publishers to how they want to link to your website as long as the link doesn't say "Click here"!
No-Follow Links may will have some value
Do not try to avoid no-follow links completely. These links may have value in improving your search rank. Google uses these no-follow links to discover new sites. And, these links may help in generating quality traffic to your site, which can improve your site rankings.
Value of the links determines the quality of the links
Not all links are equal. Google determines the quality of the links by looking at the quality of traffic that the specific links are driving to your website. For instance, if lots of relevant website visitors visit your site via the links, it is regarded as a quality link.
The low-quality links can lead to a higher bounce rate and click-through rates, which can eventually degrade the ranking of your site on search engines.
Do not link on footers, sidebars, and focus on internal links
It may not be a good idea to link to the website from footers or sidebars. And, you should also focus on building internal links, as it can increase traffic on different pages of your website, which can send positive signals to Google.
Final Verdict
The algorithms of search engines are always changing, and many web owners have suffered from various changes that are introduced by many popular search engines. The study shows that around 51% of the traffic on the website is organic traffic although this number is steadily falling – check out the podcast.
There are many interesting ways of getting backlinks. Check out the competition – see what they are saying and say it better. This is the so-called Skyscraper technique – find the leading piece in Google and make it better and publish. Mark Webster over at Authority Hacker has a version of the Skyscraper technique on steroids. He conveniently put it on a podcast so you can listen through (the links are always changing – but you can search for it is number #148 or search "skyscraper).
This means that you must be updated about SEO and the latest trends. Without SEO, there is a very stiff chance of your website getting enough traffic to earn decent money from it. Keep in mind all the important roles that I've mentioned while building links in 2020.
And, always be updated with the latest SEO trends to make sure your website maintains its rank for relevant keywords in your niche all the time.
Author Bio :
Stevan Mcgrath is a digital marketing professional who possesses expertise in brand design and development. Stevan is passionate about utilizing his diverse skill sets for new and innovative online marketing strategies. He has worked as a freelancer and a contributor to ProvenSEO. Despite having a wide influential reach, he seeks client satisfaction as his topmost priority. He also writes blog posts on recent digital marketing trends. To know his work and more details you can follow him on facebook, twitter, LinkedIn, Google+.
---