Using Conversational Commerce Technology to Satisfy Customers' Needs
---
"The customer is always right."
Even almost 113 years on from when Henry Gordon Selfridge first uttered those words, this classic quote still defines many companies' customer service approach.
But though this sentiment remains the same, technology in 2022 has come a long way since 1909. Horses and carts have given way to smartphones and computers, and the patter of street hawkers has been supplanted by smart speakers and live chat functions.
We're talking, of course, about conversational commerce – the point at which words and speech intersect with the buying journey. As we'll see shortly, conversational commerce runs the gamut from virtual shopping assistants to AI-powered chatbots.
But conversational commerce is only as useful as you make it. And unless you're harnessing the power of conversational technology to satisfy your customers' needs – by cutting back waiting times, providing personalized services, and connecting them to the right products – you're missing a trick.
So read on – we're breaking down two of the main forms of conversational commerce tech right now, and explaining how you can use them to ensure the success of your business.
---
Live Chat
When your customer needs to get in touch – be it about purchasing a product, asking for a refund, or requesting further info – you don't want to keep them waiting.
People want instant service, well… instantly! And the data bears this out. With 91% of consumers worldwide demanding real-time assistance, implementing a live chat tool just makes sense.
Live chat is the process of being able to speak to customers in real time, directly through your website. These conversational windows (which usually look similar to chats on Facebook, or – if you're old enough – MSN Messenger) are staffed by your customer service team, and help them offer quicker, more efficient service than emails or phone calls can provide.
And the data bears this out, too. A recent report states that the biggest reason modern shoppers love live chat is the immediate answers it provides.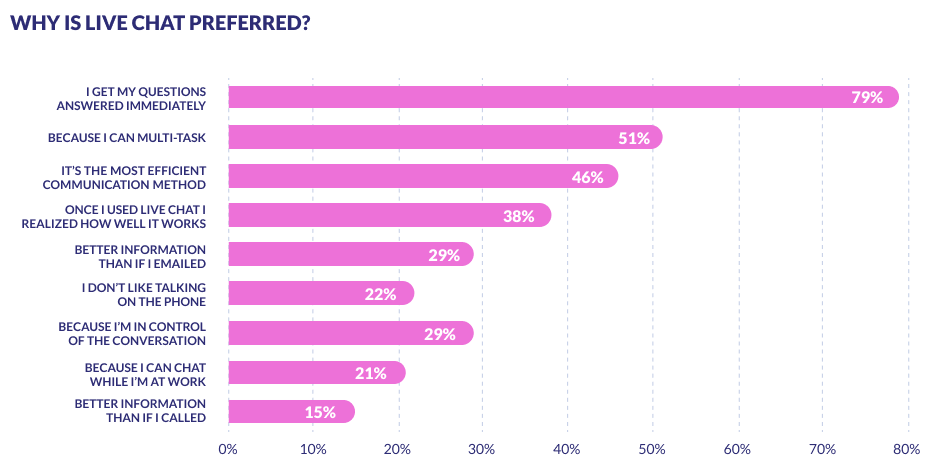 But perhaps the most compelling proof that conversational commerce helps satisfy customer needs comes from comparing it to other C2B (consumer-to-business) channels. Live chat sports the highest user satisfaction ratings (73%) of all communication methods, beating email (61%), app (53%), snail mail (50%), and even social media (48%).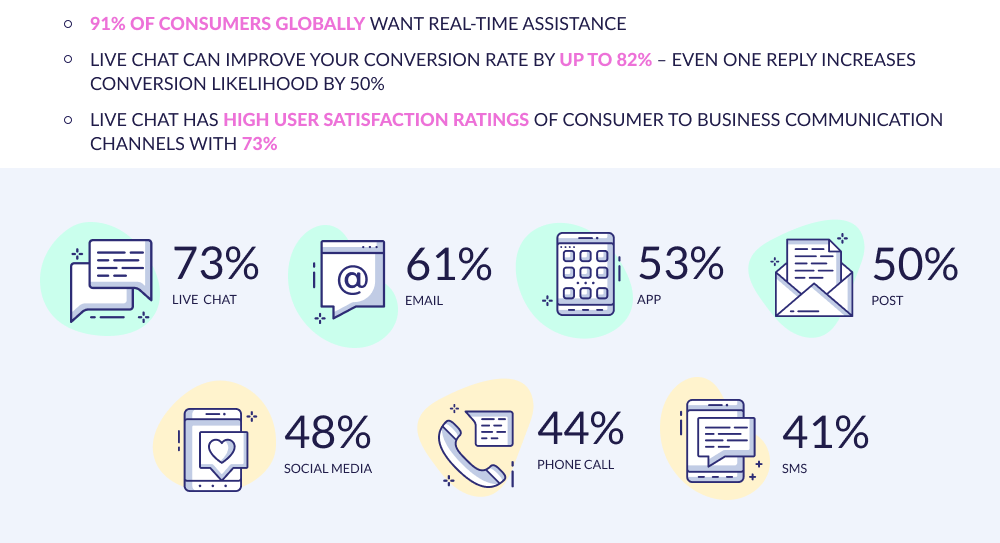 Plus – unlike AI-powered forms of real-time C2B conversation – live chat allows you to maintain that 'human touch'. Your business will still benefit from all the nuance and nicety that only real people can provide – but with all the speed and effectiveness of technology.
---
Virtual Assistants and Voice Search
To say that smart speakers are all the rage would be understatement.
Spearheaded by names such as the Amazon Echo, Sonos One, and Google Nest, smart speakers are predicted to be owned by over half (55%) of households this year – with 34% of those that don't yet have a speaker expressing an interest in buying one. But what do smart speakers have to do with helping your business satisfy your customers' needs?
Well in short, the answer is…everything!
That's because smart speakers – along with smartphones, smart watches, and some tablets and laptops – come fitted with in-built virtual assistant technology. Every brand has its own name for these anthropomorphized pieces of software – Samsung has Bixby and Amazon has Alexa, while Microsoft and Apple opt for the jazzy monikers Cortana and Siri, respectively.
These virtual assistants allow consumers (27% of the global population, to be more specific) to initiate Google searches, ask about the weather, shop online, and more – all by using their voice. With voice assistant interaction set to balloon by 113% by 2024, the trend towards voice search will only grow in parallel.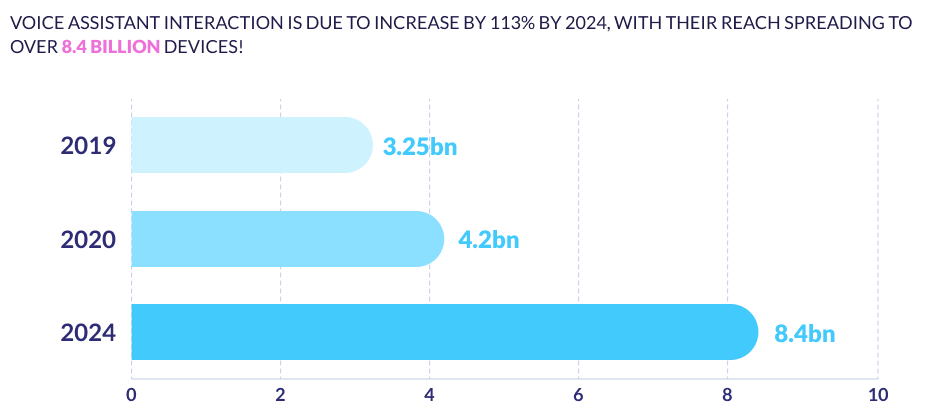 Oh, and if your customers are in the 25-49-year-old demographic, voice search will be of particular interest to your business. 65% of this age group chat to their smart device at least once a day – is that a statistic your business can afford to ignore?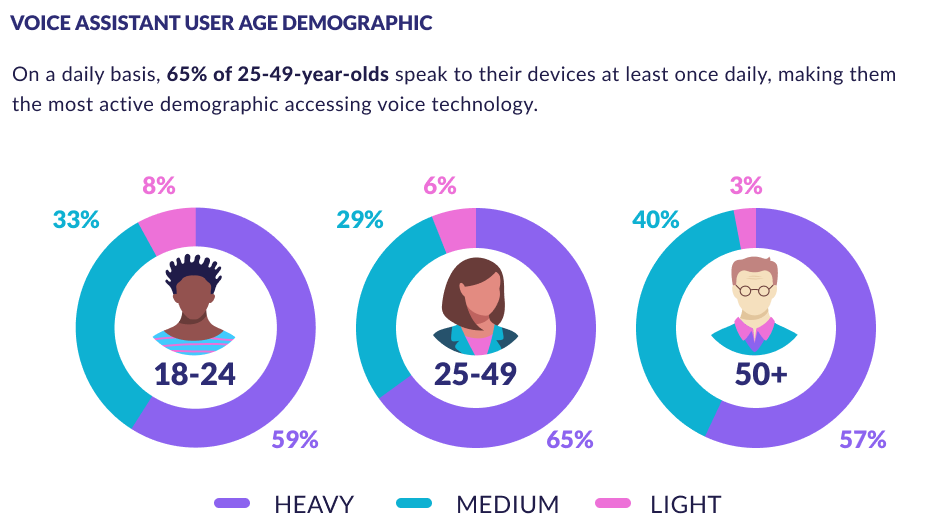 With the data – and future – stacked so heavily in favor of voice search, it's clear to see how implementing this tech will help cater to the needs of your users. But optimizing your site for voice search also has some great additional benefits for the user. Let us explain!
Adding Structured Data
To best optimize your site for voice queries, you'll need to add schema markup to your website. Schema – at its most basic – helps Google understand the format of the data you're presenting. This allows it to identify not only that there's a question in your site's copy, but that there's an answer, too – and where to find it.
A great way of implementing this kind of schema on your site is through adding (and then marking up) several FAQs (frequently asked questions). With the right SEO (search engine optimization) input, both Google and your customers' voice assistants will be able to recognize these FAQs on your site, and use them to answer your users' questions.
This, of course, is excellent for getting your business and brand discovered. But FAQ sections are also ideal for satisfying your customers' needs. The better you can answer your audience's questions – that is, with concise, informative responses – the more likely they are to return to your site.
Optimizing for Mobile
With around 27% of the people that use voice search doing so on mobile, it makes sense to optimize your site for handheld devices.
This optimization can take a lot of forms, including:
Building your site around a mobile-responsive template or theme
Avoiding Flash, as well as the use of pop-ups or ads that block content
Using a large, readable font
Compressing and adjusting the dimensions of your images, to reduce their size and weight
Constantly testing, optimizing and iterating the mobile version of your site
Equipping your site to perform well on mobile won't just help out when it comes to SEO, or your site's visibility for voice searchers. It'll also help satisfy your customers' needs, by providing a cleaner, stripped-back UX (user experience), and making it easier for users to explore and locate key content.
Keeping It Conversational
Part of optimizing your site for voice search includes ensuring that the copy you write is conversational – that is, making sure that it reads how a person would actually talk. On an intuitive level, this makes sense. After all, people will be speaking their enquiries – rather than typing them – so your site's content needs to reflect that.
But of course, the benefits of crafting conversational copy go way beyond setting your site up for voice search success. Because ultimately, the more 'human' your writing can sound – and the more your content resonates with your readers – the more you'll be able to understand and tap into their needs.
And only once you've understood your customers' needs will you be able to satisfy them!
---
Conversational Commerce: Making Sure the Customer Is Always Right
If the old adage is correct, the customer is, indeed, always right.
But how do you know what the customer actually wants? How do you fully satisfy their needs, while also providing an experience that'll build your brand, advance your business, and – ideally – boost your bottom line, too?
Well, the answer to all three is (you guessed it!) conversational commerce.
By optimizing your site for voice search and virtual assistants, you make it easier for your customers to find – and engage with – your business. You make it simple for them to employ their favorite technology to seek answers from you, and – by implementing a live chat tool – let them start up a dialogue with your business on their own terms; anytime, anywhere, and in a way that suits them best.
Because with conversational marketing, the key to customer satisfaction is in the name. You're starting up a conversation with your audience – treating them as people, and responding to them with dignity and respect. You're demonstrating to them that you value not only their money or their loyalty, but also their time – and that's something we can all appreciate!
---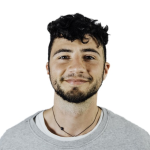 Rob Binns
Rob Binns is the Content Manager for Website Builder Expert. When he's not reading, writing, and editing, he can be found curled up in a sunny spot, or watching football in the company of close friends and cold beers.
---