Top 8 Digital Marketing Techniques That Will Boost Your B2C Strategy
---
According to Statista, creating blog posts, producing videos, and sending branded emails are the top 3 digital marketing strategies used in B2C. These and other promotional activities will drive your business higher ROI, engage your customers better, and increase brand awareness when done creatively.
This article will share a list of clever B2C marketing techniques and ideas you are welcome to try in 2021 and years to come.
Killer Ideas For Your Next B2C Marketing Campaign
#1. Navigate users throughout your site via a quiz
Making quizzes a part of your website navigation is a powerful UX (user experience) trick, especially when used in product retail. With its help, you can better engage your store visitors, help them make the right choice, personalize customer journey, and increase dwell time on your product pages.
For example, here is how Spongelle, a US-based beauty brand, utilizes a quiz to assist consumers in the process of selecting a perfume that suits them perfectly.
#2. Reinforce user's trust with client testimonials
79% of online shoppers say they trust online reviews as much as personal recommendations. This is a strong enough reason to get started with review marketing today (if you haven't done it already). The idea is to gather authentic users' reviews and share them strategically.
Here's how you can make the most out of your client testimonials:
Empower each of your product pages with users reviews
Present new reviews in Instagram Stories and store them in Highlights
Create user-generated content based on the client's feedback
Develop a review carousel and place it on a home page
Collect reviews on Google My Business and Yelp
Ask users to provide their feedback in exchange for a discount for their next purchase
#3. Leverage the power of videos content
Videos are the top consumed content type in 2021, and this trend will become even stronger. Users love watching videos, and for brands, it's a perfect opportunity to educate, entertain and engage users, ultimately turning them into paying clients.
Still, using videos haphazardly isn't the best idea. Instead, you should competently integrate video marketing into your overall marketing plan, tailoring each type of clip to the specific stage of a sales funnel.
Below are the types of videos that work exceptionally well for every sales funnel stage:
Awareness. At the stage of awareness, you can share short and attention-grabbing promo videos with bold marketing messages. It makes sense to focus on high-quality graphics and compelling scripts to attract users' attention. With a user-friendly and intuitive video maker, you can create stunning promo videos without any special skills.
Consideration. At this stage, you can use explainers, product reviews, or demos to help the users make the final decision. The length of the video becomes longer – up to 2 minutes, and the visual component still plays an essential role.
Purchase. After the users make a purchase, create a "how-to" video sharing the instructions for the most effective product usage.
Post-purchase. Your task is to retain users, so try to entertain and educate them with eLearning videos and brand content.
#4. Encourage customers to create UGC (user-generated content)
According to the UGC State Report 2021, 93% of marketers agree that customers trust the content created by other customers more than the brand. Thus, user-generated content is a powerful social proof and user engagement tool deserving your attention.
What's more, contemporary users share their positive experiences across social media eagerly, so high-quality products have great chances of getting a lot of UGC pieces by default.
The technical implementation is super simple – research the content with your brand mention published by real users and share it on your social media profiles with a mention back. This is a good option for diversifying your content plan and leveraging the power of social proof at once.
To encourage the users to create UGC, you can launch a contest with a mandatory term to post your product photo and mention your brand using a unique and catchy hashtag.
Here is a simple but actionable example of using user-generated content provided by a beauty brand, Lush Cosmetics.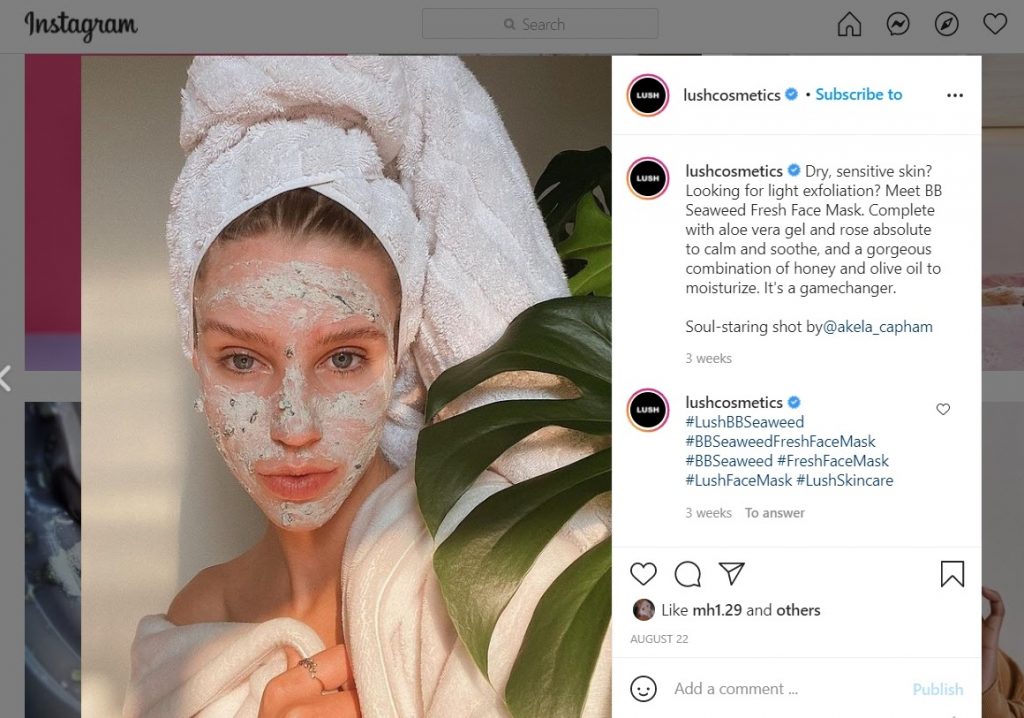 #5. Add a recommendation engine
A recommendation engine is a must-have feature for online stores with plenty of categories and products. This is a powerful tool for driving purchases and post-purchases, gathering insights into the users' behavior and sales process automatization.
As for the examples in the B2C sector, Amazon has the most advanced recommendation engine. It combines the product's options that can be potentially compelling to specific users with the product rating and price to suggest the most suitable items. As a result, 35% of Amazon's revenue today is generated by the recommendation engine.
As for embedding this tool into your eCommerce website, there are many easily integrated APIs to choose from.
#6. Attract leads with lead magnets
To drive more ROI from your B2C marketing tactics, launch more lead magnets. A quick reminder – the lead magnet is a free item or service (usually exclusive information) you're offering to users in exchange for their contact data. This can be an eBook, discount code, giveaway, checklist, guide, report, free delivery, or any other type of useful content or benefit.
To make your lead magnets catchy and effective, experiment with designs, test multiple CTAs, perks, and offers to find out what works better for your target audience.
Also, keep in mind GetResponse findings. According to their research, videos, written content, and visuals are the lead magnet types with the highest conversion potential.
Here is a nice example of a sign-up-triggering lead magnet offering a discount used by J.Crew.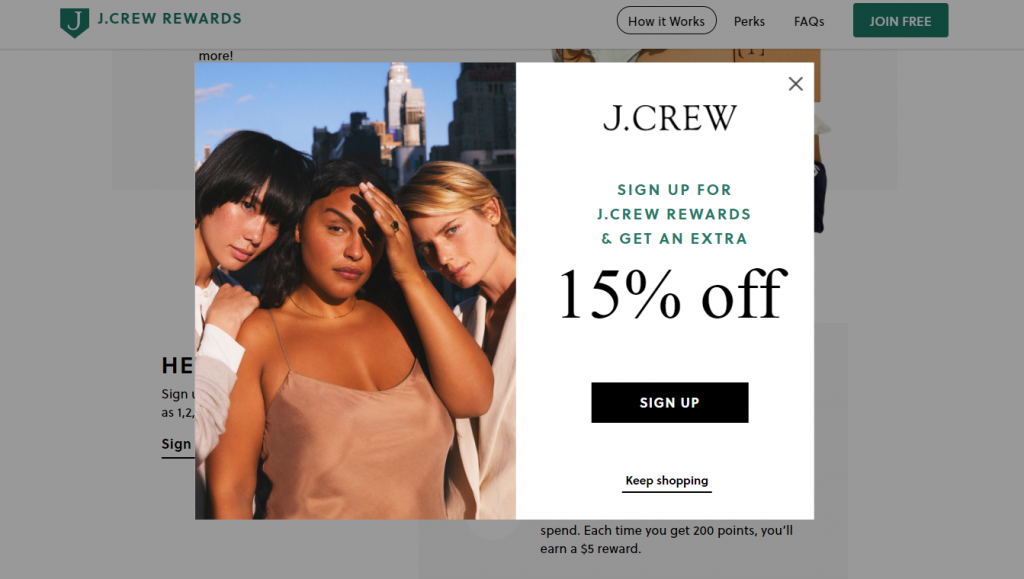 #7. Use dedicated landing pages for PPC
While 45% of small businesses invest in Pay Per Click advertising, not all approach this tactic correctly. Many factors contribute to the success of a PPC ad campaign, like writing a catching ad copy, selecting quick-win keywords, and setting the right target options. Still, the web page your prospective leads land on after clicking on an ad matters a lot.
One of the best practices to convert users into buyers with the help of PPC is to create a separate landing page for each campaign you are launching. Pages dedicated to only one product or service help you capture qualified leads with clear intent and maximum accurate messaging.
Take a look at the example below to find out how an effective PPC landing page should look, in contrast to the store's home page.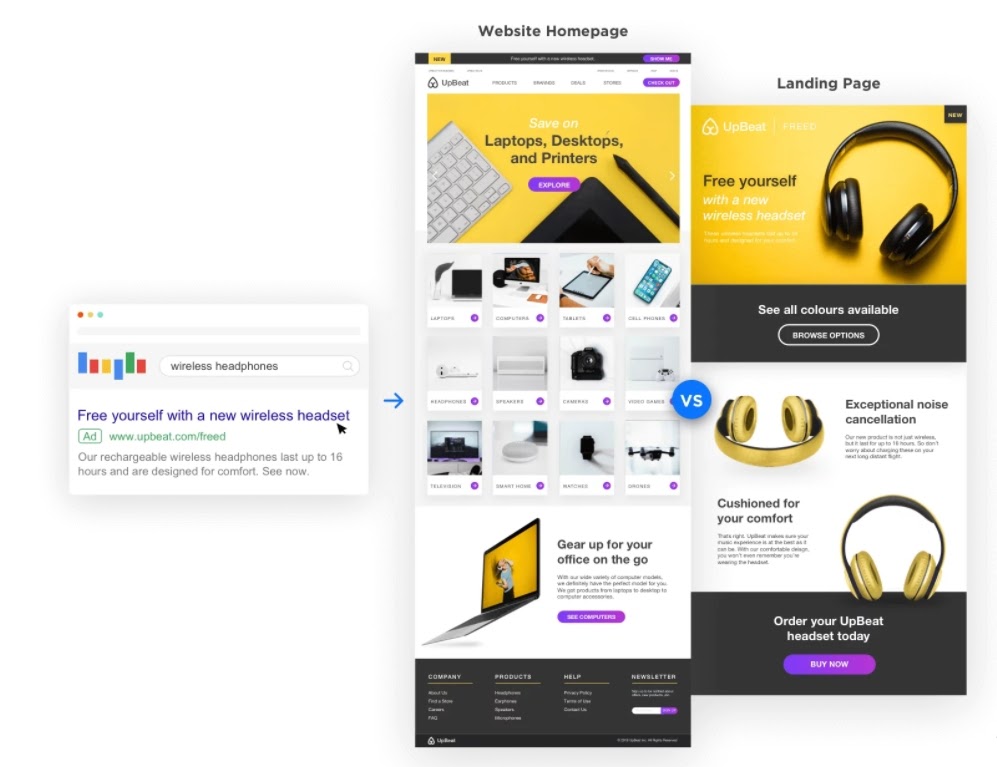 #8. Make sure your emails are attractive
There are a lot of controversies when it comes to email marketing. Despite more than 50% of users deleting marketing emails even before opening them, there are some tricky ways to build effective communication with your subscribers via newsletters.
As an option for driving better ROI from your emails, consider making them more attention-grabbing, vivid, interactive, and dynamic. In contrast to B2B emails, B2C emails require your special attention to the visual component. The simplest ideas are adding animations, videos, and GIFs to the letter's body.
Here is an excellent example of an animated welcome letter by Brookline. Grabs attention, agree?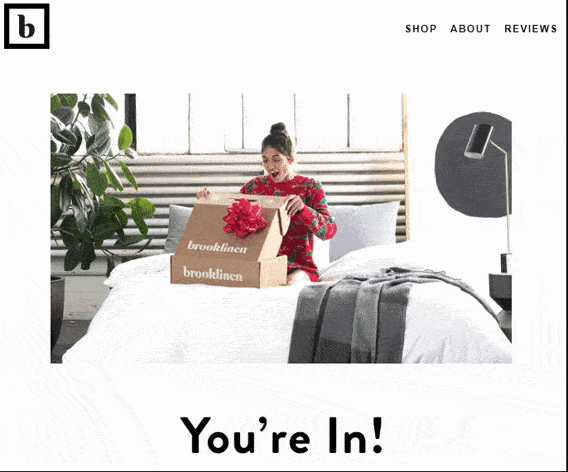 Conclusion
This list can go on and on. We have covered some simple yet effective ideas you can start implementing right now.
The universal advice is to be creative and intelligent with the chosen marketing tactics for B2C and never stop testing and analyzing them to make a powerful impact!
---