Social media platforms are showing no signs of stopping. On the contrary, their numbers of users are growing by the day.
Well, the same applies to Snapchat, a unique social media platform. According to the latest Snapchat statistics, this network has more than 360 million active users. In July 2019, Snapchat had as many as 97.5 million users in the US alone!
So, can you afford not to take advantage of such a massive market?
If you are thinking about launching a Snapchat-based campaign, here are some of the benefits of using this social media for business.
Snapchat: General Features and Statistics
Created by Evan Spiegel and his partners, Snapchat first saw the light of day back in September 2011. According to rumors, Spiegel and his partners failed 34 times before they came up with the winning formula!
Either way, no one could have predicted that the new platform would reach the popularity it has today. Nowadays, the company has around four thousand employees. The HQ of the corporation remains in San Francisco, CA.
As we said, millions of users are addicted to Snapchat and its impressive functionality. To be precise, Snapchat statistics say that more than 60% of clients use the application daily.
In 2018, Snapchat was the third most downloaded application for iOS-powered devices.
On top of that, the impressive trajectory of this app is not slowing down. Renowned brands are starting to use Snapchat for business, and you should jump on the bandwagon as well.
With that said, let's take a closer look at the features of this remarkable social media platform.
How to Use Snapchat?
So, the entire idea of this platform is that short-term content creates lighthearted entertainment. In other words, Snapchat is all about having fun and being creative.
With the help of facial recognition technology, users can add all sorts of lenses (filters) and decorate their photos and videos. Also, augmented reality is a part of the Snapchat experience. Thus, users can add various objects and elements to their content.
All told, Snapchat offers unconventional entertainment. But if you want to make an impactful campaign, you will have to "go viral." Here are some tips for making that happen.
Tips for Using Snapchat for Business
If you want to incorporate Snapchat into your marketing strategy, you can go with a free method, or you can start a paid campaign. Both options can generate exposure and increase brand visibility.
Yet, experts agree that marketers should follow these guidelines when posting content on Snapchat:
·
Post often, but keep the content fresh.
Snapchat is a fast-paced platform, and you better get used to this quickly. In other words, you should regularly update your profile.
At the same time, it is crucial to remain relevant. Also, do not go overboard with posts. As a rule of thumb, 3–5 snaps per day will do the trick.
·
Promote your profile on other networks.
To achieve any success with using Snapchat for business, you will need people to follow you and see the posts. For that reason, you must share your profile on other networks.
So, use Twitter, Instagram, or even email to spread the word and invite people to your feed.
·
Get help from influencers.
Social proof plays a significant role in the modern world of marketing. When it comes to Snapchat, younger generations are susceptible to influencers and their advice.
Thus, hand over the keys to your profile to an influencer every once in a while. Of course, product placement methods should be implemented into the session as well.
·
User-generated content is your friend.
User reviews are also an excellent method for spreading the word about your service or product. Thus, make sure to incorporate user-generated content into your Snapchat feed.
In other words, you should let people tag your brand as much as possible. The more people interact with the business, the better!
·
Offer discounts and exclusive offers.
Last but not least, business owners should use Snapchat as a notice board. What this means is that you can promote exclusive deals or discounts through your Snaps.
Likewise, marketers can use Snapchat to announce product launch activities and offer coupons. All of these techniques can generate traffic to your website, which results in conversions and sales.
The Benefits of Using Snapchat for Advertising
As you can see, we already mentioned some of the pros of using Snapchat as a part of your marketing strategy.
Nonetheless, it would not hurt to have them all in one place. So, let's recap on everything we have learned so far.
For instance, Snapchat can boost brand awareness and improve your visibility. There are many examples of celebrities and influencers who managed to earn millions through their Snapchat feed.
On top of that, Snapchat can generate high-quality traffic on your site. The majority of users who click the link will come there with a purpose.
They will not stumble upon the website by accident. On the contrary, most of the visitors will arrive ready to sign on the dotted line and make a purchase.
Thus, Snapchat can generate sales and improve revenue. With that said, keep in mind that Snapchat is a free tool. You do not have to spend a dime on the campaign.
Also, Snapchat is a mobile-only platform. This characteristic could extend your reach into the territory of smartphone users, especially millennials and Gen Z-ers.
Conclusion
In the end, we should mention that Snapchat may not be ideal for every business. Nevertheless, if you want to target a younger audience, this platform is the perfect hunting ground.
As you could see from our overview, Snapchat offers a range of benefits. By posting a couple of photos per day, you will be able to generate plenty of exposure, free of charge!
Of course, the Snap Store provides plenty of useful tools as well. All of these features can help with spreading the word about your brand and making your business a success.
Author Bio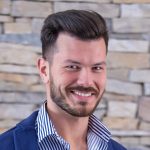 With a degree in transport and traffic engineering, Marko Miljkovic is a digital marketing expert, financial enthusiast, and entrepreneur extraordinaire. He takes joy in analyzing economic trends and translating them into engaging articles. He is a fitness and nutrition expert who loves spending his free time cooking for friends, playing basketball, and enjoying his favorite 90s tunes.