Tips and Inspiration for Revitalizing Your Brand's Social Media Presence in 2023
---
Are you looking to revamp your social media presence this year? Do you want to start seeing more traffic and engagement across your profiles? If yes, you may be looking for some fresh tips and inspiration to get the ball rolling. After all, it's easy to get stuck in a social media rut after all these years.
While nothing major has changed on social media, you probably already know that shorter video content has become the preferred format of most platforms, as well as that cohesion and recognizability matter just as much as they used to.
Here are five effective ways to stand out on socials this year.
Provide Social Support
Customer support plays a major role in customer satisfaction and can boost your retention rates and increase customer lifetime value. Providing it on social media makes it not only more immediate but also widely visible.
Twitter is a great place to answer customer service questions. It will tell your followers that you care about your customers. It will demonstrate the quality of your responses and your commitment to problem-solving. On top of all that, it will make you more visible and help solve customer issues, showcasing your value and expertise.
Make sure that you actively encourage followers to ask for advice on social media. Get involved in their conversations. Monitor your mentions. Provide the best possible customer service (both publicly and when no one else can see it).
Petco is a great example of social media customer service done right. They reply to all of their tags when there is a customer query involved, and they are helpful, friendly, and approachable. When you send them a tweet, you don't do it halfheartedly, expecting it to never be seen. You know a reply is imminent.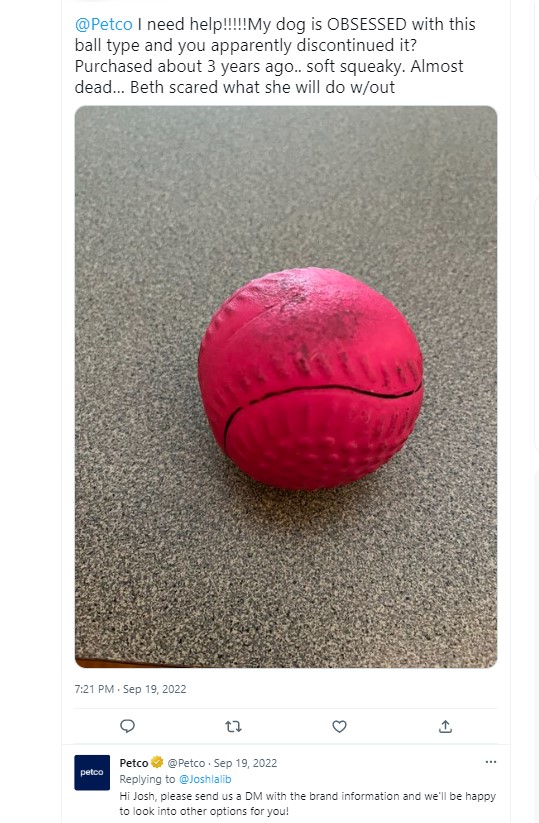 Source: Twitter.com
Promote Your Site's Landing Pages
Figuring out what to post on social media can be a proper drag sometimes, especially if you've been doing it for a long time. While there are hundreds of different tactics you can employ, you will run out of ideas at one point or another.
We also have to remember that your social media posts need to tie in with your overarching marketing and sales strategy, so you can't do it completely randomly either, or stick to commenting on the latest trends. You need to provide posts that are interesting and engaging to your followers — posts that will get them to convert.
To overcome this issue, start thinking about the way to promote the content you already have on your website. Select a portion of your landing page, come up with a caption or a story about it, and post that.
Take a look at how Thankbox does it. They have promoted their online group leaving cards with a simple Facebook post. The post both showcases one of the features of their product and gives their followers an idea of what to put in a leaving card. And they already had the content ready to go, since it's a part of the landing page.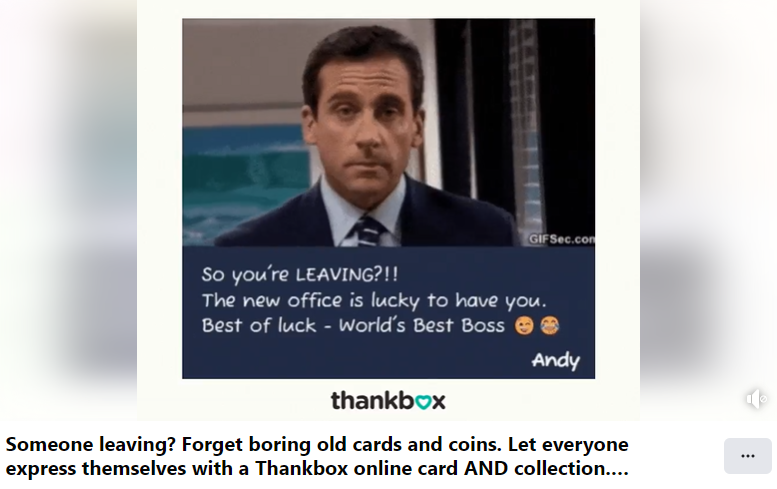 Source: Facebook.com
Repurpose Existing Social Media Content
You should also remember that it's not always important to come up with something brand new and super interesting to post on your social media channels. If you are present on more than one platform and you're aiming to have at least one original post per channel per day, you are setting yourself up for a lot of stress.
Instead, start repurposing your content. Take what you have posted on one channel and use it on another. Or, take a post you have already posted a couple of months back and republish it. This will help you drive fresh engagement and fresh, relevant traffic without too much effort.
This tactic will also allow you to focus your efforts elsewhere and spend more time coming up with new shareable content.
Anytime Baseball Supply is a great example, as they often repurpose their content on Instagram. Their content is already super relevant and interesting to begin with, so there is nothing wrong with using it more than once. It hasn't reached the entirety of their audience anyway, plus they have acquired new followers in the meantime as well.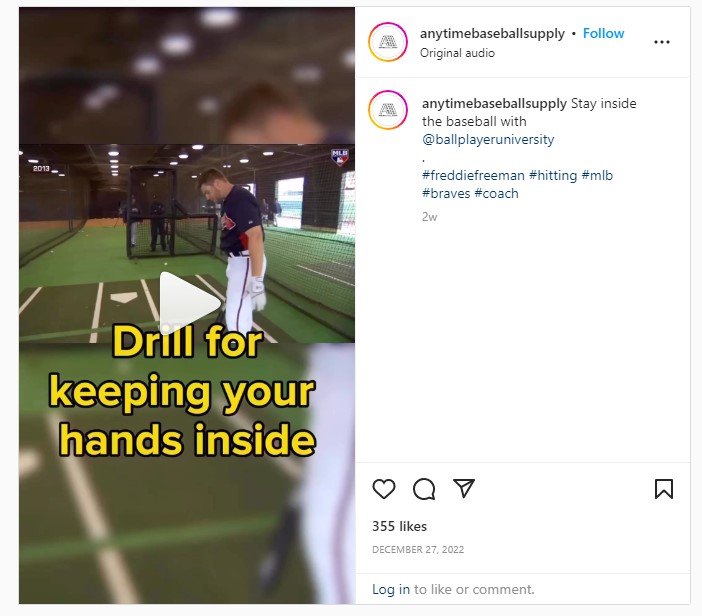 Source: Instagram.com
Make Your Brand Relatable
Social media should help you showcase the fun, relatable, human side of your brand. While you should certainly make a point of including your staff on your website as well, social media provides a more casual, laid-back avenue for connecting with your audience.
The more relatable you can make your brand, and the more everyday stuff and office activity you show, the easier it will be for your audience to trust you and engage with you. You will stop being a faceless corporation that does X. You will become a group of people who work in this great company.
Take the time to tell stories as well. Share your employees' hobbies, let them take over your social media for a day and show followers what you do, or have them engage with your audience from their own perspective, never forgetting that they are still representing your brand.
Ahrefs uses their Instagram for this purpose, and you can find out a lot about their team there. They post pics from their company get-togethers and the office, and they do very little to promote the actual product on this channel. They have Twitter, YouTube, and LinkedIn for that.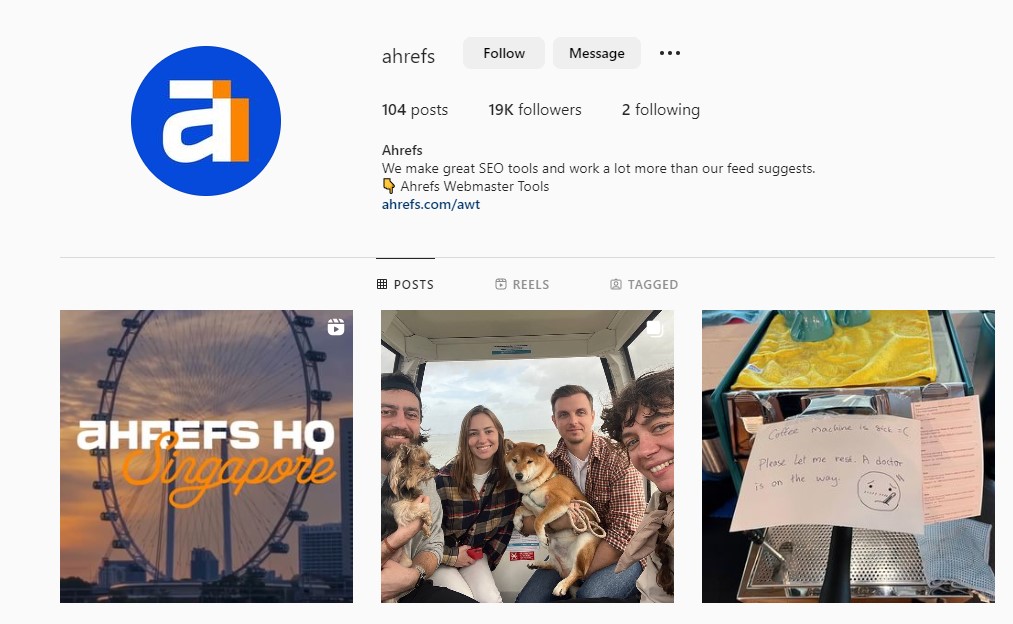 Source: Instagram.com
Bonus Tip: Promote Your Social Media Presence on All Your Web Pages
Having a great social media presence is only worth it if your audience has access to it and if they're able to find all of your channels easily. A portion of them will, of course, look you up on social media of their own accord, but you don't want to leave it to chance.
Instead, do what you can to draw attention to your profiles whenever you can. Add your social media link to all of your emails, whether they're newsletters, customer service queries, or other communication from your brand to absolutely anyone.
Put them on your business cards (if you still have those). You can use a QR code to direct traffic and keep track of it. Put them in the header and the footer of your website, especially on your product pages, where they will be spotted by visitors more easily.
ATH does this with their product pages. You can't possibly miss them, even if you never end up scrolling all the way to the bottom of the page, which is where most brands place their social links.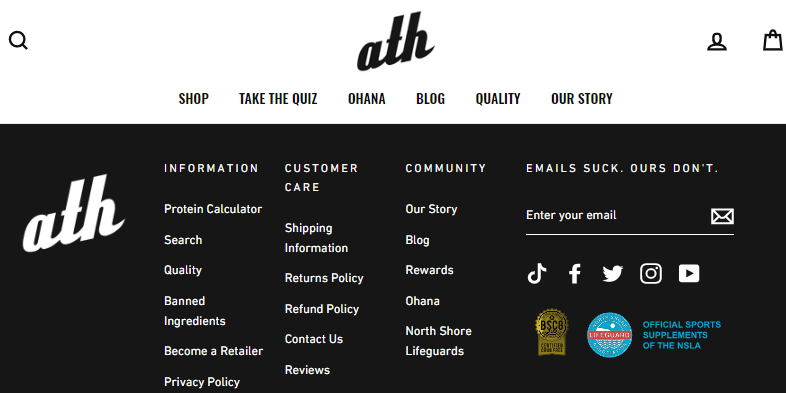 Source: Athsport.co
Wrapping Up
Consider using these tips and examples to revamp your social media presence this year. None of these tactics will take up an extraordinary amount of your time, but they will be quite effective in making your presence interesting and engaging again.
---