The Complete Guide to Successful CRM Implementation
"Get closer than ever to your customer. So close, in fact, that you tell them what they need well before they realize it themselves," the late Steve Jobs, Co-Founder, Chairman, and CEO of Apple once said. Customer is the key to the success of any business venture. In this guide, we shall dwell deep into how a business can give the best experience to its customers.
What is Customer Relationship Management?
Customer Relationship Management is a combination of strategies, engagement techniques, technologies, and mannerisms that companies employ in order to manage any customer-related experiences and interactions. CRM also allows companies to analyze customer interactions and improve their experience in order to promote customer loyalty, customer retention, and customer growth. Customer Relationship Management tools also give front-end staff an opportunity to study the detailed information of purchasing and identify any trends if applicable in order to boost sales.
Why do we need Customer Relationship Management?
Today, customers are usually spoiled for choice, with markets offering so many variations of the same product or service function to customers. In such a scenario, the only thing that helps a business stand out is the quality of its customer experience and the level to which they are able to satisfy its customers.
It is a popular belief in the world of business that the happier a customer is, the more likely he is to continue to associate with the business. This is the main reason why CRM is extremely important in today's business world – to attract, and retain, customers and increase their loyalty to a brand.
In the next section, we outline a 7-step process to implement CRM successfully for any type of business venture.
Pick the appropriate CRM tool to best suit your needs
CRM tools have become a fast-growing business software industry today. Businesses are spoiled for choice when it comes to choosing the right CRM tool that can serve their purpose while simultaneously aligning with the vision and mission statement, and value system of the business. Here are a few factors to keep in mind that can help a business choose its CRM tool easily.
1.1 Decide between Cloud v/s Software-as-a-Service CRM Implementation
In this technological age, businesses must decide whether they want to opt for setting up an in-house server hosting facility or go with a pre-existing cloud-based option. They must be open to changing this as time passes to adapt to the needs of the business better.
The table below compares both options in brief –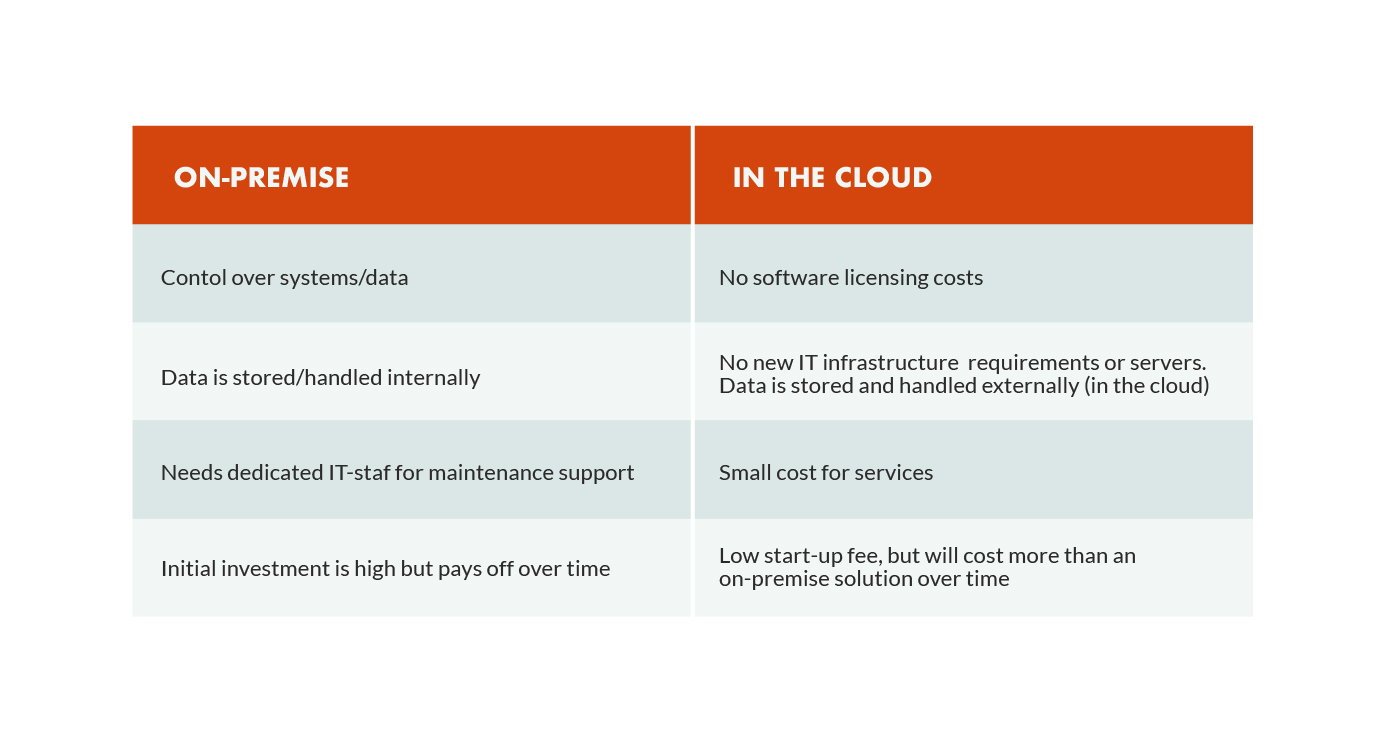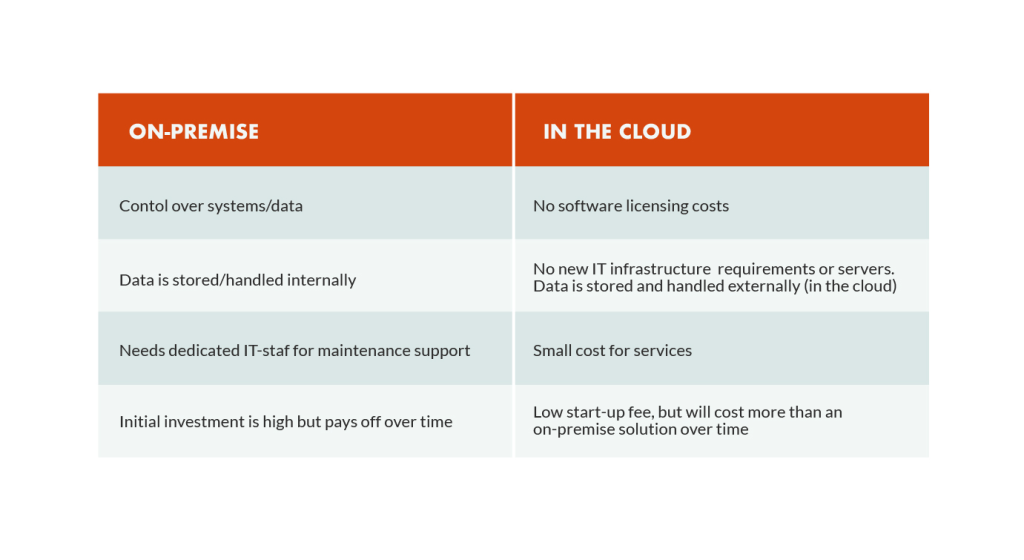 https://www.superoffice.co.uk/globalassets/home-com-website/resources/articles/visuals/crm-vendor/crm-on-premise-vs-cloud-based-crm.jpg
1.2 What to look for in a CRM tool?
When choosing a CRM Tool software, some criteria to keep in mind are as follows –
Lead, Prospect, and Customer Management portals to manage and keep track of the different interactions generated during a product life cycle.
Software should come with a high degree of automation to minimize the workload and scope of human errors.
Need and relevance of campaign and communication tracking and management features
Availability of different interaction platforms such as a website and mobile application of the CRM Tool software.
1.3 Check for customizations and training
It was always better to choose CRM tools with a high degree of customization. This will allow businesses to set up a basic portal in the beginning and adapt and improve the tool with time.
Another aspect worth considering is the training and after-sales support offered by the CRM service provider themselves.
Lastly, picking the best CRM tool option for a business is a personal choice. There are no right or wrong answers to this question. Budgets, ease of implementation, use, and maintenance all play a role in this decision-making process.
Incorporate CRM into your Marketing Strategy
CRM is the future of business and is the fastest-growing market for software. Being able to create and maintain a steady relationship with your customers is one of the most crucial things you can do to ensure their return. Understanding your customers at a much deeper level is possible with Customer Relationship Management. A comprehensive CRM package includes at least channel management, sales automation, knowledge management, and more. These channels help a business improve its marketing strategy, and increase revenues and profit margins.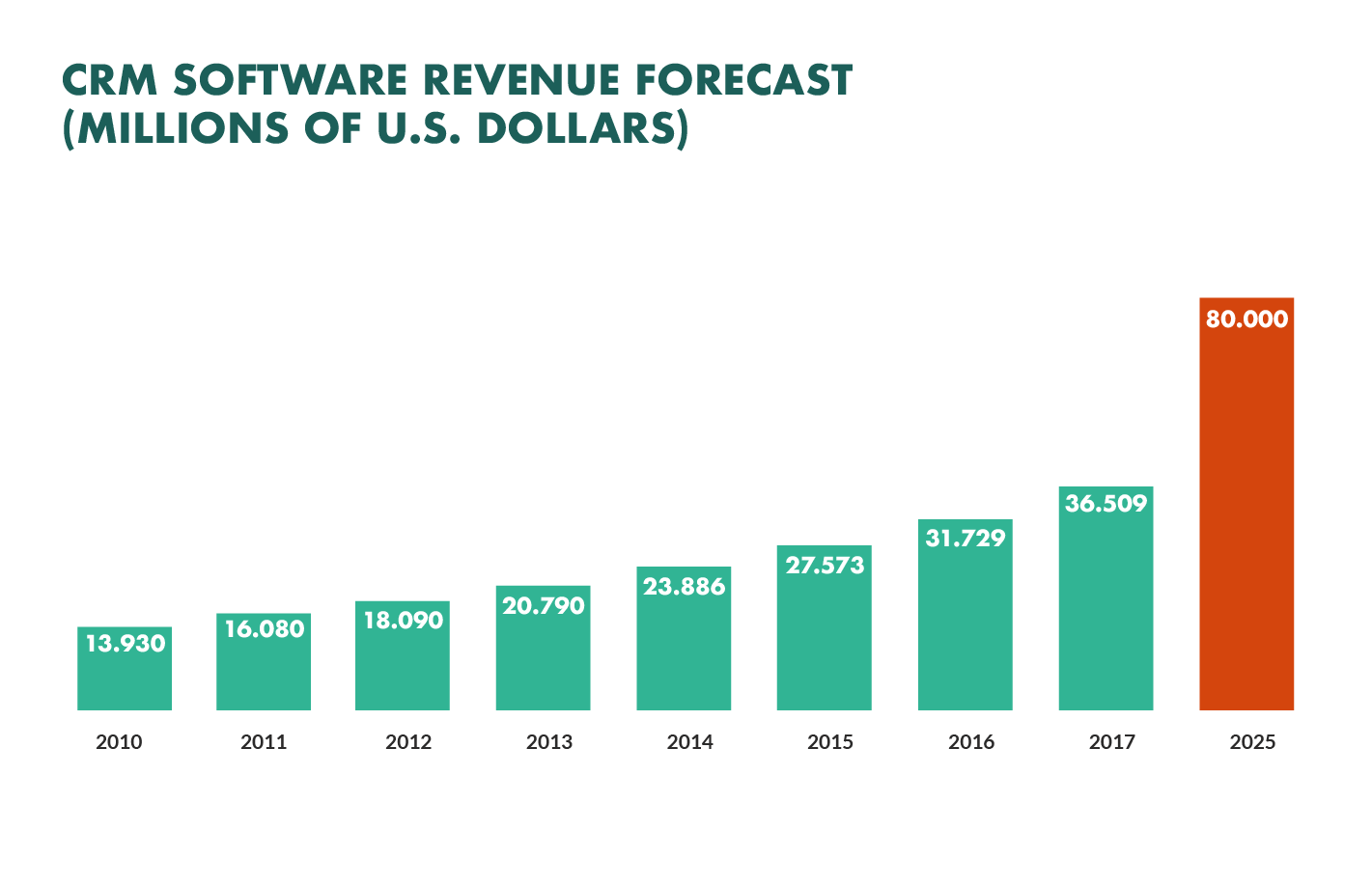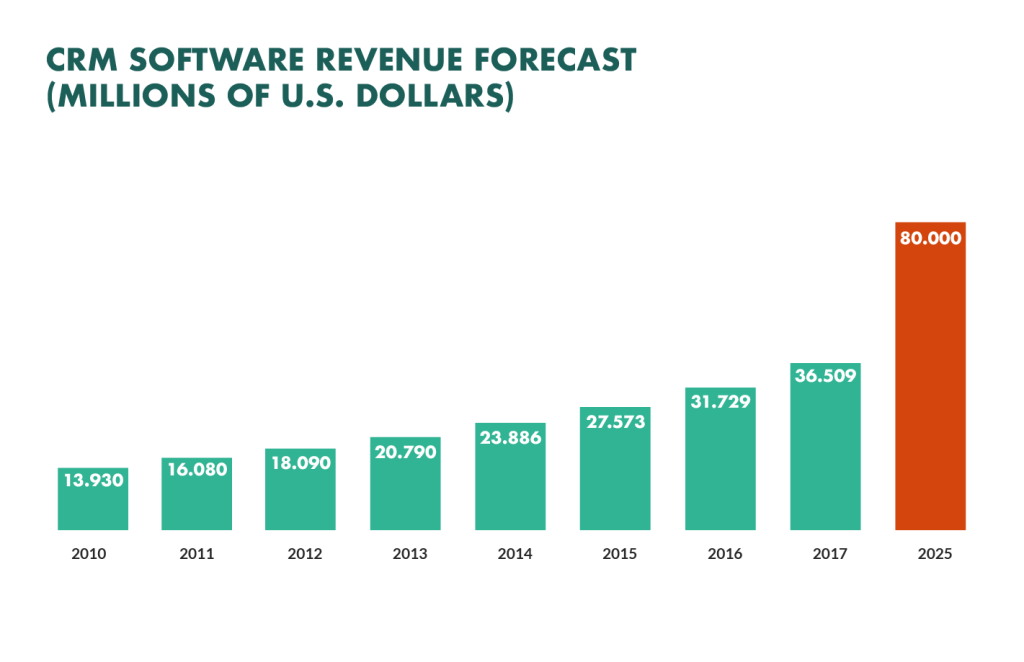 https://www.superoffice.com/blog/crm-software-statistics/
While each business has a specific sales and marketing strategy followed, CRM is an essential thread that should be seamlessly incorporated into it. Your business' existing marketing strategy may or may not include avenues that can improve customer relationships and satisfaction. The addition of CRM to it can change this for the better. The first step is to understand your existing sales and marketing strategy, and then find out how you can incorporate CRM into it.
2.1 How you can implement CRM to increase profits and enhance your marketing strategy
There are a variety of CRM techniques that are employed to improve marketing. Some of the most common ways are:
Tailoring and personalizing email marketing;
Conducting effective communication and using feedback properly;
Provide instant resolutions;
Increase customer retention; and
Predict data and analyze accurately.
2.2 How CRM helps in retaining customers
Customer retention is something every entrepreneur has heard about, but how many customers actually go back to a business? The answer is around 60-70%. There is a much higher possibility of an existing customer coming back to make a purchase compared to a new customer approaching your business for a first-time purchase. This is why it is wise to direct most of your marketing efforts into retaining old customers and making sure they come back.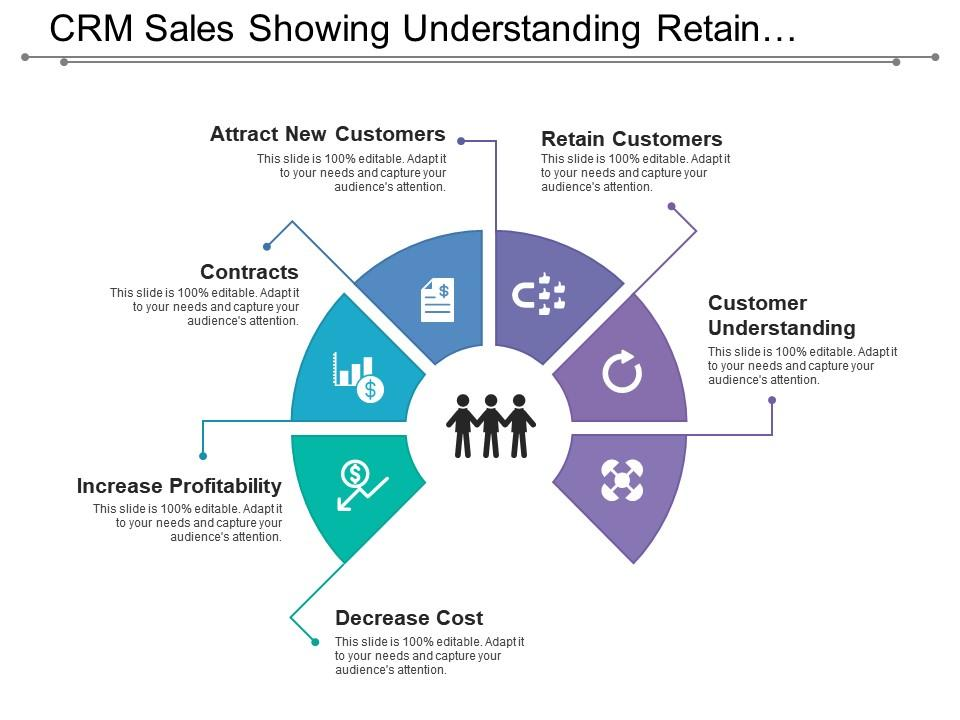 https://www.slideteam.net/crm-sales-showing-understanding-retain-customers-contracts-and-decrease-cost.html
CRM makes sure that not only the customer's purchasing experience is pleasant, but also their post-purchase experience. This includes answering queries regarding delivery, providing solutions in case of damaged goods, handling returns responsibly and responding on time, and more. A good CRM software allows you to get real-time updates and feedback from the customer, which will give you an idea of the process to follow to avoid losses and maximize profits.
Apart from this, of course, is the very obvious advantage of being able to communicate effectively with customers through CRM.
Consider your customer's last-mile experience
The 'last-mile experience' refers to the after-sales experience that companies generate for customers after the sales have been made. According to a survey conducted by Capgemini, purchase levels increased by 12% for customers who were satisfied with their purchase experience. In the same study, it was also found that almost 55% of customers are likely to switch their service providers if they are promised a more fulfilling last-mile experience.
There are many tools for managing customer experience at the last mile. In the pre-pandemic time, industries were actively working on making last-mile delivery faster and more robust. However, in the last couple of years, a few major challenges have come up in this space –
Shipping and delivery costs are increasing
All agencies are continuously competing to create better customer experiences, which often leads to a lack of consistency from a customer's point of view.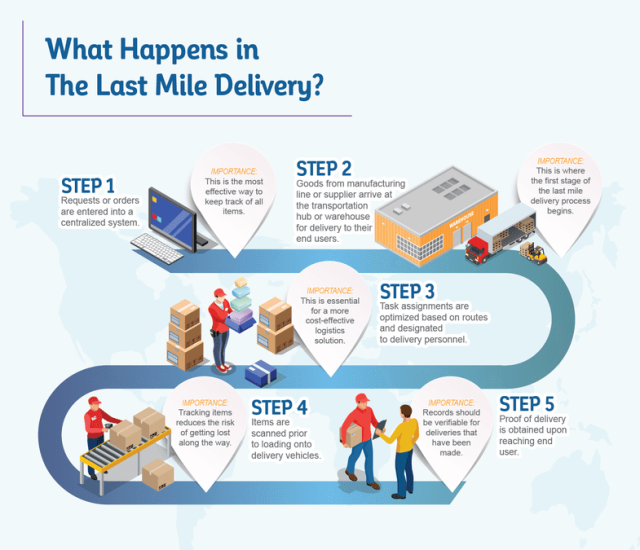 https://stanleylimorg.files.wordpress.com/2020/05/acebd-last-mile-delivery-1.png?w=640
Solutions
Here are a few ways to make the last-mile delivery experience better for customers and increase brand loyalty –
Give customers a choice of delivery – By allowing customers to choose the delivery time window, businesses give their customers a great sense of control, and show them that their time and preferences are valued.
Transparency regarding delivery – Customers who get real-time updates on the status of their order, an estimated time of completion, and arrival are more likely to retain service for longer. They are less likely to worry about their order, thus more likely to recommend the service to others also.
Optimal planning of delivery routes – Taking location, traffic and road regulations, fuel costs, delivery time window preferences, and hours of a commute into consideration while planning delivery routes will ensure that both service providers and customers have a better overall experience.
In this manner, a business can optimize its last-mile experience for customers.
Choose the right partners
While implementing CRM software for your business is usually simple, it might be easier to get the help of a local partner and use their expertise and experience with the same. This is especially true if you have a business that has special needs.
Most CRM vendors provide businesses with a list of verified, professional partners that can provide support in the area. If you don't get a verified partner from your vendor, you can look for independent partners that can assist with implementation. Here are some of the key factors you should keep in mind while choosing the perfect CRM partner for your business:
Knowledge
The most important factor that'll help you determine if the partner you've picked is the right one is how knowledgeable they are. Each CRM software comes with its unique specifications and the installation partner must be fully aware of them. CRM products also frequently get updated and require up-to-date knowledge. Your partner needs to be aware of recent developments and features.
Experience
Another highly crucial detail to keep in mind while looking for a CRM partner is the experience they've had in the industry. This allows you to get access to the best service in the area and reduces the chances of any possible errors during implementation. Your partner's experience in the industry will also help you if you need any assistance in the future.
Communication
Without this, a smooth CRM integration isn't possible. There needs to be a high level of professional communication between the business and the CRM partner, as you will require guidance and assistance throughout the implementation process as well as after. More on this in the coming paragraphs.
Resources
Since all the work is done using technology, you must pick a CRM partner that has access to state-of-the-art equipment that can make the transition easier and process it quickly. Partners with resources will also be able to provide you with their services at cheaper rates than those without a lot of resources.
Customer Reviews
The easiest way to know if a CRM partner is the one for you is by speaking to their previous clients and getting some feedback from them. Look for similar businesses within your industry and try to get in touch with companies that have similar needs as you. Their experiences will guide you and tell you what to do.
Establish continuous, frequent feedback loops
Piggybacking off of a point mentioned in the above paragraphs, establishing a consistent communication system between a business and its customers is highly significant to its running and long-term profit earning.
The process of collecting customer feedback does not end at gathering it. In fact, it is only the first step of what is a long and complicated process of exchanging information. This information has the ability to transform your business. As mentioned above, it is 25X more expensive to acquire new customers, which makes retaining old customers a priority for businesses. This is why using your CRM software to gather, categorize and effectively utilize customer feedback is one of the best things you can do for your business.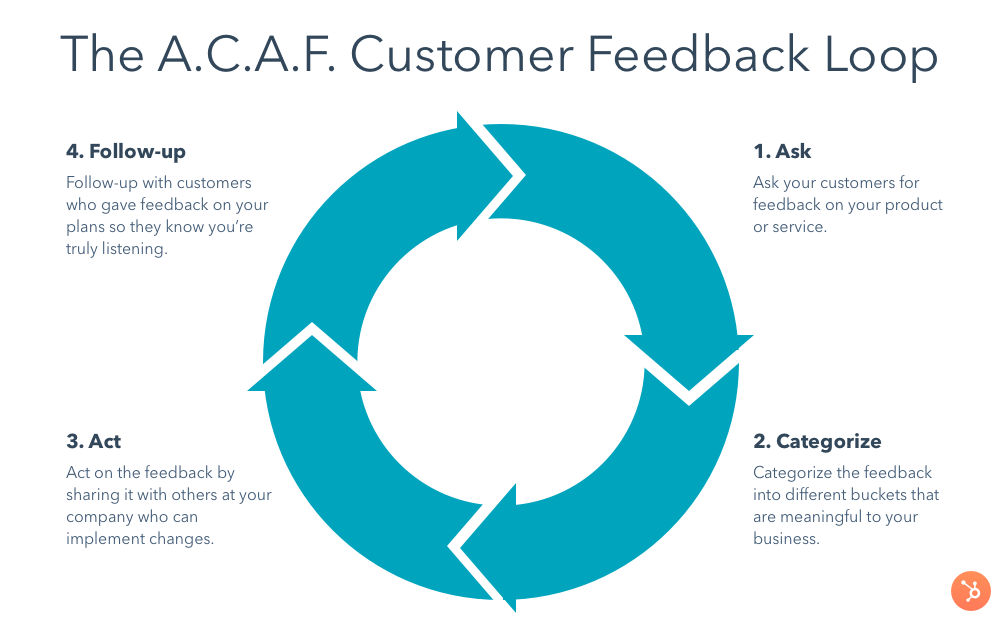 https://www.hubspot.com/customer-feedback
Most businesses employ the A.C.A.F. feedback loop method that consists of the following steps:
Ask: Asking customers for their valuable feedback is the very first step of this process.
Categorize: Putting these bits of information into different boxes comes next.
Act: Acting on the feedback received makes sure that you address the customer's needs and close the request.
Follow-up: The final step involves finding out if customers are happy with the services rendered.
One can also prepare a Customer Satisfaction Score test to find out if the customer is happy with their purchase. Another effective way is to get customer feedback by monitoring social media.
Integrating CRM with customer feedback tools can make the overall process of obtaining feedback a lot easier for the business as well as the customer. This can be done by conducting surveys, automating customer care, and maintaining a clear line of direct communication with customers.
Develop a robust project plan to enforce CRM
Choosing the right CRM Implementation software to fit a business need is only the first step to a successful CRM implementation. After choosing the software, a business must chalk out a road map for the implementation of the CRM. Here's a simple 4-step process for the same –
Firstly, they must clean up any pre-existing databases to remove inactive and duplicate customer interactions.
Secondly, the business must set up a simple process flow and train employees on the various feature functionalities.
Thirdly, a business must start adapting to the tool by migrating small amounts of data at a time.
Lastly, after successfully migrating pilot data, a business can move all of its customer databases onto the new platform.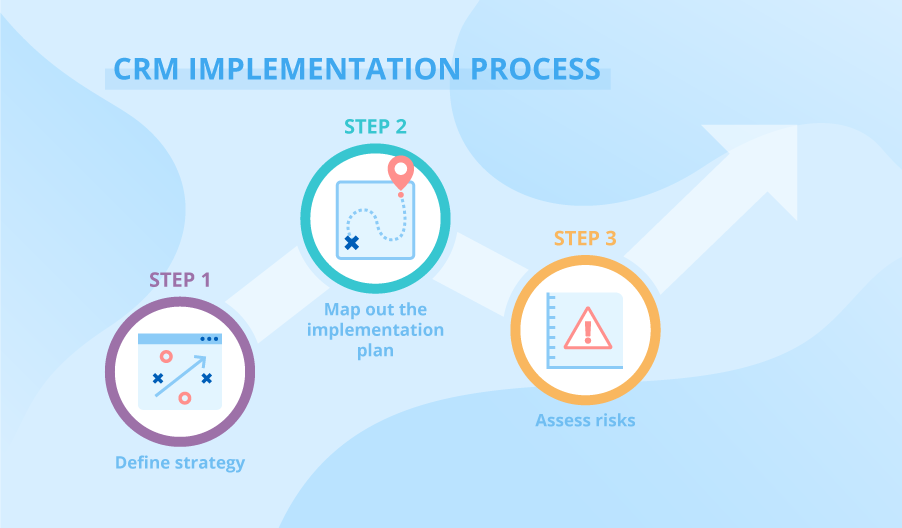 https://www.scnsoft.com/blog-pictures/crm-pics/crm-implementation.png
Taking ample time to understand and integrate the CRM tool into the business is the key to success. Get acquainted with some example project plans and papers at economyessay.net to learn how to describe and structure them, as well as use them in your CRM implementation.
Another way to look at this is by considering the product roadmap and user journey. A zoomed-out perspective will help a business to identify the different stages where potentially they might have to interact with customers – either for a sales pitch, receiving feedback, or building trust and relationships. Having a detailed project plan in place will help a business navigate each of these situations with ease and professionally.
Keep the scalability factor of your solution in mind right from the beginning of development.
A scalable CRM is important to any growing business for many reasons. Changes in the business operations, increase in the employees, pivot in the method of conducting business, and higher demands for advanced technology. These are some reasons why your CRM needs to be scalable.
Businesses operate on a large scale where it can be tricky to manage software and integrate them across all departments. All software introduced to the system needs to be consistently updated to avoid disruptions. Your CRM should be able to take the volume of inflow, especially during peak hours. Most software has a certain set of functions that are used during installation, but soon need reinstallation or update to function properly.
CRM is growing in popularity among businesses. Around 65% of new companies start using a customer relationship management system within their first five years of business. Scalability allows for quick and easy expansion, which provides the company with additional revenues and higher profits. In case of an expansion, the company needs to seamlessly transition into one that operates under a much bigger budget. A scalable CRM system also defines the operations in a business, including the various processes that make up a single operation more clearly.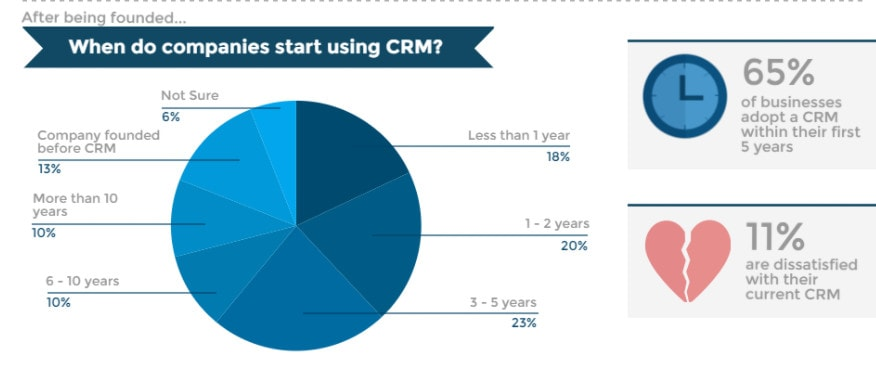 https://findstack.com/crm-statistics/
Concluding Words
In conclusion, CRM is no longer an optional good to have for business, it has become a necessity. In the modern world, happy and satisfied customers have become a stronger voice and identity than any branding strategy can offer. Hence, it is important for every business to be well versed in the art of understanding their customers and knowing how to manage their various needs. CRM is a tool that aids invariably with this, and hence, its role in the world of businesses is irreplaceable.
https://act.com/en-gb/what-is-crm/
About the Author – Jessica Fender
Jessica Fender is a marketer and blogger. She did her post-graduation in Marketing with a specialization in business expansion and customer management. She worked as a freelance consultant providing her services in the niche of both product and brand marketing. She joined IsAccurate as a marketer after gaining a few years of industry experience as a freelancer. She is also a prolific writer and editor and often writes blog posts for IsAccurate as a way of sharing her knowledge and expertise with a larger audience.