Social Commerce: How Brands Can Prepare Themselves for Future
---
Social platforms have developed eCommerce environments that are not only curated and personalized but brand-friendly. Well-known eCommerce platforms like Etsy and Amazon do not have an easy discovery path for businesses. They produce hundreds and thousands of results when users search online. This simply means that business owners compete in terms of shipping speeds, pricing, and other aspects, leaving space for brands to build connections with customers.
Sales through social channels around the world are projected to triple by 2025; the global social commerce industry is projected to reach around $492 billion. This sector is expected to grow three times just like traditional eCommerce and is expected to reach around $1.2 trillion by 2025. This growth is driven by Millennial and Gen Z; however social media users' value has grown by 62%.
As the social commerce market is growing, more than 50% of brands are planning to increase their investment. However, more marketers are enjoying the power of social commerce to drive sales, making it a staple channel for D2C brands.
You might be wondering about how advertisers continue to stay relevant and ahead in today's evolving social commerce arena; read the article till the end to find the answer to how social commerce can help you prepare your brand for the future.
What is Social Commerce?
Social commerce is a component of eCommerce where merchants can easily sell their products through social platforms, enabling potential customers to browse goods, make purchases, and interact with brands. Unlike SMM (Social Media Marketing), social commerce gives consumers the option to checkout from social channels.
Social platforms also contain links that lead to the retailer's product page, where consumers can complete their purchases. eCommerce businesses saw a great boom during a pandemic; similarly, the social commerce market experienced enormous growth. eMarketer reports show that US social commerce sales increased by almost 38% in 2021, which amounted to reaching around $36.62 billion.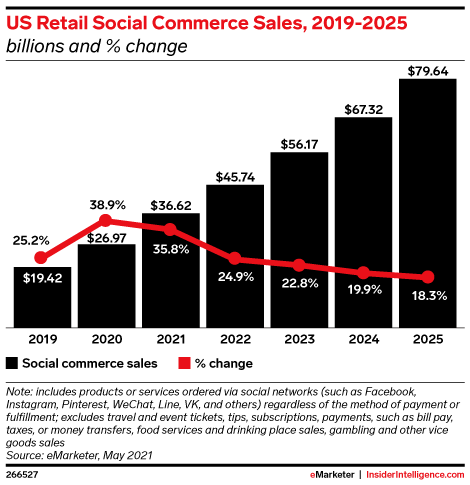 Source: (eMarketer)
There was an unexpected boom in 2020 when sales surged, and all thanks go to the pandemic-driven boom in eCommerce and increased social media usage. With a more than 30% annual growth rate, the global social commerce market is forecasted to reach around $604.5bn by 2027.
Social Commerce VS. Ecommerce
Although social commerce and eCommerce fall under the same umbrella, they are two different terms. eCommerce refers to an online shopping experience through a branded app or website. Brands choose to develop eCommerce platforms like Shopify, Amazon, BigCommerce, and more. Consumers can easily access these websites through their smart devices or desktop. In lots of cases, the eCommerce sales funnel looks similar.
Social media content, digital ads, and other marketing strategies act as top-of-the-funnel tactics to lead consumers to the online store. Even after reaching the store, consumers have to go through a few essential steps to complete the purchase journey; this might lose customers' interest and potential sales.
More than 92% of active users access the internet through their smart devices. They have a cart abandonment rate of almost 86%, but all eCommerce sites aren't mobile-friendly. Here is where social commerce comes into the spotlight. Rather than redirecting customers to an online store, social commerce gets the store to the customers and helps them find everything wherever they need it.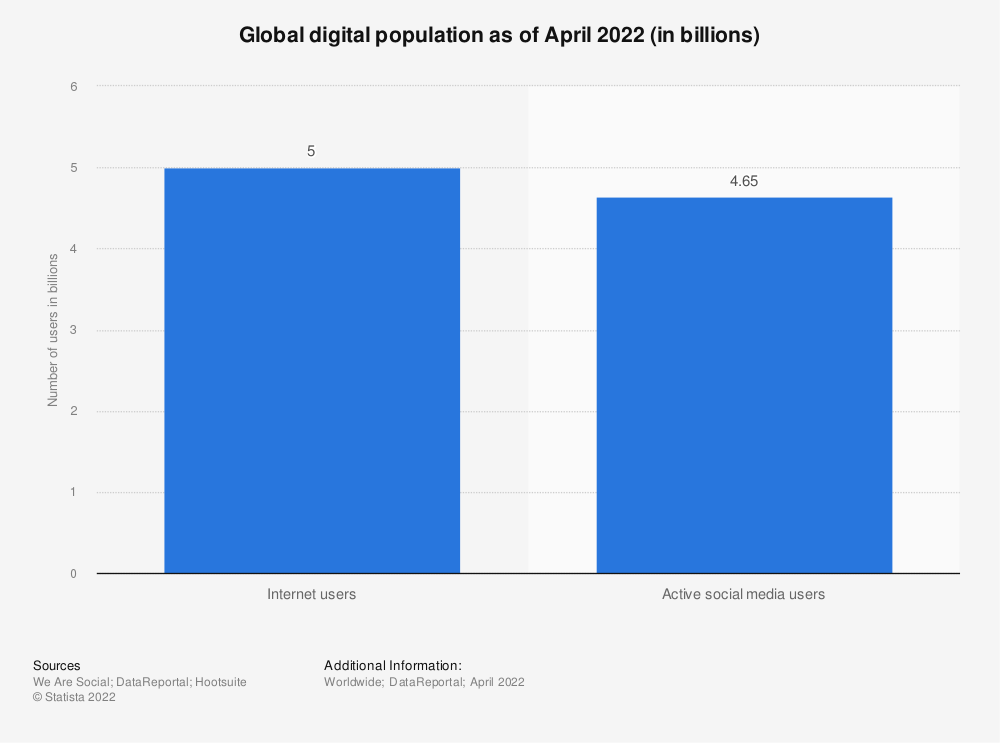 Source: (Statista)
Social commerce enables customers to directly checkout through social platforms and removes all unessential steps, ensuring a streamlined buying process. This builds a frictionless journey for the patron and more sales and profit for the retailer. As social media is mobile-friendly, social commerce is an accessible way to reach wider audiences.
Top Social Commerce Platforms
While Facebook, Instagram, TikTok, LinkedIn, and other platforms are the leading ways in social commerce functionalities. Every social media platform has its unique purpose and successfully attracts a niche audience, each offering comparative strengths that shape its approach to social commerce. Let's have insight into key features of top social commerce platforms to find the best one for your business.
Facebook
In the first quarter of 2022, Facebook had around 2.93 billion monthly active users, making it the most used social network globally. As of January 2022, the leading audience base of Facebook was in India, with nearly 330 million users, while it ranks second in the US with a total of 179 million users. The social platform finds remarkable popularity in Brazil and Indonesia.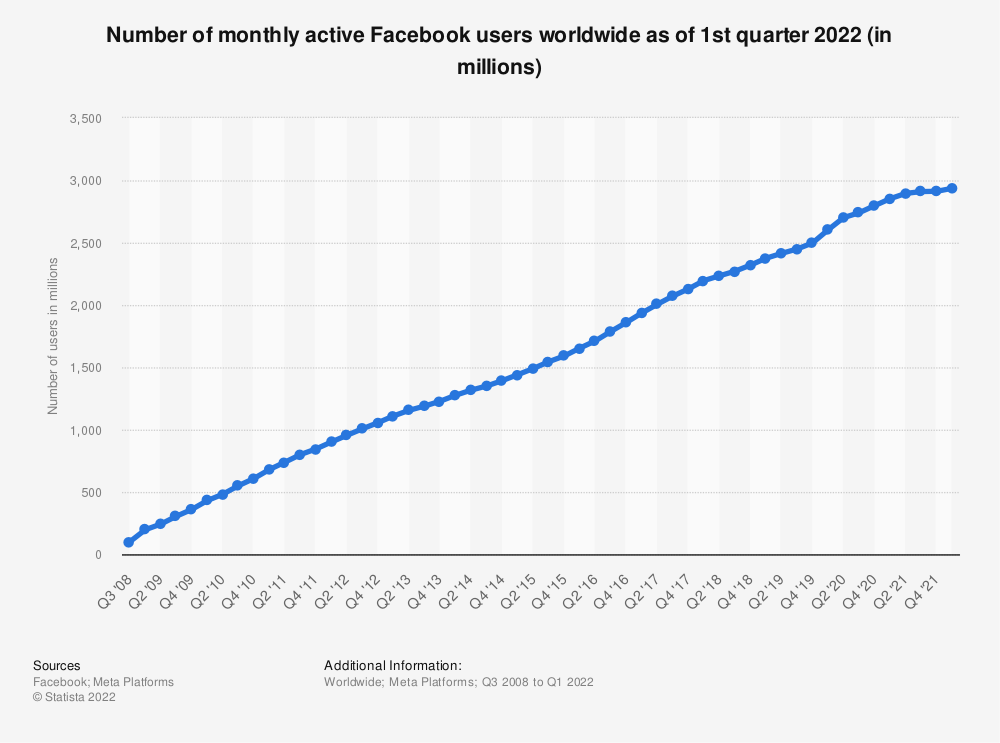 Source: (Statista)
Facebook shop helped businesses to launch their venture online and build shippable storefronts. Facebook shops are fully customizable, free, and mobile-friendly, enabling you to import an existing product catalog or make a new one. Once customers discover your product and page, Facebook features products based on customers' preferences.
Once your customers discover your page and products, Facebook does the work of featuring products based on the shopper's unique preferences and search history, ensuring to give them a personalized customer experience. The social platform also makes it easier for you to communicate with customers through Messenger and answer all queries and offers amazing customer support.
Instagram
More than 70% of customers check for Instagram to discover business products, a social media platform that has more than 1 million monthly active users in 2021. However, it is forecasted that there will be 1.44 billion monthly active users of Instagram by 2025; hence it wouldn't be wrong to say that it is one of the most promising social media platforms.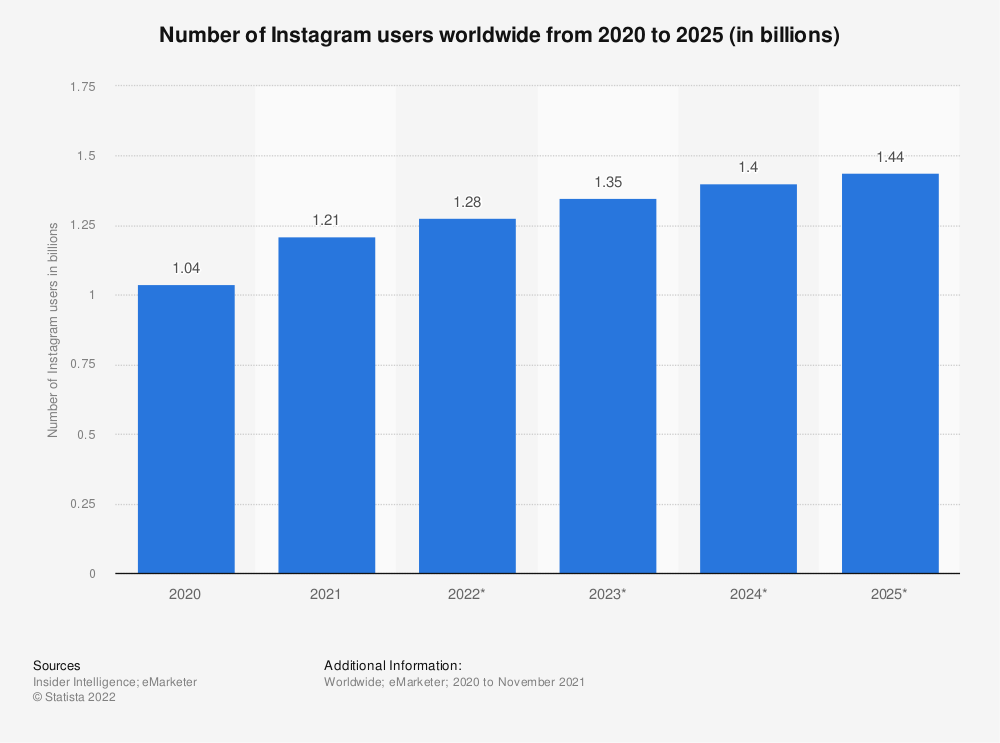 Source: (Statista)
Well-known for its photos, videos, and stories, Instagram is an ideal space for sharing a high-gloss brand image. If you have a great following on this social platform, then why not place your product and turn them into customers and drive more sales.
Just set up an Instagram shop and link it to your Facebook shop; this makes it easier for you to upload product catalogs and start tags for them. This enables you to create shoppable posts as well as streamline purchases directly from the platform.
You can also choose to use Twitter, TikTok, Snapchat, Pinterest, and other social platforms to list your business products or services. Many companies these days are eliminating the middleman and focusing on direct customers' purchases within social platforms themselves. Whether it's Instagram, Facebook, or other social media sites, they are taking advantage of FOMO as it helps direct followers to reach checkout pages with ease.
Why is it Worth Investing in Social Commerce?
Ecommerce shopping lives and dies by the customer's purchasing experience with the brand. Merchants who own this experience have amazing control over everything. However, social commerce is an excellent opportunity for business owners to reclaim their destiny by owning the customers' experience and developing strong relationships with them. There are lots of benefits that businesses can enjoy by choosing to invest or paying attention to social commerce.
1. Get a chance to reach huge numbers of potential customers on social media;
2. Improves brand awareness and social media presence;
3. Makes it easier for you to reach your target audience;
4. Convenient, frictionless buying;
5. You can generate social proof.
There is a lot more on the plate; you just need to try a new approach to experience how it works for your brand. Social commerce will provide you with a lot more than you have ever imagined. Besides that, investing in a video streaming script can also prove beneficial as it makes it easier for you to upload and share videos helping you promote your products or services with ease. Create a video showing your product use, benefits, and more, and just upload it on the platform to attract more customers. Don't forget to add the link to the product page or checkout page in the video to make the purchase easier for your ideal customers.
Wrapping Up
Social platforms have opened new doors for businesses to connect with their potential customers, helping them to keep them updated about their newly launched business products, services, and more with ease. Social commerce is a new frontier that has become mainstream these days.
It is accessible for big and small brands to experiment with social commerce and experience business growth. However, the most successful business is those who plan and implement a strong omnichannel strategy that weaves everything together to create consistent business and helps to provide an engaging customer experience. Social commerce is key to achieving your targeted goals, and it will definitely help you meet the audience's requirements whenever and from wherever they want.
Author Bio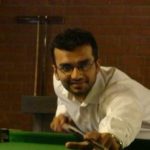 Gaurav Kanabar is the Founder and CEO of Alphanso Tech; an India-based IT Consulting company that provides Spotify clone script and other app development services to individuals as per their specific demands. Besides this, the founder also loves to deliver an excellent niche helping readers to have deep insight into the topic.
---