Proven tools that can enhance your Instagram promotion in 2020
---
Are you one of those young businesspeople or ambitious marketing specialists who sometimes asks yourself:
How do I attract a really interested audience to an Instagram account?
As the competition in this social media market (it's no longer just a platform) is getting more intense, you need extra tools if your goal is making money. Inflact is an all-in-one toolkit that offers everything a social media manager would need to promote IG. The website is rated 4.3 on Trustpilot, which made me curious about its functions.
According to reviews, many people were able to grow the reach of their posts by 3 times. Also, the Direct module is more than just a desktop messenger; many business people use it as a CRM platform for managing customers they get from IG.
So, what is so special about Inflact? How do marketers and business owners benefit from using these tools? Let's dive right in and take a closer look.
Spoiler alert: this review is not about teaching you how to buy fake followers or use bots. The promotion techniques are genuine, safe, and organic.
Business on IG: popular & worthy tools for commercial accounts
Looking at the practical experiences of users, the Hashtag Generator and the Direct module are the top tools for commercial Instagram. The first one lets your posts get higher exposure, while the second one boosts your customer relations management. For this reason, I'll  introduce to you the Hashtag Generator first.
#1 Tool for hashtag research
For anyone who is still hesitating about whether they should apply hashtags or not – you are missing new audiences who are searching for your content! Look, 97% of people wouldn't be able to find my image, if it wasn't for hashtags: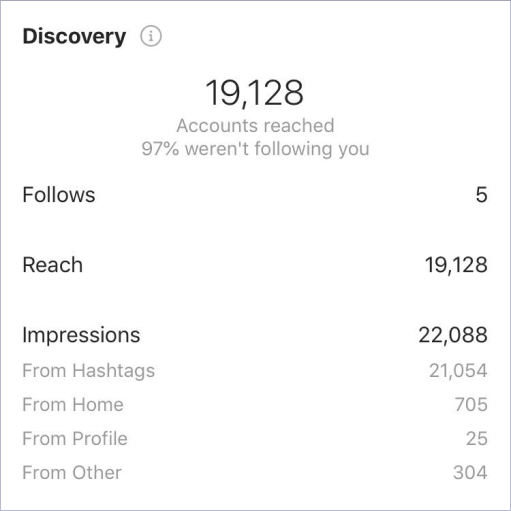 At its core, a hashtag finder is a smart database of Instagram hashtags. Good services, like Inflact, update the data frequently. While it is difficult to insert tags from the search menu to a caption in the app, smart users apply the Hashtag Generator for research, copying and pasting.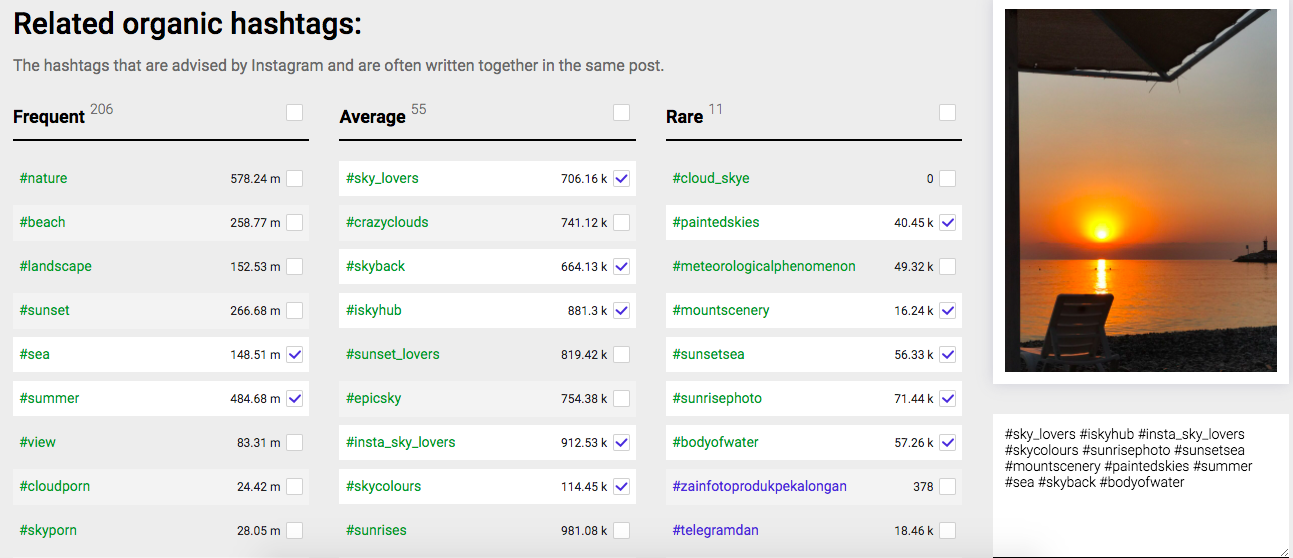 Here are the advantages:
Copyable tags suggested by Instagram.

On Inflact you can discover the hashtag recommendations by IG. Then you simply mark the boxes of the ones you want to insert them later into a post.

Lazy search options.

If you are tired of researching keywords, you can paste a link or a photo into the tool. It will show you tags associated with your content.

Precise search by 5 keywords.

I've compared several tools, and no other service had an option to search multiple keywords at the same time. Here you can type up to 5 synonyms separated by commas so that the results combine all of these words.

Deep analysis.

If you want more insightful data about a hashtag instead of just a number of posts, tap on it to examine the recent and best publications using the tag. That's a good way to ensure a hashtag's content is related to your post.

Real followers.

People who found you through hashtags are already interested – they searched for these hashtags, or maybe they follow niche tags. For this reason, this audience will become your potential clientele.
Pro tip: try the Auto-updated caption feature in the Posting service. With this feature, 3 different hashtags sets consisting of 30 hashtags can be used for one post. It triples the reach, i.e. the chance that your content will be seen. You don't need to update your caption manually; your hashtags will renew automatically on a schedule..
Based on the article from the Inflact blog, they tried various strategies with hashtags, and it's helpful to learn from real practice. Don't hesitate to investigate the Generator along with the tutorials if you are hunting for real followers.
#2 Direct messenger & CRM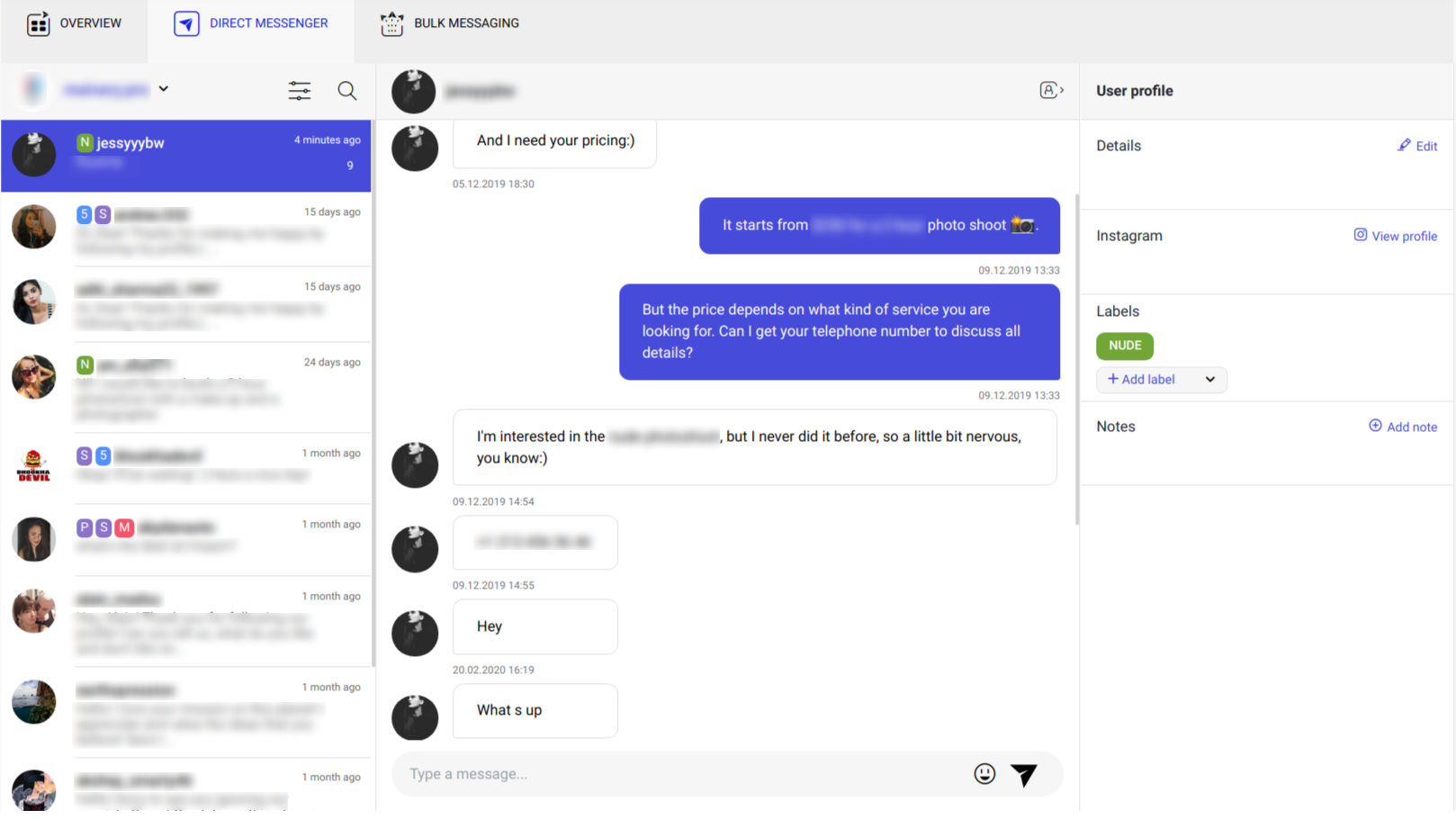 The number two tool to master for business on IG is the Direct module. Although Instagram made it possible to view DMs from the desktop, this service has more advanced features you will find very useful. If your Direct folder is often busy, if you get repetitive questions about your products or services, or if you manage contests and reach out to people via the Instagram DM, this robust tool will simplify your life. Why?
Look at the opportunities:
Control many profiles from one dashboard.

You can connect all your Insta accounts to the Inflact Direct module so that all the incoming messages appear in one online chatroom. This is convenient if you have several businesses or need to view DM you get in both a personal account and a business account.

Labels for various DMs. It's possible to organize chats with the customizable labels – pick any colour and give it a name. Then you can use the search bar to filter the particular label you need. Thus, you can design labels associated with customers, employees, partners, influencers, etc.

Keep all the info about your clients. As I noticed, this Direct tool is similar to a CRM because anyone can make notes about orders and add contacts of clientele. Also, the words that users type in the Notes and Contacts sections are searchable. Therefore, workers can efficiently find any customer or order from the chat history


Single database for all workers.

Your team can use the database to monitor orders, check addresses, and stay tuned with clients. At the same time, they can use the information they need anytime without having the password to the IG account.

The most advanced options for DM automation.

Inflact lets you set aside several types of auto DM – welcome DM, auto-replies, bulk mail-outs, and shortcuts for quick replies. It's easy to arrange an auto-reply by trigger phrases, so if you receive a DM, the associated text will be automatically messaged. Moreover, it is possible to set up replies in multiple languages. The system will detect a language and choose the right response. That's what any business needs if you're operating in international markets.
With such well-defined automated responses, you can organize 24/7 customer support on Instagram – simply automate the solutions to all the common problems.
Conclusion: this DM tool is a robust software that levels up your relations with your Instagram following. You can establish really deep and personal communication without the need for continually typing and staying online. Maybe this functionality is a little bit too much for users who only need Instagram for personal use, but it's a must for commercial accounts and influencers.
#3 Target growth feature

If you need to draw new fans to your Instagram, you should be active – put likes, watch Stories, follow those who may be curious about your services. But what if someone else can perform these routine tasks for you? Meet the Promo mode – it will keep your profile live so you don't have to.
This automation mechanism simulates the actions of a casual Instagrammer and strives to bring new visitors to your account. It is possible to target it for a specific niche – an audience of your rivals, or specific hashtags, demographics, and locations. Promo works even better than ads, and it is completely safe if we compare to dubious bots. It does not perform too many activities, so its behavior looks genuine.
Make use of this feature, if you aim to grow a loyal fanbase but still value your time.
#4 Posting
Finally, the Scheduled Posting tool is what a business owner or a digital marketer needs for perfecting Insta. There are many similar post planners, and generally they let you upload posts in advance and schedulet the time to be sure that the content is published at just the right time. Also, it's a good way to preview how the feed will look
What I like about the Inflact posting tool are the auto-updated description and the edit function. The first one allows you to try up to 90 hashtags per post – in three sets of 30 that will be changed automatically – and this can significantly grow the reach. The second one allows you to edit uploaded posts right from the desktop tool. Also, you can find hashtags for an image by clicking on the button in the Scheduled Posting dashboard.
All in all, even though these are paid features, this investment is worthwhile if your business gets clients from Instagram. In addition, there are free tools that better your Instagram life.
Best free Inflact tools
Profile Analyzer. This smart tool is a find if you want to spy on your competitors. Firstly, you should make a list of top accounts in your niche. Then, simply paste their usernames into the Analyzer and see insightful data. You will discover what time your competitors post, how often they update their content, and what tags they apply. Additionally, users can inspect top content (with a high number of likes), and this will help you understand what your target audience wants.

Instagram Downloader. This service has all the tools to save and keep media from Instagram in high quality. Thus, if you need to download posts, Stories, clips from IGTV, and saved Lives, check out this feature. Also, there is a paid option to download Stories of any account automatically. BTW, downloaders for other socials are also available for use.
Anonymous Story Viewer. You can check on the Stories of any public account without appearing in the lists. What's more, you don't even need an Instagram account to watch Stories. With this tool, you just need to insert a nickname, and the content appears on your device.
Stories views are important when building a great Instagram following, that is why some profiles buy Instagram story views.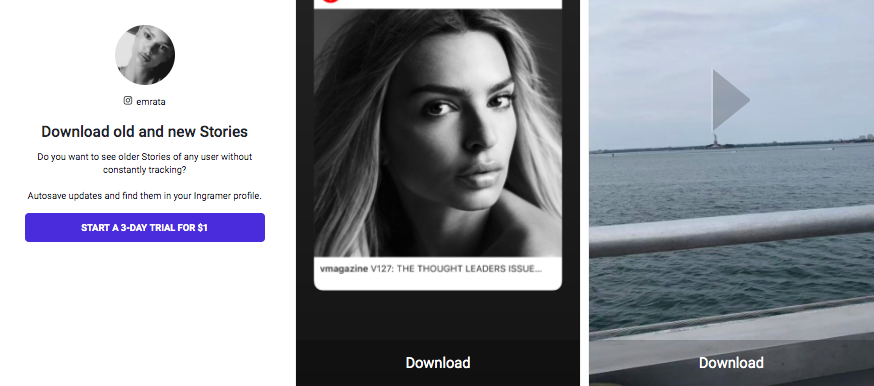 IG Search. You won't be charged for using this service, and it is a rare find for digital marketers. It functions as a database of Instagram profiles supplied with search fields. Users can type keywords that should be present in the nicknames or bios they are looking for, and the required results appear in a heartbeat. Plus, users can mention the number of fans an account should have. Take advantage of this search machine if you work with influencers and want to reach out to new people.
Fonts Generator. If you want to stay dope on IG in 2020, you need to add some fancy fonts to your account. People are bored with the built-in font, and sometimes long captions are hard to read. Thus, italic and bold, stylish fonts will help you to emphasize the main messages in your copy, bio, and descriptions, as well as decorating your name.
Analytics. If you want to look into your Instagram Analytics then apart from Google Analytics there are a number of new services starting up.  SocialFox, for example, can track followers, hashtags, stories and more.
The wrap-up
The right pack of tools for Instagram management and promotion can boost the results of your strategy. You will save time that you now spend on the routine tasks and get better results effortlessly. So, if you handle an IG shop or are responsible for social media marketing, take a look at the Inflact tools. Even though they won't give you instant results, the steady growth of organic followers is guaranteed. And surely, the Direct module gives you more possibilities to establish long-term relations with your clientele.
---