Marketing Platforms Made for Retailers and How to Use Them to Take Your Marketing to The Next Level
Marketing platforms are designed to help streamline various tactics and improve the efficiency of onsite marketing teams. This is done by automating repetitive tasks, creating one central location to create and manage multiple channels, and track customer data and campaign metrics. 
Just as these platforms do for any other company, they can benefit businesses within the retail industry. From automating promotional emails to predicting products that your customers are likely to be interested in, a marketing platform can make a big impact on your bottom line. 
Here are a few quick examples of how a marketing platform can benefit your company: 
By automating tasks, your marketing team can save time and shift their focus to other important tasks

Target customers based on their previous browsing and purchasing behaviors to increase sales

Send relevant product recommendations based on real-time customer data

Create, schedule, and manage tactics including email, SMS messaging, social media, digital advertising and more
There are a number of platforms available to help make your marketing processes easier. No matter if you're looking for a platform that provides you with an all-in-one solution or something more focused on email marketing — it will save you time and increase efficiency. 
In this article, we'll take a look at 8 platforms that are great options for retail businesses and discuss the things you'll want to look for when investing you're getting ready to invest in a new marketing platform. 
Here's a quick look at the platforms we'll cover: 
Listrak

Omnisend

Eloqua

Constant Contact

Automizy

Mailchimp

Act-On

Pipz
8 Retail Marketing Platforms 
Choosing the right marketing platform for your retail business can make all the difference. In this section, we'll take a look at 8 retail marketing platforms you'll want to consider. While these are broken out by their main capabilities, each offers their own unique features and benefits. 
All-in-One Retail Marketing Tools
The first grouping we'll look at is all-in-one retail marketing tools. These platforms will allow you to do more to reach your customers all within one platform. From email and SMS management to identifying future opportunities through analytics — these tools will have you covered.  
1 Listrak
Listrak is a great retail marketing platform that allows you to manage marketing tools such as email, SMS messages, and social media. It's also a great tool if you're looking to leverage advanced technology to make data-driven decisions based on customer behaviors. 
Pricing: Varies based on the needs of your business and contracting prices


Listrak provides retail marketers with a full marketing platform to help improve efficiency and convert more customers. From managing the creation and execution of your marketing tactics, Listrak has you covered from start to finish. Image courtesy of Listrak. 
With the help of the Listrak platform, you'll be able to take your retail marketing business to the next level. No need to have multiple platforms or hire new resources that have specialized skill sets, this platform does it all. 
"Our previous digital marketing provider could not deliver the results, product depth, and support that Listrak does. We could tell from the minute we began onboarding with Listrak, there was no comparison. They truly care about our business' success and help us daily to maximize our growth." – Listrak Customer Testimonial 
What this platform can do for you: 
Manage your email marketing and improve engagement through retail-time customer journey orchestration, abandonment and trigger messaging capabilities, and predictive product recommendations

Easily reach customers on their mobile devices through highly-targeted SMS marketing campaigns that send the right message at the right time

Improve social media by using smart social campaign audiences and implementing automation and cross-channel campaigns to create one seamless experience

Learn more about your customers and improve your marketing efforts across the board with the help of artificial intelligence, machine learning, and predictive analytics
If you're looking for a retail marketing tool that has everything you need in one platform (and more) — Listrak is a great solution. 
2 Omnisend
Omnisend is another great retail marketing platform that allows you to create and manage marketing efforts. From improving automation and cross channel integrations to improved segmentation and form capabilities — it's one you'll want to consider. 
Pricing: Pricing is dependent on how many contacts you have and committing to an annual plan does provide you with a discount. There are four plan options including the Free plan, the Standard plan starting at $16 per month, the PRO plan starting at $99 per month, and the Enterprise plan that has custom pricing.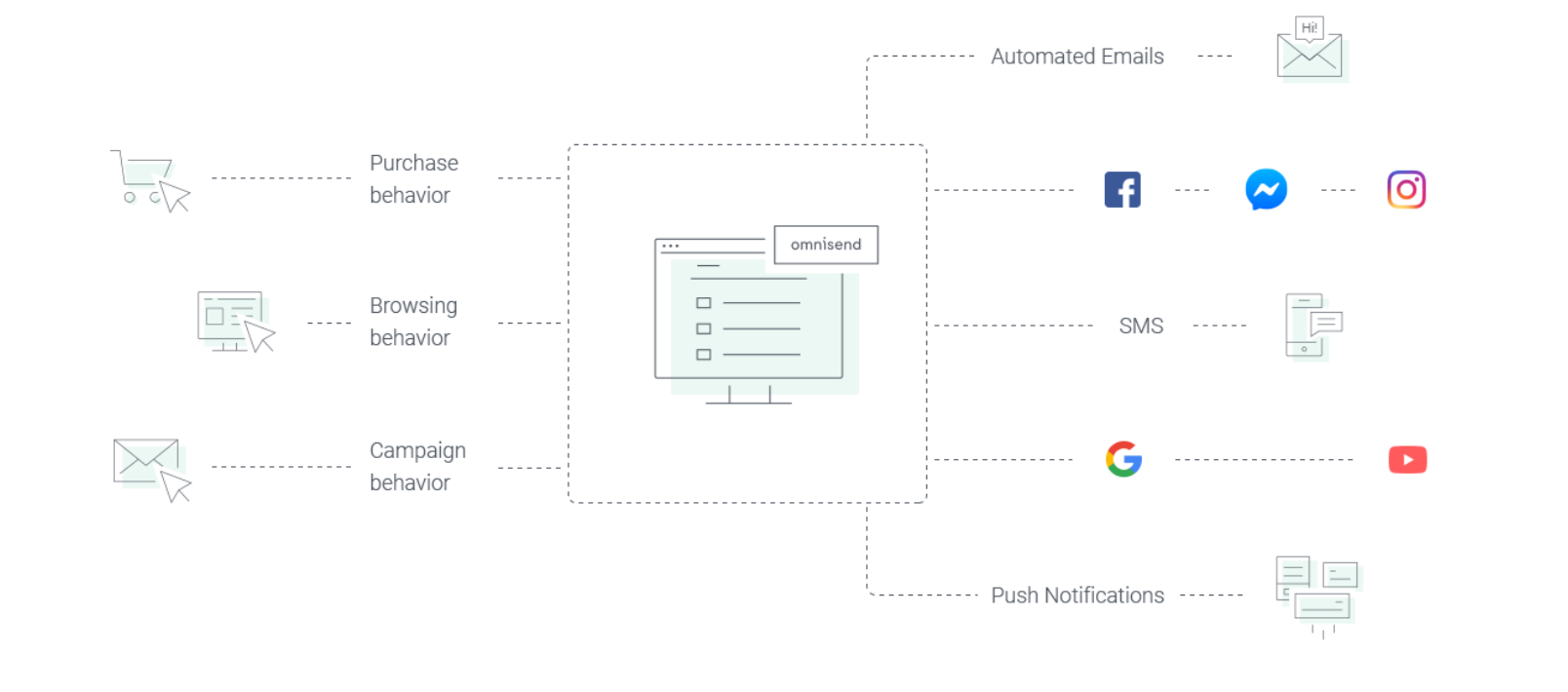 Omnisend makes it easy to connect with your customers and provide the right content, on the right channel, at the right time. With the backing of customer data, you can stop wasting time questioning what your customers want from you. Image courtesy of Omnisend. 
Take your marketing further by making informed decisions and connect with your customers across various platforms to make the biggest impact. Managing all of your marketing tactics in one central location will help you see a holistic view of your efforts. 
"They make sending beautiful, professional emails very easy. Great pricing too. Very fair. Exactly what I was looking for in an email marketing app." – Omnisend Customer Testimonial 
What this platform can do for you: 
Build automated workflows to reach customer across platforms in from one easy to use platform

Create, send, and track emails including general marketing messages, triggered campaigns, and abandonment cart emails

Improve targeting with better segmentation by using real-time data to drive each customer grouping

Track campaigns to easily identify areas of opportunity and improvement for future marketing efforts
Omnisend is another great option when looking for a platform that allows you to leverage a wide variety of marketing tools. 
3 Eloqua
Eloqua is a complete marketing solution that helps you reach customers across their entire lifecycle. Offering capabilities from targeting and segmentation to robust tracking and reporting, Eloqua will definitely help take your current efforts to the next level. 
Pricing: Varies based on the needs of your business and contracting prices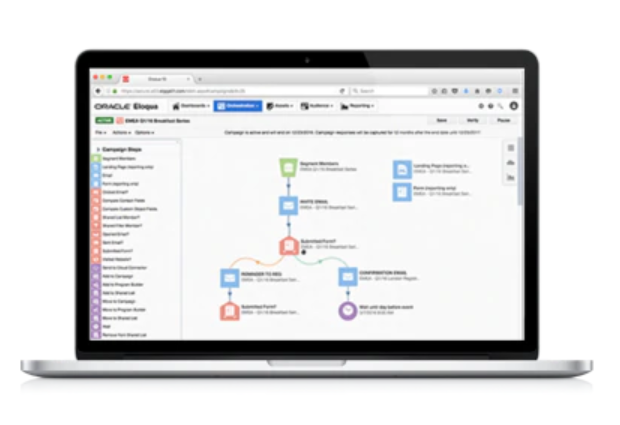 With an easy to use platform, improving your current marketing efforts has never been easier. From integrated workflows to sending emails at the right time, you can get it all with Eloqua. Image courtesy of Eloqua. 
Backed by the power of Oracle, Eloqua is a valuable tool to improve your current marketing efforts with one platform. Bring all of your marketing channels together into one central platform to create a comprehensive experience. 
"Oracle Eloqua: a robust and powerful software for marketing automation." – Eloqua Review
What this platform can do for you: 
Improve targeting and segmentation by collecting customer behavioral data and better understand their personal preferences

Implement cross channel marketing efforts to increase conversions and create a comprehensive customer experience

Leverage Eloqua's analytical capabilities and dashboards to track and manage your campaign success

Reach customers across their entire lifecycle through personalized campaigns that span multiple channels and tactics
Ranked as one of the leading platforms, you'll want to add Eloqua to your list of platform considerations. 
Email Focused Platforms
The following platforms are for retailers who are looking for a platform to automate and manage their email marketing efforts. Each provides their own benefits, but all are great options when looking to invest in a new software.
1 Constant Contact
Constant Contact is an email marketing focused platform that will help small business retailers improve their customer communications. With capabilities ranging from list segmentation to developing campaigns and triggered emails based on customer behaviors, Constant Contact has you covered. 
Pricing: Pricing does vary based on the number of contacts in your database, but there are two plans available for email marketing. The Email plan starts at $20 per month and the Email Plus plan starts at $45 per month.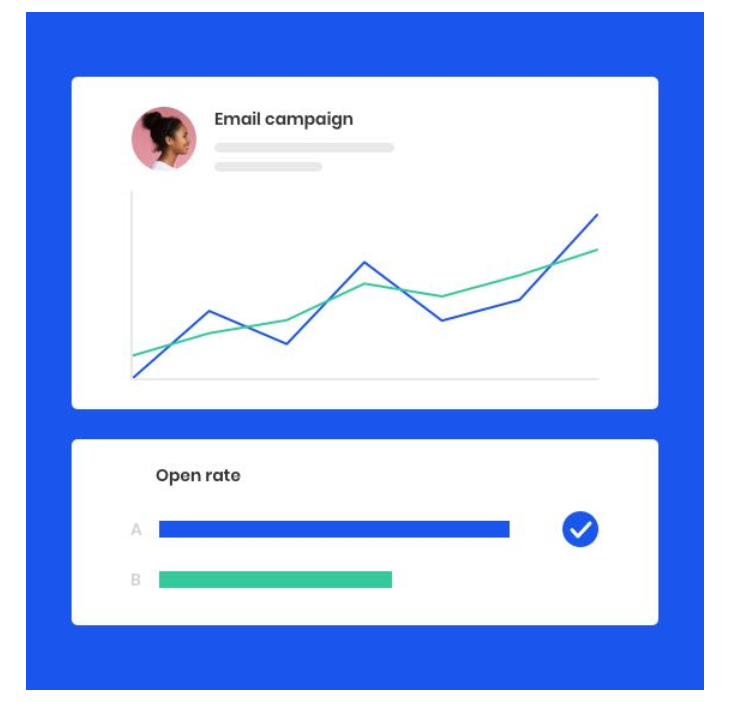 Constant Contact will allow you to create, manage, and track your email marketing efforts from one easy to use platform. By understanding your customer email interaction data, you can improve future campaigns and see higher success rates. Image courtesy of Constant Contact.
With a heavy focus on email marketing, Constant Contact is a great option for retail companies that are looking to improve their current email efforts. You can easily manage and automate your current processes and see higher engagement through improved personalization. 
"Using Constant Contact has been really powerful for growing our business." – Constant Contact Customer Testimonial
What this platform can do for you: 
Quickly and easily create emails without needing to know technical the HTML details with a simple drag and drop editor 

Continue building subscriber lists and improve customer segmentation and send more relevant emails

Create campaigns to nurture leads and engage your audiences through automated triggered emails 

Improve results by resending emails to customers who didn't open the first email 
If you're simply looking to take your email marketing capabilities to the next level, Constant Contact is a great option. 
2 Automizy 
Automizy is another email marketing platform that can help retail businesses improve with the features, templates, and technology they need to grow. With this platform, you can expect easy automation, improved subject lines, advanced A/B testing, and much more. 
Pricing: Varies based on the number of active subscribers, but can start as low as $9 per month. 
Make automating campaigns easier than ever with Automizy's simple automation builder. Quickly develop high performing email campaigns that provide your customers with the content they want. Image courtesy of Automizy. 
Improve your email creation, automation, and management with an easy to use platform. With the help of Automizy, you can continue to grow your subscriber list and improve email efforts through analytics and reporting. 
"The team behind Automizy has done a fantastic job to date, so many features, with a comprehensive roadmap for future updates. They are actively involved in implementing and listening to ideas and suggestions from users. I am glad to be involved at this level and am looking forward to seeing how great they can make this software." – Automizy Customer Testimonial 
What this platform can do for you: 
Quickly and easily create high performing, fully automated campaigns with the integrated automation builder

Test subject lines with an AI-driven performance predicting capabilities

Easily add A/B testing to automated emails to determine which version will yield the best results

Send the most relevant emails to customers based on their personal browsing behavior to increase engagement 
If you're looking for a platform that will take your email marketing to the next level through automation and real-time customer interactions, add Automizy to your consideration list. 
3 Mailchimp 
Mailchimp is one of the most well known email marketing tools, but it's a great option for retailers. It's a great solution to help you build your subscriber list and communicate with your customers on a regular basis. 
Pricing: There are 4 pricing options including a Free plan, an Essentials plan starting at $9.99 per month, a Standard plan starting at $14.99 per month, and a Premium plan starting at $299.99 per month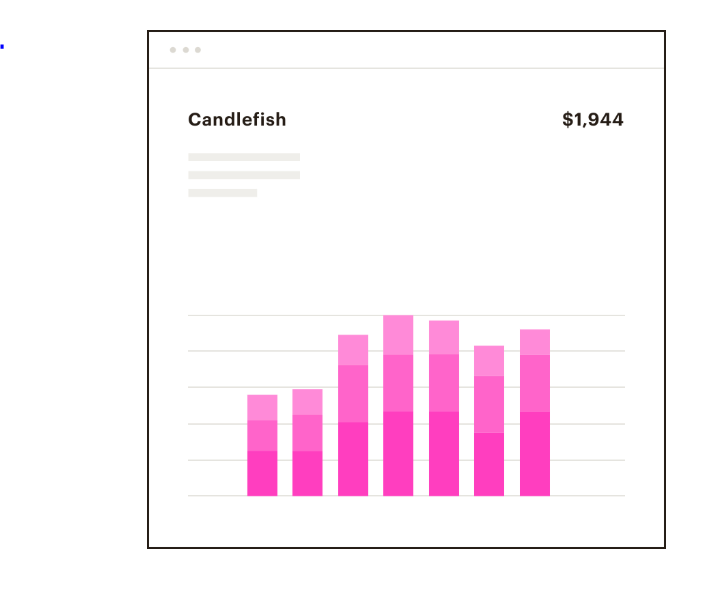 Easily track and manage your campaign success to continue improving your email marketing efforts. Then, as you learn more about your customers you can integrate that knowledge into your future campaigns.  Image courtesy of Mailchimp. 
Mailchimp is the ultimate email marketing automation platform. It allows you to easily create beautiful emails and learn what excites your customers through analytics. And of course there are automation capabilities available to make your life a little bit easier.
"With Mailchimp, we can see what messaging worked for email, what worked for ads, and very easily apply those learnings because everything is in one place." – Mailchimp Customer Testimonial
What this platform can do for you: 
Easily create professional emails with a simple drag-and-drop builder

Create automated emails that are sent to customers based on their interactions and behaviors

Track and analyze campaign performance in real-time with a reporting dashboard

Improve the customer experience by creating triggered emails such as order confirmation or shipping notification 
Mailchimp is a great option for any retail company that is interested in making the investment into an email marketing platform/ 
Customer Journey Automation Platforms
Marketing to your customers based on where they are in their current journey is a great way to stay relevant and help move them through the sales funnel. If a customer is ready to purchase, but you're sending them awareness content — you could be missing a huge opportunity. 
Luckily, there are platforms available to help you identify where customers are and how to move them to the next stage. 
1 Act-On
Act-On is a marketing platform that will allow retailers to turn one-time buyers into repeat customers through automated solutions. Develop campaigns that move customers from awareness to purchase with cross channel marketing and various touch points along the way. 
Pricing: Pricing varies based on the number of contacts, but two plans are available to choose from. The Professional plan starts at $900 per month and the Enterprise plan starts at $2,000 per month.

Knowing where your customers fall within their purchasing journey can be a very powerful tool. Act-On let's you help move your customer through the sales journey by sending them the right content at the right time. Image courtesy of Act-On. 
Turn prospects into repeat and loyal customers who become brand evangelists. With the help of Act-On's growth marketing solution, you can easily move customers from one stage to the next and see higher conversion rates in the process. 
"With Act-On, we can compete with the biggest players in the market while continuing to provide a head-turning customer experience." – Act-On Customer Testimonial
What this platform can do for you: 
Automate customer outreach to send the right messages, to the right customers, at the right time to improve conversions

Improve customer segmentation and targeting with real-time customer data such as site browsing and purchasing behaviors

Utilize cross channel marketing to share product recommendations and build brand awareness to help drive sales 
If you're looking for a way to improve the customer experience and move more customers down the sales funnel, Act-On is a great solution. 
2 Pipz
Pipz is another great option when it comes to customer journey marketing platforms. This platform allows you to create tailor-made customer journeys that are designed to drive growth and increase revenue. 
Pricing: Varies based on the needs of your business and contracting prices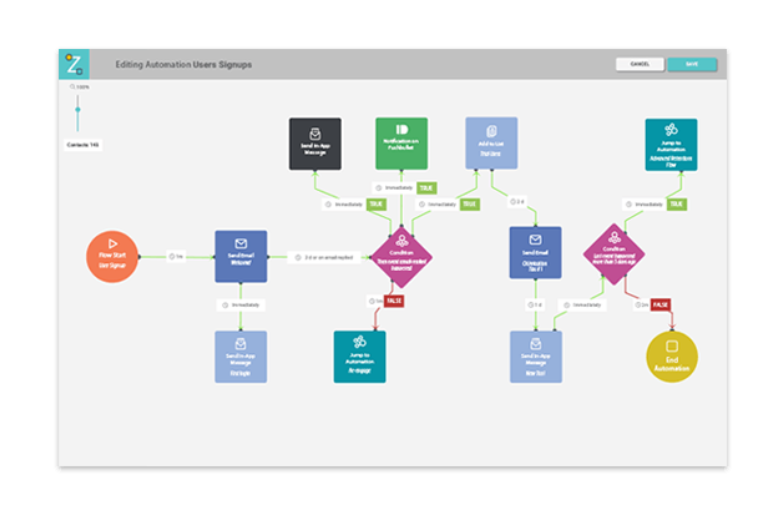 Easily create full journeys for each of your customers based on their engagement and interactions with your company. Image courtesy of Pipz.
Easily visualize and create the most effective customer journeys possible. With real-time customer data, automating these customer journeys are easier than ever before — and will result in higher engagement and revenue. 
What this platform can do for you: 
Easily map and create the journeys you want your customer to take with a drag-and-drop automation editor

Find all the metrics you need to track and measure success in one central location

Create conversion funnels with lead-activated events to help drive more sales and provide customers with the most relevant content based on their stages

Drive increased user engagement with real-time data and utilize this to personalize all your marketing efforts
Pipz will help take your customer journey marketing to the next level and help you quickly see an increase in conversions. 
What to Look for In a Retail Marketing Platform
When it comes down to determining what you need out of a marketing platform for your business, it could vary from company to company. You need to take a look at what your goals are and prioritize the things you're looking to accomplish.
Is your main focus on automating email and other marketing tactics? Or are you looking for something a little more advanced, like AI-driven predictive insights?
Whatever the case may be, it's important to know this before getting too far into your decision on which platform you'll invest in. Let's take a look at a few common things that retail marketers are looking for in a platform.
Automation to Save Time and Improve Your Daily Processes
One of the most common reasons retail businesses choose to use a marketing platform is to help improve day to day activities. Utilizing automation can help your marketing teams streamline their process to do more and shift their focus to new initiatives. 
Marketing automation is designed to: 
Tailor content directly to an individual to improve personalization and targeting

Segment customers by common behaviors, interests, demographics, and more

A/B test variables to help improve content creation and understand when is the best time to contact your customers

Store all customer data in one central location to improve customer experience through having a better understanding of each customer
Adding automation to your everyday practices will not only save time, but it will improve the overall experience for your customers. The more data you can capture, the better you can present customers with the content they want from your brand — and it can be used across various platforms.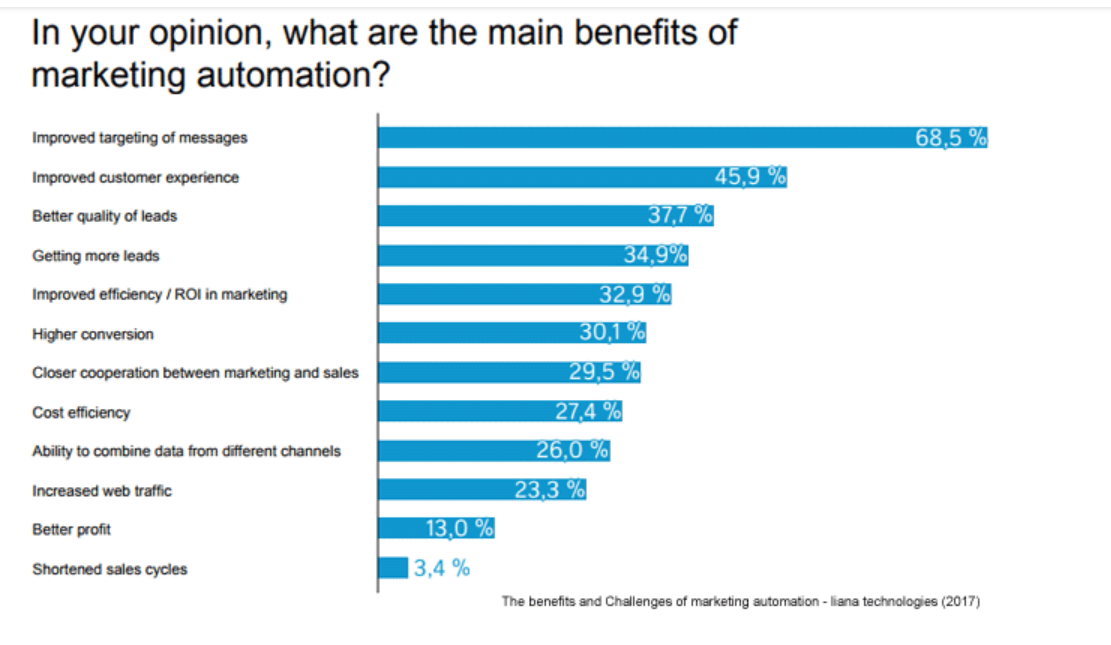 Automation is a great tool that will provide you with a variety of different benefits. From letting your marketing teams focus on other initiatives to improving your overall communications — it's a great way to take your efforts to the next level. Image courtesy of Email Monday.
No matter what your marketing tactics look like, there is a way to automate them. From email and SMS messages to digital ads and social media management, a marketing platform will improve your current process.
Advanced Personalized Capabilities to Help You Serve the Most Relevant Content Possible
Another important thing to consider when selecting a retail marketing platform is personalization. 
Personalization is a big deal. In fact, personalization can directly influence a customer and impact their purchasing behaviors. This is why more and more companies are investing in ways to improve their current personalization efforts. 
59% of consumers who experience personalization say that it significantly influenced what they purchase. 
Businesses are quickly learning that personalization has a big impact on not only the overall customer experience but also their bottom line. But for many companies, gaining the right insights into what they want is still a pain point.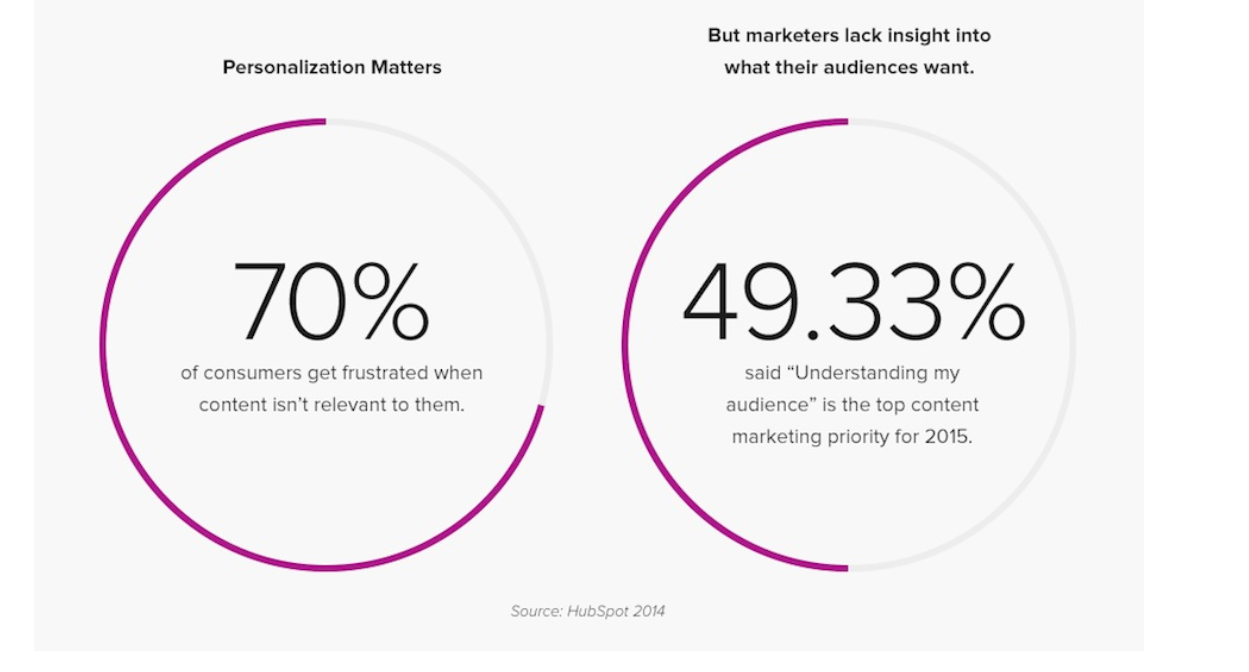 Consumers are actually likely to become frustrated with your content if it isn't relevant to them. That's why it's so important for businesses to gain the proper insights into how to best personalize content with the consumer in mind. Image courtesy of Exit Bee. 
Investing in a marketing automation platform is the first step in gaining a better understanding of your audiences. With one central database that gathers and analyzes real-time customer data, you'll never have to question what your customers want. 
Here are a few examples of how marketing automation can help you personalize: 
Identify customer interests based on past and present data

Provide more relevant product recommendations through browse and purchasing behaviors

Understand when customers are most active and send content to them when they're most likely to engage with it

Serve content to your customers based on their position within their purchasing journey
Retail marketing solutions allow you to take the data you already have and turn it into insights that help you improve personalization for all of your customers. As your personalization efforts evolve, you'll quickly see improved customer engagement and a higher return on investment. 
The Ability to Utilizing Technology Like Artificial Intelligence, Machine Learning, and Predictive Analytics 
If you're looking to start leveraging new technology but don't have the skillset or expertise to do it on your own — marketing automation software can help. With the ability to use different technology, you can take your efforts to the next level and make your automation process even more intelligent. 
One of the biggest reasons many marketers want to use technology such as artificial intelligence and machine learning is to eliminate the need for data mining.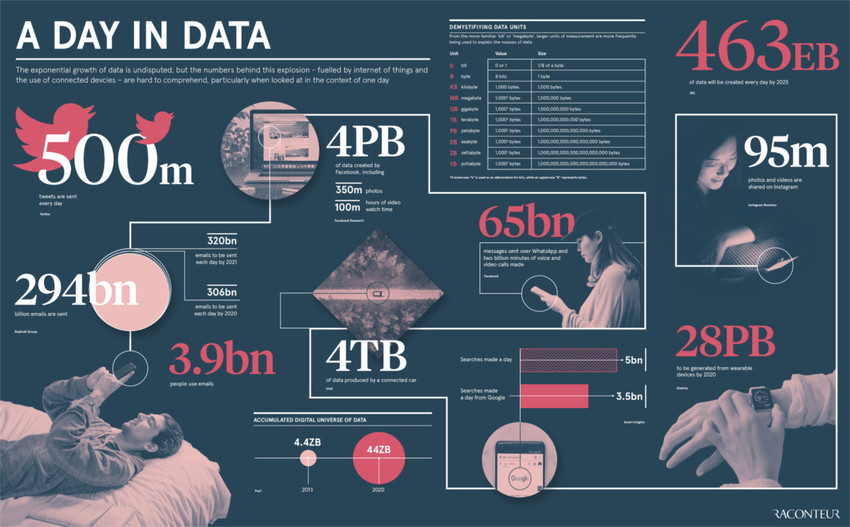 There's a ton of data being produced every single day. Without a system that can help you process, analyze, and understand this information you could be missing out on a number of opportunities. Image courtesy of World Economic Forum. 
With thousands, if not hundreds of thousands, of data points coming into your company each day — it's nearly impossible for someone to collect and analyze it all. Luckily, with the right,  you don't need to do that all by yourself. 
Here are a few examples of how having access to advanced technologies can help improve your current efforts: 
Automatically segment customers based on specified data points such as location, age, gender, etc.

Identify customers who are likely to become inactive and enroll them into a retention campaign 

Predict future behaviors to stay ahead of customer needs and serve the right content at the right time

Understand when customers are most likely to engage with content and only send messages during those peak times
Although these are just a few examples of how a marketing platform works, there are endless ways that a deeper understanding of customer data can take your marketing to the next level. Investing in a platform that allows you to leverage this technology will help set you apart from the competition. 
Testing and Analytical Capabilities That Allow You to Continue to Grow and Improve 
Another great advantage to utilizing a retail marketing platform is having the ability to test, track, and analyze the success of your campaigns.  
Most marketing platforms offer some form of A/B testing capabilities. This means you can test variations in your tactics to determine what your customers engage with most. As you learn more about what your customers are engaging with, you can improve your final version of the tactic and then implement these things into your future campaigns.
These are a few benefits you can expect to see when using A/B testing: 
Improved engagement by sending the right content

Increase conversion rates and reduce bounces

Identify pages and forms that are frequently converting and see higher value

Reduce potential risk when making large site or campaign changes by understanding how your customers behave with your content types
A/B testing is a great way to take your marketing to the next level. As you test and continue to learn more about how your customers engage and interact with your brand, you'll start to see higher engagement and conversion rates.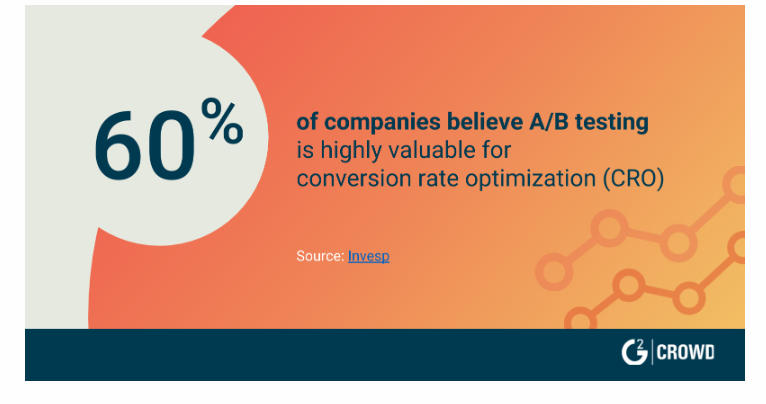 A/B testing has helped many companies improve their conversion rate optimization efforts. Adding testing to your marketing toolbox can help you continue to grow and evolve your current efforts. Image courtesy of Learn G2.
In addition to using A/B testing, having the ability to easily review and analyze campaign performance is a very valuable tool. After every campaign, you should take time to review your analytics and learn from the experience. 
33% of elite marketers say having the right technologies for data collection and analysis is the most useful in understanding customers.
With the right retail marketing software, this can be easier than ever. In many cases, you'll have one main dashboard that houses all of your important data in a central location. But you also have the option to create dashboards and track specific campaigns. 
As you start to identify trends and learn what your customers are most interested in, you can create future campaigns with these insights in mind.
Take Your Retail Business to the Next Level With the Right Marketing Platform
The right marketing platform can take your retail business to the next level by automating mundane tasks, increasing the relevancy of content sent to customers, and improving your engagement and conversion rates. 
No matter what route you choose, you'll quickly learn that your retail business can benefit from a marketing platform. Whether you choose to go with an all-in-one platform or one that provides a little more specialization, you won't be disappointed. 
So what are you waiting for? Now's the time to get started and dive right into the world of retail marketing platforms!