Lead Nurturing and Lead Scoring is Just Easy with a CRM Tool
---
It is official that there has been a change in the buying behaviour of the customers in the last decade, and along with it there have been tremendous changes in the way businesses conduct their sales and marketing strategy to meet the customer's needs. Customers in the digital age have become more knowledgeable and selective in their product choices. They have become self-directed and analyze products on various parameters such as quality, customer service, prices, speed of service, durability, etc., before making a final decision on the purchase.
It makes the work of the sales and marketing team more challenging and their conventional selling techniques ineffective. Selling the product or service has become more of an art than a mere business process. They have to be more strategic in approaching their customers and creating a customer journey that optimizes the sale. It should not implement forced marketing tactics but an end-to-end product tour that enables them to make an informed decision.
They have to embed the concept of customer lifecycle management and customer relationship into their business model. They have to focus on targeted marketing strategies to increase conversion rate and reduce the wastage of resources invested in attracting customers. All these can be achieved if organizations have fine-tuned their sales funnel and excelled in techniques such as lead nurturing and lead scoring.
From the moment customers hear about the product till the closing of the deal, business owners need to ensure that they invest in harnessing customers that bring business to them. Best CRM software for business with its exceptional features can facilitate businesses to identify potential customers and reduce the costs in managing them. Sales team effort for lead nurturing and lead scoring becomes quite easy with a customer relationship management tool. As per a recent report, the CRM market is estimated to grow to $128.97 billion in 2028. The same report suggests that lead generation and customer retention are the main reasons for the adoption of CRM software solutions.
Quick overview of Lead Scoring and Lead Nurturing
It is essential to understand how leads are captured before shedding light on lead scoring and lead nurturing.
Step 1) A visitor notices the business through the marketing channels (blog, social media page, and website).
Step 2) Visitors take action through call-to-action (button, message, or image)
Step 3) CTA or call-to-action takes to a landing page.
Step 4) Visitors fill out the form on the landing page. Leads are captured.
Lead Scoring
Once the lead is captured, the next step is to segregate the lead and allocate scores to it. Most businesses use two common techniques for lead scoring; point-based lead scoring or predictive modelling. In a point-based system, customers are given more points if they take positive actions such as signing up for the product's trial version and fewer points for negative actions such as unsubscribing to the newsletter. In simple terms, the highest score is given to leads that are most likely to convert, whereas the low score is given to those that are least likely to convert.
It reduces the marketing and sales team's effort in closing the deal. Unlike the point-based method, the predictive model does not assign points to certain actions but analyzes the customer's historical data. This method is more effective compared to point-based scoring. It can identify the touch-points that otherwise could easily be missed by the point-based lead scoring.
Lead Nurturing
On the other hand, lead nurturing is focused on those leads that are not interested in buying the product now but maybe in the future. Business owners can nurture or convert them into hot leads by staying in contact with them. Business owners can send them regular emails, newsletters, personalized content, product announcements, or even schedule webinars with them.
Lead nurturing is more about addressing their pain points at various stages of the sales funnel and eliminating the barriers that stop them from purchasing the product. Different customers have different reasons for not converting into loyal customers. Therefore, it is necessary that business organizations understand the customer's issues on an individual basis and create a lead nurturing strategy accordingly.
Both lead scoring and lead nurturing are part of the lead management process. It would be a trickier job to manage leads without the help of CRM tools and filter out the potential customer with high accuracy.
Why CRM Is Critical in Lead Nurturing and Lead Scoring?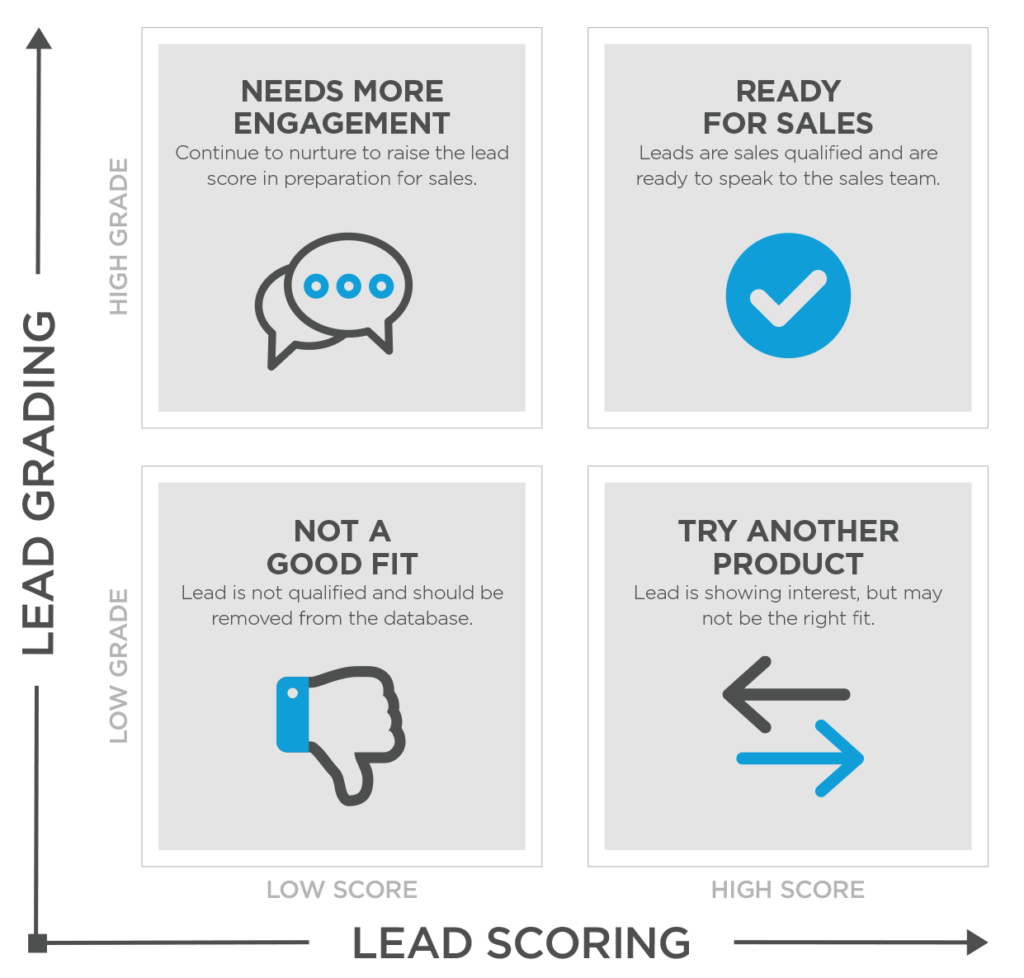 Source: https://www.getsmartacre.com/uploads/Lead-attribution-matrix-e1482328565446-1024×978.png
AI-powered lead scoring: AI-based lead scoring studies customers' buying behavior and predicts which customer will buy a product or service. Unlike the traditional lead scoring systems that rely on a sales team's judgment and experience, the AI-powered CRM tools automatically calculate the lead score. It processes a large volume of data, compares current customers with previous customers, and automatically creates a qualified lead profile.
Manage follow-ups: Not all leads that land on the website are going to convert. With CRM software, users can have lists of qualified leads, and administrators can approve those leads for follow-ups from the customer management tool itself.
Collect leads from social media accounts: CRM tools can easily integrate with social media accounts. When business owners run their social media campaigns and if any customers interact with their social media page, the software automatically collects their data.
Customized web forms: Business organizations need web forms to gather customer information. CRM tools offer ready-to-use templates to collect details of the customers. In case if business organizations have specific requirements, they can use a CRM system that supports customized web forms.
There is no need to code the customer relationship management tool with customized web forms, and users can customize its field, appearance, and layout with an easy drag and drop feature.
Omni-channel communication: The more business interacts with customers' the more chances of getting qualified leads. With CRM tools, users can connect with leads through mobiles, social media, live chat, e-mails, etc., from a single platform.
Data-analytics: CRM tools give detailed insights about the leads such as lead sources, sales reps working on the leads, numbers of leads converted, and leads that are most likely to convert. With all this information, it is easy to manage and target leads. Besides that, users can track the overall performance of their lead management process.
Personalized lead nurturing ( lead nurturing campaign): Email marketing is a highly effective way to lead nurturing. However, selecting the right lead nurturing email campaign is crucial. For instance, if the customer has become inactive after reaching close to the purchasing stage, then a promotional marketing campaign can tempt the customer to take further action.

Likewise, business owners can choose a lead nurturing campaign as per their customers' present stage in the sales funnel. There are various campaigns that business owners can push, such as product renewal campaigns, re-engagement campaigns, product-focused campaigns, etc., at different stages of the sales funnel. With the help of the CRM tool, it is easy to sync all the contacts to the campaign's mailing lists and automate the lead nurturing process. It helps to trigger the campaign at the right time and deliver qualified leads to the sales team.
Cloud computing: Cloud-based CRM like salesforce, provides the flexibility to access the software from anywhere and maintain uniformity in the customer management process.
Conclusion
Businesses are under continuous pressure to attract new customers and scale the business rapidly in a highly competitive world. Time and resources are of the essence when companies have to capture every growth opportunity. They cannot afford to invest money in customers that exhibit low conversion rates.
Modern businesses are redefining their business tactics and becoming smarter in their customer acquisition strategy. They are analyzing customer expectations and aligning their marketing strategies to their needs. They are paying more attention to customer lead management and attributes such as customer relationship, personalization, and value proposition.
CRM software can be a pretty helpful tool for growing business and also in identifying the customers that could turn into loyal customers and boost sales. It helps to derive more value from the leads by implementing techniques such as lead scoring and lead nurturing. Customer relationship management tools are quickly replacing the organization's standard approach for building customer relationships and creating a sustainable business model.
---