Instagram search: a tool for market, client and partner research
---
If you are one of those young entrepreneurs who's realized the power of Instagram promotion, you are reading the right article. This social media channel has turned into a huge marketplace, where business owners meet their clientele. What's more, Instagram lets you know your customer sometimes even deeper than a meeting offline. You just need to monitor your customer's account to grasp where they hang out, what they eat, where they travel, and what they read. These insights will help you to build a powerful digital strategy based on the actual behaviour of those people who buy from you. Isn't it precious? Sometimes you may ask yourself:
How do I research Instagram accounts of my competitors and clients? It takes so much time to find them manually in the mobile app.
I have a solution for those who want a more effective strategy – meet the Instagram Search by Ingramer. This tool is integrated with the Profile Analyzer (which you can also use separately) so that you can discover and research with just two clicks. Competitors analysis, reaching out to influencers, researching talent – all these tasks are getting simpler with the Ingramer search. It stores a tremendous database of Instagram accounts (it's regularly updated with new ones) that are sorted by dozens of categories. You can even find a person by typing an email in the search field. If you have used an influencer marketing platform at least once, you know how much it costs. Ingramer search is just $1 for the trial. 
Keep on reading to realize how you'll benefit from it and learn how to use it.
5 benefits of integrating the Ingramer Search tool into your IG strategy
Knowledge is a power that can be converted into money. Don't miss a chance to squeeze everything from your Instagram potential. Below you will find 5 valuable IG Search use cases every digital marketer should know about:
#1 Determine the leaders: find thousands of competitors in a minute
IG Search is an ideal service for opponent research. Here is why marketers always want to find out more facts about the accounts in their niche:
Get inspiration from their visuals and captions. You can adopt some of their best working ideas for your business.
Collect their contact data easily. When the exploration results arrive at your screen, you can view the emails and phone numbers connected to these pages.

Explore competitors by their market share. Are you focused on the market giants or on those who are just entering? Simply set the number of followers in the filters.
Remember, you can find accounts by an email address.
Getting all of the accounts in your area with stats would be even more fruitful – that's why you will find the Analyze button in front of each profile.
For example, let's say I need to discover accounts in the Health/Beauty niche with less than 10K followers.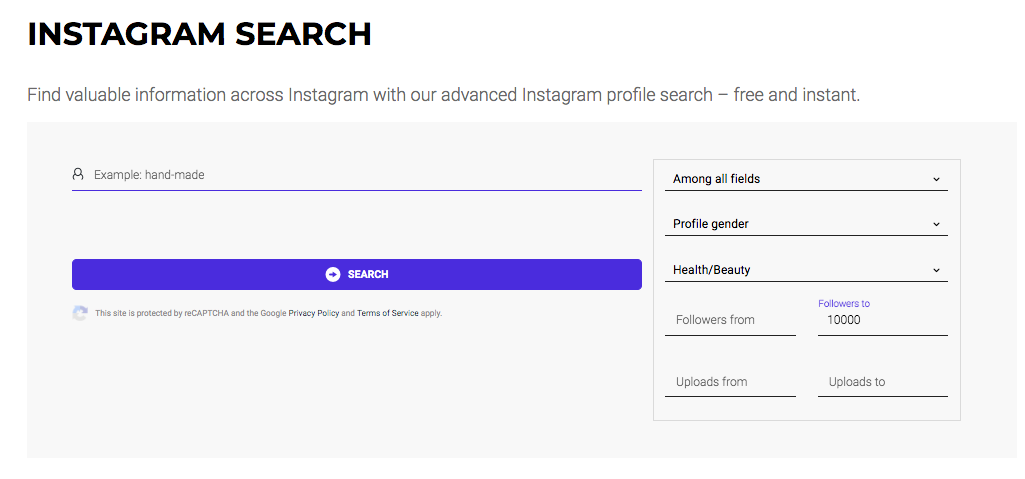 Ingramer shows me almost 10K accounts, in just one minute. How long would I take to discover them in the app? I would turn grey sooner!

#2 Analyze the best accounts and learn from them
It's always a good idea to get more facts about the market leaders and competitors. Here is the data that is available when you click on Analyze:
The exact posting timing. This information will assist you to figure out what time is best to distribute your content. Presumably, these are the hours of higher activity around your clients.
Content that wins. Scroll down, and you'll see the top publications based on likes and comments. Try to ascertain why your audience is attracted to this content.
Hashtag strategy. Ingramer will show you all the tags your rivals apply – why not copy them and add to your captions? Remember, it's ineffective to copy tags in the same order – mix them with other tags and use randomization tools.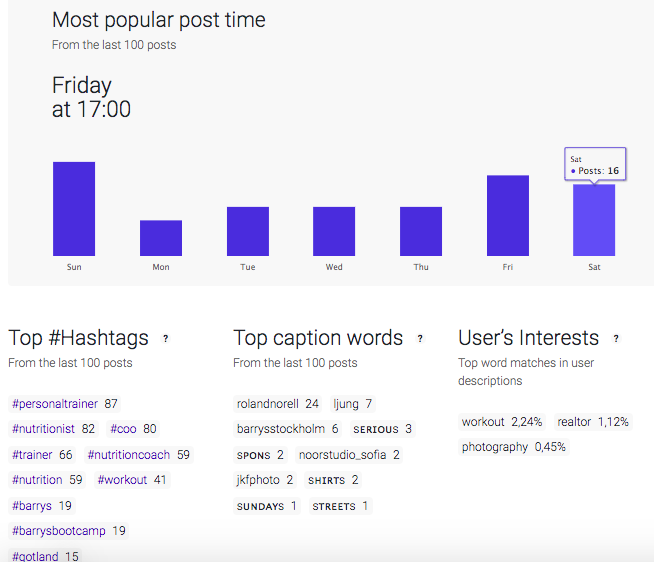 #3 Discover influencers for partnership
If you are handling influencer marketing or considering holding a giveaway, you need to check the Ingramer Search as well. Here's why:
It's convenient that you can filter bloggers by the size of their following and niche.
You can instantly copy their contacts and insert them into your spreadsheet.
You can click on Analyze and see the genuine activity on their page ( the engagement rate, the users activity).
Are you sure you still need to register on an influencer marketing platform?
#4 Get the leads in front of your eyes
Yes, disturbing people in DM with offers is too salesy and even aggressive. But that's not the purpose of discovering your potential leads. The goal is to know them better and to engage with them by watching their Stories, liking and following them.
For instance, imagine you produce furniture for cafes in Berlin. You just need to go to the Search tool and choose Restaurants in the categories. Also, type Berlin in the text field, so that only profiles indicating Berlin in their description would appear.

Voila – thousands of accounts that you can export in CSV are ready.
#5 Hire through Instagram
One of the least obvious yet practical use cases is that you can find new members of your team via this tool. For example, let's say you need a talented video creator for a project, but you are not ready to hire a full-time specialist. Why not find a freelance partner on Instagram? Moreover, you are likely to see their portfolio in the feed.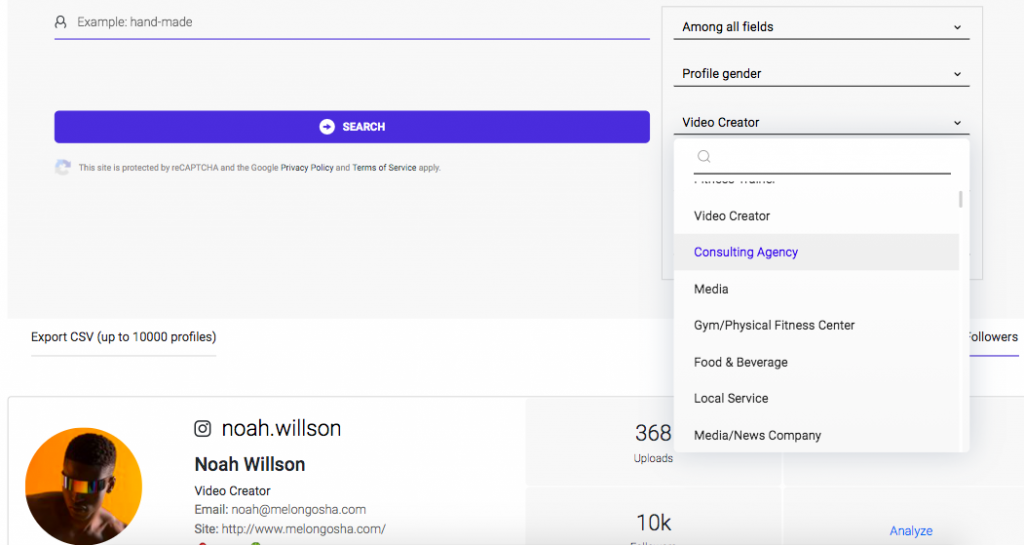 When you see the great possibilities in the Ingramer Search, no doubt you are excited to use it. It's super easy and intuitive, but I'll explain the steps in the next section.
Start using the Instagram Search step-by-step
Open the service, and you will notice the empty field and filters. How to search accounts:
Type keywords in the field (it's possible to leave this section blank and search just by the embedded categories). There are several options for where Ingramer will look for keywords: descriptions, name, username, phone, email. This means you can type a phone number and find the associated account on IG (if it is connected). You can enter locations and target words you expect to see in the bio.
Choose the niche. Ingramer lists many popular profile niches.
Set the numbers. You can set how many followers you expect to see and how many uploads an account should have. Thus, you can narrow down to only active IG users who post frequently.
Tap on Search. Now you will see plenty of accounts selected according to your filters. You can save all of them in a spreadsheet.
Pass to Profiles or Analyze. You have two options on how to continue your investigation. Firstly, you can click a link to an IG account. Alternatively, you can dive deeper and choose to Analyze (I've written about it in the previous section).
That's it! Take advantage of this precious data in your next marketing campaign.
Lastly
Influencer marketing, lead generation, market research – all these processes become more effective with the Instagram Search tool. Moreover, the tool is integrated with the analysis service, which helps you to make more insightful conclusions. I should also mention the bunch of other tools for IG marketing by Ingramer, like the Hashtag generator, Direct Module, and free services – the Downloader and Story Viewer. I don't use all of them, but the reviews on Trustpilot and the 4.4 stars rating make me more curious, and I'll check on them next month. Well, if Instagram is a synonym for marketing for you, make use of this wise toolkit. 
---