Impact of Coronavirus (COVID-19) on eCommerce Businesses
The year 2020 saw the whole world and all its countries reel under the assault of the Covid-19. Lockdowns followed and are currently being slowly lifted as a country by country, we learn together to face the aftermath of the Corona COVID-19 pandemic and its disastrous results on the economy. As we limp back into reopening the lockdown in phases, we all understand that the after-effects of this virulent attack on eCommerce marketing during COVID-19 will be felt and needs to be dealt with across the board. 
The eCommerce platforms, brick and mortar shops, holiday tourism, shopping, back-to-school measures, e-learning, online retailers, and perhaps nearly every business is set to change due to the impact of Coronavirus on eCommerce businesses. 
The world is constantly changing. New challenges arise, it's part of being alive, and it's just a matter of how we deal with things. Being aware of the current situation as well as being prepared is, by far, the best thing that we can do to minimize the possible damage to us. And by that, Red Stag Fulfillment briefly explains today's pandemic and how it affects the global supply chain. And of course, a useful guide on how to protect your business in these struggling times. As we enter the new normal setting, it's best to have a concrete plan and be ready for the drawbacks.
Impact on the eCommerce industry
Everyone now believes in online shopping easing the demand gap. That's right! Almost all of us have to agree that the Corona-virus has changed our shopping etiquette and behavior while meaning more business for the eCommerce platforms. 
China has the dubious distinction of being the place where the impact of Coronavirus on eCommerce businesses first broke ground. However, it was the epicenter of sourcing and manufacturing of large quantities of finished, semi-finished, electronic goods, pharmaceuticals, and many more goods sold in America and globally by the online greats among retailers. 
Both offline and online sales crashed as the Chinese factories entered lockdown in January 2020 for several weeks as the successful digital and native brands were dependent on the low-priced Chinese goods and components. ECommerce marketing during COVID-19 suddenly had its doubts whether China was a reliable source of supply with countries like Germany, America, and such openly making plans to shift bases to India and other competitive and competent suppliers.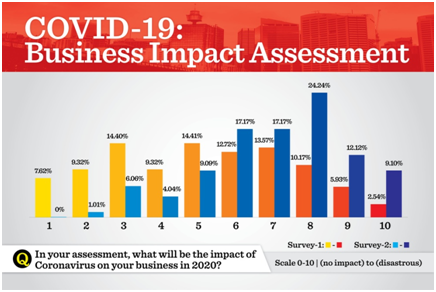 The impact of Coronavirus on eCommerce businesses with the spread of the COVID -19 made many customers shy away from entering retail chains, stores, etc, and the need for social-distancing and contactless supply saw the rise of innovations like the curbside pickup of goods. 
The top 7.7% of the big ones like Target Corp, Walmart Inc., and others who offered online shoppers of groceries curbside pickup and loading the car trunk were quick to enlarge on their offer of curbside signature-less and contactless curb-side pickups for their customers for all their online purchases. 
Many (almost 92.3% of online retailers) are still to develop the capabilities but this definitely appears to be a step in the right direction in eCommerce marketing during COVID-19 for both the retailers and online shoppers.
The data-linked images below set you thinking if you are feeling the pinch of the stress and change in strategy post the COVID-19 explosion into our daily lives and the impact of Coronavirus on eCommerce businesses. 
An article by the Common Thread Collective using as an index, data compiled on 5th June 2020 across 28 clients who boast of a yearly rate of spending of 75 million USD, and forming two sets before and after March 8th is illustrative of the impact on retailing online post- eCommerce marketing during COVID-19 and then learn from the data on how the best retailers learned from shopping behavior, consumer angst and the impact of Coronavirus on eCommerce businesses.
Look at the charts of 2 PM Inc data that compares the 8 weeks to the last 10-years sales figures. Revenues were steadily growing until the Corona happened.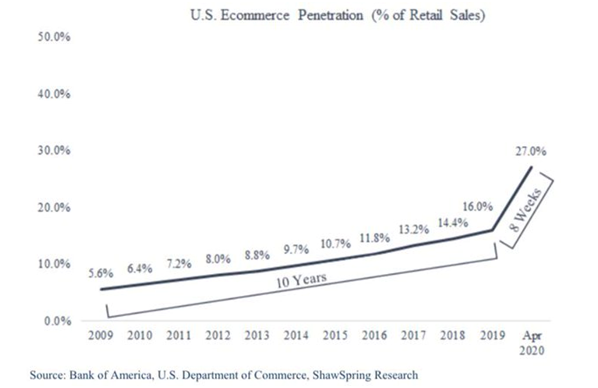 These charts taken from the total eCommerce sales from the article reflect the daily value of each parameter by industry along with changes in percentage value referring to the baseline period's average for the week.   
The synopsis:- 
Revenue changes totaled +91.74%. 

Spendings changes amount to +49.73%.

ROAS changes were +26.27%.

CPC changes were -19.12%.

CTR changes differ from +3.00%.

CPM changes were -17.11%.
Leading online retailers especially in North America had to quickly adapt to be atop the curve. According to Digital Commerce 360, their top 1000 retailer rankings in 2020 show a grave recession about to happen and the ones able to cope are the retailers who adapted to changes in the eCommerce marketing during COVID-19 and have good credit, sufficient cash reserves, mobile and omnichannel services. Here are the best strategies to make hay while the sun shines and the Coronavirus rages on.
Free COVID Course for yourself and your workplace
Take this free course: 
https://www.osmosis.org/covid-19 
about COVID-19: What Everyone Needs To Know. Become familiar with the signs, learn how to manage the symptoms, and apply the public health measures needed to mitigate the spread of COVID-19.
COVID-19 is a global pandemic that has already resulted in hundreds of thousands of infections and thousands of deaths, with many more anticipated. This course is a go-to resource that will be regularly updated with all of the current information put forth by the CDC, WHO, and other leading agencies and covers the basics, personal protective equipment, diagnostics, and other material.
As a healthcare professional, you can earn CME credit and help to #RaiseTheLine by becoming prepared to treat COVID-19.
Best eCommerce marketing ideas during COVID-19
Do remember content is not just written content. It is videos, blogs, ads, interactive content, and creative imagery that drive conversions of traffic into sales. All said and done, the secret to a good strategy for eCommerce ads is to use smart keywords and SEO techniques to optimize your site. Take the example of Adept Marketing that had an ROI jump of 223 percent and 48 percent upward sales figures! Here is how you too can get on the bandwagon.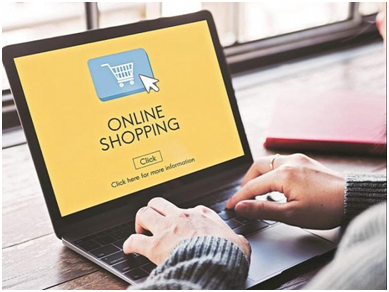 1. Use PPC-Pay per click or Paid Ads
1.1 Use Google Shopping Ads
Absolutely free today Google Shopping ads can prove to be your best option. How? Just sign in to your account with Google Ads. Choose campaigns, add a new shopping campaign under type, set preferences like its name, the account for the products Merchant Centre, where you intend to sell them with all product feed data like local currency and language, the filters for bidding method, inventory, campaign priority, daily budget, networks like YouTube, G-mail, etc, locations, devices and ads for local inventory. Save and continue to choose the kind of group targeted like a showcase or product ad and continue to drive traffic and conversions. 
1.2 Retargeting Ads
If you want to customize the welcome mails and make some offers to entice the customer then you will need to retarget the ads and capture the funnel top emails and test your budgets for remarketing. Use the virus instead of trying to avoid the Covid-19. 
Lean in and link the local, contactless delivery system, and improve your online sales using search engine marketing. And remember to engage the customer by using creative specific ideas on giving information to particular customer groups that aren't considered an ad! 
2. Use Content marketing
Here you have a series of channels to exploit. Let's briefly describe how to leverage these like the nearly 87 percent of online businesses already do.
2.1 Video content 
This is important to engage the customer, broaden the customer base, and offer a feeling of being a part of the Corona times. At least 55% of online users watch video content daily and 78% weekly! Seen the ads of soaps and hand sanitizers online? Every one of them claims to have 99.9% success against the CVID virus. But this is a great example of improving brand loyalty, finding the previous purchasers, improving results of organic searches, and impacting your sales.
2.2 Blog posts
If you are looking to re-engage, stir up some interest and engagement use your blog posts to reinforce product connections with the Corona, disseminate information, improve recall and provide a community platform, while providing yourself a vastly improved tool of measure of your customer base.
2.3 Interactive content 
Improve and optimize your performance through interactive content. Just as an example, measure the impact of the Arogya Sethu App rolled out by the Central Government of India. It collates data while you try to find the COVID cases using your Bluetooth location.
3. Create unique unboxing experience
Every step of the shopping and buying experience can be made enjoyable and serve as a brand-reinforcement while driving sales. Whoever bought a product for its box? Many apparently if you take the example of Dollar Shaving or Apple. It's not what is in the box, but the boxing itself that is important. So try these techniques.
3.1 Coupon codes inside the box
Impressive is the pet food supplier Pure Pet who not only introduced new flavors but included a coupon inside on reorders of two bags with a free bag of different flavors.
3.2 Unboxing experience
Unlike Apple phones, the unboxing experience needs to be well-organized with a message every step of the way. Why waste resources when a little ingenuity can get you a sale when the customer feels good and is not expecting delivery of a well-disguised ad?
4. Use email marketing
From the onset times of marketing online, Email marketing has and continues to be your best weapon to drive the numbers in your funnel, increase ROI and sales because the customers keep browsing. An email after every search has become the norm and that's a good way to push discounts, offers, and new products also. All it needs is the appropriate targeting of groups indicated below.
4.1 New customer email flows
Whenever a new customer buys your product, reward him as Forever21 does. Make it a limited offer, including free shipping, and showcase your other products all in one email that appreciates the customer's business.
4.2 Browsing follow-up flows
Don't write off any customers. Re-engage the follow-up process with a discounted service, and allied product discount, etc. Learn from your cart that never really got bought for whatever reason with a follow-up query mail.
4.3 Abandoned cart emails
This segment has a lot of information to analyze and sort out. What went wrong? Pricing, discounts, limited targeted offers can all work here. Just do the data analytics and learn from it.
4.4 Targeted offers
As we just said, the targeted offers work best when you are sure the customer zeroed in on your product but abandoned it. Find the best product for them in interactive ways and data analysis. If you sell clothes, try a different clothes-line that is better, cheaper, can be shipped faster, or whatever the customer's reasoning was.
5. Improve your On-site marketing
Your Website is crucial to driving the performance figures. And here's what is important to ensure when using On-site marketing. At the risk of being repetitive, it is crucial to ensure your website uses the following.
5.1 Sign-up forms
This is an excellent way to build your funnel and also collect data from new customers that you can segregate later for targeting. Meanwhile, the customer stays engaged on your website after expressing intent! Pitch the new product line with a targeted offer for signing up or lead them to your products page without wasting time!
5.2 Products pages
This is where content is king. Say what you have to and keep the unsaid information alive without being loud or advertising. Remember to integrate your Google ads account and use every bit of data leveraging possible.
5.2.1 Content Copy
A tight content line with excellent use of Keywords and search engine optimization can allow your ads to run while getting the customer's attention and decision. 
5.2.2 Product images
Use your own product images and not the generic ones. If possible use voice integration so you reach the customer without him having to read tons of written material. Say it best is a good motto to learn from the leading ads like the Amul campaign.
5.2.3 Product Videos
Always include product videos. How to install, how to un-box, when and why to call for service, or make up your own video list of topics and watch the competition moves on Facebook and YouTube if you wish to learn from others.
6. Selling Through Social Media
Accept the moment with a ton of honesty and realize that social distancing and social media ads for products like sunglasses, cosmetics, and more, have been reinvented.
6.1 Instagram
Just take a look at the hashtag-#restingbeast on Instagram by Melon Optics. And the best part is that it can be linked to your Google ads account.
6.2 Facebook
Facebook ads and regular posts also improve your traffic with a focus on the call to action as in the case of Society6 which advertises iPhone cases with a CTA button to shop now!
6.3 Youtube
Use the example of Skullcandy headphones and Sun Bum using music fans needing sunscreen and their viewership on YouTube. These ads increase your digital reach, use advanced targeting to find clients, allow you to customize your ad, measure, and control the budget, and do much more!
7. Market Your Business beyond Geographic Boundaries
Want a boundaryless market? Then Google and YouTube like platforms are the best examples to study. Google's TrueView and YouTube's similar video suggestions are based on user behavior and are available to integrate your marketing efforts globally! Some of the best techniques here are discussed briefly below.
8. Highlight Product Reviews
If you have good product reviews use them! A couple of realistic drawbacks review will probably get you more business than you expected. Amazon the super eCommerce seller believes in this.
9. Optimize for voice search
If your app is in the toddler stage or even well-used, consider optimizing for voice searches. It helps the buyers and also allows you to edge the competition while using all metrics available. Especially good when you are located close by and have a good user-rating!
10. UGC and influencer marketing
And man is a social animal and needs a community platform to interact on, especially during these very hard e-learning Corona times. Why not exploit the UGC platform where everyone seems to be headed to? Very subtly ensure some influencer marketing! Also don't forget that it provides you data, a platform of interaction, and makes you a social leader of you especially among the e-learners.
Conclusion
The internet slowdown and crash post the spread of the corona pandemic globally and the near panic measures of lockdown unmindful of the human discomfort and rights leads one to ruminate on the aftermath of the Coronavirus as countries slowly begin to open borders, ease lockdown restrictions, fly repatriation flights and struggle towards near normalcy. Will we get there? Yes if we learn to globally and collectively understand and take up our responsibilities and share resources better. 
Life will never be the same and post the COVID-19 we can expect
Sales strategies will need reinvention and adaptation to the eCommerce platforms as the world goes contactless and adheres to social distancing.

Ecommerce enterprises have to rethink their marketing strategies and put the customer first with offers of discounts, innovative measures like contactless payments and deliveries, and more.
Though the outlook and the impact of Coronavirus on eCommerce businesses appear pessimistic at the moment, necessity is the mother of invention. So, hopefully, if we innovate collectively as first-time learners and learn from the success of others while accepting change to be the fundamental ethic of progress, we can reduce the burden of the massive unemployment, sales drops, and recession of economies in unison. Here's to better and more enlightened days post the Coronavirus recession!
  Additional resources
Guest Post by AdNabu
AdNabu helps improve sales in Google Ads for eCommerce companies. If you are running the search, shopping, or display campaigns in Google Ads, Their software will be able to increase your sales. Sign up today for a 14-day free trial from here.