How to use SEMrush to improve your SEO
---
SEMrush is a very powerful SEO tool that specializes in keyword research, competitor analysis, and Google Ad campaign optimization. Whether you are in-house or an agency/consultant, SEMrush is a great tool for you as it gives you access to that data you have never had before and allows you to discover what you can do to improve your site's SEO.
SEMrush helps with:
Search Engine Optimization — How your website ranks on Google
Keyword Research — What phrases people are using to find you online
Competitive Analysis — Who your competitors are, what they're ranking for in Google, and how can you beat them
Social Media Marketing — Which pages on your site or on your competitor's site get the most traffic, and where these users come from
Content Marketing — How you know that your customers are loving your content, and how you can generate more of what they like
The first this is to register for Free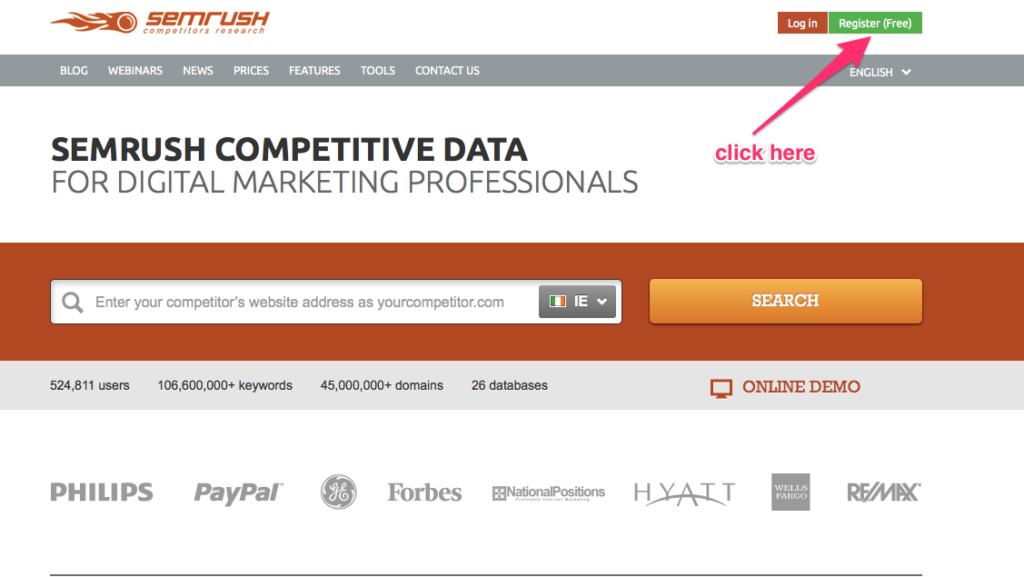 The above screenshot is what the SEMrush main dashboard looks like. It can be customized to your liking, but I haven't implemented any of those customizations. As you can see, there are a ton of features available to explore but we are going to start with my favourite one: the Topic Research tool.
If you look at the screenshot above, on the left-hand side, a bunch of different features are listed. I have highlighted the Topic Research tool feature. Go ahead and click that link to begin your keyword research exploration.
Begin your keyword research with the Topic Research tool
When you click the Topic Research tool link you'll be taken to a page that looks like the following:
It's pretty simple to guess what you should do next: enter a topic!
You can type anything in that search bar, including full phrases and questions. If you're unsure about what to type into the box, answer this question:  What would I love to rank for as the #1 search result on Google? In other words, what do you want your customers to type into Google to find you?
I run a strategy coaching business so I typed in the keywords strategy coaching and clicked the green Get Content Ideas button below the box.
Figure out what you want to know
When you click the Get Content Ideas button, you are taken to a page that is intensely overwhelming. Relax. I am going to walk you through this.
A lot of the information here is helpful, but you don't need all of it right now.
The two things I want you to focus on are:
What do I want to know?
What would be helpful to my business right now?
So, for example, when I was researching my keywords, I wanted to know which words, phrases, or questions my ideal customer was typing into Google to find websites like mine. Meaning, when a person is looking for executive coaching or strategy coaching, what do they type into Google or YouTube to find resources about that?
Secondly, what information do I need to know aside from which keywords they're using to find websites like mine?
Examples of this could be:
How hard will it be to rank for this particular keyword? Meaning, how much competition is there to try to get my website to show as #1 in the Google search results for that keyword?
What related questions do my customers have when it comes to my topic?
What are the top ten related topics to the keyword I want to rank for?
Who are my competitors, and what are they ranking highly for?
Now that we're clear on what we actually want to know, we can begin playing around with the features on the keyword researcher tool to find the answers to our questions.
Using the Mind Map Feature to Answer Questions

Subtopics
If you click over to the Mind Map tab on the Topic Research page, you'll find the answers to virtually all of your questions.
As laid out in the screenshot above, your topic keyword displays at the top to remind you of what you searched for. It also pulls down into the middle of the Mind Map.
All around that keyword, you will find subtopics related to your topic.
Think of subtopics as the "Customers who bought this also bought…" feature on sites like Amazon and other online retailers.
Subtopics help you understand what else your customers are looking for.
You can then use these terms to your advantage as you try to rank for keywords related to your topic.
Questions
In the screenshots below, I've highlighted the Questions area on the SEMrush Topic Research dashboard.
This is the section where you can find all the top questions that your customers and potential customers are using to search for related to your main topic.
Pro tip: You can also click on any subtopic to see the questions customers are searching for that are related to those keywords.
What Is All of This For?
Knowing which keywords and questions your customers are typing into search — whether that be Google, YouTube, or even Instagram — is crucial because you will likely learn some surprising details. Learn about your audience, and you will gain a very clear understanding of how you should be positioning your business to really stand out against the crowd.
Recommendations
Check out SEMrush for yourself.
Alternatively, you can also check out the video tutorial (quick tip:  the real start is at 2:52 on the video)
Have some determination to at least try to understand the tool and give it a shot before deciding that it's too confusing. I'm with you — I understand that it's a lot of information, but it's gold if you can learn and understand it!
If you're stuck for keywords or don't know where your audience might even begin to find your product, service, or business, just use the Competitive analysis tool.
---