How Can Email Automation Benefit Your Business?
---
Improving customer interactions, lead generating, turning the emails into clicks, and the clicks into clients is an ideal mantra for any email marketer. But when asked how to do it, we get different answers from different points of view. However, various practices have evolved in the email marketing industry and businesses. As a result, unique trends often take place, and the industry follows them.
Email automation proliferating in almost every business sector is one kind of this trend. Let's discuss it.
What Is Email Automation?
When hearing the word "automation," one will think it is nothing but scheduling the emails and automatically sending them at the triggered times. It is true, but partially. The email automation concept is more than just sending the mails; it revolves around the customer experiences that lead to better interactions.
Email automation allows to draft personalized emails that appeal to the audience in a unique way. It delivers tailored content that the prospects want to read, thus increasing click-through rates. In addition, it saves marketers' time as it may take a long time to manually create engaging and tailored emails.
Emails are tailored based on specific customer actions with the business. For instance, if a customer signs up on the site, a welcome email is sent to him. If he makes a purchase, then recommendations for similar products are provided. And as every e-commerce business does, the reminder emails when the user adds a product to the cart but doesn't buy it. Not just limited to this, but automated emails are also useful for many other purposes, such as:
Order confirmation
Shipping updates
Birthday wishes
Notifications for abandoned cart
Welcome emails for new subscribers
Cross-sell and upsell notifications
So, email automation takes care of repetitive tasks and improves the overall customer interaction. It delivers numerous advantages to a business; let's go through them one by one.
Ways The Business Can Benefit From Email Automation
Saves Time
Probably the most considered benefit of email automation by any company is its time-saving capabilities. By arranging an automated workflow, one does not have to worry about setting a timer and drafting hundreds of emails. Instead, the business executives can devote their precious time to other essential tasks. And email automation is not only beneficial for marketers, but other departments of the company or persons in different roles can also leverage it for their work ease.
Any person can make the emails work efficiently, no matter the industry. All it takes is some effort to set up a workflow through which the triggered emails will be sent to the users based on the predefined actions.
More Personalized Emails
Email automation is based on the users' actions and the information they provide, so basically, the content it generates will be relevant to prospects. So, there are high chances of receivers taking some interest in the mail. Therefore, it can also grow the click-through rates and lead generation rate. According to Campaign Monitor, emails with personalized subject lines have 26% more chances of being opened compared to others.
If the emails are irrelevant to the users' interests and unhelpful to them, then they will unsubscribe them for sure. Personalization abilities take care of that aspect and keep the users engaged with the brand.
Ability To Segment Contacts
Before drafting emails, the most critical task for a marketer is segmenting the audience. Every user segment may have different interests, so one must classify the customers/leads. If something goes wrong, the user may discontinue purchasing from the company because of getting irrelevant emails that the particular user is not interested in. Email automation assists the marketing team in making different user segments based on their actions and interests.
Email automation lets the businesses automatically segment the user information into different parts such as gender, nation, location, age, etc.
Reduced Potential For Errors
Making mistakes in grammar/spelling or in the sentence format can reduce the prospects' trust in the brand. It reflects a lack of attention to detail. It often happens in manual workflows, and companies face higher churn rates. However, email automation plays an influential role in this place also. Email automation software lets the sender double-check and proofread the content, so potential errors can be identified and removed before sending it to users.
Additionally, the email automation tools also provide suggestions to improve the content, so it can be delivered in a way that makes the customer's attention.
Provides More Return And Value On Investment
Even though numerous companies adopt social media for their marketing practices, there are no sure chances of getting success. On the other hand, emails generate $38 for every $1 spent; according to emailMonday, it is a whopping 3800% ROI. On the other hand, social media provide just an average of 28% ROI.
Additionally, the email marketing costs are pretty minimal. In social media marketing, it is costly to run campaigns and do collaborations. While automation services may be charged some extra in the email marketing practices, it gives the best value on return.
Increase Brand Awareness
When the workflow is automated, the content created is consistent in quality and professional. It reduces manual errors and irregularities. Therefore, the business looks more organized and responsive and creates a better brand image. In addition, a powerful presentation and helpful emails make a better understanding of the company in customers' minds.
Email automation helps organizations make a structured and expected value in the market. Ultimately, all efforts boost brand awareness.
Carefully Planned Email Strategy
Before starting email marketing practices, a business needs an effective strategy that it should follow. Strategies are roadmaps for any business practice and make it easy to reach the goals. Email automation helps the organization set practical strategies according to its industry type and make the company objectives achievable.
Additionally, email automation increases the marketing campaign's efficiency and derives high-quality results.
More Detailed Reporting
Framing strategies and executing them is not just enough to gain success. Progress of the activities should be tracked to ensure the efforts are achieving expected results. Email automation makes the team more accountable and provides the business with timely reports.
Email automation tools assist the managers in tracking the direction in which the company is going and which areas should be improved. It lets them align the marketing and sales efforts to achieve expected growth.
Tips To Consider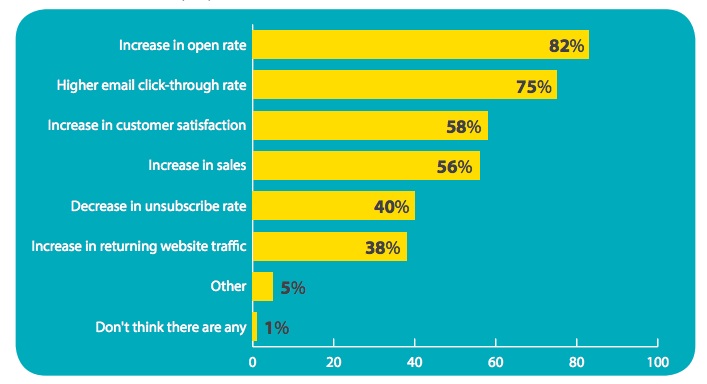 Image(Source)
As the image shows the business's success by automating the email workflow, companies must improve their emails' effectiveness by implementing different practices. But how to do it is still a question; therefore, here are some tips mentioned for businesses to consider:
Know Your Goals
All the business practices have ultimately one purpose, and that is to achieve the goals. Therefore, understanding and centralizing the goals is an essential task for any business. Goals should be aligned with the strategies. And even the goal behind drafting an email should be clear. For instance, if an email is being written to update the user about the shipping confirmation, it should be direct and limited in size. Any promotional elements or additional product information shouldn't be added.
Strive For Great Content In Your Campaigns
Focusing only on the click-through rate and the open rate is not enough as it doesn't ensure customer loyalty or conversion. The content should also be emphasized to drive the high-quality leads that can make better closing deals. Email automation tools provide better suggestions to craft qualitative content, and content metrics define how the readers are likely to engage with it. The content should be desired by the subscribers as it shows higher chances of getting them converted. It should be crafted so that users enjoy it, find it helpful, and want to get it.
Spend Time On Your Subject Lines
Subject lines are likely the second factor after the sender's name in an email that someone would consider and determine whether to open the message or not. Though, various organizations ignore this and spend very less time on the subject lines. They play an influential part in email automation practices as the email may be opened and clicked if done in the right way and if not, then it also may go to the spam folder. Personalizing the subject lines can be a good idea; also, it attracts more open rates.
Learn From Past Workflows
Successful strategies are always built on considering failures, whether they are others' or the company's own. Reasons behind the failure of certain efforts help the managers to frame the strategies in a way to avoid specific criteria. Email marketing campaigns' success is often defined by the open rates, click-through rates, subscriptions, and conversions; therefore, these factors should be constantly evaluated. It helps to make necessary changes in strategies and present the past data to identify the mistakes. While framing the future plans, past errors should be considered to derive better results in the next attempt. For example, if the marketer finds that most of the emails are getting opened by users, but very few of them are clicking on the link, it means that the content is not qualitative enough to appeal to the users. So, there is a need to make some changes to it. This way, the campaign's efficiency can be improved by analyzing the past data.
To Conclude
Email automation is an excellent solution to keep the audience engaged and updated with the business. And it also delivers various other benefits to a company that leads to overall growth. Numerous free feedback software and mobile apps have been introduced in the market that helps marketers easily automate the process and allocate their time for other essential activities.
---