Host IT Smart Review – Best Web Hosting For Bloggers In 2022
---
A well-performing Web Hosting Platform is key to a high returning blog. If your site isn't functional and fast enough, you will dissatisfy a huge crowd even before they even get a look at how revolutionary your ideas are! Most of them will never return to your blog. Quality of content is important for a blog, but the performance is important-er!
So what kind of Hosting do Bloggers really need?
What are the different kinds of hosting, and which one should you get for your blog? All hosting types have their pros and cons that you need to consider while picking one for your blog. Here they are:
1. Shared Hosting
Shared Hosting is when you share a common space with other websites on the same server. This is a great way to get started and build momentum on a limited budget.
Pros:
– Cheapest option that is reasonably good
– Easy to manage
Cons:
– Performance issues
2. Virtual Private Server (VPS) Hosting
VPS is much like Shared Hosting, as you share a server, but it offers better performance as you will have a specific portion of server space all to yourself.
Pros:
– Great performance
– Affordable pricing
Cons:
– You will have to work on the backend configuration
3. Dedicated Server Hosting
This is when you have the entire server hosting only your website.
Pros:
– Best performance
– Complete server autonomy
Cons:
– Very expensive
– Technical know-how required
4. Cloud Web Hosting
When your site is hosted on the "cloud", your data is stored on many, many servers in the world. With your site on the cloud, you are not reliant only on a single server.
Pros:
– Smooth performance
– Fast page loading speed
– No technical expertise is required
Cons:
– No server customizations are possible
– Much expensive than shared hosting
5. Managed WordPress Web Hosting
This hosting could be from any of the above types for specifically hosting WordPress websites. The type of hosting would depend on your hosting service and your budget.
Pros:
– Good performance
– No technical expertise is required
Cons:
– Only for hosting WordPress websites
– Expensive
Now, which one's for you?
Related: Get to Know about a Web Server & Types of Web Server
If you're just starting off your new blog, Shared hosting is strongly recommended. You won't have to spend huge on a massive space that you're not going to initially need.
As you start picking up on more audience and discover practices to generate revenue while fine-tuning your content, it would be advisable to switch to VPS hosting. You may never feel the need to transition from a VPS host, but if you do, you might want to go to the Cloud before you think of investing in a Dedicated Server. You will only need a Dedicated Server for a blog if it draws a bunch of million users per month.
Why Host IT Smart is Recommended?
Host IT Smart is a hosting service and domain provider that could help you decide which one to pick for your exact needs.
Host IT Smart offers affordable hosting plans that suit businesses of all scales! Every buck counts when you are on a shoestring budget. Too much input at a stage when you do not have good amounts of outputs from your business to recover from the expenses incurred can be a huge setback, but Host IT Smart offers the cheapest hosting and domain that do the job, and you may choose to upgrade your hosting as your requirement and your revenue grows.
But, cheap plans do not mean bad performance. Host IT Smart assures good performance speeds and a 99.9% up-time! In this age of ever-receding attention spans, bad performance that leads to longer wait times and glitches can be detrimental to the business. The plans come with a 30-Day Money-Back Guarantee that allows you to cancel your plan during the first 30 days of use if you are unsatisfied with the performance.
Further, they offer 24/7 support over chat or call, in case you encounter any doubts or troubles.
Host IT Smart's Shared Hosting Plans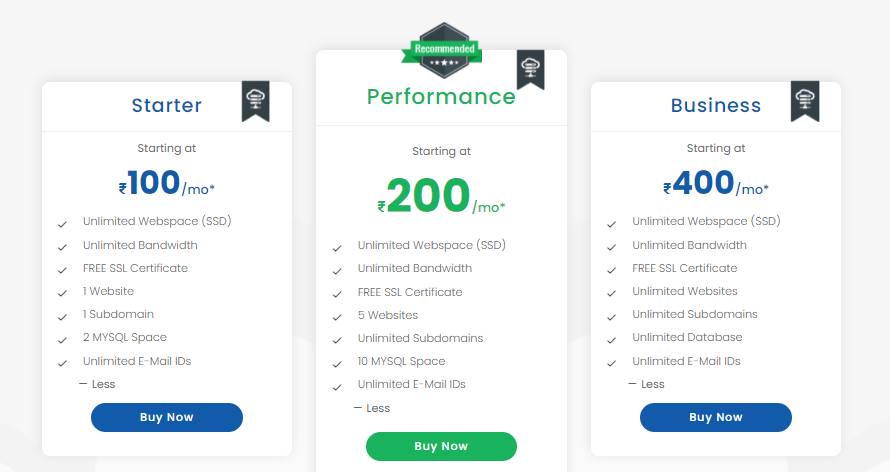 Host IT Smart's VPS Hosting Plans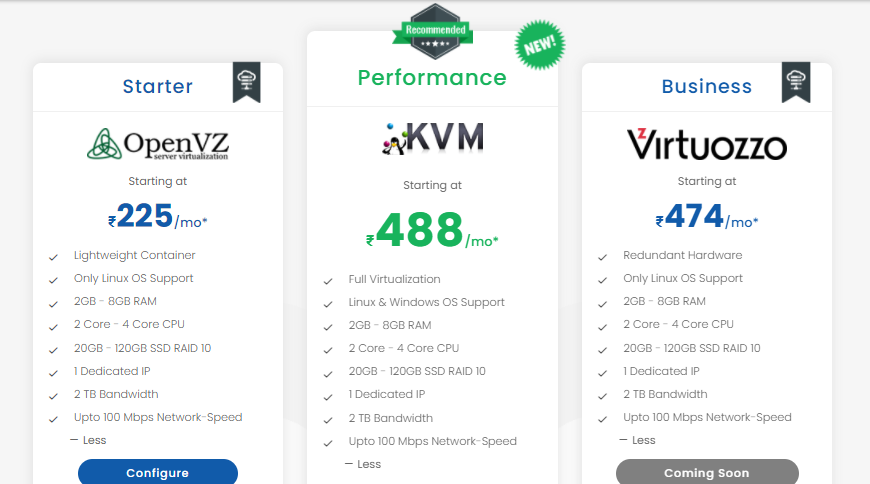 Host IT Smart's Dedicated Server Plans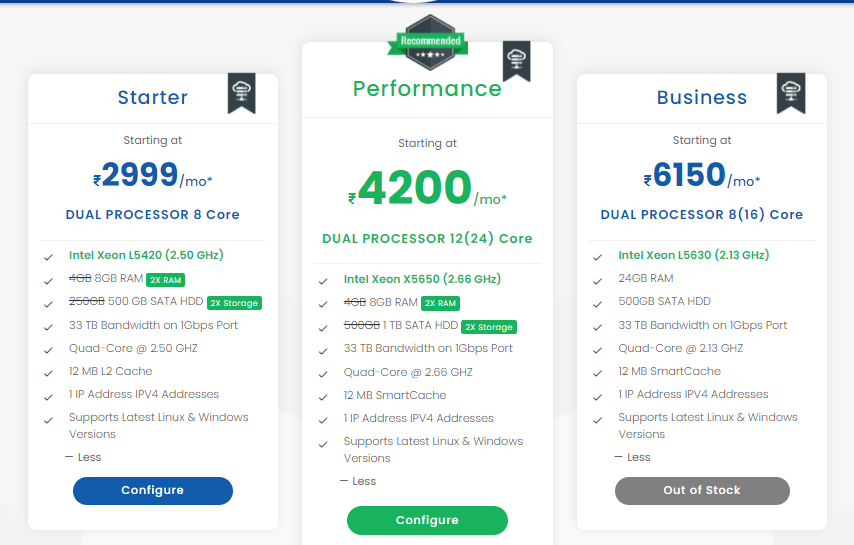 What Do Clients say About Host IT Smart?
Some of the best reviews from Host IT Smart Clients: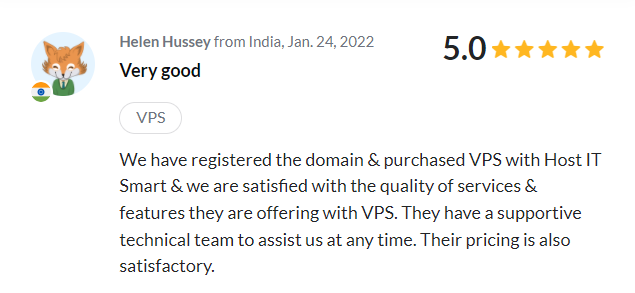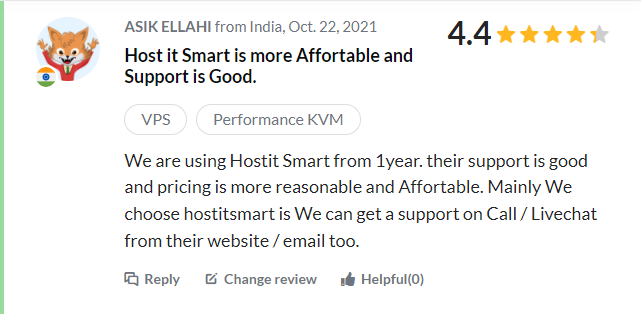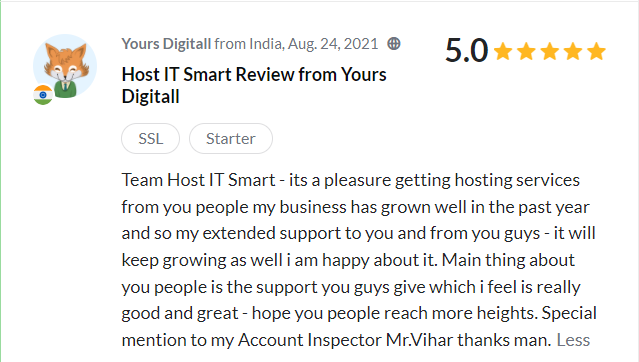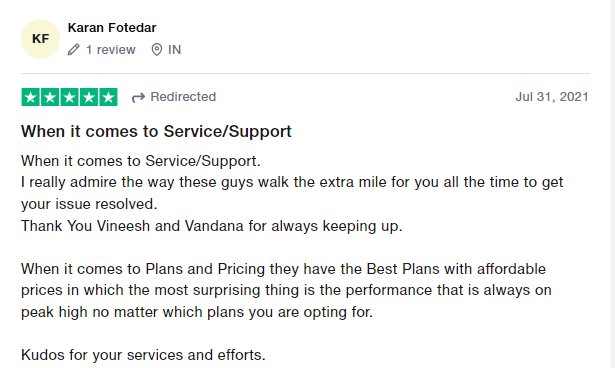 To conclude, the ideal hosting for you depends totally on where you are on your blogging journey. By picking a host that is suitable for your work and aligns your blog with your goals is indispensable. Host IT Smart is the best web hosting provider that can take your website to the next level.
Good Luck!
---