Great E-commerce Content Strategy To Multiply Your Traffic And Conversions
---
If you're running an e-commerce site, you certainly know how important the website content is. The site content can easily drive big traffic to your shopping platform, and generate huge revenue as a result.
But, the main issue is that most marketers tend to consider "If I publish more content, I will get more leads", which in fact benefits only the content developers: they are paid for its creation. According to Semrush, content created without any plan is just a set of words, videos, and pictures thrown to nowhere, it makes nothing special for e-commerce development and website promotion.
On the contrary, the well-organized content strategy can significantly improve conversions, increase traffic and boost the sales funnel.
Interested? Then it's time to cover the basics about e-commerce content strategy creation!
What is Content Strategy?
In general, content strategy is the permanent process of transforming the business objectives and specific goals into a specific plan targeted on their achieving using the content as a primary tool. The content strategy implies not only writing high-quality and relevant information but also employing it for the right business tactics and goals. As a result, the website gets higher traffic, more customers, and better sales engagement.
The main goal of the content strategy is not solely to publish some pieces of articles. A good content strategy includes deep analysis of the site, search engines, audiences to create and deliver usable and useful content for the final consumers.
Furthermore, the content strategy is also one of the key components used for search engine optimization (SEO): the content with good quality and link building are the two critical aspects analyzed by Google to rank a website for search. That is why over 70% of marketing experts now consider content development to be the most effective SEO tactic, according to HubSpot. Needless to mention, that created once, such website posts can generate tons of free traffic for years!
Thus, more and more e-commerce sites start employing this type of marketing in their business development.
But what makes the content strategy that effective?
Content Strategy Key Components
The core elements of an effective content strategy can be divided into two kinds: content components and people components. For sure, any content needs to be targeted at your audience and not just simply written and published. That is why content strategy consists of:
Substance – a content component that explains what content your site needs and which messages to employ for interaction with your customers.
Structure – a content component that indicates the content prioritizing, organization, formatting, and displaying.
Workflow – a people component that defines the tools, resources, and main processes required for assembling your content and its successful performance for your website.
Governance – a people component that includes managing processes, changes, and improvements for getting better results from your content strategy.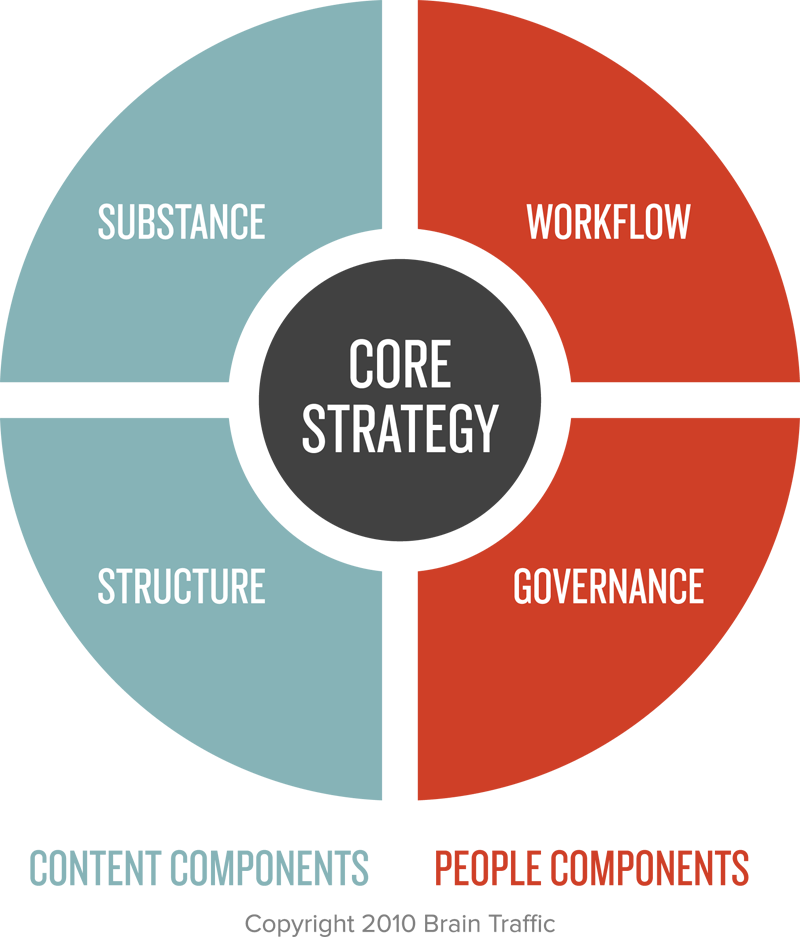 Taken from: https://articles.uie.com
With having all these steps engaged in your content strategy, you'll be able to create an effective yet efficient plan that will not only increase audience engagement but also boost the sales events made on it.
Main Steps of a Good Content Strategy
To make the content that works best for the audience engagement and can increase your site traffic and conversions, it's critical to follow a certain strategy. Full of the goals and detailed description each step needs, such a strategy can easily become a perfect helper to the e-commerce website development.
So, what are these steps? Let's get them covered right now!
#1 Define Your Ideal Customer Model
Before starting to create any kind of content, it's important to measure your client's goals. Based on the specific kinds of your audiences, it becomes much easier to create targeted content that helps to improve the sales and assist your customers on different steps of their site journey.
As an example, you can create content that describes a certain problem they often face in their everyday life. Then, propose a list of solutions that are commonly used and, finally, offer them to give your product a shot! Such a targeted and discreet attitude will make people consider getting your product with the mind they need it right here and right now. The words of Steve Jobs fit best here: "People don't buy products, they buy better versions of themselves."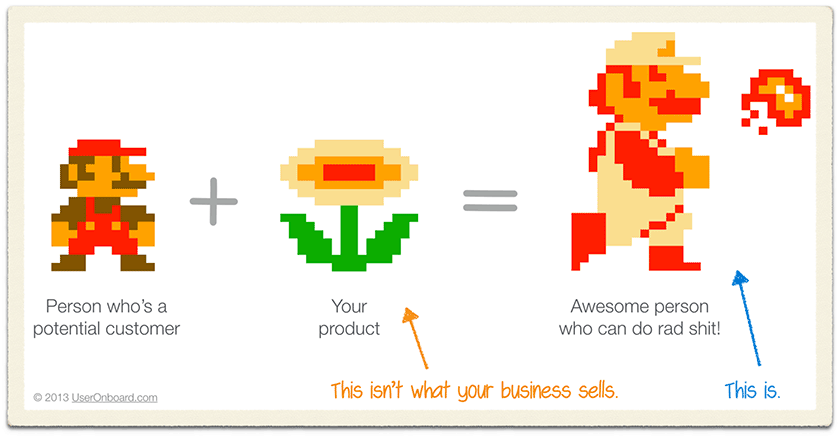 Taken from: https://medium.com
So, how to identify your ideal customer model? The basic components usually include:
Demographics: the info that helps to get more concrete details about the customers' age, location, gender, etc.
Personal qualities: the traits that can help you to personalize the content, its structure, or tone according to the visitors' preferences.
Intention: what they need to get from your content – is it some insights about the brand or industry? Are they ready to buy or just window shopping?
Problems: why they come to your site and how your product can resolve the issues.
Contact channels: the ways they prefer to consume your content: on-site, on social, or some apps.
With all these points tracked correctly, it becomes much easier to understand your audience and get some ideas on how you can improve the interaction with it.
#2 Study the Audience Interaction With Your Content
What are the channels your audience uses when coming to your site? Is that a direct link or page in social media, or the content they bump into while googling something?
Marketers recommend defining the main channel that generates more leads to your site and works on its better performance along with posting the content on your e-commerce website. Such a simple trick becomes a perfect channel for informing about the latest product or content updates done on the site.
Additionally, you should also consider the type of content that your audience likes most: video, live events, long- or short-form content, analysis and case studies, etc. And, because of mobile commerce's rapid development, it's critical to adapt your content for different devices and make mobile purchasing comfortable for use.
Last but not least, analyze the time the audience is willing to spend on content browsing. For this and many other purposes, you can use the tools like Google Analytics to get the updated information about the users' behavior.
#3 Research and Create Content
To increase the competitiveness of your content, it's important to do some research before it's created. For instance, a nice opportunity for getting more traffic is SEO analysis. By targeting your content on the specific terms and keywords, it becomes more than clear on how to improve the site rank, as well as create the exact content people seek on the Internet.
Furthermore, the SEO analysis can also assist in conducting the competitor analysis and discover the strategies similar e-commerce sites use for their content creation and improvement.
#4 Post Your Content Regularly
Needless to mention, any type of audience engagement tool needs consistency. Blogging, social media, or search engine marketing – all these require regular interaction to keep the connection with your audience.
Remember, there are lots of things an average customer looks for every day. #5 Measure Performance Results
An e-commerce site's content strategy is always an ongoing process that needs constant tracking of the content performance. Good metrics of your content strategy can be naturally defined by your e-commerce return of investment, but that's not the only way you can notice it.
To make sure things are going well with the content strategy for your e-commerce site, you can also compare the performance of the following measures:
Organic traffic
New visits
Bounce rate
Time on page/site
Social activities
The positive tendency of these metrics allows you to define the popular pages of your site and fit the strategy strictly to your customer needs and expectations. And, vice versa, if you notice the performance is the same, the strategy should be modified or complemented.
#6 Ask for the Review
One of the most effective methods of getting an independent opinion about your site performance is to ask your consumers for feedback. A simple form sent via email or shown in a pop-up box or simply adding a QR code that is linked to a review form on your product's packaging can provide you with more details about what people like and what should be changed and how.
In addition to that, feedback is a great way of adding more value to your brand and its products, which can be also used for further promotion.
Conclusion
The e-commerce content strategy seems challenging at first. It implies various points of audience analysis and content planning, which can in fact generate free and high-quality traffic to your e-commerce site.
However, its employment can significantly benefit site development by generating much more revenue, developing brand awareness, and improving customer relationships.
To sum up, the content strategy is key to boosting your e-commerce site. By conducting it on the regular basis, you will be able to benefit for years!
Start employing it today!
---