Google Reviews SEO: How To Use Customer Reviews For Local SEO
---
How often do you check customer reviews before visiting a business? Have you ever found yourself favoring one business over another due to online reviews?
According to Review Trackers, 63.6% of customers are likely to check Google reviews before visiting a store. The same study also reports that customers are more likely to trust and purchase from a business with excellent reviews.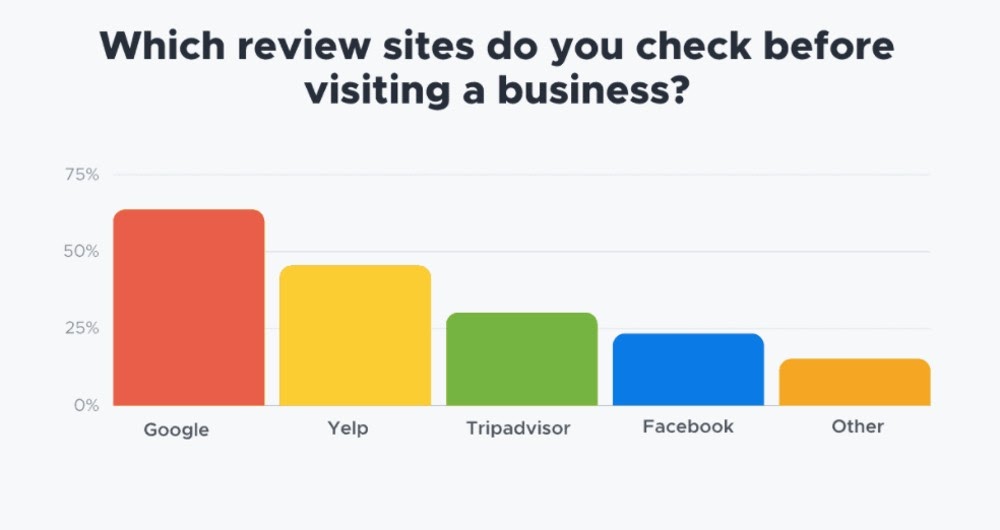 But have you ever wondered how those local businesses show up on the search results pages in the first place? Well, that's local search engine optimization at work.
In this article, I will help you understand what local SEO is and its benefits. I'll also show you how to use Google reviews SEO to improve your local rankings.
What are the benefits of local SEO?
Local SEO helps your business rank for specific services in a given area. For example, when you search for "best restaurants near me" or even "best restaurant," several establishments will show up on the search engine results pages (SERPs) like this: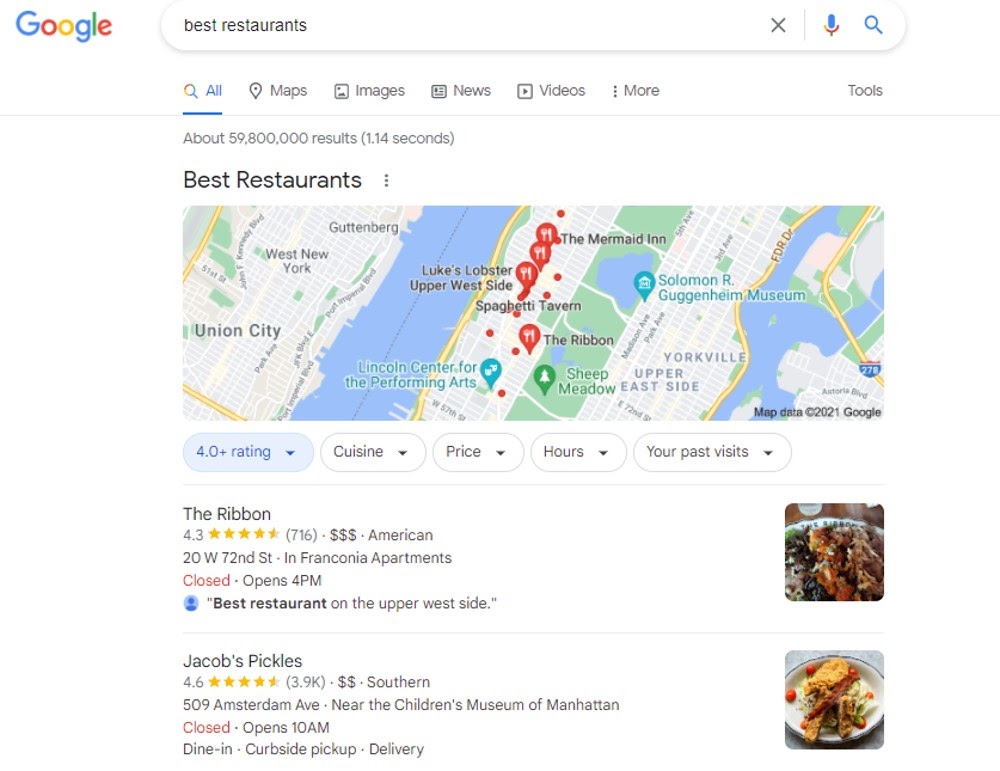 Source: Google Search
The businesses appearing on these results have optimized their websites for local SEO. And by ranking higher, these establishments enjoy more brand visibility which results in higher traffic and more potential customers.
Local SEO is particularly crucial for brick-and-mortar businesses. Lots of customers search for local establishments online before visiting the store. Most of these visitors also end up making a purchase.
In fact, a 2016 study by Google reported that 76% of consumers who perform local searches visit an establishment within 24 hours. Of these, 28% make a purchase.
Local SEO is not beneficial for brick-and-mortar stores only, though. Online businesses can also use this strategy to target an audience in a specific location. You may find niche blogs targeting the New York City area, for example.
Similarly, you will find digital marketing agencies using local SEO to rank in specific regions. That's an ingenious strategy because digital marketing is a highly competitive industry. You'll need tons of resources and patience to rank for these services worldwide.
But, by targeting a specific region through local SEO, you effectively bypass the competition to make your brand and services more visible.
What is the best way to leverage customer reviews for local SEO?
You've learned what local search engine optimization is and why your business needs it. Next, let's see how to use online reviews to boost local SEO.
Create a Google My Business Profile for your business
Setting up your Google My Business (GMB) profile is probably the simplest way to leverage customer reviews for local SEO. It also doesn't cost a penny.
Google My Business profile shows key details regarding a business. It may show opening hours, location, menu, etc.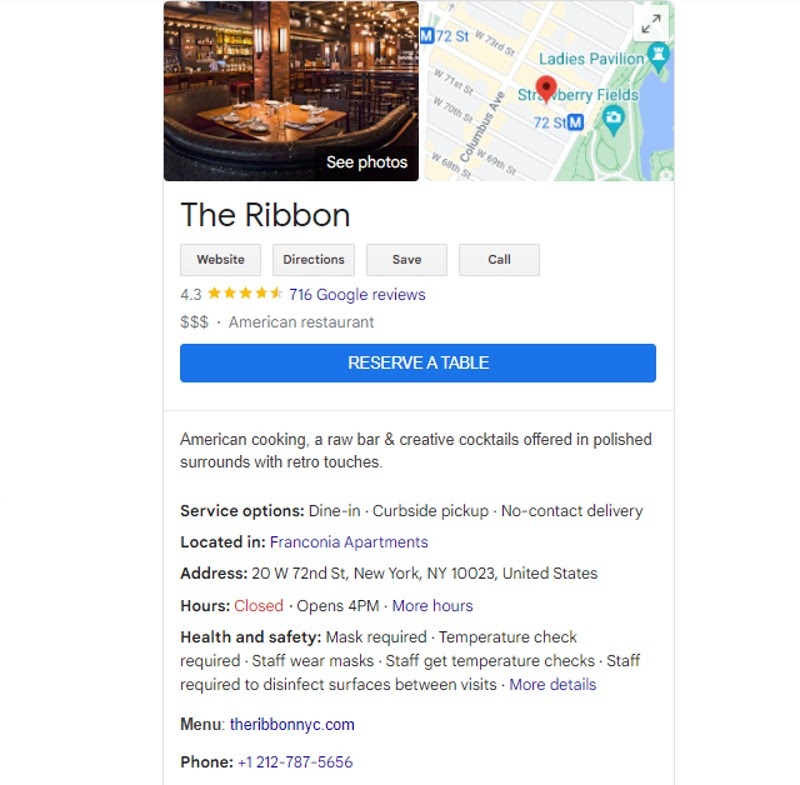 Source: Google Search
The easily-accessible information makes it easier for prospective customers to engage with a business. And if you optimize your GMB listing correctly, the profile will attract more clients and raise your ranking on the SERPs.
So here are some tips on how to optimize your GMB listing:
Claim your profile
Include contact details
Use high-quality images
Include relevant keywords
Allow customers to message you
Pick the right business category
Use Google posts to keep your profile fresh and "clickable."
Fill out every section
A GMB profile generates more customer reviews and helps you utilize the existing reviews to attract customers and boost your rankings. So head over to Google My Business and set up your profile.
Reviews influence your Google ranking
Most business owners understand the effect of customer reviews on conversions. Consumers are more likely to purchase from your business if it has glowing reviews.

What most business owners may not know is that reviews will also affect your rankings. Google, just like any other business, wants to deliver the best user experience. So, why would they present an establishment with tons of negative reviews if there's another option with great reviews? It doesn't make sense, right?
Customer reviews show how satisfied consumers are with a business, and search engine algorithms understand this. Therefore, businesses with the most positive reviews have a significant advantage.
But that's not all.
The number, recency, and overall diversity (sources) of the reviews also matter. Your local ranking will increase if you attract lots of positive and diverse reviews. The more recent they are, the better.
Do you require a certain number of reviews?
A study conducted by Bright Local showed that the top three businesses ranking on Google have 47 reviews on average.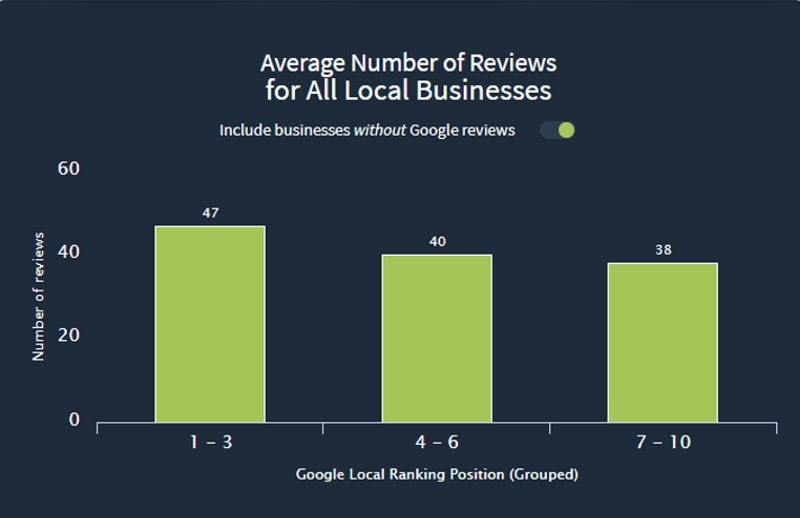 Sadly, hitting that number does not guarantee you a place in the top spots.
As the same study showed, the number of reviews of the top-ranking businesses varies from one industry to another. For example, hotels had an average of 309 Google reviews, while landscaping businesses had a mere three reviews.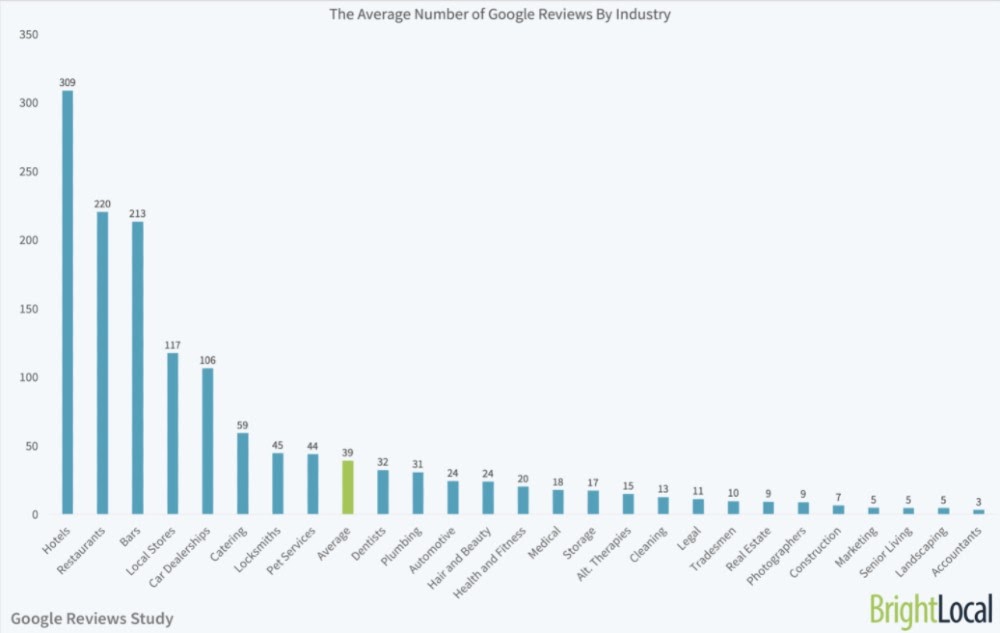 Therefore, there's no magic number that can guarantee you the top position. However, the more positive reviews you have, the higher the chances you'll beat your competition.
Does it matter if you reply to reviews?
Yes, it does. Google reports that responding to customer reviews shows that your business values its customers. As such, the algorithm tends to favor local businesses that respond to customer feedback.
Besides boosting your local ranking, responding to customer feedback is also a great way of engaging your customers and winning their trust.
So, show your appreciation whenever customers leave some feedback. And when you receive a negative review, offer an apology and show your commitment to resolve the issue.
Make use of UGC on review websites
User-generated content (UGC) is crucial in so many ways. For starters, UGC can support your SEO efforts, especially if consumers are using relevant keywords in the reviews.
Suppose you're running a dental clinic and have multiple delighted customers talking about "best invisalign," "best veneers," "best smile makeover," etc., on Yelp. That's really good for your SEO as it provides positive and fresh content for search engines. Plus, it's good for overall brand visibility.
Second, UGC gives you authentic social proof that can boost your conversion rate. Pull reviews from Yelp and Trustpilot into your landing pages to showcase what other consumers say about your product. The positive reviews will convince skeptical prospects that your products are actually the real deal.
That's what this NYC dental clinic does: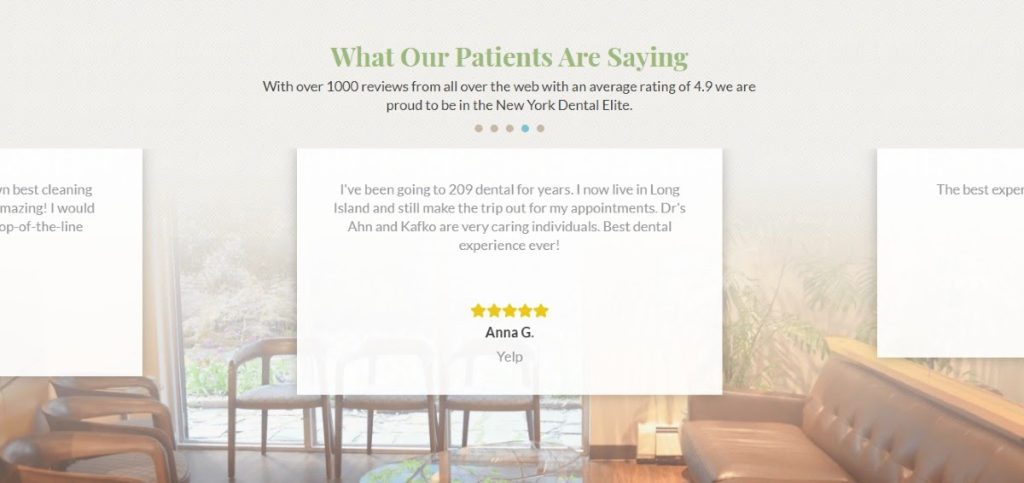 User-generated content is also a gold mine for customer insights and keyword ideas. Going through the reviews can reveal keywords or phrases popular among your audience. Use these phrases to optimize your website content.
List your business on all popular review platforms in your industry and utilize the reviews as much as possible.
Use structured data
Structured data or schema markup is a plugin or code added to a website to help search engines understand the data on your website. After understanding the data, search engines will present the data to users in a more attractive and digestible manner.
That makes it easier for potential customers to find all the information they need from the result pages. Consequently, it increases the chances of engaging more customers.
The local business schema markup is specifically designed for local businesses. The codes display details like a menu for restaurants, geographic coordinates of your store, business hours, aggregate reviews, and customer review snippets.
You can get the local business structured data HTML codes from the Google developers page. The page also provides a step-by-step procedure on how to add the code to your website.
Obtain reviews from local authority websites
Lastly, seek reviews from some of the authority websites in your local area. An authority website is a site with a high domain authority (DA). These sites are highly trusted by search engines. Therefore, your rankings will increase significantly if you get your website mentioned and linked to from these sites.
Use tools like ahrefs to identify the top sites in your area (with a DA of 60+). Reach out to these sites and ask if they could review your products and link back to your site.
In addition to boosting your local search ranking, these mentions and backlinks will also drive potential customers to your website.
Wrapping Up
It's evident that customer reviews are critical for your business's SEO and bottom line. The more positive and diverse your reviews are, the higher your business will rank and the more customers you'll attract.
So, encourage your customers to leave positive reviews for your business. You can do that by making it easier for them to review your store, i.e., make the process simple and fast. And, of course, you should deliver exemplary services to attract positive ratings.
As the reviews increase, use the above guide to put them into good use.
Keep in mind that customer reviews won't raise your local rankings overnight. Just like any other SEO strategy, this tactic takes time to show results.
Michal Leszczyński
Michal is immersed in developing, implementing, and coordinating all manner of content marketing projects as the Content Marketing Manager at GetResponse. He has 8-plus years of expertise in online marketing with a Master of Science Degree in Strategic Marketing and Consulting from the University of Birmingham (UK). Michal is the author of more than 100 articles, ebooks, and courses for both GetResponse and renowned websites like Crazy Egg and Social Media Today.
---