Facebook Widget Plugins for WordPress – To Make Your Website More Functional
---
"Facebook is dead, said every online fake marketing guru ever. "
In the last few years, it has been a rumor that Facebook now generates no revenue for any business. Neither does it help the business in any way. However, the good news is Facebook has seen 2.8 billion daily active users in June 2022, making it the world's most popular social networking site. And according to Oberlo, nearly 200 million small businesses around the world use Facebook as a marketing tool. This simply implies that Facebook has immense potential that is not just limited to posting pictures on the platform.
True to its potential, Facebook has helped businesses and brands to grow exponentially in the last few years. This is why brands have now started using Facebook widget for WordPress.
If you are looking for plugins that provide you with a Facebook widget for WordPress, then this is the right blog for you. In this blog, we are discussing some of the best Facebook widgets for WordPress.
Best WordPress Facebook Widget Plugins For Your Business Grow:
There are many WordPress Facebook Widget Plugins that one can use to embed Facebook feed widget on their business website. Some of the best Facebook widget plugins for WordPress are mentioned in this blog. While some of them differ in features, all of them are easy on your pocket. We hope by the end of this blog, you will be able to embed Facebook widget on your WordPress website.
A). Facebook Feed WordPress Plugin by Tagembed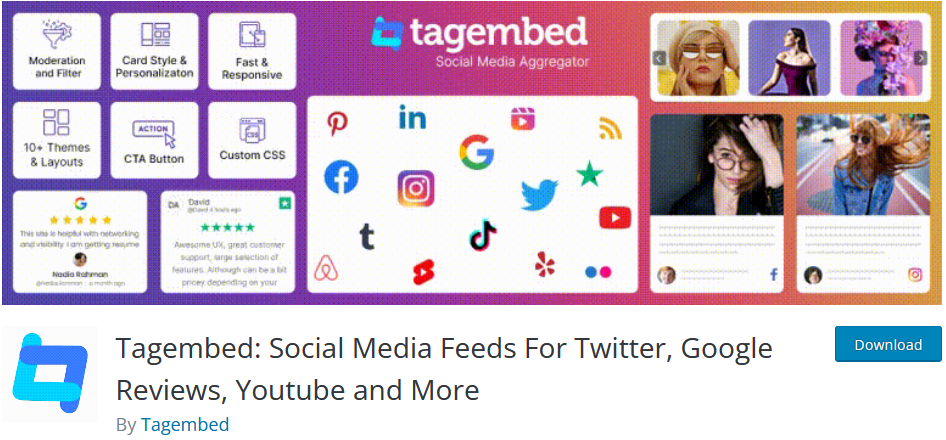 The first plugin on our list is Facebook Feed WordPress Plugin by Tagembed. Without creating any code, this plugin can complete the entire embedding process. With the help of this plugin, you can compile every Facebook post and then integrate it on your website. You can showcase all forms of Facebook content without hampering the speed of your website.
The best part of using the Facebook Feed WordPress Plugin by Tagembed is that you can fully customize the entire Facebook widget, which means your Facebook widget will look eye-pleasing and visually appealing to your website visitors.
The feed's size, theme, and template can all be changed. This will enhance the overall appearance of the website. Moreover, the visitors will get enough information and content to scroll through the website, reducing the website's bounce rate.
The main benefit of using this Tagembed plugin is getting access to some incredible extra capabilities, including the analytical feature of the WP plugin. You can use this to evaluate how well you're Facebook feed is performing. You can remove the Facebook posts from your website that you do not want to be seen using the moderation panel of the plugin. Other prominent features include configurable CTAs, custom CSS, responsive widgets, and automated updates.
B). Widget for Social Media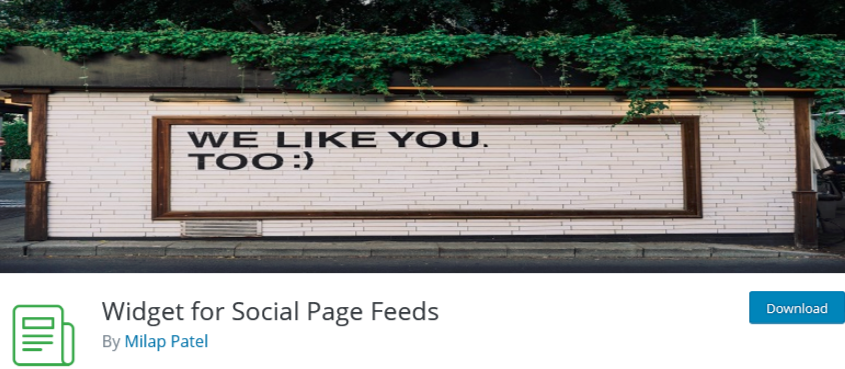 Widget for Social Page Feeds is a simple and easy-to-use plugin that makes it easy to embed a Facebook widget on WordPress websites. You can position the plugin's widget anywhere you choose, including sidebars, footers, and headers. This WP plugin does not take more than two minutes to install all the changes in the widget. Once you've connected your Facebook page and activated the widget in the desired spot, you're done.
The plugin is your go-to solution to your Facebook integration needs. It offers a simple box that contains your most recent posts. You can modify the settings for whether to display or remove a certain post. This WordPress plugin can also help you change the language, header, and width.
C). Easy Social Feed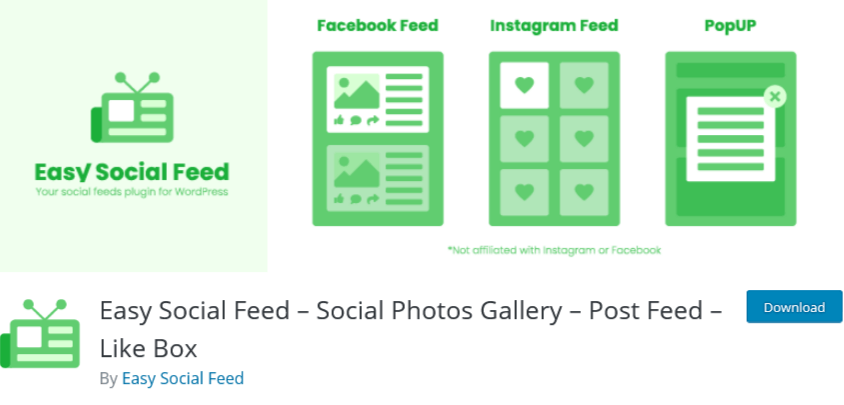 It is not wrong to say that Easy Social Feed is designed for beginners. With the help of this plugin, you can display your stunning Facebook content. This plugin is highly customizable, which means you can change the color and size of the fonts, and alter the number of rows and columns in your widget. Apart from that this plugin has also an auto pop-up feature. You can use this feature to display important information to your website visitors.
You can also display the number of likes you have received on your images, and flaunt the comments about your products with the help of the pop-up feature.
Apart from that, you can also apply color filters to the images you embed. However, these features are only available with the Pro version of this plugin.
D). SmashBalloon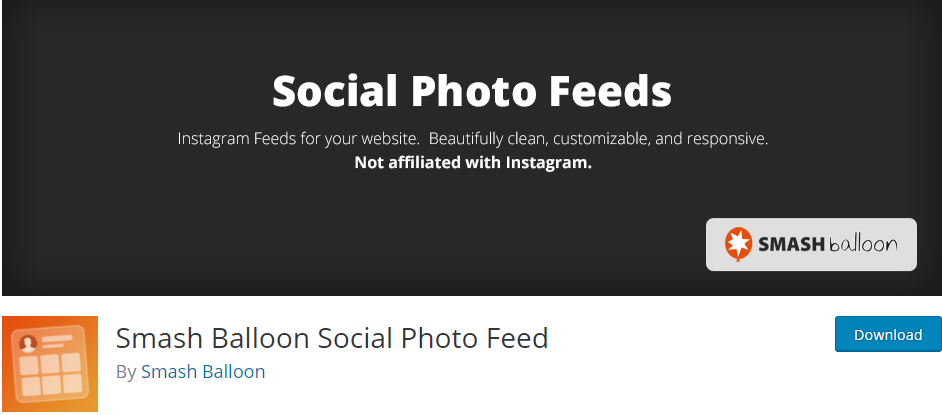 The next plugin on our list is Smash Balloon. Using this plugin, you can highly customize the look of the widget.
This plugin is SEO friendly. To perfectly complement the layout of your website, you can entirely edit the social feeds posted from a group or page. This plugin allows you to upload a variety of feeds from various Facebook pages. The Facebook feed of Smash Balloon will not disappoint your pace. The feeds of this widget load really quickly.
You will also get an eye-pleasing header and a magnificent Like Box Widget. With the visual header, you can show off a stunning visual header that includes your cover photo, group cover photo, bio, etc.
E). 10Web Social Post Feed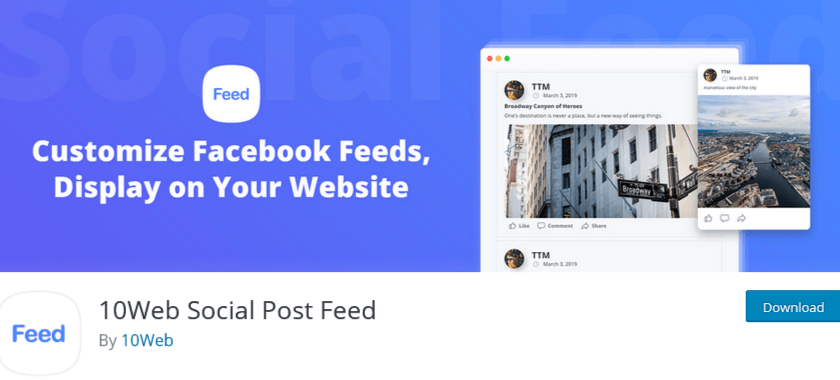 Another fantastic plugin on our list is 10Web Social Post Feed. This is an incredible plugin if you want total control over the appearance of your Facebook feeds. The plugin immediately syncs with Facebook and updates your new feeds after linking your Facebook account.
Even more intriguing is that it offers many feed layouts, such as album views and thumbnails for videos and pictures. This plugin also has different view settings available in the pro edition depending on the type of content you want to present on your website.
Wrapping Up
If you are a business owner, you must be aware of the importance and popularity of social media platforms. Facebook, being one of the most used social media platforms, is a great marketing tool if you want to establish trust and credibility in your industry.
Since it is a reliable platform, it can also help you drive immense leads and sales. You can make the most of this platform with the help of the plugins mentioned above. So don't wait to use a Facebook widget for WordPress website and leverage the opportunity at its best.
Author Bio:
I'm Daisy – a digital marketer that has a passion for writing and exploring new marketing trends and innovations. My interest lies in social media platforms, tools (like Instagram, Facebook, Twitter, Google Review Widget and etc.), and digital marketing trends.
---