Digital Marketing: 7 Strategies to Stick To in 2021
---
Who said that digital marketing should be complicated?
Nope.
There is no need in applying difficult strategies, running endless A/B tests. You don't need to come up with an in-depth marketing funnel. All these things can be put aside if you are an owner of a small business.
Despite the fact, you can't move your business online without certain marketing strategies.
So, what marketing strategies to choose for those who want results in small business?
In this post, you will get familiar with seven fundamental digital marketing strategies for small business owners.
Let's get to the meat!
Do Blogging but Keep It Optimized With SEO
What is the difference between blogging and keeping a diary?
When you keep a diary, you write about everything that happens with you during the day. All this information doesn't have any significant value neither for your business nor for your target audience. It is just a stream of consciousness that helps you direct your emotions outward in a written form.
Blogging is the process that covers the main aspects of your business. It focuses on building communication with the audience using various forms of content.
Besides, blogging doesn't require day-to-day writing activities from you. You can create content following your own schedule.
But how does SEO blogging differ from a standard way of the same content creation process?
SEO blogging focuses on producing content that would cover topics that might be interesting for your target audience. Or you write about everything that your potential customers search on Google related to the service or product you offer.
For example, you run a business that offers content design tools. You know that you have a powerful toolkit that can help people make their content more beautiful visually. If they choose your service, they will be able to create social media ads, infographics, charts, videos, ebooks, etc.
It won't be hard to guess for you that people would type the following types of inquiries online:
How to create a chart
Free video maker tool
How to make an ebook
Types of social media ads
If you think that the suggested above inquiries seem not promising, check out how many searches they have per month. For this, you can use Keywords Explorer tool:

As you can see, the search results are impressive. The game is worth the candle to create content that would cover these questions so far. But if you want to figure out more questionable search queries, you will need to play with seed keywords a bit.
How?
Use the same SEO tool and review the "Matching terms" tab with the "Questions" report:
By covering these questions in your content, you generate passive traffic to your site. The more traffic you drive, the more potential customers you will get.
Don't Underestimate the Effectiveness of Email Marketing
Email marketing works well. Especially, if you have lots of contacts to reach out to. Therefore, your top priority is to grow an email list.
How to do this?
The first digital marketing strategy you have read about is SEO blogging. And this is for a good reason. Because one of the most straightforward ways to build your email list is to convert traffic into your newsletter subscribers.
Simply said, when people visit your site and explore your blog content, there are more chances that they will see an opportunity to sign up for your newsletter.
However, there is another challenge that you face – how to make people sign up?
You have a bunch of ways to do this. It could be a lead magnet like offering ebooks, discounts, free courses, and many more. The main idea is to hook people and force them to become your subscriber.
You might wonder – what is the purpose of sending your content updates to people if you need to earn money from them?
The answer to this question is quite simple – the more you interact with your audience, the more time you devote to help them solve their problems, the more likely they will become your paid customer at the end of the day.
Involve Using a Video Marketing Strategy
When it comes to video marketing, the first platform that jumps to mind is YouTube. What's more important, YouTube tends to be the second-largest search engine after Google.
For businesses, it is a wonderful opportunity to promote their business in the form of video content. Thus, you should create your channel and start recording videos.
For instance, you have a website that is devoted to music equipment. You write reviews of the equipment and everything in between related to this niche. And you are aware that people want to know what are the best guitar strings to choose from.
If you analyze the seed keyword "best guitar strings", you will see that it has 2.2K searches per month. Besides, it has a very low Keyword Difficulty. It means that it will be easy to rank for this specific keyword.

As you already guessed, you can record a video and present a few variations of guitar strings. Video will help you show how these types of strings sound and for what music genre each of them would fit the best.
A YouTube channel from Music is Win has 1.43M subscribers. This channel covers all aspects related to guitars. Consequently, these guys decided to record a video on the best guitar strings.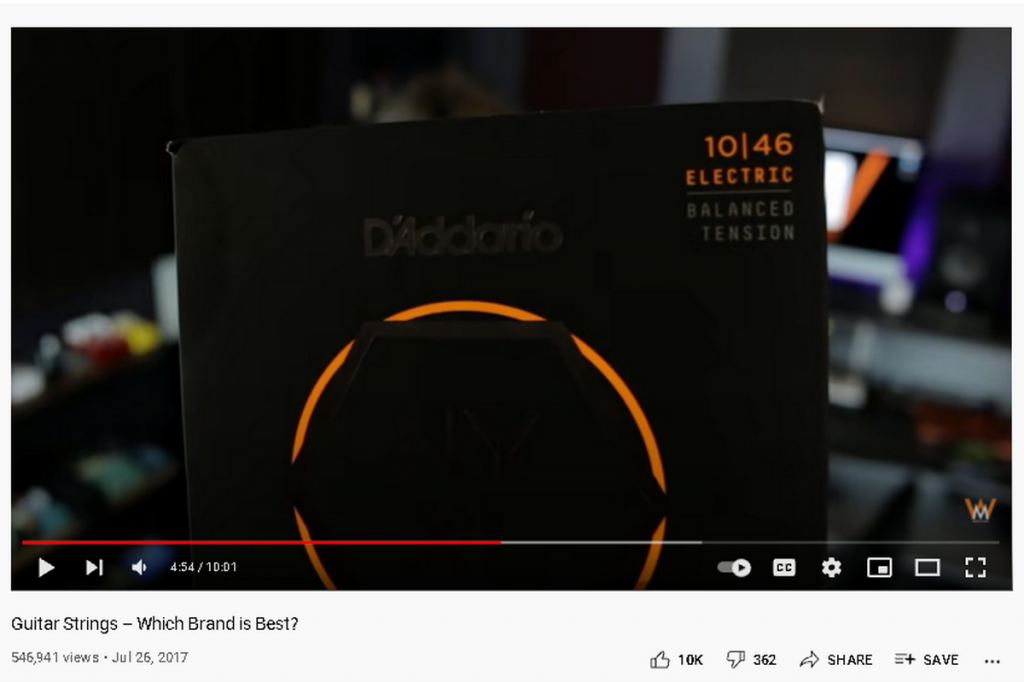 This video has over 546K views. Plus, it provides information on what string brands are worth attention from musicians.
YouTube is a great weapon in your marketing strategies arsenal that you should be armed with.
Paid Advertising as a Digital Marketing Strategy
Nobody likes to deal with paid advertising. Simply because you can never know if the game is worth the candle.
However, if you want to save more of your business time, you should invest in paid ads. It will help you put your service in front of a larger target audience.
Right before you start working with paid ads, you should know a few tips:
Identify a social platform that would be more related to your type of business
Focus on targeting keywords with the lowest level of cost-per-click metric
Make sure you know the intent of the exact social platform you want to use for launching paid ads campaigns
How to understand this in practice?
Let's say you want to use Instagram and run your ads there. Your business is all about music equipment. Therefore, it makes sense to redirect your potential customers right to the product pages so that they will be able to purchase the products.
To sum up, choose the social platforms attentively and invest your money in the ads wisely.
Use Social Media Marketing
Whether you believe in it or not, Social Media Marketing doesn't work properly if you post every new update on each social channel you run. Nope. It works when you're dealing with the specific social channel that fits your business the most.
But how to figure out which social channel would fit your business?
Analyze your target audience first. Try to identify a social channel where your potential customers spend their time. Then, try to understand why they have chosen this social platform to hang out at.
Another great way to identify business-related social channels for you is by analyzing the main players within the niche. In other words, where your competitors do have lots of traction.
For instance, a well-known music brand that creates awesome guitars is Fodera. If you review this company's Instagram profile, you will see that it has 126K followers.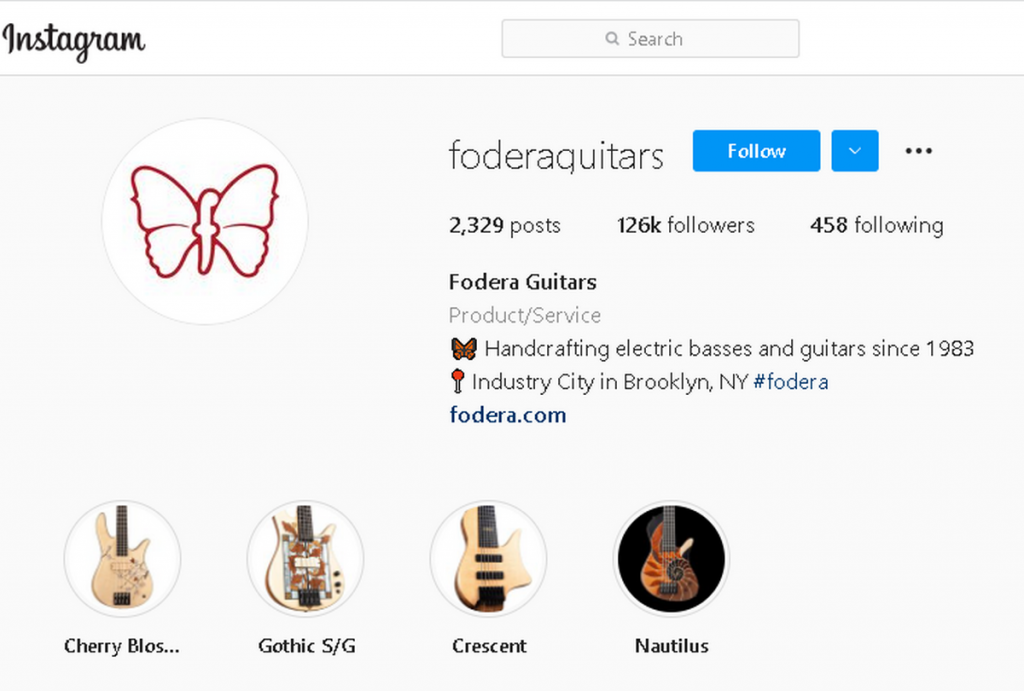 It means that you should be present on Instagram as you are a part of the music industry niche.
To conclude, know your audience and research your competitors to find out what social media channels would work for you.
Be Present Across Business-Related Forums
Forums and communities work well in terms of introducing any business more privately. You communicate with people, share some pieces of advice, solve their problems, and suggest your service as the best solution out there.
However, it is not as simple as it might seem.
Keep in mind that any forum is not the place where people want to buy anything. It is the place where people want to find answers to their questions. Remember this and never pitch your product straight.
Secondly, you can prove some of your facts or information with your content for sure. But don't link back to your blog posts if there is no necessity in it.
When you work with forums and communities, your top priority should be to help people. Not to sell your product.
Podcasting
Podcasting is one more digital marketing strategy that allows you to promote your business. And practice proves that more and more business owners, entrepreneurs, and influencers tend to become podcast guests more frequently.
If creating and launching your podcast demands lots of time and money, it is far easier to attend third-party podcasts by yourself.
How to find podcasts related to your business?
Google can help you with this. Just use a search command – "[business niche] + podcasts", and voila:
Review the suggested podcasts first. Choose a few of them you liked. Reach out to a podcast host. Introduce yourself. Explain why you could be a podcast guest and what you could bring to the table.
Conclusion
Digital marketing strategies have their pros and cons. If one of the strategies doesn't work for your business, the other one will work for one hundred percent. It all depends on your business specification.
Does it mean that you should apply all the above-mentioned strategies right off the bat?
Of course not!
These strategies can help your business at a certain stage of its development. You can't be a podcast guest if no one has ever heard of your brand, right?
You got the point.
Likely, you can choose the right digital marketing strategy that would help your business today. Don't hurry up but make a choice wisely.
---