Designster vs. Kapa99 [2020 Review]
---
Graphic Designers serve as modern day digital artists. They have become the architects behind the visionary and stunning designs making their way into the online hemisphere. The online community is naturally attracted to such imagery. They relate to it, engage with it and support it.
Hence the reason why graphic designers are actively competing with one another to create the best outlook for their branding. These talents are desperately needed by the business community that seeks to utilize the digital industry for their businesses. 
Businesses view the online community as a target demographic to buy their products and seek their services. But they do not have the tools or the ideology that best reflects upon their brand. They require the assistance of a credible and authentic graphic design platforms with a proven record. Experience is key in this regard. 
Why A Graphic Design Firm and Not a Freelancer?
Freelancers are not dependable in this regard. They usually do not have the expertise to create a product for a business design. Even if they do, they do not have the resources to take on the next project you offer. 
The risks pertaining to such services are high. One wrong move and your business can collapse immediately. The loss of one potential consumer can make all the difference for your corporation.
But the problem lies not in finding out a graphic designer. The issue pertains to how to find the best one. Millions of graphic designing enterprises are operating across the world securing difference markets and pursuing new ones. They have successfully peeled off consumers from other competitors and converted them to their own platforms. This spells how fierce the competition really is. 
So, the main question is simple. Which graphic design firm is best suited to render you the best quality material for your enterprise? The answer to this question lies in two acclaimed firms in the form of Designster and Kapa99.
Designster vs. Kapa99: Which of the two is best suited for you?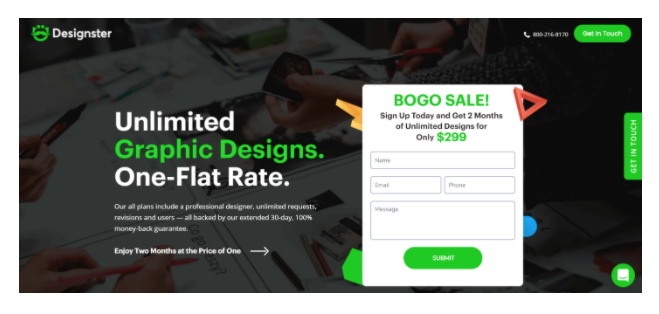 Designster has entered the competitive field and taken its rivals by surprise. They have been completely blindsided by the rise of this emerging graphic design platform. This has led to both critics and clients to applaud this graphic design company. The praise received by Designster is not limited to its presentation. It is mostly directed towards its performance and its services that have contributed to a multitude of businesses across the world.
Its services are directed to bloggers, businesses and even authors. The services pertain to logos, posters, flyers, website designing and UX/UI.  Designster is well organized to cater to your requirements.
Designster's secret ingredient to its success lies in its excellent corporation backing that functions as a multinational corporation. This opens Designster to a diverse market geographically and gives it a foreign flare that is necessary for an international enterprise. Designster is taking its operations across the world basically. This is quite an impressive advancement for a company that is begging as a startup.
The other highlight of Designster is in its pricing. It offers a pricing of its basic service at $299 for a period of two months! Normally, mainstream graphic design agencies provide their basic services for a period of one month. But in the case of Designster, the offer is exclusive. You do not have to sign any contracts and can cancel anytime.
Its graphic designers are to be commended as well. For a startup, their team of 200+ overlook all the editing, errors and construction of your designs at an exceeding rate. Their main advantage lies in their flexibility which compliments their reliability. Their agency immediately assigns you to a graphic designer who will leave no stone unturned to meet your criteria.
Kapa99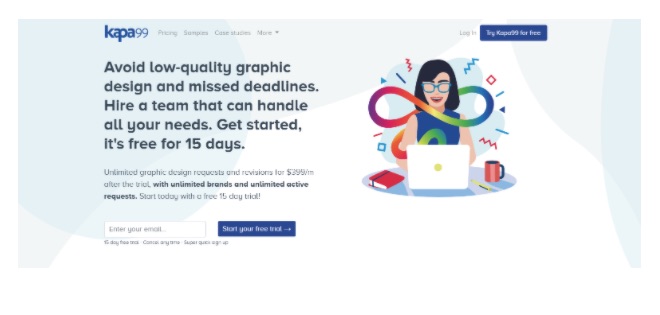 Kapa99's rise has been remarkable in and of itself. It operates as a graphic design company that offers unlimited services and requests. You can basically send them as many orders as you want and ask for as many revisions as well. It all comes down to a flat monthly price. You can get started with their service through a 15-day trial. Their basic services come at a fixed price of $399 per month.
It is very much comparable to a restaurant buffet but you will have to provide pay for every time as opposed to every entry.  Hence, if you do not require a one-time project and prefer to receive extensive media and graphic designs then Kapa99 is the best suited agency for your needs. They have the capability to take on any project that comes their way.
Kapa99 graphic designers also operate from across the world despite their headquarters being in the USA. They understand the necessity of injecting themselves into a diverse audience that would desperately need their services. Their target demographic are entrepreneurs, marketers and businesses that hope to secure a design project.
So, Who Finally Wins the Contest?
Designster of course.
The reasons being that despite the similar services provided by the two agencies there are certain limitations to Kapa99. For example, Designster provides UX/UI services however such services are not available by Kapa99. With Designster, you get the whole package instead of it being partial. Some business who are not aware of this information may find themselves prone to vulnerabilities as a result.
Then there's the cost factor. The $399 price for one specific project per month is a large investment. Whereas, the $299 offer by Designster for a period of two months is a safe and secure investment. While both are exceptional in their own way and take the importance of diversity into consideration, the choice could not be clearer. Designster truly has the edge over Kapa99 for you. 
---