Creative Ways to Build Links
---
This article is all about building high-quality links to your website.
It's becoming increasingly challenging to build good quality links.
Here are a few creative ways to start building new links, that are relevant and authoratitive.
Publish useful research
Produce list posts
Create unique graphics and videos
Publish content around a trend
Create a free tool
Review the SERPs
1. Produce Unique Research
Be it any business, you have unique customer or industry data.
You can collect and analyze this data to compile into research that the target audience will read, and share.
People love statistics and insights that they can compare or simply link out to. Journalists often link out to unique research to make their articles more authoritative.
If you spend the time to create unique research, you can pitch the data to journalists in your niche. Granted, that you're not going to hear back from all of them. But you will get feedback and links from plenty of people. They will talk about your research.
This starts snowballing fast. I saw it with my eyes for Backlinko.
Buzzsumo, Backlinko and other sites often publish detailed stats or case studies that lots of people love to link to. That's another way to use your research. Talk about the interesting points you can glean from your own research in a way that it helps your articles.
These are useful articles but they get links because there are other sites that love to reference them.
Look at the unique data and information you have on your hands.
2. Produce List Posts
Buzzsumo analyzed 1 million articles and found out that list posts generate more links than content formats like quizzes, videos, or infographics.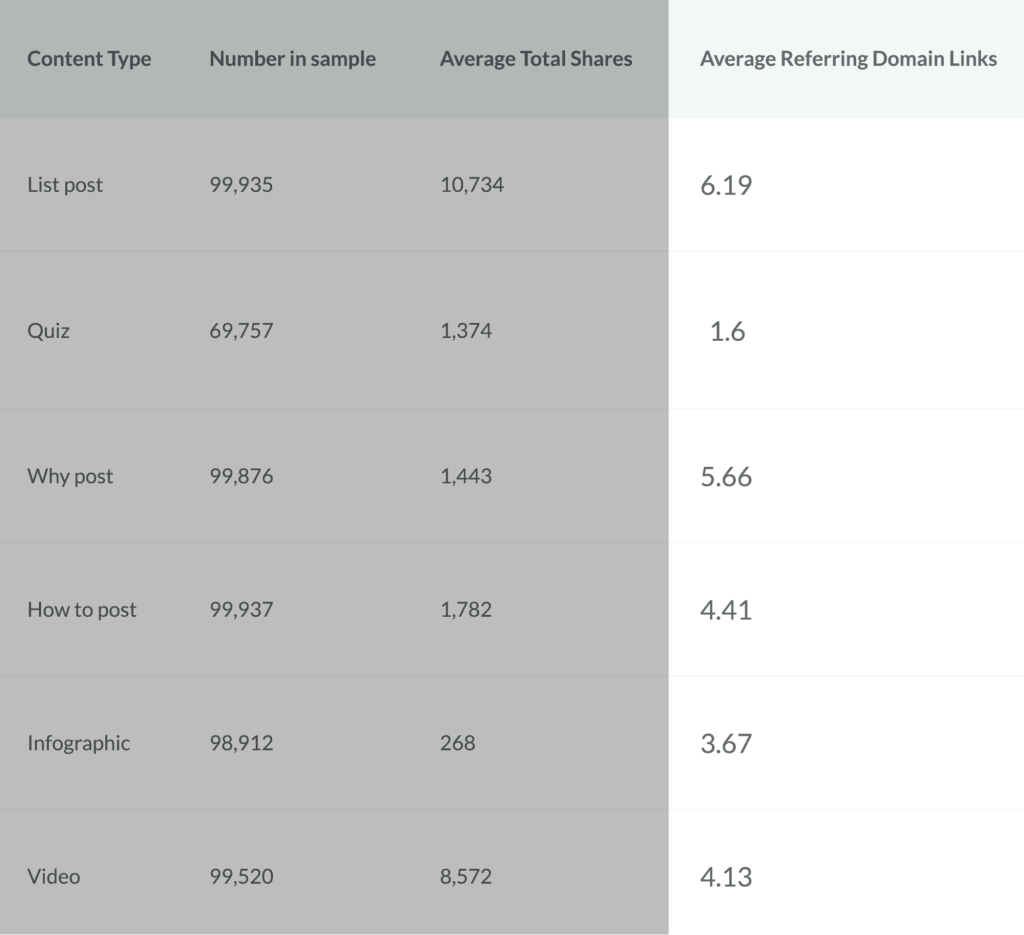 For instance the post on 19 new seo techniques generated a lot of links for Backlinko. It also generated shares.

As well as comments.

The post has over 4000 links from referring domains and growing everyday.

3. Create Unique Images, Graphics, or Video
On the web, unique content, graphics and images attract links and attention.
Stock photos can enhance user experience and make the website copy look better. Creative content is great for building authority.
Add unique photos inside your content whenever you are able to. For both B2C and B2B content, photos of people in action can generate more engagement.
Social media it witness to the power of human images to tell our story.
This storytelling has helped TikTok and YouTube grow.
Never shy away from asking links to your video or your post that has a video inside it. And once your team has figured out what will work for creating imagery, document the process to make it repeatable for every new piece of content.
Infographics
Infographics are another form of visual content that has the power to present complex information into easy-to-understand data.
These infographics can be easily added inside blog posts or web page content.
4. Speak about a Trending Topic
Share what you feel about a trending topic. Capitalizing on trends helps you build authority quickly. You can use a blog post, a video, or podcast to respond to trends.
Use Google Trends to start monitoring trending topics. Do keyword research with keyword-based hashtag searches on Twitter, Instagram, and Facebook.
Once you pick a topic provide a reference to the original source and then provide your own spin on the topic.
The response should be all-encompassing and authentic and post a relevant source for the content.
5. Create Free Tools
People are always looking for free tips and hacks to help them save time.
Search for calculators and templates will get you plenty of results. The results at the top have been looked to many times.
Perhaps you have a tool around Excel charts.
If there are useful tools or templates, start sharing them through the resources section on your website. Leadpages provided plenty of free templates to grow its business at the start. I offer free downloads on my site.
The tool should be useful, and you need to promote the tool through social media channels. People should see the content and link to it.
Ahrefs provides free access to tools within its platform.
These tools will appear on organic results for related relevant terms soon. Free tools like an Instagram hashtag calculator or an SERP analyzer are all great ways to build fanfare for your site and generate links.
6. Review the SERPs
This is a manually-intense way of understanding the SERPs better.
By going through each result, you will know what's working and what's not for most of us. You can look at content that keeps attracting new links from what's ranking on top on the SERPs. Look at the ads as well.
These articles will be specifically geared toward one angle and would have indepth research and data to back things up.
What do you think of the creative ways to build links. Do let us know in the comments below?
George blogs at MCPEDLINFO.COM a site he started to share his knowledge on minecraft.
---