Best WordPress Instagram Plugins
---
Creating brand awareness is one of the biggest challenges a business owner will face. Utilizing the power of technology is essential for any modern business trying to edge out the competition. Having a website and a social media presence is vital.
While most business owners use Facebook and LinkedIn, many fail to realize the untapped potential of Instagram. On average, Instagram has around 1 billion monthly users. Finding a way to tap into a fraction of this audience can help your business grow leaps and bounds. Part of any great SEO strategy is using social media to attract consumers from all walks of life.
If you want to provide consumers with more information about your Instagram account, using plugins for your WordPress website is a good idea. These plugins allow you to optimize the content on your website and make it more engaging with the help of Instagram.
Read below to find out more about the best Instagram plugins on the market.
Source-WordPress
Make Your Social Media Market Easier With the Feed Them Social Plugin
Are you looking for an all-in-one plugin to help you manage all of your accounts of major social media websites? If so, the Feed Them Social plugin is a great option. With a minimal amount of setup, you can instantly share your company's Instagram feed with website visitors. You can also showcase the feeds of industry leaders, influencers and even celebrities if you want.
This plugin provides you with the ability to put these Instagram feeds in pages, posts and even sidebars. You can also change the color scheme used for these feeds. The Feed Me Social plugin also provides you with the tools needed to put share and follow buttons on these feeds. Another great advantage of using this plugin is that it is responsive, which your mobile users will love.
Feed Me Social has over 80,000 active users. By all accounts and reviews online, this plugin works flawlessly and does not slow down the websites it is installed on.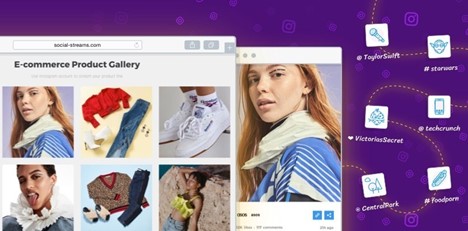 Source–Looks-Awesome
Increase Website Appeal With the Instagram Feed Gallery Plugin
One of the biggest website deal breakers for most consumers is pages of nothing but content. People want to entertained and captivated by the images on your website. If you want to offer an everchanging array of images and content, then you can't pass up the chance to use the Instagram Feed Gallery plugin.
Showing visitors to your website the various images on your Instagram feed can also provide them with more insight into what you do. Luckily, this plugin allows you to display these images in a carousel or gallery. If you want to create a gallery of images based on a particular subject, this plugin allows you to do so by searching for a hashtag.
The Instagram Feed Gallery Plugin boasts over 50,000+ installations. With this plugin, you can take advantage of a simple and comprehensive one-click setup. The various reviews for this plugin are positive with most users noting that the plugin does exactly what it promises. No problems with website speed issues have been reported by former and current users of this plugin.

Source-Access Press Themes
Create a Unique Look With the AccessPress Instagram Feed Plugin
For most business owners, creating a unique for their website is a must. The last thing you want is for your website and the content on it to look like a competitor's. This is why you need to devote some time into figuring out how to achieve the unique look you are after.
The AccessPress Instagram Feed plugin provides three distinct layouts for your Instagram feed. Whether you want to display your feed in a mosaic style or in slider-form, this website can provide you with the tools needed to get it done. There are a number of features in the premium version of this website that may be helpful. The premium plugin offers more templates, various lightboxes and even new hover animations to make your Instagram feed display more appealing. The money invested in this premium plugin upgrade will be worth it considering how unique it can make this part of your website look.
This plugin only has around 10,000 users. One of the biggest complaints about this plugin is that it does not work right out of the box. Extensive setup and optimization is required to get this program to function properly.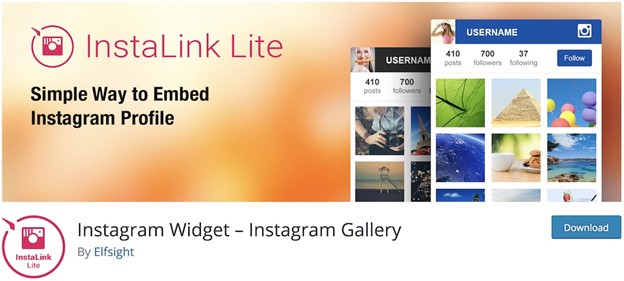 Source-Colorlib
Instagram Feed WordPress Plugin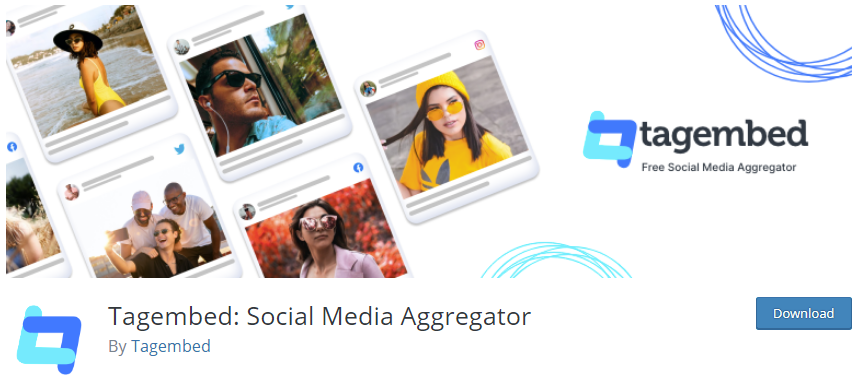 Instagram Feed WordPress Plugin is a useful tool that gathers Instagram feeds from to display them beautifully on the website. It is a dedicated Instagram feed plugin that collects feeds from Instagram and showcases them on the website without any hassle. The plugin can easily stream images and videos without affecting the speed of the website. The moderation feature helps to filter out unwanted content, whereas the customisation feature helps to enhance the appeal of the feed, which eventually adds charm to the website. It is an easy-to-use tool and does not require any coding skills or knowledge in its operation.
WP Social Stream Designer
WP Social Stream Designer is a free WordPress plugin that will embed social media posts on an online website. This free plugin supports 5 popular social networks which are Twitter, Facebook, Instagram, Pinterest, and TikTok.

Additionally, the plugin provides 40+ customization settings to change the design and color as per your website requirement. This plugin is very easy to use just need to add authentication details and create a stream for whichever social media feeds the user wants to display on their website. Also, a user can use shortcodes to display the feeds to the website. It is a fully responsive and compatible plugin for all devices. It is also available in the pro version.
Make Following Your Company on Instagram Easy With InstaLink Lite
One of the main goals you should have when providing a live feed of your Instagram is getting more followers. The more followers your business has on this social media platform, the easier it will be to create quality sales leads. You can make following you much easier when using the InstaLink Lite plugin.
The appealing feed it creates is punctuated by large and easy to find follow buttons. This plugin is also responsive. This means that the images on your Instagram feed will be instantly resized for mobile users. Failing to provide a higher degree of functionality for these users can hurt your chances of creating more sales leads. A large portion of the visitors your website receives will be on mobile devices, which is why using responsive plugins are vital.
This is an open source plugin. The number of people using this plugin currently is over 50,000. By all accounts, the InstaLink Lite plugin is reliable and fast.
Why Using Instagram is Essential For Your Small Business
Now that you know a bit about what Instagram plugins are available for your WordPress website, you may be wondering why you even need to be on this social media platform. If you are like most small business owners, finding a way to gain a competitive edge is a priority.
While most business owners understand the benefits of a great looking website, many of them ignore the benefits of using social media platforms like Instagram. Read below for more information on why using Instagram is essential for your small business.
Instagram Offers Business Owners a Create Way to Market to Consumers
Modern consumers are always looking for ways to entertain and inform themselves. While having things like blogs or videos on your website can help you market to consumers, you need more to achieve your sales goals. Instagram is a platform that allows you to share photos of any and everything.
Most business owners use Instagram as a way to engage with their audience. For instance, using this platform for shoutouts, contests and interactive video content is a good idea. Companies who are trying to appeal to a younger audience should definitely embrace the power of Instagram.
This Social Media Platform Has a Large Number of Users
Did you know that Instagram has over 800 million active users? Nearly 500 million of these users are on the platform daily. This means a business owner has a very large audience they can market their products and services to. Before you launch a marketing campaign on Instagram, you need to figure out some information.
One of the main things you should figure out is who you are trying to market to. Choosing a demographic or people in a particular geographic location can be helpful. Usually, marketing campaigns that have a target audience do better than ones that attempt to attract everyone. As time goes by, you can use data and metrics to hone in on who your Instagram audience is and what type of content they respond to.
Appealing to Mobile Users is a Good Idea
The last thing any business owner wants is for consumers to look at their marketing methods as old or outdated. An overwhelming number of modern consumers use smartphones and mobile devices to engage on social media. Since the beginning, Instagram has set out to gain the lion's share of the mobile market.
When you realize that 90 percent of the time a person spends on their mobile device is dedicated to apps and social media, you can quickly see how important having an Instagram presence is. Many mobile users prefer using Instagram over Twitter of Facebook due to the cleaner style and clutter-free interface it provides.
In fact, user engagement is 10 times higher than on other social media platforms like Facebook. This is all the more reason to start using Instagram to market to consumers.
Instagram Helps Level the Playing Field
One of the biggest misconceptions most business owners have is that they need a lot of money to be successful with social media marketing. In reality, this platform is set up in a way where any size business can thrive. In order to thrive on Instagram, you will need a great message and a bit of tenacity.
The only way to keep users engaged is by posting content to Instagram on a daily basis. Modern consumers have short attention spans, which is why consistent posting is a must. If you are not sure how to develop content and post it regularly, working with social media marketing professionals is a great idea. With their assistance, you can establish a marketing strategy to win over Instagram users.
The Power of Hashtags
Creating an online presence is one of the most challenging things a business owner will have to do. Simply giving up after a few failed marketing campaigns is a horrible idea. If you are looking for a way to improve your company's online visibility, using the power of Instagram hashtags is an excellent option.
When trying to develop hashtags, think about what your Instagram post is trying to convey. Ideally, the hashtag attached to your post will narrow down the main idea of what you want to say. Having a trending hashtag can catapult your business into the social media stratosphere. As time goes by, you will become well-versed in how to use hashtags to your advantage.
Taking a look at what your competition is posting is a great way to get a bit of guidance. While you will need to avoid directly copying their methods, you can use a competitor's post as inspiration.
Instagram Can Help You Generate More Revenue
In recent years, the team at Instagram have started putting an emphasis on product placement. Participating in Instagram's shoppable post program allows you to put tags for the products that are featured in your posts. These tags can actually feature a link that takes users directly to the product description. These descriptions will provide a user with information about what the product costs and where they can buy it.
If the user clicks the shop now button, they will be taken to an online store where they can buy the product in question. Over 70 percent of Instagram users report buying products with the use of this method. Each time one of your links is used to make a purchase, you are rewarded with a percentage. If you have an extremely popular Instagram page, monetizing it can be extremely lucrative.
Forge Partnerships With Influencers
By now, most business owners have heard about social media influencers. These online celebrities are typically used by business owners to advertise their products and services. Getting a mention from a popular influencer can help you grow your bottom line substantially. Reaching out to influencers you feel can help you reach your target demographic is a good idea.
While you will have to pay these influencers for their help, it will be worth it. Before reaching out to a particular Instagram influencer, be sure to do your homework. Making sure the influencer is popular and dependable is a good idea. Speaking with companies who have used a particular influencer in the past is a great way to figure out if they are the right fit for your business.
Humanize Your Business
Allowing consumers to put a face with your business name is crucial. Humanizing your business can help you appeal to a wider audience. By using Instagram, you can give people a peek behind the curtain as to what a business does and who the people working there are.
Instead of always posting things that have a sales-driven tone, try to be more personable. Creating the right balance when it comes to the content you post on your Instagram page is no easy task. If consumers feel like you are trying to sell them products or services all of the time, they may be turned off.
This is why you need to throw in some content that is funny and engaging. Allowing social media marketing professionals to help with the development of Instagram posts can help you avoid mistakes.
Take Your Time When Choosing the Right Plugins
Before you decide on which plugins to put on your WordPress website, take some time to do a bit of research. You need to make sure the plugins you choose aren't going to conflict with eh theme or other plugins in place. With a bit of online research, finding the right plugins to optimize your site will be a breeze.
---