Best Email Marketing Software for Affiliate Marketing
---
The Affiliate marketing industry is growing big with the growth of eCommerce. This industry is currently estimated to be worth $12 billion. Affiliate marketing is considered a crucial skill of all marketers nowadays.
Affiliate marketers use multiple network channels for marketing. One of the best channels of their marketing is email marketing. Email marketing is one of the most professional and effective ways of marketing. Every eCommerce business and affiliate marketers use it for sales.
So are you interested in using email marketing for your affiliate marketing efforts? Then this article will help you understand the basics of email marketing. We will also suggest you the best email marketing software you can use for affiliate marketing in 2022.
What is Email Marketing?
Let us explain email marketing to you first. In Email marketing, emails are used as a marketing strategy tool.
Marketers use emails to send notifications of discounts, offerings, and exclusive deals to their customers. In the case of email marketing, the customers are leads. The leads are visitors of your webpage who are interested in the content you share and the product you sell.
Email marketing is not done manually. That would be a nightmare for marketers, but on some occasions, for special customers, marketers manually handle the email marketing procedure.
In general cases, email marketing is done using software known as email marketing automation. Email marketing automation can be compared to bots. These bots send emails to every recipient in your email list. But these bots are smart. You can customize each email you send with email marketing automation and create a personalized email marketing experience. Using management software is a handy tactic.
This is what affiliate marketers use for their affiliate marketing.
Difference between Email and Affiliate Email Marketing
Although email marketing and affiliate email marketing appear similar, there are some vital distinctive features. To understand the difference between email marketing and affiliate email marketing, you will need to understand what affiliate marketing is. So let us explain affiliate email marketing briefly.
Affiliate email marketing is doing affiliate marketing using emails. We mentioned that affiliate marketers use multiple communication channels for affiliate marketing. They include blogging, content writing, and email marketing.
So basically, Affiliate marketers send offerings to their leads of product offerings. Sometimes they attach a link to the product or their blog post that talks about the product. That is affiliate email marketing.
Now let us discuss the difference between email marketing and affiliate email marketing.
Goal
Email marketing automation aims to engage potential customers into visiting your eCommerce store and making a purchase. This way, the business will earn profit and gain a customer.
The goal of affiliate email marketing is to promote and advertise products of other eCommerce stores and make them purchase products with a special link of the affiliate marketer; when a lead purchases through that special link of the affiliate marketer, the affiliate marketer earns a commission of the purchase as their earnings.
Link-type
In email marketing, the marketer attaches links to deals and personalized offerings of their e-commerce store. Clicking on the link will directly take you to the product page. From there, you purchase as you usually do.
The marketer attaches a special link to the email in affiliate email marketing. This special link is the marketer's affiliate link. Clicking on his link will take you to the product page in a special method. If you purchase the product with this link, the eCommerce store owner will know that that particular affiliate marketer referred youThe marketer.
Revenue generation
The revenue generated from email marketing comes from the purchase of products. The revenue goes to the store owner.
The marketer's revenue comes as a commission for each purchase made by your referrals in affiliate email marketing.
Cost
Email marketing reduces the cost of the store's marketing effort. Affiliate marketing cost is performance-based. The higher the sales, the more the cost. But higher sales also mean more revenue for the store owner. So from the store owner's perspective, the cost of affiliate marketing stays relatively constant.
Performance metric
The prime performance metric of email marketing is the return on investment (ROI). For affiliate email marketing, it is click-through rate (CTR).
So these are the key differences between email marketing and affiliate email marketing.
8 Best Email Marketing Platforms
Now we hope you are excited to try out affiliate email marketing that matches your website. Affiliate email marketing is also performed with the help of email marketing automation software.
There are hundreds of email marketing automation software out in the market. Which one of them is suitable for affiliate email marketing?
Here are 7 of the best email marketing software/ platforms for affiliate email marketing.
1. Mailmunch
Mailmunch is a very reliable and easy-to-use software for affiliate email marketing. Mailmuch has tons of features for email marketing that can be easily implemented for affiliate email marketing. You have ready-made email templates. What's better is that the templates are marked and segmented for different target audiences and different seasons. You have templates for different businesses, holiday seasons, and other occasions.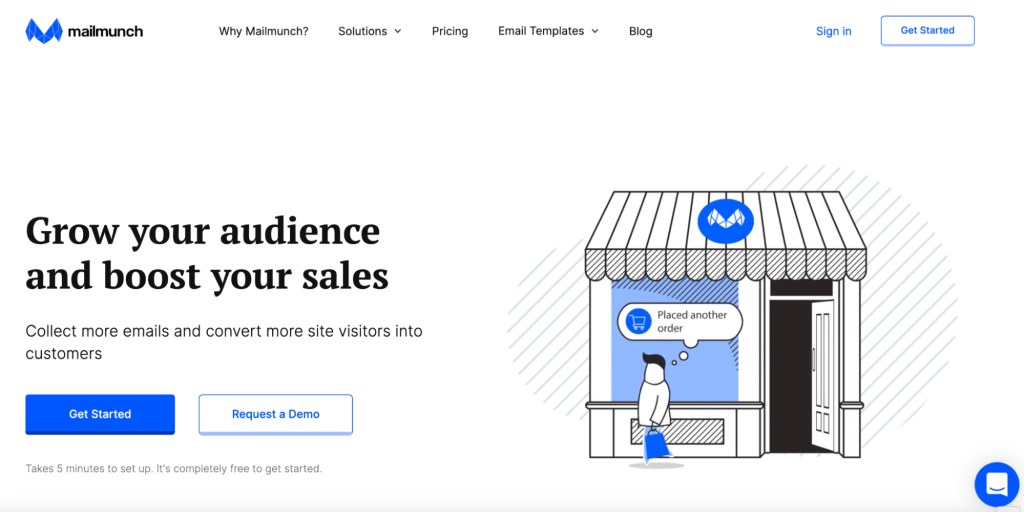 Moreover, Mailmuch has resources to get you started with affiliate email marketing.
Let's give Mailmunch a try!
2 GetResponse
GetResponse has a very easy UI for anyone to set up affiliate email marketing campaigns. The editor in Autoresponder features a drag and drop interface.
What made Getresponse apart was its autoresponder feature. This feature allows leads to get automatic answers from your email. It works by identifying some targeted keywords and sending pre-written answers.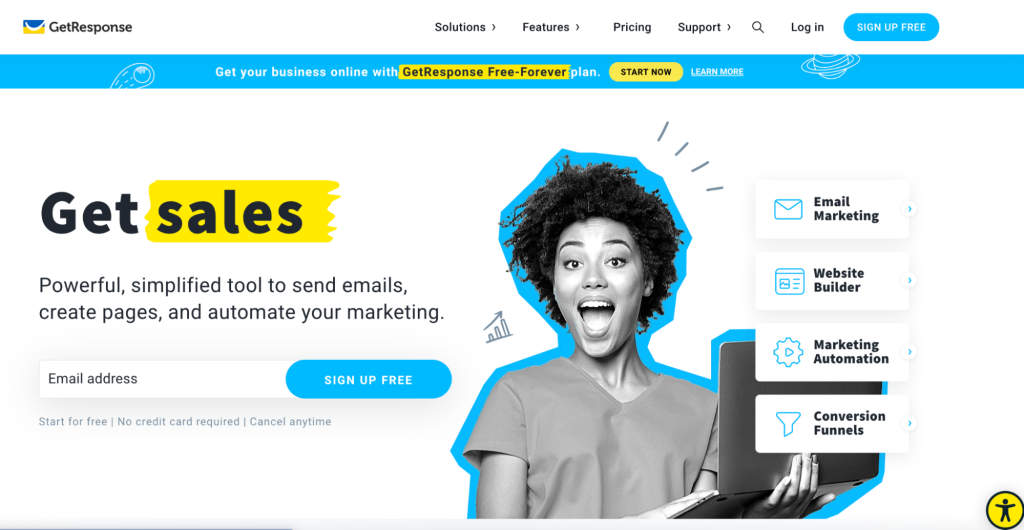 Scheduling is another powerful feature of GetResponse. This allows you to schedule a whole month of affiliate emails in advance. You can easily plan your affiliate email marketing campaign in advance.
3 NotifyVisitors
NotifyVisitors is an email marketing software designed to make it easy for businesses to reach their customers. It offers a variety of features to help users create segmented email campaigns that target specific customer segments, track email open rates, click-throughs, and engagement rates.
NotifyVisitors also includes email automation tools and real-time analytics to monitor email campaigns performance. Additionally, the software integrates with popular email services like MailChimp and SendGrid so you can send out bulk emails quickly and easily. With NotifyVisitors, businesses have the opportunity to utilize powerful email marketing tools in order to expand their customer base.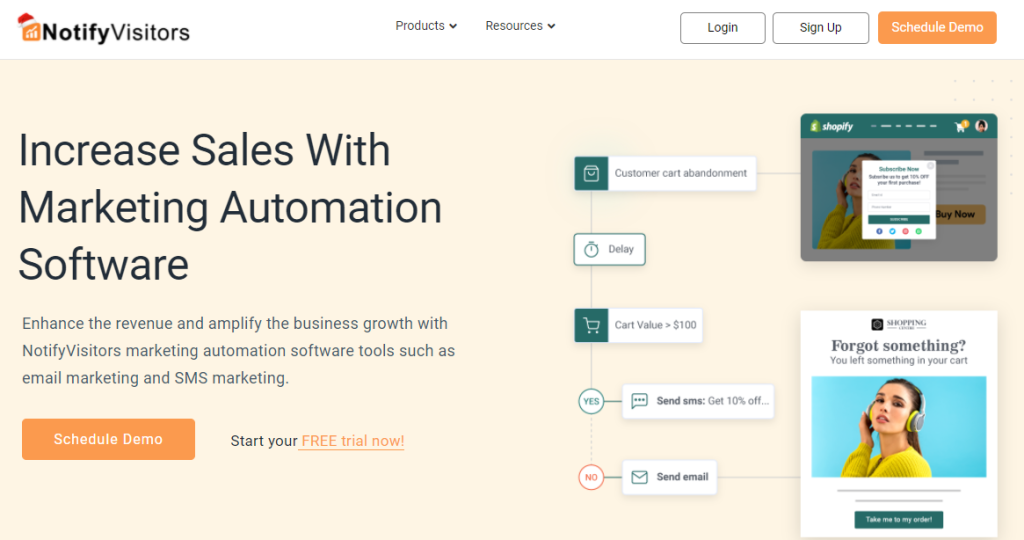 Moreover, its drag and drop feature helps you customize email templates that go with your branding needs. So, you can say its a wholesome package of features for all your email marketing campaigns.
4 Aweber
Aweber is one of the oldest players for email automation. Their platform is incredibly friendly towards affiliate marketers. You can easily design your customized affiliate marketing template and send it out to millions in one click.
However, Aweber's platform does not have any landing page builder. This is the only sacrifice you will have to make to use Aweber.
Besides that, Aweber has a monthly subscription-based model. You can chase different plans based on your number of subscribers. Their lowest price is $19/month for 0 to 500 subscribers. For 10,000 to 25,000 subscribers, the price is $149/month.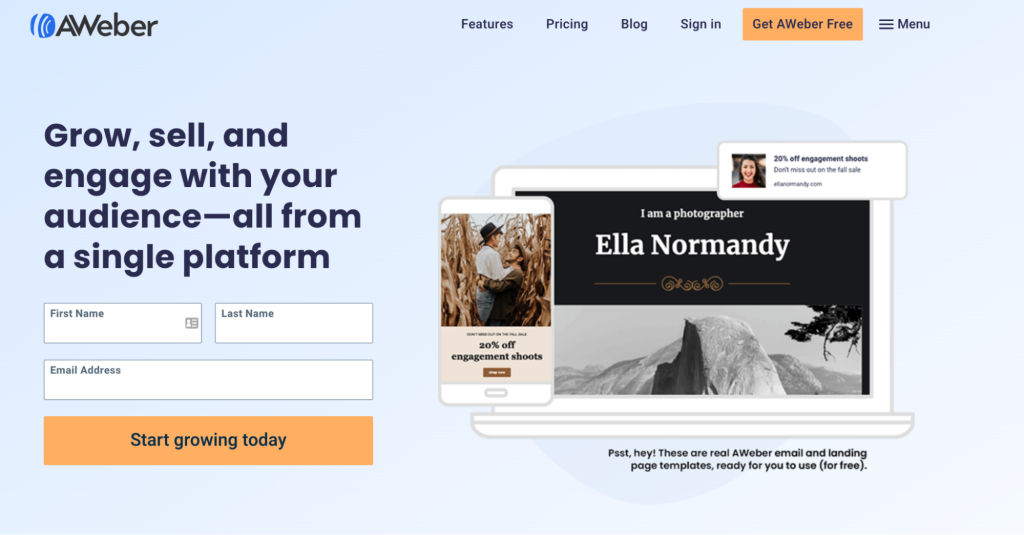 You can also use their free trial to judge their features and suitability for your affiliate marketing niche.
5 SendX
SendX is best for those looking for an affordable solution for affiliate marketing. This email marketing automation from SendX might be affordable, but the features can be compared to premium automation.
With SendX email marketing automation, you can easily design affiliate campaigns with forms, send out unlimited emails of your campaign, and also set autoresponders.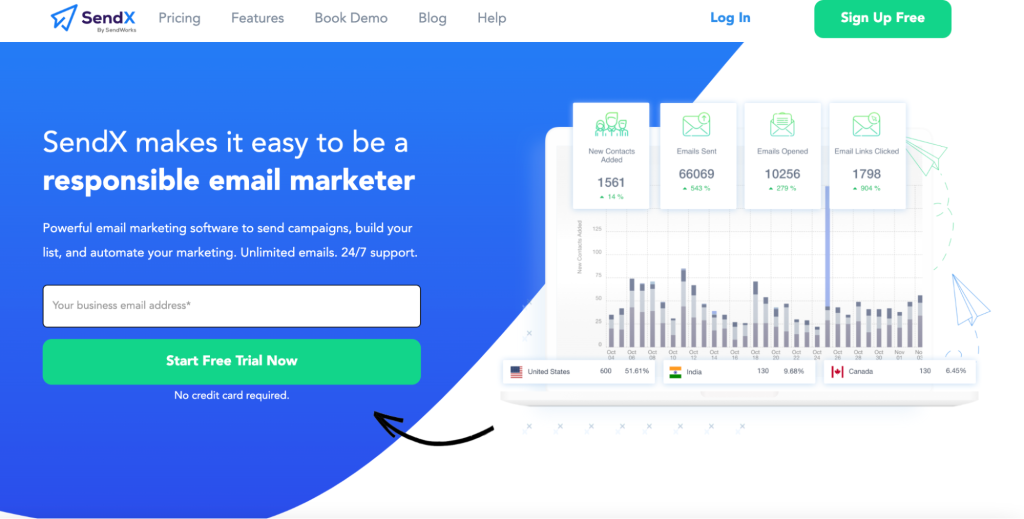 We highly recommend SendX to beginner affiliate marketers. SendX comes with a complete go-to guides for affiliate marketers, which teach you how to make convincing affiliate marketing campaigns and earn more commission from your campaigns.
6 SendLane
SendLane is best for both email and SMS marketing. This automation can integrate with other third-party software/ automation like ClickBank. This third-party integration makes it a formidable choice for running an affiliate marketing campaign.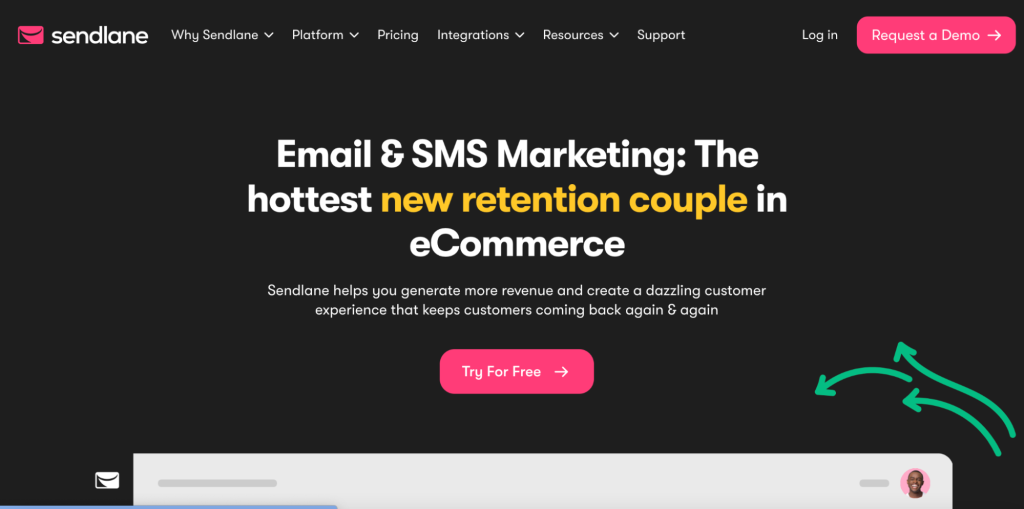 As we said before, affiliate marketers run their campaigns on multiple channels. Using the third-party integration of SendLane, you can easily integrate suitable software for your marketing channels and make your campaign more effective.
Campaign designing with SendLane is very easy, thanks to its drag and drop template builder. SendLane comes with more useful features, such as segmenting your leads. Be sure to check it out.
7 ConverterKit
If you do affiliate marketing with blogging and content publishing, ConverterKit will be the best option. This email marketing automaton has options for creating landing pages and customized form building for encouraging visitors to sign up in your email list.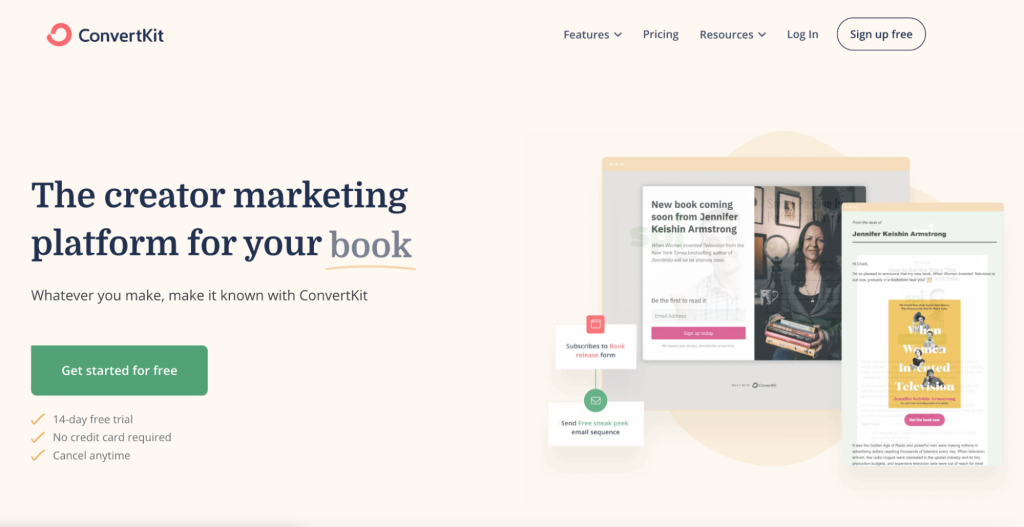 This platform allows you to show your content creation skills. You can also test out different styles of campaigns with its A/B test feature. ConvertKit allows you to monitor all progress of your campaign and shows it all in a report.
Give ConverterKit a try. It will not disappoint you at all.
8 Email Octopus
Email Octopus offers a very simple and friendly UI for running campaigns. However, affiliate marketing campaigns will have to deal with some security issues. If you are running a legit affiliate campaign, there is nothing to worry about.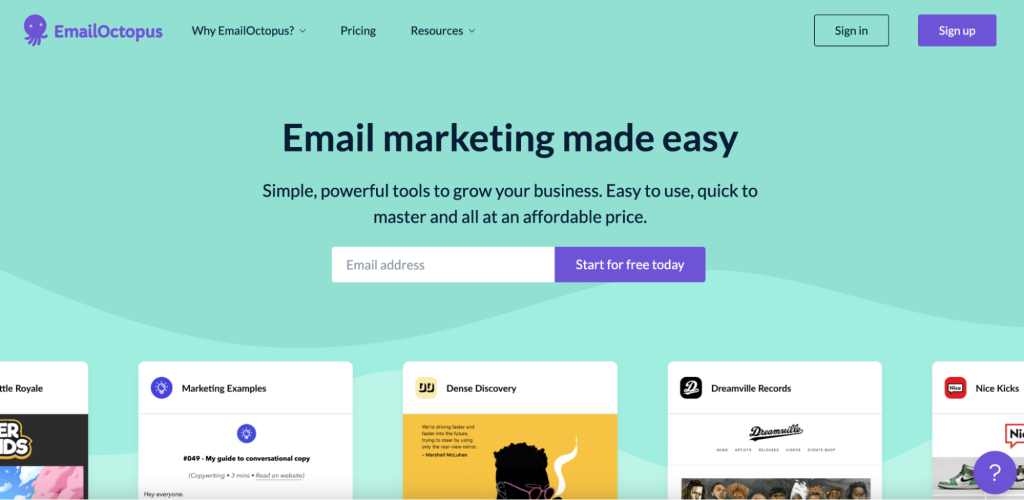 Once you go through the security procedure and get approval, you will be able to use all of their built-in templates and use their analytics features to measure your performance. Make sure you give it a go.
Conclusion
So this was all about affiliate email marketing from us. We hope that it was helpful. If you are looking for the best email marketing automation for affiliate campaigns, then check out our recommendations.
---