A LinkedIn Guide to attract clients for internet marketers
---
As 94% of b2b marketers use LinkedIn for content distribution, attracting potential prospects through this platform is something you cannot afford to lose out on.
However, you can't just begin reaching out to professionals on LinkedIn or start generating content for the users' perusal right away. Attracting clients on LinkedIn can be a little tricky as before anything you need to have a solid profile and strong connections base. 
You need to trace the essentials that will help you organize your profile and consistently engage with professionals on LinkedIn. The idea is to establish yourself as an authority in the marketing industry so that clients look to your profile and can trust your expertise. 
In this guide, we will unravel pointers that can help you revamp your profile, organize a pitch, and attract potential clients. So, let's begin: 
Profile optimization 
The first step that goes into devising a strategy for LinkedIn is profile optimization. Sharing stellar content and drafting a perfect pitch for your clients will not work if you have an ill-constructed profile. 
You need to create a right impression among users who scroll through your profile. Optimize your profile along the lines of your target industry – marketing. 
To give you an analogy, treat your profile as a resume layout that showcases your internet marketing skills through valid information. So, when a prospect looking for marketing services goes through your profile, they should have all the necessary information. 
There are two steps through which you can right away start revamping your profile. 
Headline & Banner 
Just as the meta-title works as a face of the website on Google search results, Headline and the banner serve the same purpose on LinkedIn. It should have enough information about the skills and services you offer so that the user is compelled to click on your profile to learn more. 
For instance, check the snippet below: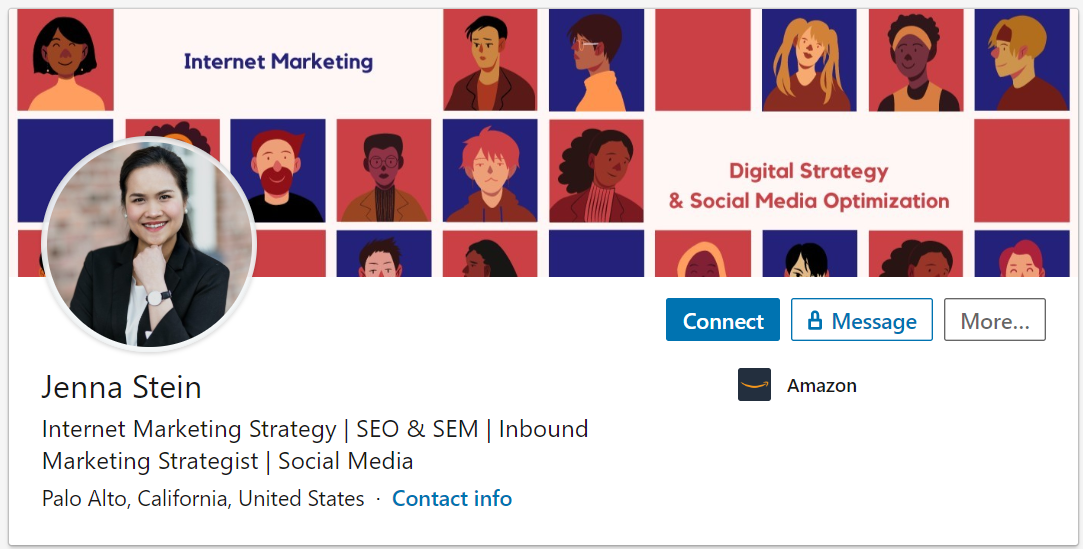 Summary
Do not overlook this section as it can help you speak to your target users. Within 2000 characters, you need to write your summary in a manner that reflects your skills and services. Also, it is important to note that readability also matters as people need succinct information that is readable at a glance. So, make sure you optimize it with short bullet points. 
Further, you can employ some of the search engine optimization techniques in the summary. People tend to think that such techniques are limited to writing/curating content. But you can leverage SEO practices pretty much everywhere these days including the summary of your LinkedIn profile to make it appear on search results. Start by including keywords important in the marketing or your target industry. So, when a user searches for a term on LinkedIn, your profile will get a better chance of appearing in the search results.  
Update your portfolio 
If you have a stellar profile and can't show any work to substantiate it, or you are just going by the idea that I will let my work speak for itself and consider updating the profile as a secondary notion. 
Your portfolio is extremely important in optimizing your profile. 
Hence, you need to make sure you update your portfolio as an internet marketer. If you have a blog, online portfolio, or a website, it should reflect on your profile. You can mention the clients you have worked with, the project you have been a part of, etc. The idea is to update your profile and show your work so that professionals seeking relevant services can go through them and have no doubts.  
Further, you can display recommendations and endorsements from the clients/peers you have worked with. This will help you showcase yourself as a legitimate figure who has references from the professionals they have worked with. 
Build your network
Networking is an important step in reaching the right professionals for your target industry. So, apart from sending/receiving connection requests, there are plenty of ways you can get in touch with the right people. For instance, here are a few things you can do to improve your visibility on the platform and build your network:  
Like & share posts 

Write insightful comments on valuable posts

Add a note

while sending connections requests 

Tag people in posts you share 
However, to do all this, you need to get started in a rightful manner. So, update the functional industry to improve the content and connections suggestions so that they are in line with your target audience. 
Leveraging groups
One thing that can help you immensely in your quest to attract clients to your profile is joining relevant groups. It is a great way to analyze the key your target audience is up to and what are areas they are having trouble with. 
For instance, let's say you join a group focusing on "content marketing", there are bound to be posts where individuals are facing trouble in devising a content strategy or trying to learn more about it. You can use these opportunities to tune in in the comments sections and offer constructive advice. However, try to avoid making any promotional pitches here. 
Further, you can create your own LinkedIn group as well. In these groups, establish your authority by sharing and writing insightful posts. This allows you to showcase your skills to potential clients and will be extremely helpful in generating leads and creating a brand voice. 
Draft a pitch 
Usually, most professionals on LinkedIn make a generic pitch and send it out to professionals without giving it a second thought. You need to target individuals & businesses who share the same interests as you. 
Further, modify your pitch as per the interests of the professionals. For instance, let's say the professional you are targeting works in the healthcare business but your pitch was designed for a different industry. 
So, you need to keep your pitch informational to keep the reader engaged. For example, let's take a look at the draft below:  
Hi @XYZ,
I am Jenna and I am an Internet Marketer. We had a discussion on the social media marketing group for which we are both a part of. I was eager to learn more about your views. 
Let me know If you're interested, I'd love to talk to you again. Also, I can help out with your social media interests that fit your requirements. Let's catch up soon. 
Thanks!
See how in the above example, it does not deviate from the conversation/discussion while keeping it professional. It is important to establish a mutual connection.
Key Takeaways
To end, let's take a brief look at the above article: 
Profile optimization plays a key role in attracting clients to your profile. 

Adding your portfolio helps you improve your legitimacy among professionals. 

Networking is important in connecting with the right individuals and potential clients. 

Leveraging LinkedIn groups to share your expertise and connect with professionals sharing mutual interests. 

Tracing the essentials for drafting a perfect pitch. 
---