9 Ways Your Startup Can Get More Customer Testimonials
---
Customers' testimonials have a super deep impact on your credibility as a brand. They tell your clients that your product is real and reliable. Use the support of your most loyal customers to engage new potential clients! 
Customers love to hear from customers and they trust them. Nothing can help a product more than great reviews! Clients' testimonials are also great for your own brand insight: you can discover your products' or services' greatest features and your worst flaws and use this to improve your brand continuously. Great quality testimonials help boost your conversion rates, this is testimonial marketing! So let's get to it and learn how you can ask your customers for testimonials.
First, What are Customer Testimonials?
Customer testimonials are the stories you share about real-life clients and their purchase satisfaction with your product or your service. These are positive experiences that can lead new customers to trust your brand. 
Having website testimonials is important because: 
They build credibility and trust

They increase CTR (click-through rates) and general rankings

They drive new customers and therefore more sales
What Kind of Testimonials Just Won't Work? 
Extremely excited testimonials that sound super fake like: "This product just changed my life forever, I can't believe I lived so long without knowing about it." -Cindy Lu 
Vague, generic comments like: "Great service." -Boring Bob
Then Who Is The Ideal Reviewer?
Customers that belong to your target audience, because they will be most relatable

Authority figures like bosses, team leads, entrepreneurs, brand owners, etc. 

Reviews that say your product has solved an issue
You can even investigate further on your reviewers to get more information on their journey and how the product was useful. In this case, you could even make your review bigger by showing a complete case study. 
Great! So now that you know who and what you are looking for, let's see how you can actually approach your customers to get your reviews! 
1 Welcome Email
When your clients buy or subscribe to your brand you can send a welcome email in which you can ask kindly for a review, or ask how they liked your product. Ask about their experience with your services and more. 
You can also ask these questions in a follow-up email or emails, whatever your email marketing strategy is. 
2 Facebook Reviews
Getting testimonials from Facebook is usually easy, especially if you have a local business page. Do pay attention to your Facebook page content and current followers to get those reviews flowing!
3 LinkedIn 
LinkedIn is a great place to ask for business reviews, or even use existing recommendations! However, to get recommendations you do need an individual account and not a business profile. Don't forget to always ask permission to use people's recommendations on your website's testimonial section.
4 YouTube Video Reviews 
Customers talking about and using your product in their videos can be a great testimonial review! Most influencers compare brands in their videos, so if you are lucky enough, you can be featured in one of these. Reach out to people, offer your products to them, and ask for an honest review about them.
You can also create your own review video. Consider inviting a few people to try your products and record it. You can do this at your store as well, just remember to record high-quality video content. 
To keep the good work flowing, pay attention to your YouTube channel, brand it properly, and keep an eye on comments! You never know where good reviews can come from. 
5 Any Local Search 
Google Business, Yahoo, Yelp, and other sites like these are essential to local businesses. These kinds of reviews will appear when your brand comes up as a result of a search. People do pay a lot of attention to Google's ratings when choosing a store. By having tons of reviews you can effectively increase your ranking!  
6 Niche-Specific Review Site
Depending on your industry focus, you can ask for specific niche reviews. For example, if your business is a real estate service, you can ask for reviews from pages like Realtor.com, Homefinder.com, Trulia.com, and more. Make smart relationships with other websites and blogs! 
7 Customer Reviews and Incentives
You can encourage your customers to leave reviews by offering some sort of reward. You can offer coupons, special deals, discounts, and more.
8 Personal Blogs & Forums
You can find reviews everywhere! To find out whenever someone is talking about you, you can set up alerts using tools like Google Alerts or Social Mention.  This would be the smartest move to find your mentions because taking the time to scout every forum or blog can be very exhausting. 
9 Company Reviews
Having a logo of an actual company right beside your customer's review gives your brand a powerful image. These types of reviews really tell your customers that your product does solve problems. 
Let's Take a Step Back
Take a few minutes to look at yourself before presenting your brand to everyone out there. Is your brand in the right place? Are you using neat visuals? Does your logo express what your brand does? 
Pro Tip: If your logo is not the best, and let's be honest, you know it, you can always use an online logo maker to refresh or start a new brand to impress your audience. 
Make your brand visible everywhere on your site and social media. This too creates trust among your customers. You can use professional mockups to add business images to your site and make it look like a dead-serious business right from the start. Try mockups for stationery, phone devices for your app, screenshot mockups, and more! 
Time to Reach Out!
Gather your best reviews from all the sites mentioned and put them together in a testimonial page or section on your website. Customer reviews are as reliable as personal recommendations, and this is why it's so important that you make your testimonials available for everyone to see. 
You can also show your product testimonials on landing pages, presentations, brand videos, and more. There are many options to display your testimonials and still make a huge impact on your new visitors. 
Adding links to your reviews can be a good incentive for more people to leave a review. It gives them the opportunity to be featured on your page. Also, remember to always ask for permission before using a review.
So in the end, what we are saying is, take the time to know who your users are, what they feel about your brand, and how your brand has made a difference in their lives! 
 About the Author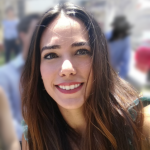 Valeria Santalla is a multi-disciplinary graphic designer and writer that loves to create branding images for local business, she currently collaborates for Envato one of the largest logo maker and design template library website.
---